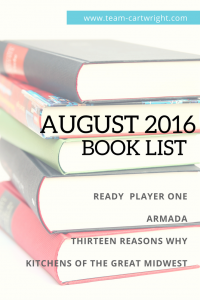 A cross country move can't keep me from reading! I did have to pull out an old favorite to reread, but that is like hanging out with an old friend. Here is one all time fave and three new books I read this month. (This post contains affiliate links. All opinions are my own.)



Ready Player One
by Ernest Cline

This was a reread this month. I adore this book. I would put it up there with one of my all time favorites. I randomly checked it out of the library and could not put it down. Then I made Pat read it. Both of us loved it, which shows how good it is because we can have really different taste in books! It is set in the future, where a virtual reality world called OASIS is basically everything for most people. Oh, the real world is still there, but you can go about your life almost entirely in this virtual reality. The creator of the world of course became the richest person in the world. When he died he left a quest of sorts to find the heir to his fortune and company. No one was able to find even the first clue, until a kid manages to figure it out. Then the chase is on! This book is action packed with 80s trivia and fun facts. (The OASIS creator was really into the 80s) Even if you don't remember all of the 80s, it is still so fun to read. Cline really has a way of weaving arcane trivia into the story that make you feel like you are a part of the club. On the main level this is kind of a good guys versus bad guys story. There is a corporation who has professional people hunting for the clues. They want to take OASIS and make it more of a money maker. This would of course make life really hard for those who basically need the system to do everything. The book also makes you think about how we portray ourselves online compared to real life, and what biases we have that we don't realize. I have read this book several times already and plan to keep it as an all time fave and reread.
Armada
by Ernest Cline



Ernest Cline did not disappoint with this one. I have to admit, I was not quite as taken with it as I was Ready Player One. I think that is because this one was very heavy on alien/sci fi type video games and movies, which aren't really something I'm super into. But even with my bias, the book was really good. The plot is basically a teen is super good at one of those multi player video games that people can log in and play all over the world. (Yeah, can you tell I'm not into video games like this? I don't know that much about them.) He is so good he is one of the top ten players in the world. In the game you control drones to fight off aliens that are invading the planet. Well it turns out conspiracy theorists are right- this type of game exists to train civilians in the event of an actual alien invasion. You guessed it, an alien invasion is imminent. Ernest Cline's commitment to specific details about video games, aliens, and sci fi in popular culture really make it a great read. His books make you feel like you are a part of collective history, which I enjoy.
Thirteen Reasons Why
by Jay Asher



This was a YA for the month. In it the main character receives a set of tapes in the mail. On them a girl named Hannah tells the reasons why she killed herself. There are thirteen people who contributed to her decision, and she addresses them on these tapes. After listening to the tapes they are to be passed on to the next person. It is an interesting book on how a single incident might not be a big deal, but when they snowball a whole new picture is created. It is a little sad, but it made me think beyond myself. I might not think anything of my interaction with a person, but a negative word from me could be the breaking point for them. I think it could be a good book for teens to read to remember that their words and actions have power. We can't control what other people do of course, but I didn't like how the book seemed to imply guilt where I don't think it belonged. But it never hurts to remember a kind word can go a long way. And just being aware of others is a good thing.
Kitchens of the Great Midwest
by J. Ryan Stradal



This was an interesting one. The story follows along the life of one main character, Eva. However we really only get her first person narrative in one early section. Besides that it is more about the side stories of various people she encounters in her life than Eva's actual life. In that respect the book almost reads like a series of short stories. But they all tie together in that Eva touches their lives. Eva's big thing is that she is a cook. A truly brilliant cook in fact. She has an innate talent and manages to create a really different dining experience. I love cooking and reading about it, so that part of the book was fun for me. But even if you aren't into food the story is still enjoyable. It is interesting to look at some one's life from the outside, the way we do most people in real life.
There you go, four of the books I read this month. As we settle in to our new town I am eager to get to the library and find more new ones. Let me know any suggestions!
–Kim
Let us improve this post!
Tell us how we can improve this post?