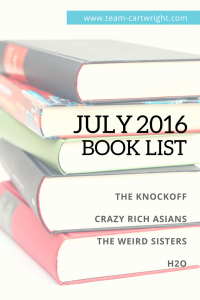 I read some fun books this month. Here are four that I really enjoyed. Yay books! (This post contains affiliate links. All opinions are my own.)
The Knockoff
by Lucy Sykes
I totally picked this one up based on the cover (I know, the expression says not to. But when you are at the library with a two year old you kind of just grab books quick and get to the play time!) and the fact that I liked Bergdorf Blondes by Plum Sykes, and I was hoping this author was related. It turns out they are twin sisters! Oh yes, you can bet I love all things twins now, so yay! It was really good! A magazine editor in chief took six months off to have treatment for breast cancer, and when she gets back to work suddenly everything is very different. A younger woman, who used to be the assistant, is now a big deal. This former assistant is all about tech and, well, not the nicest person. I really enjoyed reading the different perspective of the 'older' editor. She is 42, and the antagonist is only 26. I fall just about halfway between these two ages, and I found it really interesting to consider both their points of views. On the one hand, the protagonist does need to 'catch up' a bit. You have to keep up with technology and can't just do things the same way because 'that's how it is done.' But the antagonist has to respect what has been done before, and should discount someone else's experience just because they aren't super tech savvy. I thought it was really fun to think about, especially with the millennial vs baby boomer type articles that are always going around. This was a good one about work place relationships and knowing the difference between colleague and friend. It also points out that the mean girl phenomena isn't limited to the junior high set. This book made me reflect a bit on what sort of example I want to set for my daughters, and how I hope they treat others.
Crazy Rich Asians
by Kevin Kwan
This was a fun book about, well, the extremely rich of Singapore. I don't know much about the rich of Asia, so I'm not entirely sure how much of this was based on truth. But I still enjoyed it. It is told from the point of view of multiple characters. There are some of the older members of the rich clan who don't really want to see 'outsiders' get in and take their money. There are younger members trying to find their way in the world. And of course there are some who are just all about the money. We get an outsider's perspective from a woman dating one of the richest members of the families, which I felt kind of grounded the book a bit. Overall it is a story of families and how they interact. This story is just more fun because you get to read about the lavish lifestyle.
The Weird Sisters
by Eleanor Brown
I think I liked this book more now that I have daughters. More specifically, I have daughters who are sisters. I only have a brother, so sister relationships haven't always held that much of an interest for me. Sure, I have wondered what it would be like to have a sister. I have female cousins that I am close to, and a wonderful sister-in-law. But I didn't grow up in the same house as those women. As a result I am newly interested in how sisters interact, and how their parents help shape the relationships between them all. The sisters in this book all end up back at home for different reasons, but the reason they cite is that the mother is sick. They have to figure out where their lives are going, and how their roles within their family are going to change or stay the same. The father in the story is a professor of Shakespeare, so there are a lot of fun quotes and allusions to Shakespearean characters.
H2O
by Virginia Bergin
This is one of my young adult choices from this month. Basically it is a world is ending novel. Before the book begins there is an asteroid that is heading towards earth. Fortunately they were able to break it apart before it got too close to Earth, so crisis averted there. What they didn't know is that some bacteria still made it to Earth and pretty much kills everyone. The kicker is that it is in water. So basically the rain kills everyone. The book takes place in England. Lots of rain there. It was an exciting, fast read. And yes, it did make me a little paranoid when it rained for about a week after I read it. I didn't know when I picked this book up that it is the start of a series. I do plan to follow up and read the rest!Another month, another set of fun books.
Let us improve this post!
Tell us how we can improve this post?