Summer reading, gotta love it. I feel like summer reading brings up images of easy fun stories you can enjoy at the beach. Nothing too heavy and a lot of happy endings. Apparently I didn't get that memo because that was not my month. But you don't have to turn off your brain with your summer reading! (Not that there is anything wrong with that. Reading is an awesome escape.) This month I have three nonfiction that I really enjoyed and one fiction that I didn't like the ending on, but overall I liked the book. If that makes sense. Overall these books educated me and made me think with a different perspective. I love that! (Amazon links are affiliate links. They don't cost you any extra, they just keep me in science supplies for the kids.)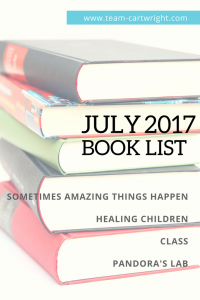 Sometimes Amazing Things Happen: Heartbreak and Hope on the Bellevue Hospital Psychiatric Prison Ward
by Elizabeth Ford, M.D. was a very interesting book. Long title, good book. Elizabeth Ford is a doctor who works with what I think most would consider one of the toughest people to work with, prisoners that are suffering from mental illness. You can imagine that these people have had a tough life as it is, and can be quite intimidating. Prison makes it very hard to keep up adequate mental health care, making the visits to the hospital even more tumultuous. Dr. Ford eventually becomes the head of the ward, and this book is her story along with the stories of those she treated. What I liked about this book was it showed just how under treated certain segments of the population are. It showed how easily people can get stuck in a cycle of being incarcerated, getting insufficient treatment, getting out and getting next to no treatment, only to end up incarcerated again. It is heartbreaking. What I liked about this book is that it showed just how much power there is in compassion. Dr. Ford sees these men as people and treats them with respect. This book is a reminder that mental illness is real, and needs real treatments. They are complicated illnesses, but remembering that there are fellow people underneath can help us help others.
Healing Children: A Surgeon's Stories from the Frontiers of Pediatric Medicine
by Kurt Newman, M.D. I know, I moved from sick adults to sick kids. This was unintentional. I picked the books up on different library visits. This book, as hard as it was to read in sections, is an important one for parents. It takes us through some of the developments of children's medicine. The emphasis on this is that they are treating children, not adults. Children aren't just tiny adults, and babies aren't just tiny children. Children's and babies' bodies are growing and changing differently than grown ups. They are usually more resilient, which is something to keep in mind when deciding on a course of treatment. It is also more important to consider long-term effects of any treatments as children will have to live with them a lot longer than adults. This book was heartbreaking at times, as the author recounted the amazing spirits of some of his patients that passed too soon. But it was uplifting in showing just how hard people are working to save children's lives. What I found most important was that it made me realize how important it is to make sure any medical personnel that my children receive treatment from remember that these are indeed children and not just smaller adults. Every parent should look up the closest hospital with pediatric specialties and even a pediatric ER. I hope I never need that information, but it could save a life.
Class
by Lucinda Rosenfeld was one of those books I didn't like, but I liked that I didn't like it. I didn't like the characters and some of the light it made me shine on myself, which I think is different from not liking the book. The main character of this book is Karen. She's in her forties, is married with a child, and honestly is kind of a yuppie liberal. She works for a non-profit fighting children's hunger, which is great. And she sends her daughter to the public school they are zoned for, taking pride in how 'diverse' it is if you get my drift. One student has been acting out a lot, and Karen basically lies to get her daughter into another school. Karen proceeds to act pretty unethically at that school and also has an affair. Overall, Karen is a very unlikable character. She is whiny, entitled, smug, and self-centered. Spoiler alert, but the part I didn't like about the book was that she never really got held accountable for all her bad behavior. This was an interesting book from the point of view of the topics it presents. Diversity and social awareness are prevalent. It pays attention to some interesting observations between racial diversity and economic diversity, along with the sometimes hypocritical thoughts that can go along with those. It also spoke to some of the mommy wars- if you feed your child an all natural all organic diet, are you a better mom than one who gives her child a soda? The interesting part of this book is Karen's thoughts. She points out that while we know the answer to this is of course not, we sometimes feel otherwise. Even if we never say anything. The book itself was a bit frustrating to read, but the topics broached are good ones to think about. Oh, some of them are uncomfortable to really delve into in terms of looking inward towards our own thoughts and actions. But it is important to do that and to talk about these things. So for that reason I would recommend it.
Pandora's Lab: Seven Stories of Science Gone Wrong
by Paul A. Offit, M.D. was probably my favorite read this month. It is a series of seven short nonfiction stories about how science can go wrong basically. Some of the stories are about drugs. Did you know heroin was developed to help people kick morphine addiction? Of course the morphine was to get you off the opium. Pain medication is an amazing development, and a wonderful tool. But it has its downfalls. Other topics include the idea of eugenics. This was in fact based on the science of the time. And honestly a lot of people thought they were doing the right thing, the kind thing even, by following it. We know now it is a terrible idea, but this story reminds us to keep in mind the historical context of what we are learning about. Yes by today's standards we know that it is basically a racist, classist, everything bad plan. But if your scientific leaders, people who are supposed to know more than you, believe it, wouldn't you? I also enjoyed how it pointed out that things can seem like a great idea, but without sufficient data we can't be sure. Lobotomies were seen as a perfect cure. Of course the sample size for that first assessment was ridiculously small. How do you know what will actually happen when you only try it on a few people? You don't. This is a good reminder when people want to know why drug development can take so long. Well, it takes time to get the data. And without that you just don't know for sure. (Don't worry, heroin had a 'clinical trial' of a few people for a couple of weeks. You can totally get an idea of long-term addiction issues from that, right? Yeah no.) One more favorite- look at the big picture. What is the real risk as opposed to the perceived risk? One study might find that something has a negative impact on people, but at what level? For example BPA. It's hard to find a baby item without the BPA-Free label on it. Yes, large quantities are bad. But at small quantities, does it really matter? There isn't a definitive answer on this one. Basically this book reminds us that we need to rely on data, be cautious with what we have learned, and try not to be alarmist about anything. It is a book that even the non-science minded can get a lot out of, and frankly serves as a good reminder that we need to not fear science. We need to learn how to read into scientific information and draw our own conclusions. It also reminds us that some terrible things were created with the best of intentions. Science is a tool, how we wield it is the good or bad.
Looking for more good reads? Check out my other book reviews!
It turned into a thought provoking month. I really learned a lot from these books, and they gave me a lot to think about. Not all of it made me feel good. I don't like hearing about sick people not getting what they need, and for sure don't want to read about sick kids. But these are realities in our world and need to be addressed. I always enjoy reads that make me think, even if I didn't exactly care for the characters in the book. And of course that last book was just a good one to read. You should check them out!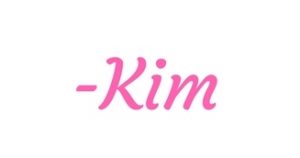 You're turn. What were your summer reads? Any suggestions as to what I should read next? I'd love to hear what you like!
Let us improve this post!
Tell us how we can improve this post?