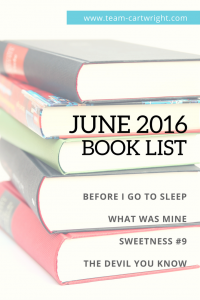 I adore reading. I always have at least one book going, usually more than one. Seriously, the library is one of my favorite places, and I honestly can't think of a single day in which I don't read at least a few pages of something. I love to discuss books with people, so I thought I would post about some that I have read lately. (This post contains affiliate links. All opinions are my own.)
Before I Go To Sleep by S.J. Watson
This one is about a woman who suffers from the kind of amnesia in which she can;t remember anything when she wakes up in the morning. She has a journal she has been writing in, and slowly starts to remember things from day to day. Of course she doesn't know who to trust, including herself. I think the idea of waking up thinking you are still in your early twenties and finding out you are older is one that many people can actually relate to. I mean, most people don't have amnesia, and most people don't have that feeling every day. But every so often I think we all wake up and wonder how did I get to this stage in my life? Wondering if you could trust the characters, including the narrator, made it a book I wanted to keep coming back to. It was a good read and is being made into a movie.
What Was Mine by Helen Klein Ross
The beginning of this book was tough for me to read. But I think that is understandable. It starts with a woman taking a four month old baby. I read it while I had two four month old babies, so it hit close to home. But overall the book was really interesting. It's told from different perspectives and is a quick read. I liked how it made me change my mind about people and think differently about characters than I thought I would. It makes you question if one bad decision outweighs all the good decisions you've made. Can one mistake ruin a relationship? Does one negative count more than all the good things we do as parents? Plus at this stage in my life anything that makes me think about a mother's love and her relationship with her children is interesting.
Sweetness #9 by Stephan Eirik Clark
A scientist helps do some testing on an artificial sweetener early in his career. He notices a problem with it, but ends up leaving that job. The story is about the scientist and his family, but with the influence of the sweetener that has ended up in basically everything on the market, a la high fructose corn syrup. It's about the family, and on that front honestly there isn't anything that remarkable to the story. I mean, I enjoyed it, but nothing out of the ordinary. The part that I liked is the theme of the sweetener and how prevalent it is in society. It really made me think about what we were eating and how processed it was. Of course I don't think we made any major changes to our diet as a result of this, but I am always trying to find ways to cutout the processed food. Motivation to eat better is good wherever it comes from.
The Devil You Know by K.J. Parker
This was an interesting one. It is short, it only took me a couple of hours to read. A great philosopher sells his soul to the devil to have enough time to finish up his work. He is assigned an agent to help him for the duration of the contract. This agent has doubts about the philosopher, assuming he is trying to get out of the contact. It was interesting to read how the philosopher explained different reasoning and how you can construct an argument without necessarily believing it. I admit the ending is a bit predictable, but I liked the discussions between the characters and I enjoyed reading the agent's point of view.I'm always open to new suggestions!
–
Kim
Let us improve this post!
Tell us how we can improve this post?