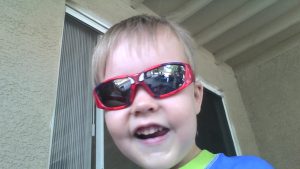 We are in full summer mode here. Pat is done with the school year, and it is HOT. Okay, it's been hot for a while now. It's hot a lot here. But it is really hot now, like in the hundreds. This means we've been doing a lot more indoor activities. We've been finding ways to have fun though!
The big events this past month were that Meo and Omi came to visit us and Ben had his first summer camp experience! Meo and Omi joined us for a few days. Honestly we just hung out with the kids and played. All three adored having the extra attention. Pretty much it was hugging, reading, and playing the whole time the kids were awake. Then recovering when they napped. A wonderful bonus for Pat and me was that we got to do a real date night out! Woot! We went to a movie and had dinner in a real restaurant. It was awesome. (Guardians of the Galaxy 2 if you want the specifics.) I've heard that going to a movie is a terrible way to spend date night as you don't get to talk as much. I think if you only go on date nights out 3 or 4 times a year it is very okay. Especially if you get to go to one of the nice theaters with the reclining chairs and watch something that isn't animated. This date was about feeling like real adults, not just kid sherpas. Let me tell you taking the time to dress nicely and just focus on each other was amazing. Pat and I talked and had fun like, well, like a real couple, not just parents. Thank you Meo and Omi for watching the crew!
Ben recently had his first summer camp! It was short, just a few hours for three days. It was a big deal though, because this was the longest time Ben has been away from family. I know, it sounds crazy, but he has always been watched by family. The camp was at the preschool he will be attending in the fall, making it a perfect trial run for when school starts. He loved it. Seriously, we got there every morning and he charged right into the room ready to play! I was so happy he had so much fun. (I am happy to report I did pretty well too. No tears, and I was only early every day to pick him up.)
The rest of the month was pretty normal. We went to the indoor play place a few times. Gramma and Grampa gave us a punch card that expired at the end of May, no way we were letting that go to waste! I was brave and took all three kids myself once! It really wasn't too bad. Of course it is way more fun when Pat gets to go too. We've been doing our usual breakfast in the park to get out before the heat. We've also checked out the local splash pads. Ben is thrilled when we go there. Ali and Sammy like the water, but they are a little unsure at times. There were a lot of other kids running around, so I didn't mind that they wanted to be close to us. It's easier to keep them from getting hurt. (I don't have a lot of pictures from splash pads. I prefer to get out there and play with the kids, which means stowing the phone away.)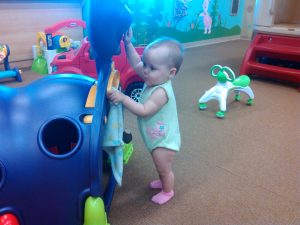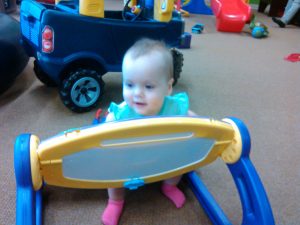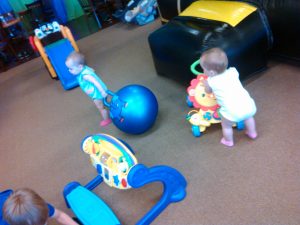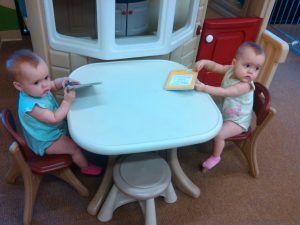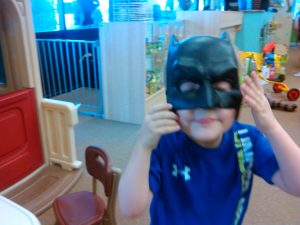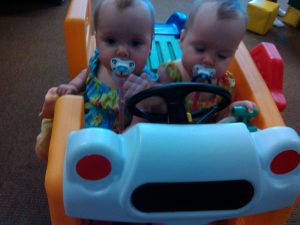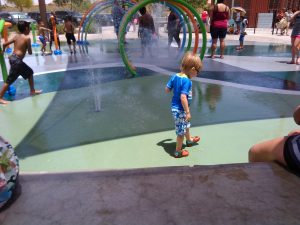 Pat's birthday happened to line up with the Family Fun Day at the Cabela's by us. We love free family fun days, and anything that is different and inside in this heat draws us in. We knew Ben would adore it. I mean, I am not an outdoor woman by any means, but this type of store can be fun even for me. There is just so much to see! Ben got to try fishing and archery, which he loved. We saw fish and an indoor waterfall. I have to say the highlight for Ben was the escalator. Yep, Pat and I took turns going up and down with him. Ali and Sammy, well, they are my daughters. They liked looking at the clothes. And overall the whole outing was fine, but you could tell they weren't overly impressed. That's okay. The important thing was we had something fun (and free!) to do that Pat enjoyed on his birthday.
Toss in some Science Thursdays and more play time and you have our month. The short week of Ben's summer camp showed me how much freedom we really do have in terms of choosing when we do things. Yes, I have to plan around nap times. Other than that thought we can kind of do what we want. That's going to change when Ben starts preschool in the fall. It's a good and exciting change, but a change nonetheless. Hence all the fun just hanging out time!
And of course the pictures of everything else.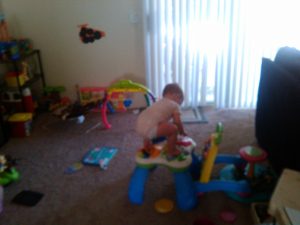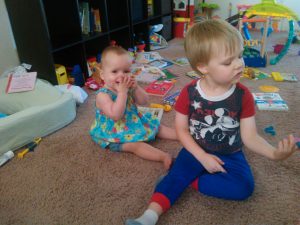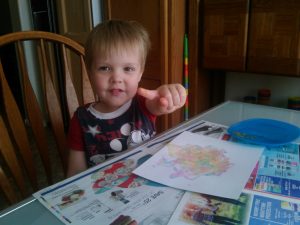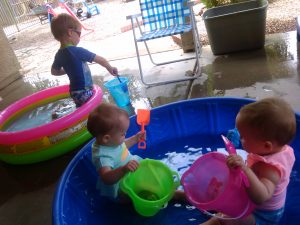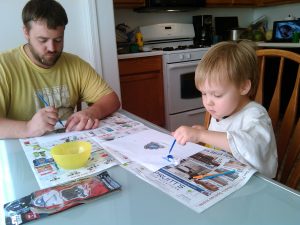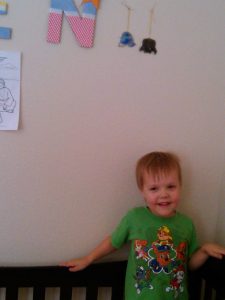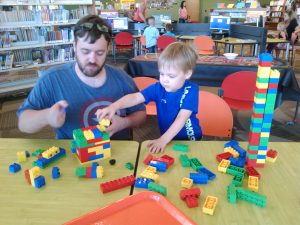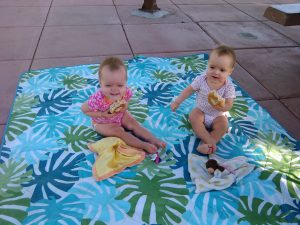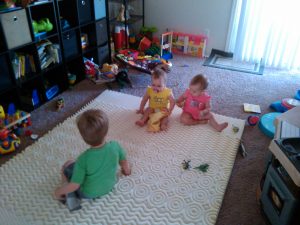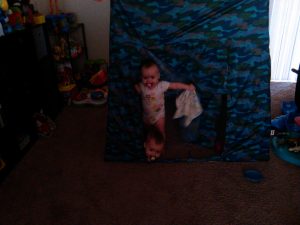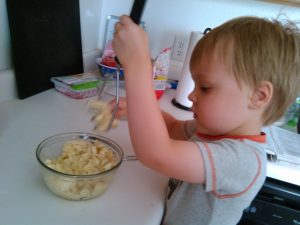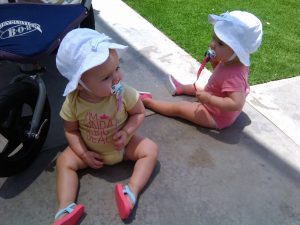 It's been a great month. Part of me wishes I had more exciting tales of our thrilling adventures to share, but honestly I know this is a special time. Our kids are happy to be with us. We are all content with simple things and family time. We can just enjoy being our little family. I know the days of parenting babies are busy ones, but I also know life has a way of just getting busier and busier. So I'm going to enjoy this time when we can just be together. Love and time spent together, these are what matter. We just might look back on this simple time as our 'good old days.'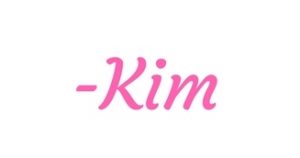 Let us improve this post!
Tell us how we can improve this post?