The best and easiest DIY slime and playdough recipes to make at home!
Play dough is a childhood classic. It's fun to squish and shape. And slime, slime is huge with kids. You can't lose with these two activities. They are simple ways to keep kids engaged, playing, and learning.
And the best news is you can make your own special and unique slimes and play doughs at home.
This list has some of the best (and easiest) DIY slime recipes there are. Unique options, edible choices, and more. Your kids will love these.
After this great list is more information on what learning happens during sensory play, tips on how to eliminate the messy parts of slime and playdough, and a few safety tips.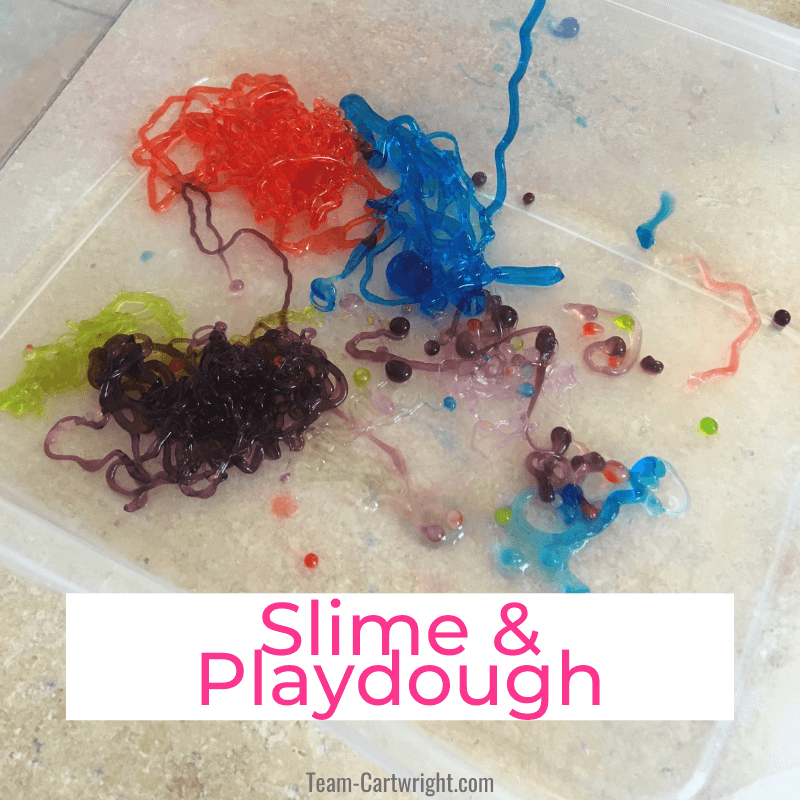 The best slime recipes and DIY playdough recipes there are! Find just what you are looking for to make a great sensory play experience.
Slimes
Slimes. Kids love them. And you can find so many ways to make slime unique and fun.
The first step of slime is to find a solid go-to recipe. This simple slime recipe is one that works super well, and it is easy to customize for your needs. (It works for every theme.)
And to increase the learning get the science of how slimes work!
Slime worms are unique. You have not made slime like this before. Learn how to make slime worms and your own slime beads at home, no special kit needed.
Turn pudding into a taste safe sensory treat! 2 Ingredients are all you need to make this fun and creative slime.
How to make tasty and fun gummy bear slime! Two ingredients gets you a unique slime your kids will adore. Plus learn the science of how to turn candy into a non-Newtonian fluid.
Have some Jello in your kitchen? You're ready to make some slime! This is a fun and easy slime to make that is totally taste safe. The bright colors make it amazing for dramatic play too!
Make breakfast even more important by turning it into slime! This taste safe slime can be easily customized with your favorite cereal.
Slime good enough to eat! Seriously, you can eat this slime. It uses jelly beans, making it perfect for spring and Easter. But really it is good year round.
Enjoy the snow without the cold! This fluffy snow slime is super stretchy and fun to play with. Plus learn how shaving cream works and makes fluffy slime possible!
Celebrate the holidays with slime! These slime recipes were put together with Christmas in mind, but again, they are good year round.
Spooky and fun slimes perfect for fall and Halloween! My kids love all things creepy and oozy, so we make these any time of year.
Homemade Playdough
Playdough is great for creative play, sensory fun, and building strength in tiny hands. It is also super fun to make at home! These recipes will be family favorites in your house too.
You don't need special ingredients to make playdough at home. This ice cream play dough needs 2 ingredients and can come together in minutes. Bonus, it is completely edible too!
Make amazing creative play experiences in all kinds of beautiful colors.
Yep, another 2 ingredient playdough. This playdough comes together quickly and works so well with cookie cutters! We always have these ingredients in the pantry so we can make this any time. You will love it!
Make an allergy-friendly version of the peanut butter play dough with sun butter! Just as simple, just as tasty, just as fun. All without peanut butter.
This DIY play dough needs just 3 ingredients and tastes super good. It is made of marshmallows after all! Learn how to make this fun colorful sensory activity and share some awesome marshmallow science with your kids.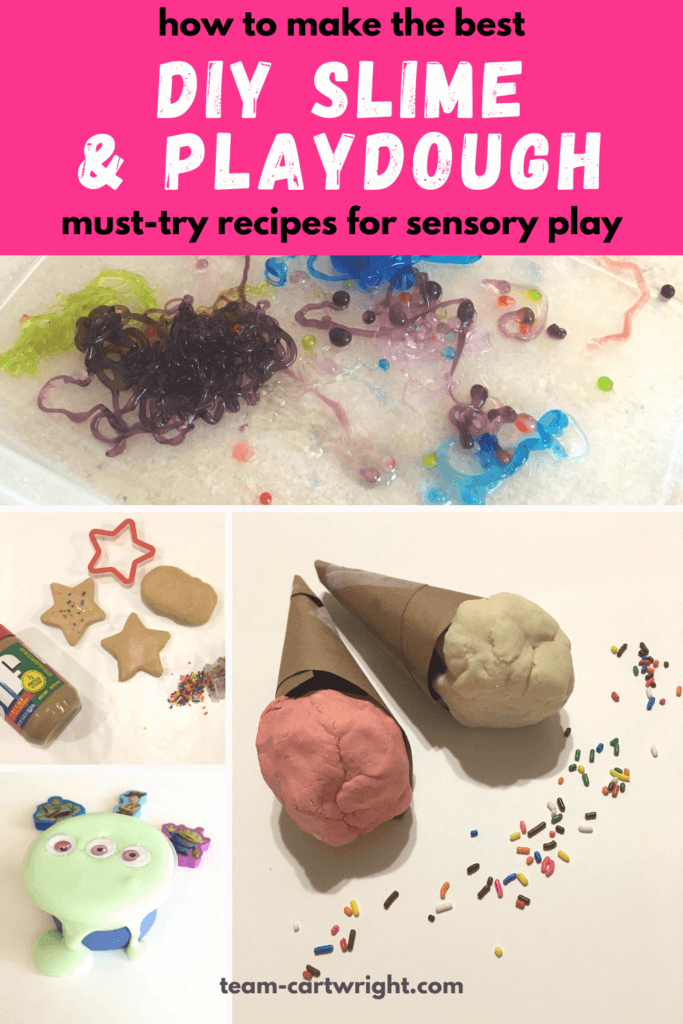 Sensory Learning
We know that kids love sensory play. It's a ton of fun and keeps them busy for a long time. But why is it so important to their development?
While it looks like just play, sensory activities are full of brain-building learning opportunities. You can get way more information here: The Big Benefits of Sensory Play, but I'll list out a few of the incredible work your kids are actually doing while they play.
Sensory play:
Helps information retention.
Aids in brain development.
Boosts language skills.
Builds calming skills.
Helps memory enhancement.
Can help with sensitivities.
Builds fine motor skills.
Taking the Mess Out of the Play
A big reason I hear parents mention for not wanting to do slime or play dough is the mess. I totally get that, no one wants to pick slime out of their carpet. Don't worry, there are several ways you can let your kids enjoy this sensory play without making a headache for yourself.
I have an entire post dedicated to just this topic: How To Make Mess-Free Sensory Play. So click on that to get all the tips and information. But here is a short list of ways to help.
Take it outside. If weather and space permits, do this sort of play outdoors.
Limit it to a safe space, like the kitchen table. Make this the only spot your child can play with this activity. You can supervise and clean it up more easily.
Use secondary containment. Play with slime or playdough only in a bin or on a tray. This makes for easier clean up.
Utilize the bath tub. Let young children sit in the tub (with the drain closed) and play. The mess is limited and your child can't run off with the playdough or slime.
Safety
Playdough and slime are designed for kids to dig their hands into and really feel. So a few safety tips for this play.
Keep all ingredients away from eyes.
Make it very clear to your child which slimes and playdoughs are edible and which aren't. I suggest not playing with both types at the same time. Either everything can be tasted or nothing can.
Have your child wash their hands thoroughly after all sensory play.
Be aware of all safety risks with the ingredients you use.
Homemade Playdough and Homemade Slime
Now you're ready. Which recipe are you going to try first?
Let us improve this post!
Tell us how we can improve this post?