Fluffy Snow Slime
Want to play with snow but don't want to deal with the cold? Then you have got to try this fluffy snow slime!
This slime is stretchy and fluffy and just amazing to play with. Add in some fun snow-like extras and you are ready to create a sensory winter wonderland.
This fluffy slime is a must-do sensory activity, and your kids will want to make it over and over. (And bonus, you can learn the science of how this slime works too.)
Let's make fluffy snow slime.
(And you can scroll down to the bottom for the printable instructions if you'd like.)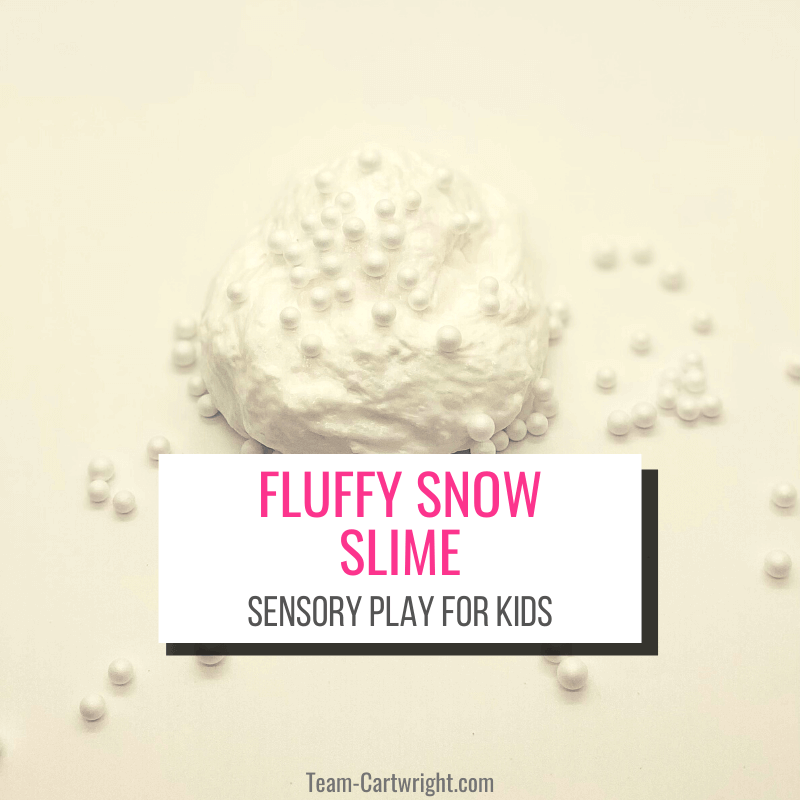 Fluffy Snow Slime
Fluffy slime is one of my favorite slimes to play with. I think it has such a nice consistency, it stretches well without being sticky, and it smells lovely.
Plus it's actually really easy to make.
Supplies for Fluffy Slime
Here are the items we used to make this awesome snow slime.
White Glue
Shaving Foam
Water
Borax
Foam Balls
Glitter (optional)
This is how we made our fluffy slime, you can also use contact solution and baking soda if you prefer that method. Check out the Fluffy Pumpkin Slime to find that recipe.
How To Make Fluffy Snow Slime
This slime is surprisingly easy to make. It has one of my favorite slime textures and kids just love it.
Step 1: Mix 1 teaspoon of borax into about 1/2 cup of warm water. Stir and try to get break up the borax so it dissolves as much as possible, then set aside.
Step 2: Put 3 cups of shaving cream into a bowl. It's okay to eyeball this, it doesn't have to be exact.
Step 3: Add 4 ounces of white glue to the shaving cream and gently mix it in. Add in your foam balls and glitter, if you choose to use any.
Step 4: Take your borax solution and add a teaspoon at a time, mixing carefully. This is when your slime will become, well, slime. Mix and add in one teaspoon at a time until you get the slime consistency you like. (More borax solution, less sticky slime. Less borax solution, stickier slime.)
Step 5: Enjoy your fluffy snow slime!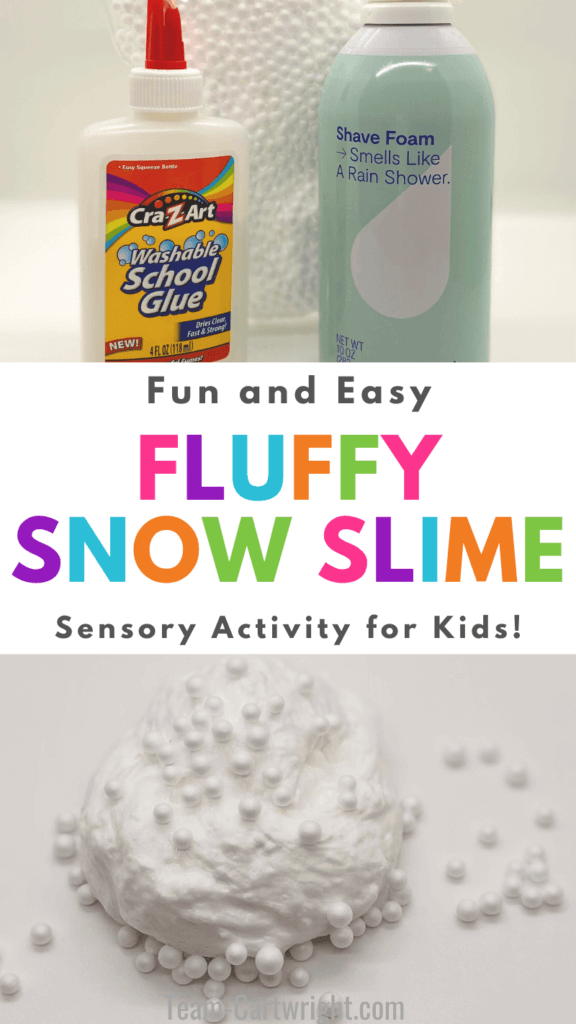 Safety
This is a pretty safe slime. It is obviously not taste-safe, so do not let your child eat any of the components. Be sure they don't get any in their eyes or nose either.
Some people have concerns about using Borax. This method is my favorite way to make slime (that we aren't going to eat) because it is easy to consistently make quality slime. Yes, you need to be careful with Borax, but overall using it to occasionally make slime does not pose a big health threat as long as you are washing your hands carefully and not consuming it. (Watch this to learn more: Borax and Slime)
Overall use your regular slime safety and adult supervision with this slime.
Clean Up and Storage
This slime can last a few days in an air-tight container. It might bubble up a bit in the container, but this is just a result of the gases from the shaving foam rising out. Your slime might lose some fluffiness, but you can still play with it.
Dispose of your slime in the garbage. Scrape anything leftover in your mixing bowl into the garbage as well. Then wash as normal.
---
More Must-Try Sensory Activities
---
The Science of Fluffy Slime
So how does this slime come together? Let's take a look.
How Does Shaving Cream Work?
Shaving cream is pretty cool. It comes out of the can and appears to almost explode as it puffs up into a nice foam. And that foam doesn't dissipate quickly.
Surfactants
A main ingredient in the shaving creams you'll find at the store is surfactants. Surfactants are chemicals that lower the surface tension of liquids. You find them in all kinds of soaps and cleansers. (You can learn more about surfactants and soap here: Soap and Pepper Experiment)
In shaving cream, these surfactants are made of two parts, a hydrophobic end and a hydrophilic end. The hydrophilic end helps the bubbles in the lather form. These ends avoid the water and trap air bubbles. The hydrophobic end helps the bubbles last longer by making them harder to break down in water.
Here's a reminder:
Hydrophilic: Water loving. These substances tend to dissolve or break down well in water.
Hydrophobic: Water fearing. These substances do not break down well or dissolve in water.
Pressure
How does all that foam get into the can? That's a pretty simple explanation. Pressure.
The shaving foam is compressed under high pressure into the can. When you release that pressure by squirting it out, it expands to its normal size.
How Does Fluffy Slime Work?
If you have made slime before you will notice two key ingredients, the glue and the borax.
These two ingredients are what create our slime base and make it so, well, slimy. The short explanation for how that happens is that the glue has long polymer chains. The borax is an activator that causes these chains to link up in a process called cross-polymer linking. (Very creative name, I know.)
This linking allows the polymer chains to move and slide against each other, yet stay together as a cohesive mass. Thus, slime. (You can find greater detail here: The Science of Slime)
What makes this slime fluffy is the shaving foam. Shaving foam, as discussed above, traps air bubbles. These bubbles maintain trapped in the slime for a nice fluffy texture.
---
---
Super Snow Slime!
This slime is great for winter themes, weather themes, or just an afternoon of fun.
If you are looking for even more slimes and play doughs (even edible ones!) you have got to check out the Slime and Play Dough page. Trust me.
What's your favorite slime to make?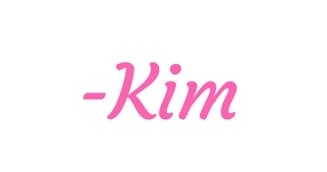 ---
Let's find your next fun activity!
---
Printable Instructions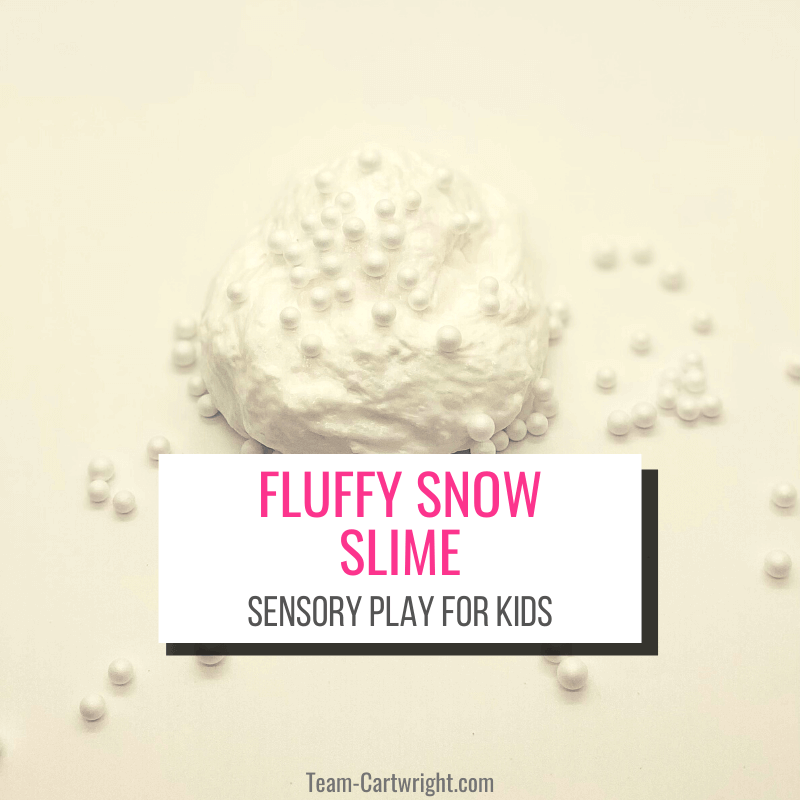 How To Make Fluffy Snow Slime
Make snow that won't give you frostbite! This easy fluffy snow slime comes together quickly and is perfect for snow play.
Materials
White Glue
Shaving Foam
Water
Borax
Glitter (optional)
Little Foam Balls (optional)
Instructions
Put 1 teaspoon Borax into 1/2 cup of warm water. Mix to dissolve as best you can and set aside.
Put 3 cups of shaving cream into a bowl.
Add 4 ounces of white glue to the shaving cream and gently mix.
Add in any glitter or foam balls you want to put into your slime.
Slowly add your Borax solution to your glue mixture, one teaspoon at a time. Mix gently as you go. Keep adding Borax solution until your slime is the consistency you like.
Play with your fluffy snow slime!
Notes
Safety
This is a pretty safe activity, though adult supervision is recommended. Do not let your child inhale or consume any of the materials used in this slime.
Clean Up
Dispose of this slime in the garbage. Do not put it down the drain. Scrape any remnants out of the mixing bowl into the garbage, then wash as normal.
Let us improve this post!
Tell us how we can improve this post?