How To Make Edible Jelly Bean Slime
Happy 10 days of easy Easter STEM activities!
We are putting together an edible sensory STEM activity today.
Sensory activities are a great way to encourage observation skills and having something that is edible means that little ones who still like to taste everything are safe if they sneak a nibble.
Jelly bean slime is the perfect DIY edible slime for Easter. While I usually prefer the borax method of making slime because it is so quick and easy, you can't exactly eat that.
This is almost an edible slime candy. It is fun to play with and fun to try a little taste of it. And it still gives all the benefits of sensory play!
(Learn why sensory activities are so important: The Big Benefits of Sensory Play)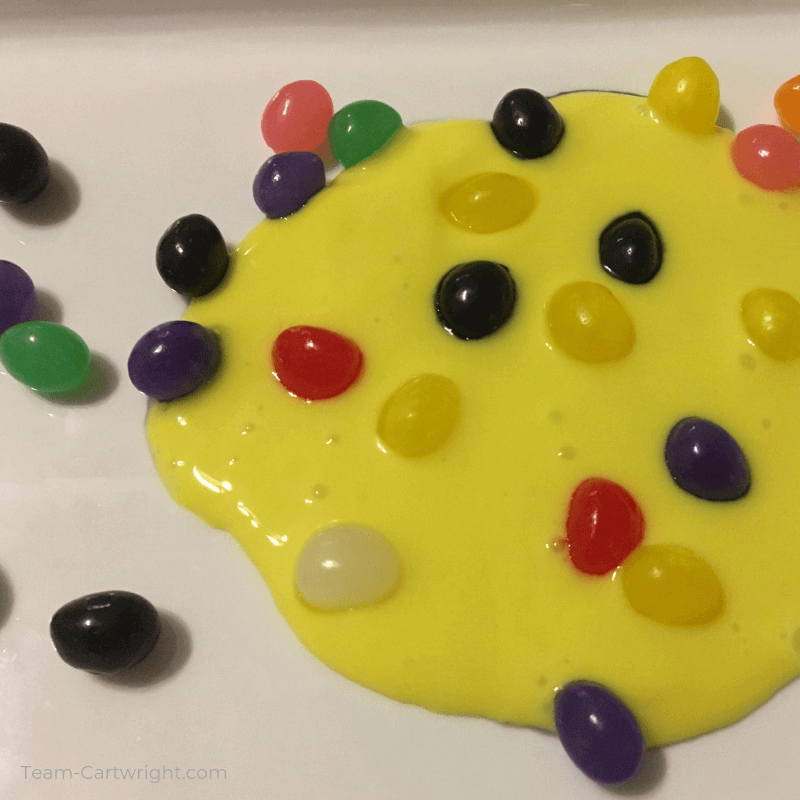 Jelly Beam Slime Recipe
Jelly bean slime only has a few ingredients, but it does involve using the microwave. I know that isn't really an unsafe thing to do, but it does mean the mixture can get hot. So parents need to help out with this.
You Need:
You only need three ingredients to make this fun slime:
1. Jelly Beans
2. Water
3. Cornstarch
How To Make Jelly Bean Slime
Pick out a few jelly beans and put them into a bowl. Color choice can matter here. Do you want your slime to be all the same color? Or would you like to work on color mixing?
Add a tablespoon of water to the bowl and then pop it into the microwave.
You are going to want to microwave this for about 20-30 second intervals to soften the beans, and then mash the heck out of them.
You do really want to watch this part and err on the side of short times in the microwave. The beans can easily burn and that burnt sugary mess is not something you want to have to clean out of your bowl.
Once you have a smooth paste of jelly bean, add cornstarch a spoonful at a time. This is what is going to keep your slime from being too sticky to play with. Add enough cornstarch so that you have a consistency that you like!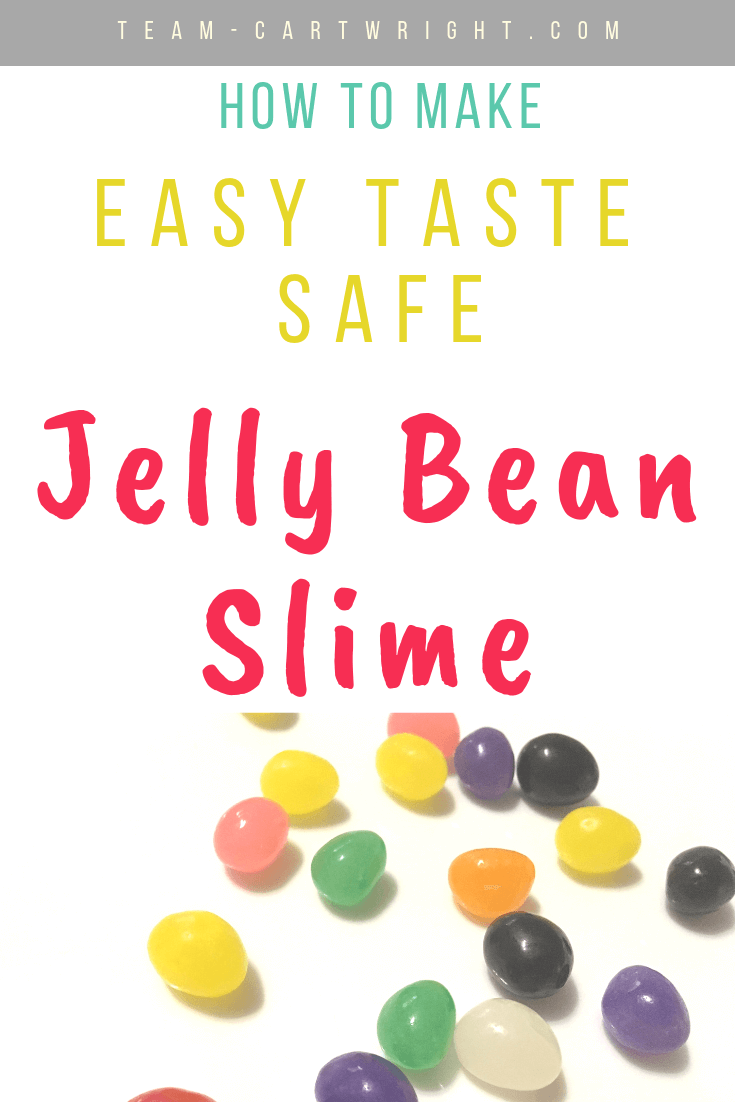 The Science of Slime
As I said, this is a fun sensory activity that kids love. But you can mention a bit about the science behind the slime too.
The short version is that slime is a non-Newtonian liquid. This means it's viscosity changes depending on what sort of forces are applied to it. If you squeeze it tight it can feel kind of hard. But if no force is being applied to it your slime will just kind of ooze into a puddle.
The other important part of slime is that it contains polymer chains. These polymers are what let the slime stretch really well but not break easily.
Learn more about the science of slime and get some of the best slime recipes here: The Science of Slime and Best Homemade Recipes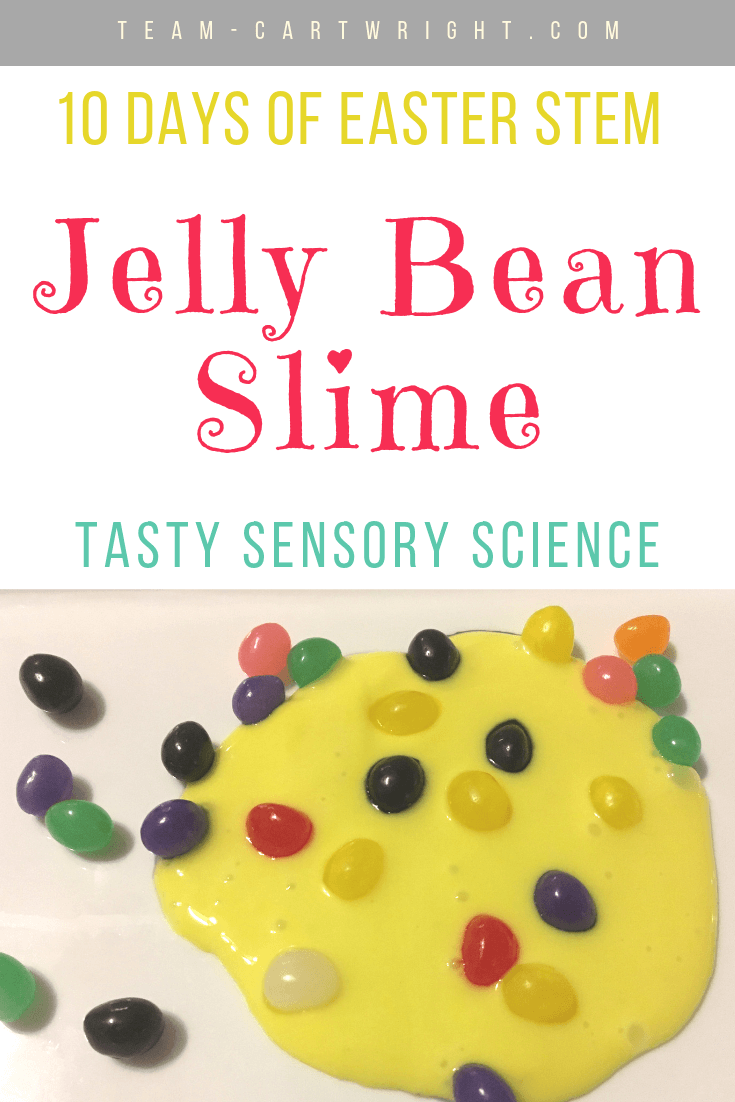 Don't forget to come back to all the fun activities we are doing! You can check out the list here. Links will go live as the activities go up.
STEM
Remember that STEM stands for:
Science: Where toddlers and preschoolers learn to observe and start to understand how the world around them works. This is where kids learn to ask questions.
Technology: Where children learn to use the tools that help them explore this world. Yes, computers and screens are a part of this, but they are not the whole story. Simple tools like scissors and magnifying glasses are a part of it too.
Engineering: Where children start to explore how things work. It's building things like towers, and it is taking things apart to see how they fit together.
Math: Where children learn counting and number recognition. This is where we lay the groundwork of number sense. Number sense is the basic understanding that numbers have individual values and these values interact.
Follow along with all our easy Easter activities: 10 Days of Easy Easter STEM!
Now go make this fun slime!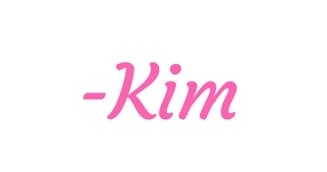 More Posts You'll Like!
27 Taste Safe Sensory Activities
Simple Sensory STEM for Toddlers and Preschoolers
Mystery Tinker Bags: Creative STEM Fun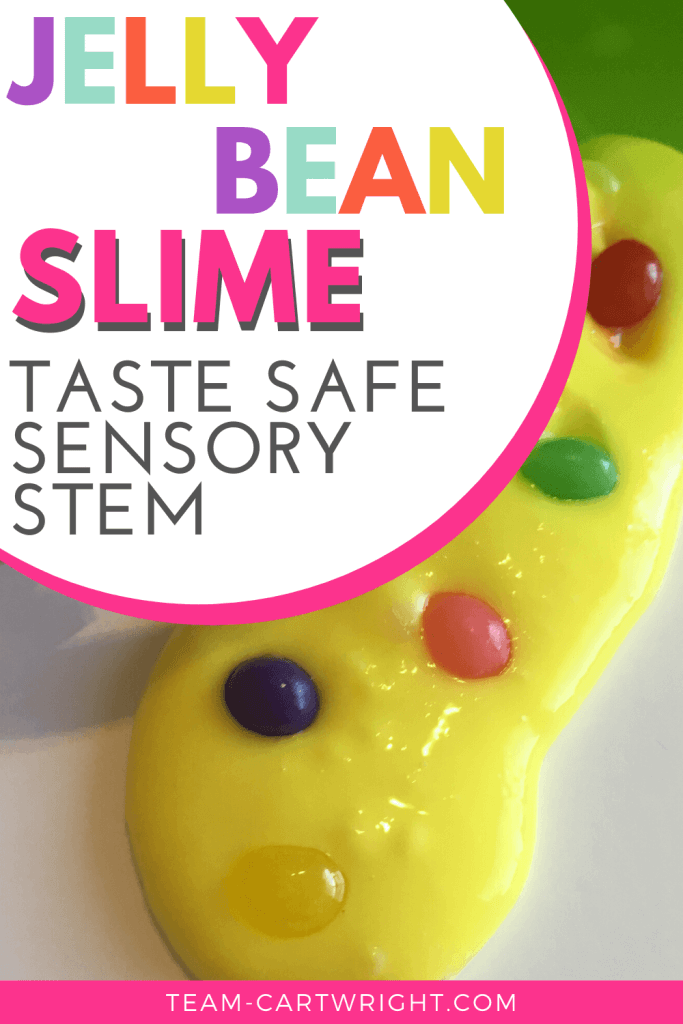 Let us improve this post!
Tell us how we can improve this post?