How to make allergy-friendly playdough- Edible sunbutter play dough.
We love making peanut butter play dough. It's one of my daughter's favorites. (At least I think it is judging by how many bites she sneaks.) It comes together so quickly and is such a fun sensory treat.
The only problem? Some of our friends have peanut allergies and can't play with this play dough safely. So I decided to see if we could come up with a solution.
Fortunately, it worked better than I thought it would. Here is how to make edible sunbutter play dough.
Edible Sunbutter Play Dough
This playdough recipe comes together in minutes and uses two items you probably have in your kitchen right now. These directions are available to print for free at the bottom of this post.
Supplies for Sunbutter Play Dough
These are the ingredients that we used to make our playdough, and it worked out really well. I will discuss alternatives below.
Sunbutter
Powdered Sugar
Sprinkles (Optional)
Cookie Cutters (Optional)
Alternative ingredients:
We have successfully made this play dough using several brands of regular peanut butter and now sun butter. I have no reason to think it wouldn't work with other peanut butter alternatives as well. You might need to tinker with your exact recipe, but I do think it could work.
The powdered sugar gives our playdough a nice light texture, and it makes it very tasty. If you don't want your sensory activity to be quite so tempting to munch on, you can substitute flour, cornstarch, or I've even heard powdered milk or dry milk. Again, you'll want to play with your ratios to get a good texture. But it still works.
How To Make Sunbutter Play Dough You Can Eat
This edible play dough is super simple to put together. You can scale it up or down as you'd like.
Step 1: Put 1 cup of sun butter into a bowl. (Using cooking spray on the measuring cup before you add the sunbutter makes it slide out more easily.
Step 2: Add 2.5 to 3 cups of powdered sugar to the bowl and mix.
Step 3: Gently mix your play dough until it is a consistency you like. (As it gets stiffer you will need to use your hands.) If it is too sticky, add more powdered sugar. If it gets too stiff, add a little more sunbutter.
Step 4: Play with your playdough!
A few tips:
If you feel your playdough is still too sticky, but you worry you've added too much powdered sugar just let it sit for a few minutes. Sometimes that can help it be a better texture without adding too much sugar.
You can double or halve this recipe as needed. This recipe makes enough playdough for one child.
This playdough is amazing for dramatic play, especially if you are using a baking, restaurant, or cookies and cakes theme. Get out sprinkles, cute cookies cutters, little candies, and you have some super cute, super fun playtime.
Clean Up and Storage
You can store your play dough in a resealable baggie or airtight container when you are done playing with it. I keep ours in the fridge, but that is optional. We can hold onto this playdough for about a week before it is played out.
Clean-up is easy. Throw any playdough you are done with into the trash, along with any solids remaining in your mixing bowl. Then you can wash the bowl as normal.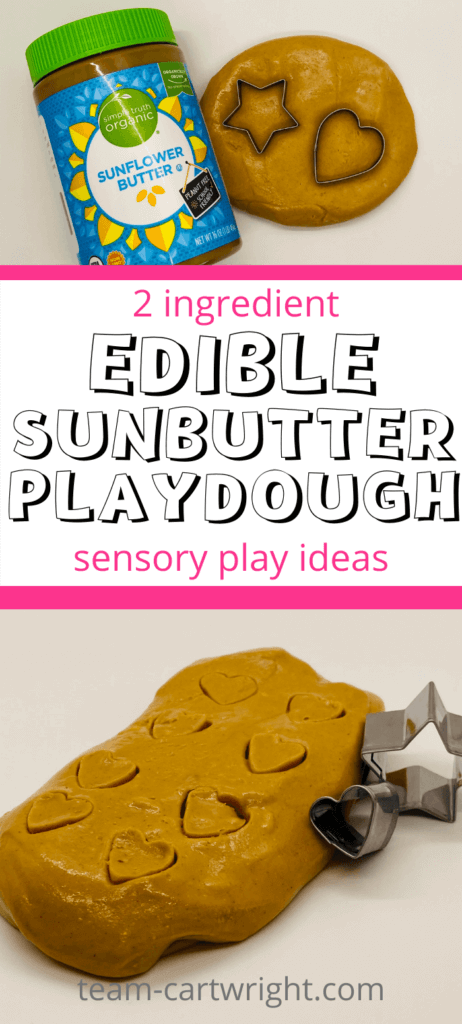 Safety
This is a pretty safe playdough. It is designed to be friendly to those with peanut allergies, but make sure you look at your individual ingredients for any allergy risks.
This is an edible sensory activity, so as long as the ingredients are safe for your child, it is safe to eat. I would use adult supervision with it though, especially with younger kids. It can be easy to take big bites that could cause a choking hazard.
I also recommend making sure all your children know which playdough accessories you are using are safe to eat (like sprinkles or candy), and which aren't (like cookie cutters).
---
You have got to try these fun playdough and slimes!
---
What Learning Is Going On?
This activity is just plain fun, which makes it a worthwhile one. But it is also full of learning.
Sensory Play
Sensory play is so important for kids, and not just because it keeps them busy for a long time. No, there is a ton of learning that is going on!
This activity is a special sensory activity because it involves taste right in with all the other play. Usually, we can't let our kids taste everything they play with, so this gives a unique chance to really dive in with all their senses.
Benefits of Sensory Play
Sensory play has so many educational benefits. You can read about them all in detail here: The Big Benefits of Sensory Play. I'll give you the short version here.
Here are some of the areas that sensory play impacts. Sensory play:
Boosts brain development
Helps grow language skills
Helps work calming skills
Builds better learning and information retention
Helps memory enhancement
Can help in tolerating sensitivities
How To Encourage Learning Through Play
Learning through sensory activities can be so simple too. In fact, you really just need to step back and let your child have fun. It might just look like play, but trust me, they are learning too.
If you want to join in on the fun, you can help the learning by just simply talking with your child about what they are experiencing.
What does the play dough feel like? Smell like? Look like? Taste like? Even sound like? (Seriously, squish it close to your ear, it has a sound.) This sort of questioning guides their attention to each individual sense and helps them really experience it.
You can also toss out lots of fun vocabulary words. Squishy, oozing, smooth, bumpy. Even somewhat made-up words like splooshy work too. These give your children permission to be free with their language and try out new words. Plus it helps grow their vocabulary to hear new these new words.
---
These are the next activities you have got to try.
---
The Science of Sunbutter Play Dough
So how does this playdough come together?
Playdough is a compound. In science terms, this just means it is the mixture of two or more separate elements. Or in this case, two different substances, our sun butter and the powdered sugar.
Sunbutter is a liquid. When you add in the powdered sugar it thickens into a substance that is very clay-like. Kept out of the air, it will keep its pliant texture and you can use it like modeling clay. If it is left out it can start to harden into a solid.
The same is true for peanut butter play dough. Peanut butter is a liquid. It is a very viscous liquid and oozes slowly, but it is a liquid. The powdered sugar thickens that liquid even more to create the play dough.
Fun fact: Play Doh was originally created as a wallpaper cleaner. But it was found kids loved to play with it, so they turned it into a toy.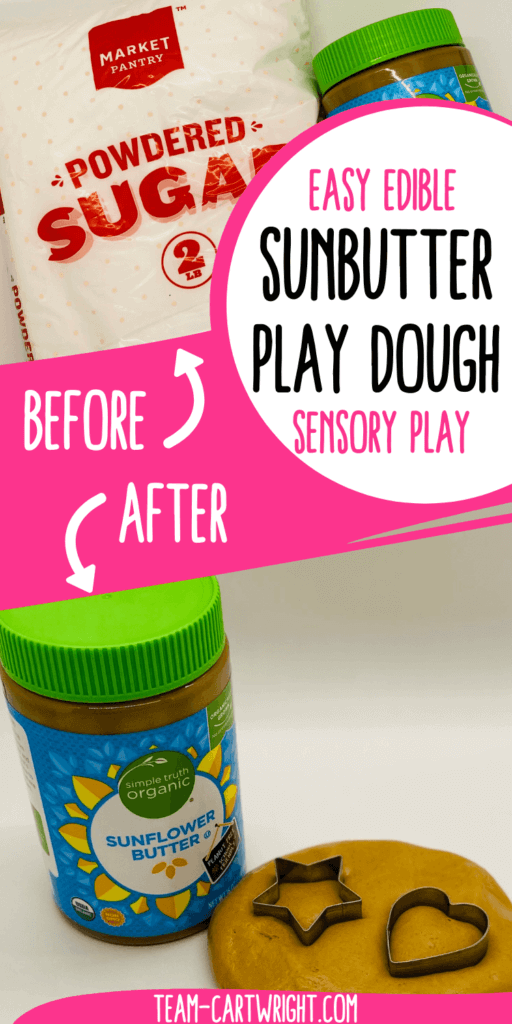 Allergy Safe Edible Play Dough
This playdough was just as much fun to play with as the original peanut butter playdough. And we loved that it was safe for friends with allergies. I hope this inspires you to try some alternative nut butter playdoughs at home!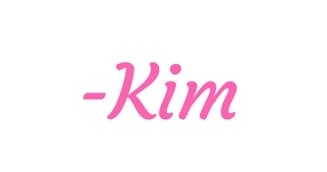 Check out these other activities your kids will adore!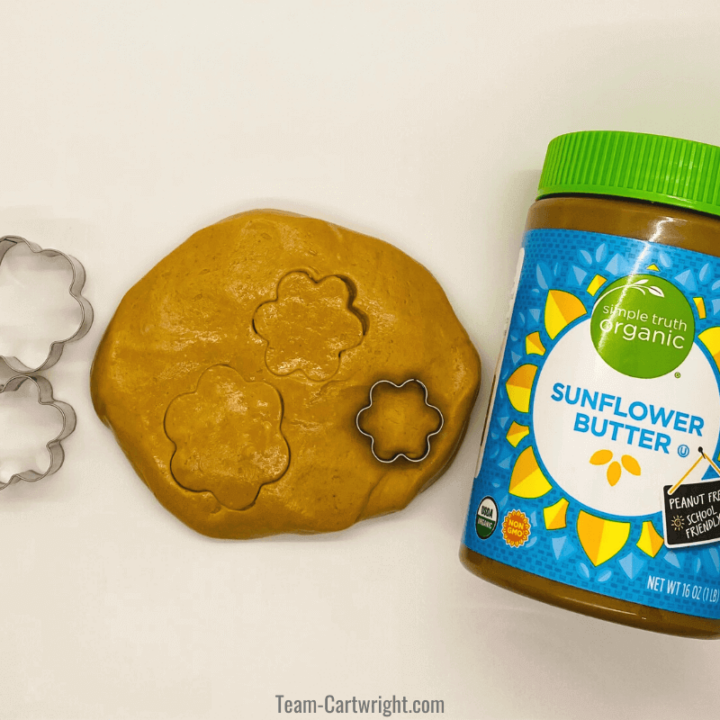 How To Make Sun Butter Play Dough
Make allergy-friendly edible playdough out of sun butter! This is an easy and fun sensory activity your kids will adore.
Materials
Sun Butter
Powdered Sugar
Sprinkles (Optional)
Tools
Cookie Cutters (Optional)
Instructions
Put 1 cup of sunbutter into a bowl.
Add 2.5 to 3 cups of powdered sugar and mix ingredients.
If your playdough is too sticky, add more powdered sugar. If it is too stiff, add more sun butter.
Once you have your desired consistency, play with your playdough!
Notes
Safety
This is a pretty safe activity. Do not play with this playdough if you are allergic to any ingredients.
Storage
This playdough can last for about a week in an airtight container.
Clean Up
Once you are done playing with this play dough, simply throw it away. Dispose of any remnants in your mixing bowl in the trash then wash as normal.
Let us improve this post!
Tell us how we can improve this post?