Marshmallow play dough edible sensory STEM for kids.
I am a big fan of homemade play dough. Not only is it a great sensory experience, but it also lets you explore some interesting science.
Oh, and the homemade versions can taste pretty good too.
This particular homemade playdough is pretty easy to make and is tasty. It uses easy ingredients you probably already have at home. And it wows your kids to make playdough out of something they already love.
Here is how to make marshmallow play dough at home.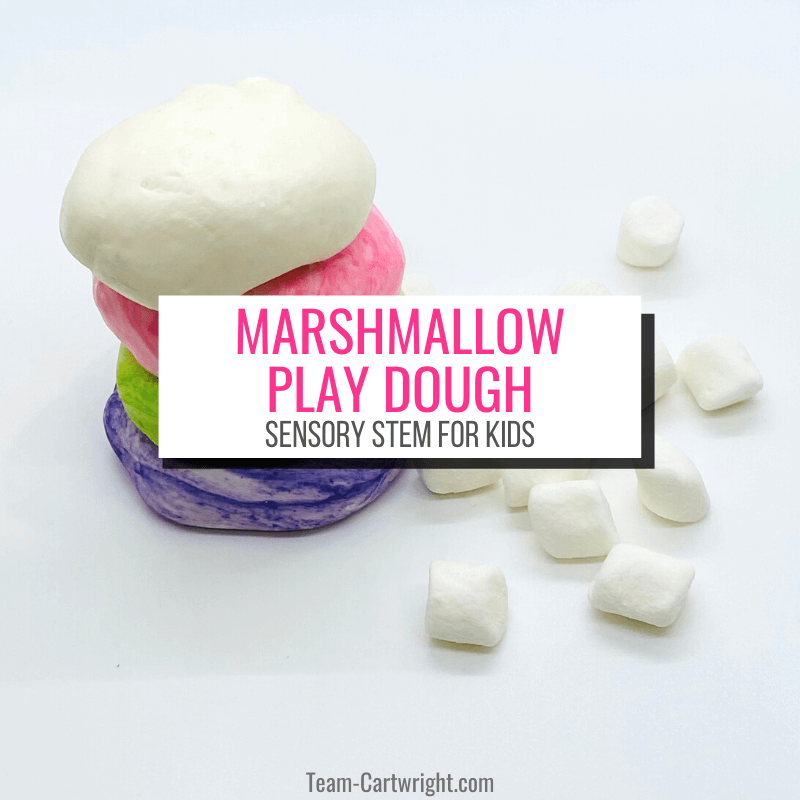 (These directions are available to print if you scroll down to the bottom.)
Supplies for Marshmallow Play Dough
Marshmallows
Coconut Oil (or vegetable oil)
Cornstarch
Food Coloring (optional)
How To Make Edible Marshmallow Play Dough
This playdough is pretty simple to make. It does require heating in the microwave, so your child will need adult help.
Step 1: Put 1 cup of marshmallows into a bowl. Choose a bowl that can hold at least double the volume you are adding. Marshmallows expand when heated and you don't want your bowl to overflow.
Step 2: Add 1 teaspoon of coconut oil.
Step 3: Microwave for 30 seconds.
Step 4: Add 3 tablespoons cornstarch. (And add food coloring if desired.)
Step 5: Mix, mix, mix! Start with a spoon and as your playdough comes together start needing it with your hands. Be careful, it will be hot. If it is too sticky, add small amounts of cornstarch until you have your desired consistency.
Step 6: Make sure your mixture is cool and play with your play dough!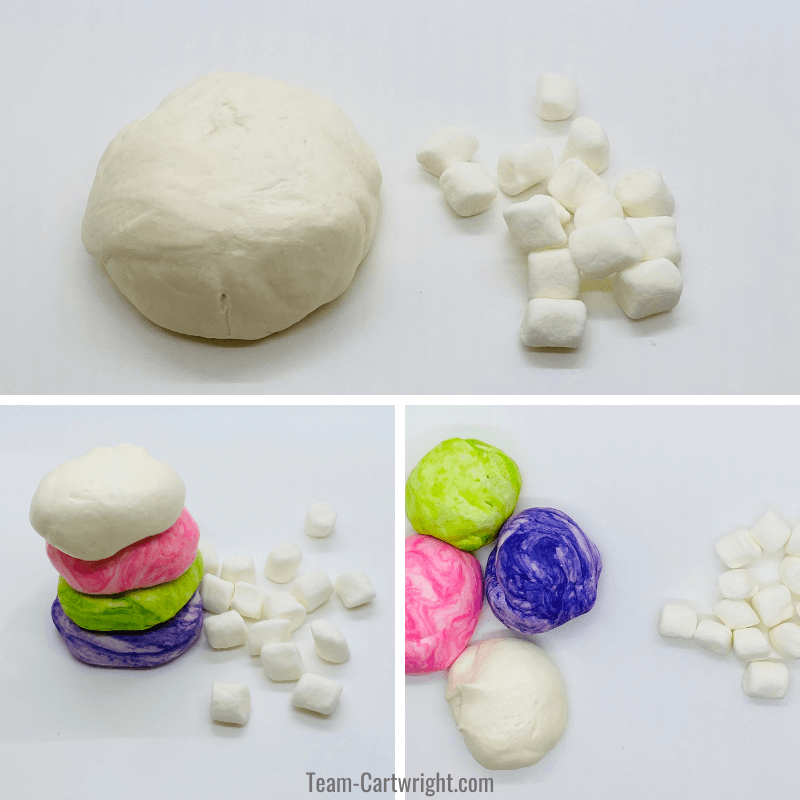 Safety
Safety is always number one, so here are a few tips.
The marshmallow mixture will be very hot at first. Use a spoon to mix and handle carefully. An adult should supervise if not do this part.
The marshmallow mixture can be very sticky initially too. Be prepared for messes. If the hot mix sticks to your hand, wipe it off with a paper towel then run your hand under cool water.
Along with the note on the mix being sticky at first, be aware of the surfaces you are using it on. Keep it to your counter, table, or any other area that can be easily wiped clean.
Extra Tips
Here are a few tips to maximize your fun with this easy homemade play dough.
Use a larger bowl than you think you need. Remember, your marshmallows are going to expand as they heat up, so you want more room.
I think mini marshmallows are easier to use because they mix together better than the large marshmallows, but either will work.
If your dough is too sticky you can add more cornstarch. Add it slowly and knead well.
If left to sit your play dough can get a bit tough, just keep working it and it will soften up nicely.
You can scale up this recipe as needed, but I found it best to make several small batches. It is easier to make more colors that way and easier to maintain a quality texture.
---
Check out these fun play doughs and slimes!
---
Storage and Clean Up
This play dough sadly does not last as long as some others. (Peanut butter play dough will last for a decent amount of time in your fridge!) It is best used right away and maybe for one more day. Despite this short window, the ease of making it makes this perfect for a play date or party!
Store any play dough in an airtight baggie at room temperature. Don't refrigerate this one.
Clean up is pretty simple as all the materials are edible. You can throw away your playdough when you are done with it. The dishes and spoons you use to make the dough can be washed as you normally would.
Any spills can be wiped up. As I said, this play dough can get sticky while you are making it. But that is just the sugar, so keep using water and a cloth to wipe up messes.
Fun Activities For Your Marshmallow Play Dough
There are so many fun things you can do with this playdough!
Color Mixing
I fully admit it, I hate mixing play dough colors. You can't undo it once you've mixed the colors and it is just a big pet peeve.
Since this playdough is really best for a one or two time use, it is perfect for mixing!!
You can go over how the primary colors mix to make secondary colors. (That's the whole red+yellow=orange, red+blue=purple, blue+yellow=green stuff.) Learn more about color mixing here: Color STEM for Kids.
You can also mix whatever your child wants and see what happens! That freedom to experiment is so important and fun for kids.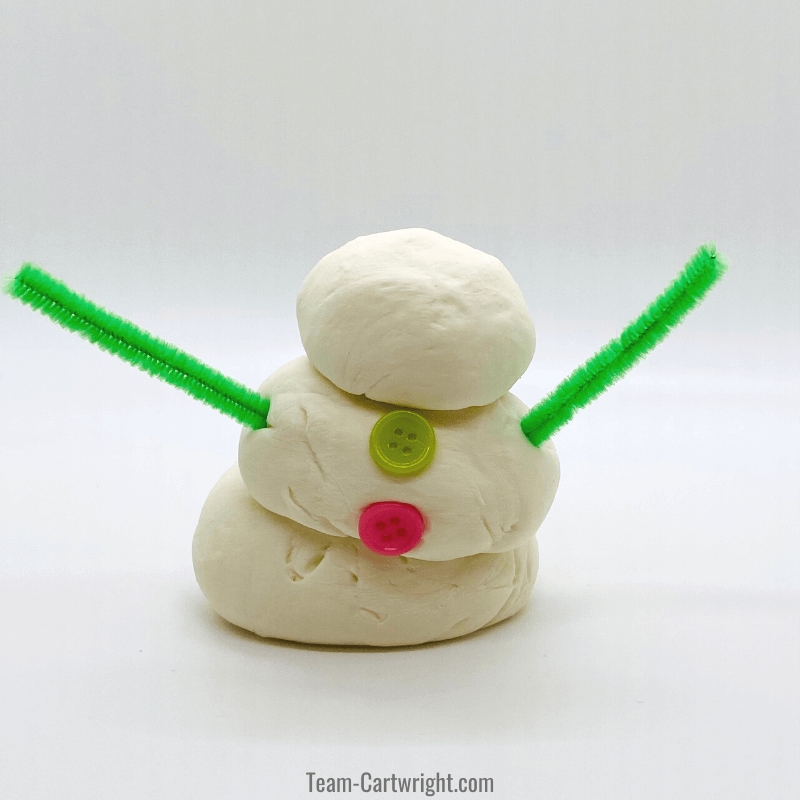 Make a Snowman!
If you don't have food coloring, this is still really fun playdough. In fact, it is great to make snowmen!
Grab some buttons, pipe cleaners, ribbon, or sticks, and make your own snow person! This is a fun creative challenge and perfect for a tinker tray.
Play Pretend
What sort of creative world can your child create with this play dough?
The bright colors make for beautiful rainbows. Can your child imagine a colorful world?
These fun colors are also wonderful for pretend ice cream and cakes. Your child could open an ice cream shop or bakery. Or both! (Bonus when the treats actually taste good.)
Have you tried shaping this play dough into lovely flowers? Again, the colors just make this so much fun. And don't stop here. Imaginative play is so important for children, so let them feel free to create!
---
More Must Do Activities
---
What Learning is Going On Here?
Yes, even fun little activities like this are full of learning for kids! It is always okay to just do projects for fun, but I like to share a bit of the behind the scenes learning. In this activity, we are focusing on the science and sensory aspects.
The Science of the Play Dough
Let's take a look at the science in how this activity works.
Expanding Marshmallows
The first part of this activity, the actual preparation of the DIY playdough, has a fun science component right away. When you microwave your marshmallows, they expand.
If possible, have your child watch the marshmallows in the microwave while they heat. Ask them a couple of questions.
Before you start, what do they think will happen as the marshmallows heat up?
While it is heating, what do you observe happening to the marshmallows?
After heating, what do the marshmallows look like?
These are just a few guiding questions, but invite your children to really observe, with as many of their senses as they can, how the marshmallows change from the heating. How and why questions as helpful to lead the conversation.
Marshmallow Science
So why does this happen?
Marshmallows are made of mainly water and sugar, with a lot of air bubbles. These air bubbles are what make them so fluffy. Microwaves excited water molecules, and as they move faster and faster they generate heat.
This heat softens the sugar, making the marshmallows stretchy and soft, and it expands the air bubbles. This can be explained through the ideal gas law, PV=nRT. The short version of this is that as temperature increases, volume increases. So the marshmallows expand.
(Learn more about the ideal gas law here.)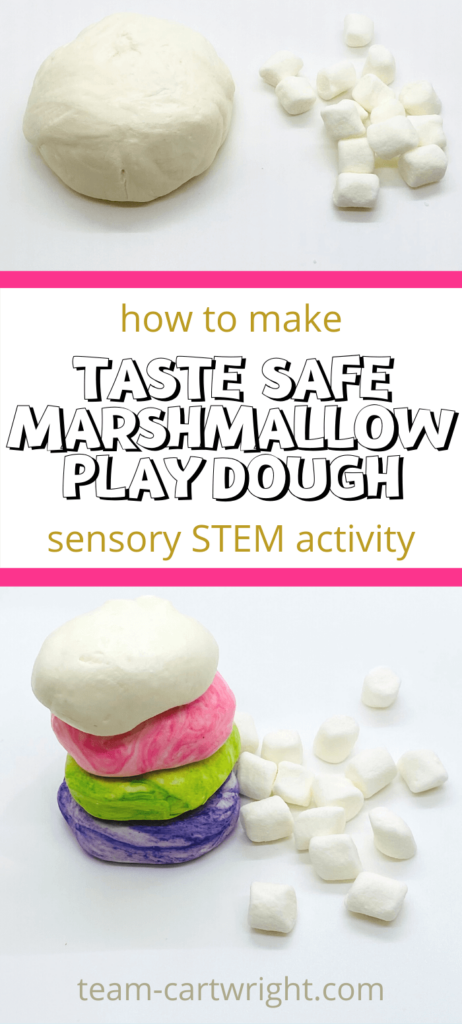 Playdough Science
Playdough is a fun and unique material. Here is a general idea of how the components are coming together.
Heating the marshmallows makes them softer and more stretchy. The oil helps lubricate the mixture and keeps it in that fun playdough consistency. And the cornstarch adds thickness so the whole thing doesn't get too liquidy. It also helps with the stickiness.
Sensory Learning
There is a lot of sensory exploration going on with this activity! All that squishing and shaping really matters.
Sensory play is so important for kids. You can learn all the benefits here: The Big Benefits of Sensory Play. Here are a few areas that are getting a boost from this play:
Better learning and information retention
Memory enhancement
Language skills
Vocabulary skills
Calming skills
Marshmallow Peeps Play Dough
I love peeps. So making this playdough made me wonder, can I make it out of peeps? Good news, you can!
Follow the same basic instructions, just substitute about 4-6 peeps for the cup of marshmallows. You will need to add food coloring if you want the fun vibrant colors we got too. (Despite being colorful on the outside, most peeps are white inside.)
This is a fun way to use up Easter peeps or to just enjoy year round. And it's a good way to add some science to your holiday celebrations.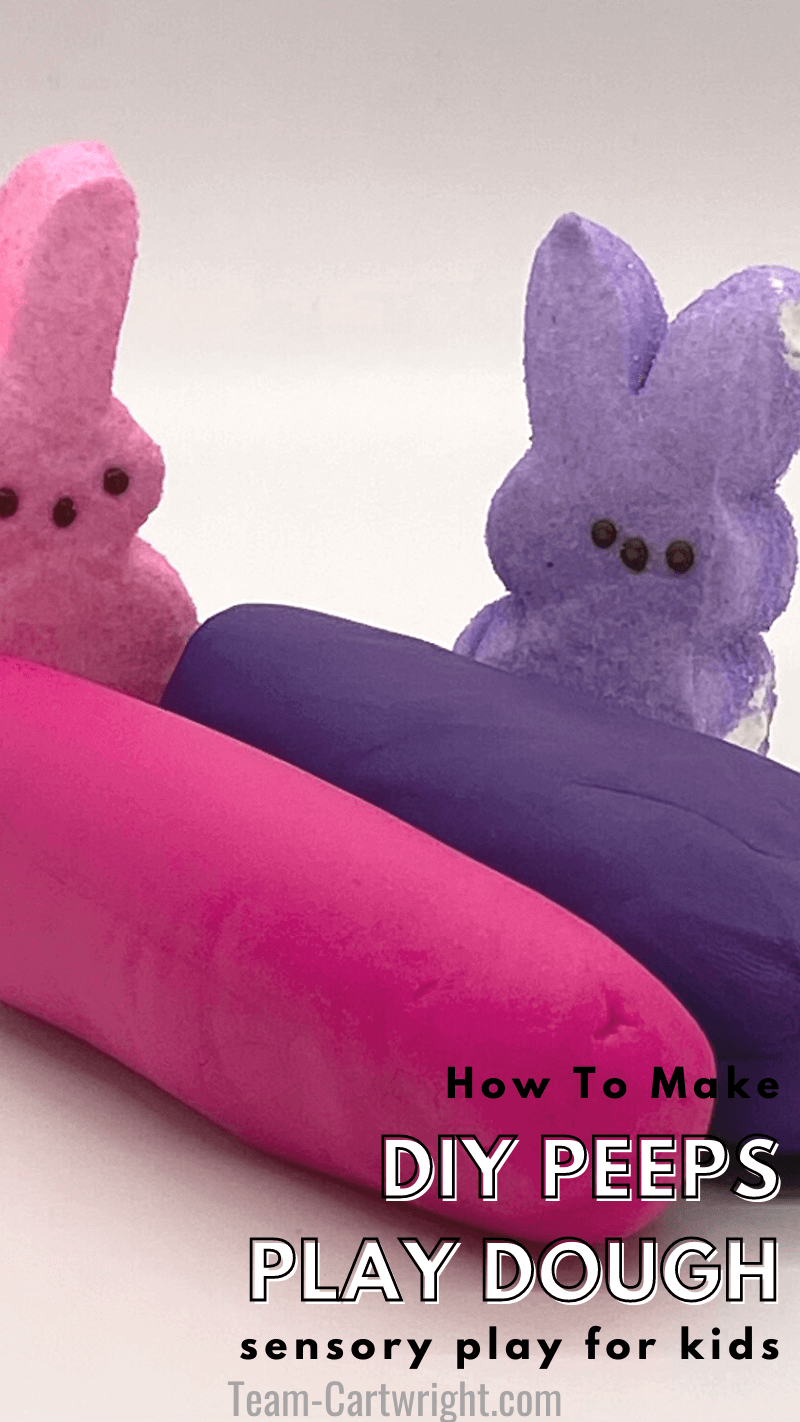 Tasty Sensory Fun!
This play dough is a blast to make. It is a wonderful sensory experience for kids and you can talk a bit about the science behind it. (This is a great time to talk about liquids vs solids!)
What will your child create?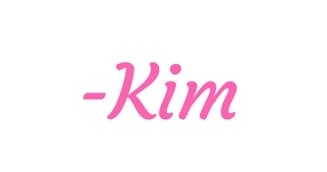 Which activity are you going to explore next?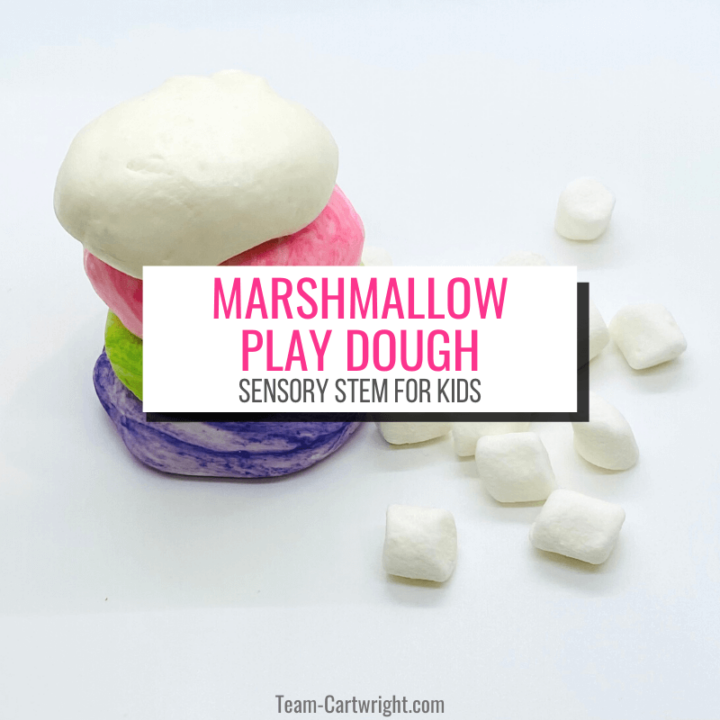 How To Make Marshmallow Play Dough
Total Time:
5 minutes
30 seconds
Make fun and easy homemade play dough out of marshmallows! This is a fun taste-safe sensory activity that will wow your kids. Plus learn the science behind how this works!
Materials
Marshmallows
Coconut Oil
Cornstarch
Food Coloring (optional)
Instructions
This homemade playdough is simple to make, but will require adult assistance.
Put 1 cup marshmallows into a bowl.
Add 1 teaspoon coconut oil.
Microwave for 30 seconds.
Add food coloring (optional) and 3 tablespoons cornstarch.
Mix well! Start using a spoon and as the mixture cools use your hands.
Play with your play dough!
Notes
Safety

The marshmallows will be quite hot at first, so be careful when you are mixing them. An adult should be present to help children making this on their own to be sure the playdough isn't too hot to handle.
Tips

This recipe can be scaled up, but it is easier to make multiple colors if you make several small batches.
If you find your play dough is too sticky, add small amounts of cornstarch until it is a consistency you like.
Use a bowl that can hold double the volume you are putting it in at the marshmallows expand when heated.
Marshmallow play dough can be stored in an air tight bag on the counter for a day.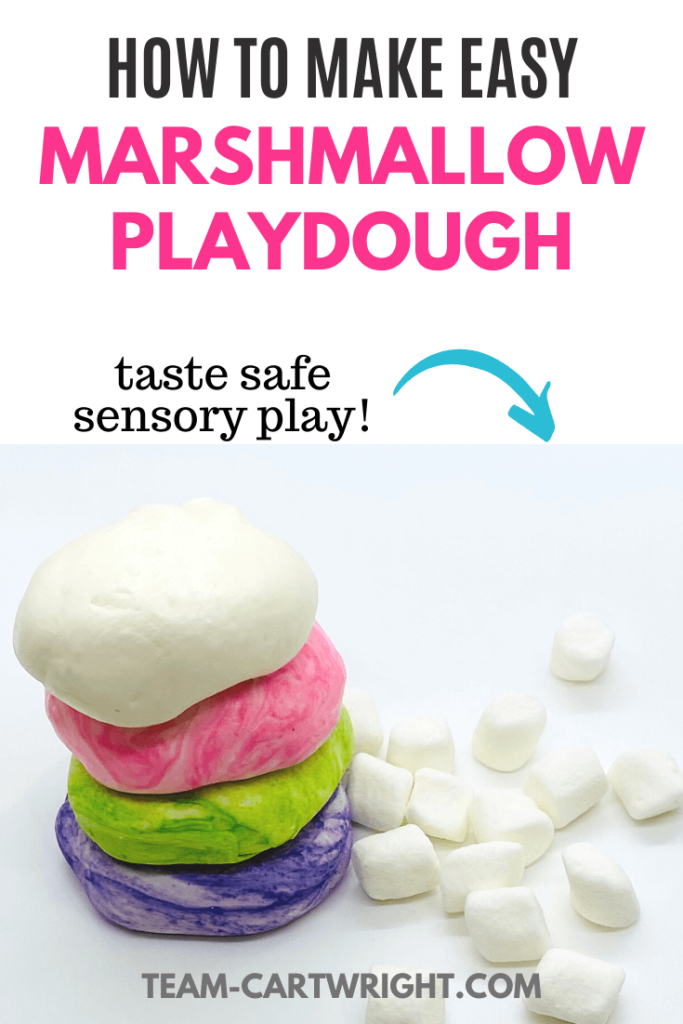 Let us improve this post!
Tell us how we can improve this post?