We now have two one year olds in our house! Ben is cruising along at three and a half years old and busy as ever. The schedule hasn't changed too much in the past month, but we have made a few tweaks. The holidays gave us a chance to try a few new things, and I'm liking how we are doing!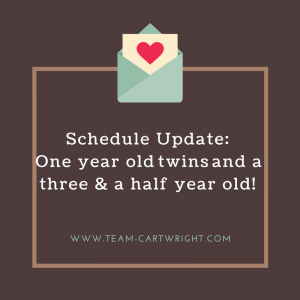 Here is our basic outline of the day:
7:00am- Ben up! We spend a few minutes together and get his breakfast going.
7:15am- Ali and Sammy up! I get them to the living room and nurse.
7:30am- Ali and Sammy play while I make their breakfast. Ben helps now, which is super sweet. (But means it takes a few minutes longer)
7:45am- Everyone sits to breakfast. We try to facetime with family during this time. The kids eat a better breakfast with someone besides me to look at. 😉
8:30am- Done with breakfast, kids play while I clean up. I try to squeeze in some reading time and play with the kids.
9:00am- Ali and Sammy to first nap. Ben and I do a one on one activity now. I choose it and I try to make it educational. My goal is at least ten minutes of directed activity, but if he is in to it we stretch it a bit. After that he does his independent play while I get some work and chores done.
11:00am- Ali and Sammy wake up and nurse.
11:30am-1:45pm- This is still our busy time. If we have early activities we head out to those and then get home for lunch around 12:30 or so. If we are just doing our own thing we usually do an early lunch. We go to libraries, parks, and do any errands we might have. Home time is spent reading and playing with the kids. We are trying to get as much outdoor time as possible too!
1:45pm- Ali and Sammy nurse and head to naps. Ben gets a snack if we did an early lunch.
2:00pm- Ben to nap.
4:30pm- Everyone is up! I let them up any time after 4. Ben is pretty good about staying in his room if he wakes up early, but most days I still have to wake him up. I try to stretch the girls a bit as sort of an independent playtime.
4:30pm- The kids get a small snack. I don't like that they eat so close to dinner, but the girls at least cannot make it to dinner without a little something. Ben usually just gets some milk. If everyone is happy I will skip the snack. Some days just a few bites are what keep the girls happy and playing til dinner. This is when Ben gets to watch a show too.
5:30pm- Dinner time! We all eat together. If Pat is working late or the kids are really having a hard time waiting til dinner time I start them off early, but we aim to all eat together.
6:00pm- Family play time! (And baths on rotating nights.)
6:45pm- Jammie time for Ali and Sammy, then they nurse.
7:00pm- Ali and Sammy to bed for the night.
7:10pm- Ben starts his bedtime routine.
7:30pm- Ben in bed for the night.
As the girls are getting older we can be slightly more flexible with their schedule. We can shorten their morning nap to get to more activities. And they are can move their solid meals around a bit if I give them a little snack. This really frees us up to go more places. We have also started the slow move toward weaning by dropping the post afternoon nap nursing session. The girls were not happy to have to nurse then and have been so much happier in the post nap time without it. As a bonus they are nursing better at the other time of day. As I said we aren't rushing to wean, but it is the first step!
I've added in the directed activity for Ben and he has been doing so well with it! It has been great practice for him to have to sit still and do what he is told for a bit. We do puzzles, crafts, color, work on letters and numbers, and do work on other concepts through play. I think the special attention helps him keep a happy attitude throughout the day, and we are working on things he will need in preschool. Ben has also been super into helping out lately. He loves to help me with any chores I am doing and with the cooking. It does make things take a bit longer at times, but I appreciate his interest in what I am doing!
This schedule is really working for us right now. Ben is doing really well with his extra attention, and it makes him so much more patient with his sisters! The girls are so much fun, playing and getting into everything. I've added in a planning session every evening too. Just taking five minutes to jot down the plan for the next day makes everything go much more smoothly. We deviate from the schedule as needed, but having a game plan helps me make sure everyone's needs are met.
–Kim
Let us improve this post!
Tell us how we can improve this post?