Straw Superhero Shooters: Turn your kids into flying superheroes!
Difficulty: Easy
Learning: STEM, Cause and Effect, Newton's First Law
Do your kids love superheroes? Maybe even dream of flying like one themselves?
Let's make it happen.
Okay, we'll kind of make it happen. But this easy STEAM activity can really unlock their imaginations. Turn a simple picture of your child into a superhero that really flies around your home. And learn a little science with it.
Here is how to make personalized superhero straw shooters.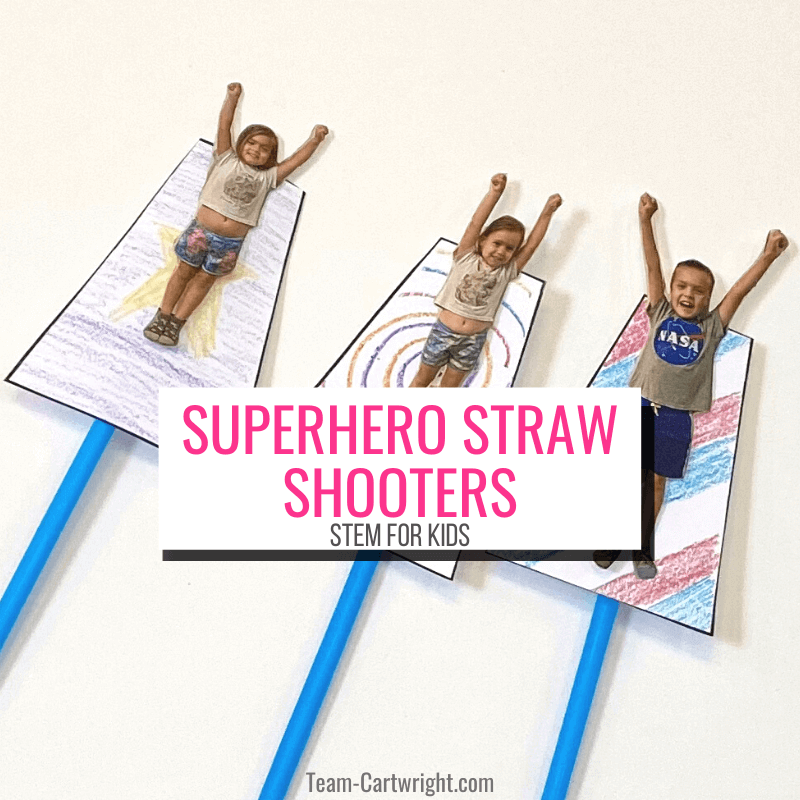 Superhero Straw Shooters
You only need a few items to make these amazing superhero shooters. My kids could not get enough of these, they were just too much fun.
Your children might need a little help assembling these, but it's worth it.
Supplies for Straw Superhero Shooters
You probably already have all the materials you need for this activity at home. Here is what you need.
Straws
Paper
Tape
Superhero Printable
Crayons/Markers
Picture of your child (optional)
How To Make Your Superhero Shooters
Step 1a: The first step is to prepare your superhero. There are two options for this. One is to cut out and color the superhero in the printable at the bottom of this post.
Step 1b: A second option, and one that I really like, is to turn your child into the superhero. Take a picture of your child with their arms up or in another superhero pose. Print it out and cut your child out of the picture.
Have your child design their own cape. (Printable below.) Glue the cape to the back of your child's picture. Set your superhero aside.
Step 2: Take a piece of paper and cut a 2-inch by 2-inch square out. (You don't have to be exact.) Fold the paper over one end of the straw. Wrap the sides around and tape it into place. You want this to fit closely, but be able to slide on and off. It should sit on top like a cap.
Step 3: Take your superhero and tape it to the paper cap you just made.
Step 4: Place your superhero on the end of your straw. Have your child blow through the other end and make their superhero fly!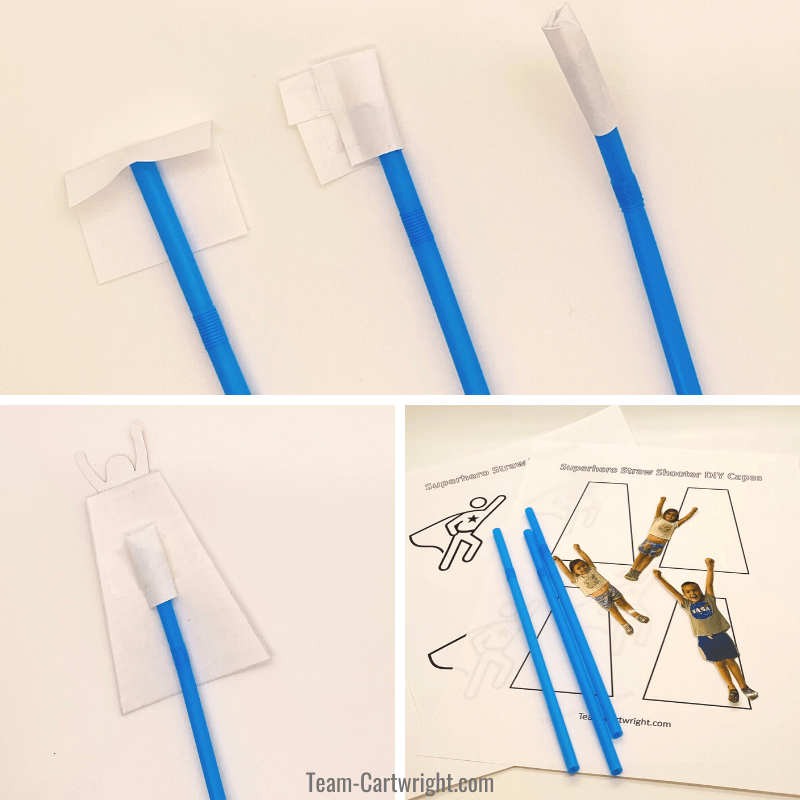 Tips and Safety
This is a fairly easy project to put together. A few tips though.
Make sure there is adult supervision when cutting out the superheroes, capes, and your pictures. This is a great time for kids to practice their scissor skills, but keep an eye on things. (Get more scissor skill practice here: Safe Cutting Practice for Kids.)
This is a good project for tape. Yes, glue works, and my kids love glue. But tape is much faster and works really well.
Make sure your children don't send their superheroes flying into anyone's face. Always aim away from other people.
If you don't have a picture to use, let your child color their own hero! Use the printables at the end of this post or simply have them draw a picture. A cape can be cut out of paper to attach as well.
---
You have got to try these fun activities!
---
What STEAM Learning Is Going On?
This is a fun and easy activity that kids can just enjoy as is. But there is a lot of learning going on too!
Art
Yes, as a scientist I am starting with art. That's the A in STEAM.
Art is so important because it encourages creativity and imagination, both important for the other elements of STEM. It also boosts problem-solving skills. How can your child take what they see in their heads and create something like it in real life?
Art matters and this project encourages creativity as your child thinks about what they want on their capes. What colors represent them? Do they have any symbols they want to add? It can be anything they want!
Cause and Effect
The first thing your child is learning about is cause and effect. What happens to the superhero when they blow in the straw?
Their direct action, blowing in the straw, creates a very specific effect. The superhero goes flying.
Your child can test this cause and effect by blowing hard and softly into their straws and seeing what happens.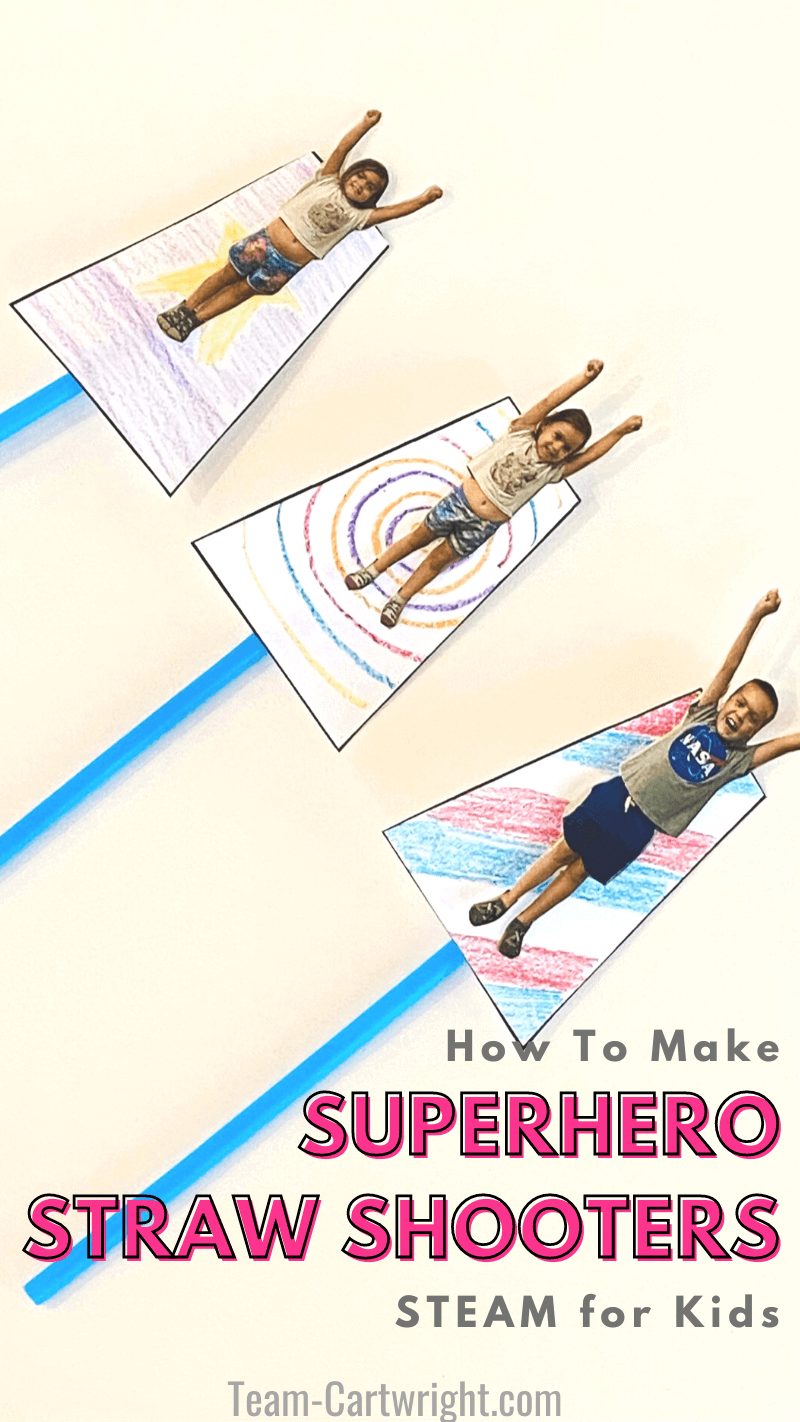 Newton's First Law of Motion
These straw shooters can be a fun way to illustrate Newton's First Law of Motion. This is the law that tells us an object at rest will remain at rest unless acted on by an outside force. (It also tells us that an object in motion will remain in motion unless acted on by an outside force.
In our experiment, the superhero won't move until your child applies a force. This force is their breath through the straw.
Trajectory
Take turns sending your superhero flying and watching the path it takes. This flight path is your superhero's trajectory.
Trajectory is the path a projectile follows through space and time. This is the arc something will take when you toss it through the air. Have your child observe how their superhero flies. Then try aiming higher or lower to see how the path changes.
Games To Play With Your Superhero Straw Shooter
You can play some fun games with these shooters! Here are some fun ideas to keep the fun going.
See who can get their superhero to fly the highest.
Who can get their superhero to fly the farthest?
Can you aim and help your superhero land on a specific target?
What happens if you blow harder? Softer?
Be a Superhero!
The best part of this activity is your child seeing themselves as a superhero. This builds confidence, self-esteem, and helps them dream big. Every child should be the hero in their story. Now they can act it out more.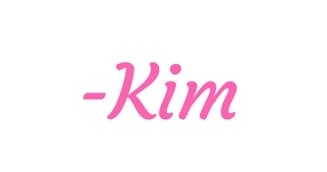 Free Printables
Grab the free printables to make this activity even easier!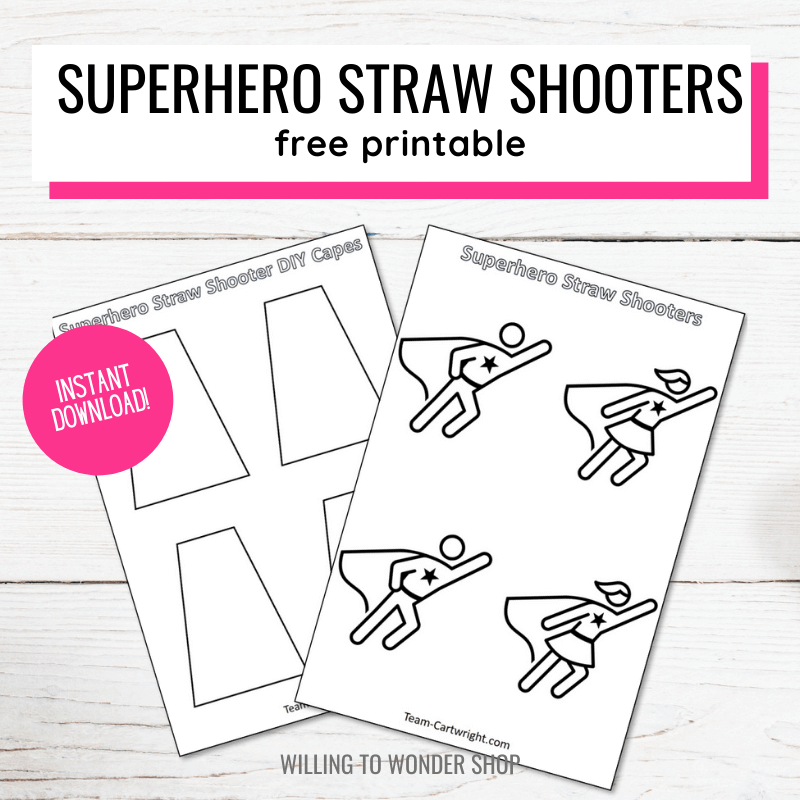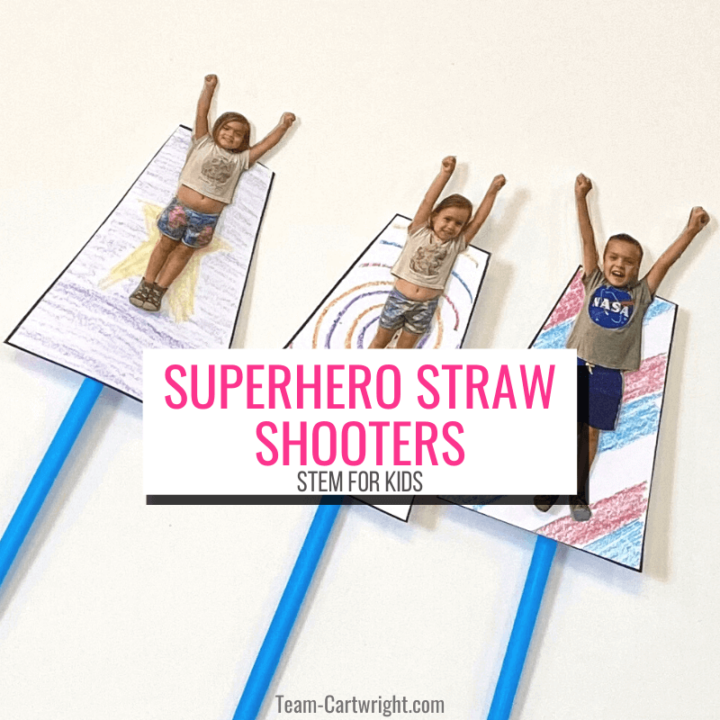 How To Make Superhero Straw Shooters
Make super fun straw shooters where your kids are the superheroes! Easy and fun STEAM for kids.
Materials
Paper
Crayons or Markers
Picture of Your Child
Straws
Tape
Instructions
Take a picture of your child in a flying superhero pose. Print it out and cut your child out of the picture.
Cut out a cape from the printables and let your child color it. Glue the picture of your child to the cape.
Tape your superhero picture to your cape and set it aside.
Take a square of paper, around 2 inches by 2 inches. Fold it over the end of your straw. Wrap it around and tape. This should make a nice little cap for your straw that flies off when you blow on the other end.
Tape the paper cap you just made to the back of your superhero.
Place your superhero on the end of your straw and blow through the other end to make your hero fly!
Notes
Safety
If your child is doing the cutting make sure an adult is around to supervise.
This is a pretty safe activity, but be sure your child doesn't blow their superhero at anyone's face.
Tips
If you don't have a photo of your child to cut out print out you can printout the superheroes available to color. You can also cut out a cape from paper to color on your own.
Let's find your next fun activity!
Let us improve this post!
Tell us how we can improve this post?