Something I heard a lot when expecting the girls was that I would never sleep again. I fully admit to having this fear. I love my sleep! Ben has always been a pretty good sleeper. We were all sleeping through the night basically every night and we were about to ruin that by having more kids. I knew from experience it would be totally worth it. But I also know it would be a tiring few months. I am pleased to say it was not nearly as bad as I thought it would be! We did sleep! We do sleep now! No, not every night is perfect. But I am happy with where we are. Overall I think things went pretty well. I am no expert in baby sleep, nor am I an expert in twins. But I do have a year of twin experience under my belt, along with experience helping three babies with sleep. Here are a few tips that will hopefully help out. (This post contains affiliate links)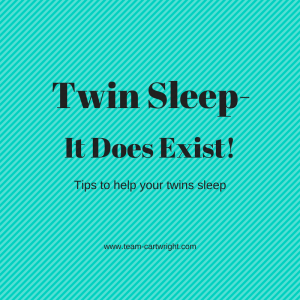 Have them sleep together.
We put the girls in the same bassinet. Yes, this goes against the AAP recommendations for safe sleep. I understand why they have those recommendations, but every twin mom I heard from and talked to put both their babies in the same bassinet. It was big enough; we used the whole top of a pack and play. After spending nine months developing right next to each other in a tiny space it makes sense to me that they would find comfort being close to each other after birth.
Twins do sleep through each other crying!
It seems crazy that anyone could sleep with someone crying right next to them, but it really didn't seem to bother the girls. This helped eliminate some stress when one girl would cry at night or at naps. I could focus on soothing the girl who was crying without being super worried her sister would wake up.
Keep them warm.
My girls loved to be warm. Absolutely adored it and hated to be even the littlest bit chilly. I would have them sleep in a onesie, footie jammies, and a swaddle some nights. In order to help them sleep even better we would use a heating pad to warm up their bed while we got them ready for bed and during the dream feed. Note we didn't keep the heating pad in there while the girls were in the bed. That's not super safe. But using it before bed and during the dream feed helped transition them back to sleep, nice and warm. We also kept the house warmer than we usually would. Pat and I were in summer pajamas, but our girls were happy. A nice bonus of this is that I could sleep in tanks for easy middle of the night nursing, and we didn't have any blankets or sheets on the bed. This made it safer for me to lie down and nurse.
Swaddle them up.
My girls adored the swaddle. We did have to learn this one, despite being told that babies love swaddles. Ben hated it! He started breaking out of his swaddle before we even left the hospital with him. We thought we were being nice by not using it consistently with the girls, but they really slept better with it. I liked the SwaddleMe
. The velcro and stretchy material made it really easy to get nice and snug. The velcro was a bit loud for middle of the night diaper changes, but it wasn't a big issue. We would swaddle the girls for their last nursing before bed, and keep them swaddled through the dream feed. It helped them settle down and stay asleep. With twins, it is easy for them to move around and whack each other while they are eating. Eliminating this kept them sleepy and happy.
Enlist help.
With twins having a nighttime partner is so helpful. I handled most of the middle of the night wake ups with Ben. I had the food, so it made sense for me to be the one to get up. With two babies I needed more help. I would try to feed both girls at the same time at night. But if I fed them one at a time I could lie down and still rest a bit while nursing. Sometimes Pat had the hard job of comforting one girl while the other finished eating. There were also times when both girls were just fussy and having a hard time sleeping. It is very hard to hold and effectively comfort two newborns. Having someone else to help was invaluable.
Get the DVR ready.
Cluster feeding is tough. Babies just want to eat and eat, and with all my babies that desire took place late in the evening/at night. Sadly with twins, this meant sitting up and nursing them at the same time. I don't have any life-altering advice on how to get through this, other than record some good stuff on your DVR. Mindless, guilty pleasure TV made accepting a sleepless night a little easier.
Pick your sleep props.
We are fans of the pacifier. Yes, this means you have to wake up and pop it back in when it falls out. I think it is way easier to quickly replace the pacifier before my babies wake fully up than deal with bigger wake ups at night. I wasn't too worried about the girls waking each other up, but I didn't want them waking Ben up.
Know their outfits.
With two girls the same size we swapped clothes between them a lot. Not with jammies or swaddles though. I didn't want to have any worry that I wouldn't know who was who at night. I took brief notes at night about who ate when. Nothing fancy, just initials and times. But it helped me know who I had fed and find patterns in the night wakings. It might sound silly, but when you are tired and it is the middle of the night it is hard to remember these things. Each girl also had her own side of the bassinet. We didn't worry too much about who was put where in other aspects, like who was in which bouncer or who used which floor mobile. But at sleep times we were consistent. I feel weird when I sleep on the opposite side of the bed, so it I think the girls might too.
Twins sleep together.
If one baby naps, the other naps too. I was lucky with having identicals- they tend to have similar natural sleep needs and patterns. Even so it can be hard when one baby is tired and the other isn't. I did everything in my power to keep the babies napping at the same time. I was strict in nap times and did have to use the clock for nap lengths at times. It was not always easy. There were some very frustrating nap periods. But all the hard work was completely worth it! After a few months I had twins who napped consistently and at the same time.

Make changes at nap times, not night.
I use nap times to do any sleep transition I can. We started sleeping without the swaddles at nap time. We let the girls fuss a little longer if they weren't sleeping at nap time. We also did the first transition to separate cribs at nap time. Why? It is selfish, but I'm already awake at those times. It is easier for me to stay strong and keep up the changes. I also try to protect everyone's nighttime sleep. This means making naps the 'rougher' time sleep doesn't go as well. I like to work out the kinks before my kids need to sleep all night long. I also like that there is a faster end time to any problems. It is easy to feel frustrated, alone and discouraged in the middle of the night. Morning feels like years away and you think the crying will just go on forever. Somehow in the middle of the day, the challenges don't seem as bad.
Take advantage of the occasional short nap.
Once the girls were doing well with nap times, if one of them work up early I would take them out to snuggle and rest together. With twins it can be so hard to get good one on one time with each baby. The occasional short nap made for a great chance to get that time. Yes, I wanted my girls to get full naps and nap at the same time. But every once in a while it was a real treat to have that special bonding time together.
Accept some playful sleep times.
Now that the girls are older they do 'talk' and laugh during nap times. And you know what, as long as they aren't crying we let them. If one is tired she will totally ignore her sister and go to sleep. I pay attention to when this is happening and keep an eye on their behavior to see if they need to get to bed earlier since they didn't sleep as much. And we know as they get older they may keep an earlier bedtime longer simply because they talk before they fall asleep. The girls share a room and this isn't changing anytime soon. As long as they aren't fussing and do seem to be getting enough sleep overall, I don't see the harm
I think the girls are doing very well in terms of sleep. They have consistent nap and bedtimes. They stay happily in their cribs until their morning wake time if they wake early. And they are happy to go to nap and bedtimes. I can't ask for much more from my sweet girls.
–Kim
Please comment with your tips and experiences other moms! (with singletons and multiples!) Any twin moms have any questions? I'm here to help if I can!
Here are some more sleep posts to help you out!
Dealing with short naps with twins
Let us improve this post!
Tell us how we can improve this post?