30 questions to ask your kids after school to get them talking.
It's a BFBN swap day! Today I am over at Mama's Organized Chaos. If you have been following Katrina's blog you have read about April Rey. I know I was touched by her short sweet life. It can be hard to see a friend go through something so heartbreaking. How do you deal when you are standing on the sideline of grief?
Here today I am lucky to have Natasha from Let's Be Brave! Ben has started preschool and I, of course, want to hear all the details of his day. The only problem is getting those details out of you. Natasha has an awesome list of questions to help get all the fun information out of our kiddos!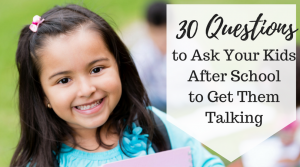 I'm all about creating a dialogue with our kids. School is such a big part of their lives right now so there's ample opportunity to talk about it. Some kids, like my oldest, is super chatty about school and will tell us every single detail. For other kids, it takes some prodding because simply asking, "How was school?" just doesn't cut it. You need questions that are specific and require more than a yes or no answer. Below are 30 questions to ask you kids about school to get them talking!
30 Questions to Ask Your Kids After School
These are broken down into categories. This will help you if there is a specific area you want to focus on.
1. Who did you play with?
2. Who did you sit next to in class?
3. Who did you help?
4. Who did you talk to?
5. What did you talk about with [insert friend's name here]?
6. Did anyone get in trouble?
7. How were you a good friend to someone?
emotional questions
8. Who/what is something that made you laugh?
9. What frustrated you and how did you handle it?
10. What made you sad/happy/scared/uncomfortable?
11. Were any of your friends sad/happy about something?
12. What bored you today?
favorites questions
13. What was your favorite part about school?
14. What is the most fun thing you did?
15. What did you like best about your lunch?
16. What did you like doing at recess?
17. What are you looking forward to tomorrow?
*you can also ask about least favorite/worst/least fun things
what you learned questions
18. What new thing did you learn about?
19. What's the first activity you did in class?
20. What's the last thing you did before leaving school?
21. What game did you play in PE?
22. What did you create in art?
23. What did you learn about in music?
24. What are some of the rules you had to follow?
25. What was the hardest thing you had to do?
26. What new words did you learn?
27. Did you use glue/markers/crayons/scissors?
28. What story did you read?
29. How did you celebrate [insert holiday name here]?
30. Was it anybody's birthday?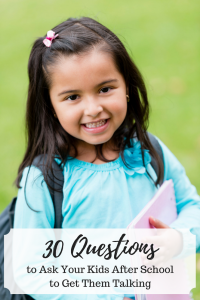 Natasha is a work-at-home lawyer and mama to 4 kids acquired through adoption and IVF – Laurel (7), Bennett (5), Christopher (2), and Everly (3 months). She blogs at Let's Be Brave.
Looking for more posts to help with school-aged kids? Try these!
How To Help Your Frustrated Preschooler
3 Little Questions To Reinforce Big Values and Get Your Child Talking About School
How To Encourage Independence in a Reluctant Child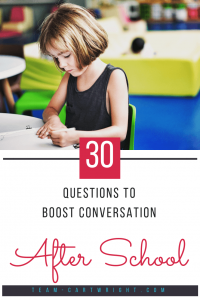 Let us improve this post!
Tell us how we can improve this post?