How To Encourage Independence in a Reluctant Child
I see a lot of memes and cartoons talking about how annoying it is when toddlers and preschoolers want to do everything by themselves. It takes forever while they clip their own car seats. You age a year while they put on their own shoes. The refrain of 'I do it myself' haunts your dreams. Well here's the thing- it isn't like that with every kid. Some are as happy as can be to continue to let mom do everything. Ben tends to be one of those kids. While I save a lot of time doing things myself, it probably isn't what is best for him long term. It is frustrating when your child refuses to do things on their own. But sometimes you need to utilize different strategies to encourage your child to do things on his own.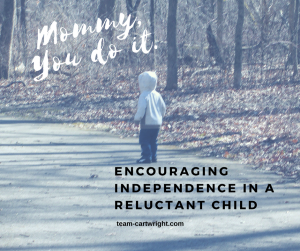 (I've teamed up with Katrina from Mama's Organized Chaos to tackle this issue today. Head on over to her site to see how she handles it!)
How To Encourage Independence In Reluctant Children
Is This a New Behavior?
The first thing to note is whether or not the refusal is a new behavior or an ongoing pattern. If it is something new, you might want to look at it from more of a correction or disciplinary viewpoint. If it is an ongoing pattern you might want to consider if it is a personality thing. To some kids, it is just innate that they want their mom to do things for them. It might seem like the child is being lazy, but I don't think this is the case. With older children that might be something to consider, but generally, when kids are two or three years old I personally don't feel that they are being lazy. This is especially true if you can trace the pattern through the child's life.
Ben has always been a creature of habit. He likes order and structure, everything in its place. Some people might pin the blame for this on a forced schedule at a young age. We didn't start a real schedule with Ben until he was five months old. That is pretty young, but not so young that he never had a chance to follow his own patterns. And honestly, he has just always been this way. His room is clean, he likes his sippy cup put in the right place, and he likes a sense of order around him. Even as a new walker he always came back to the same little table to place his sippy cup and snack cup. (Ali and Sammy, on the other hand, toss them aside the moment something else interests them. Total personality thing.) As a creature of habit, Ben tends to like to do the things the same way every time. So having to do something on his own is different, and not something he enjoys.
Are You Doing Too Much For Your Child?
Another reason why Ben has always been comfortable having things done for him is my fault. He's my first baby, and for two and a half years he was my only child. I had no problem doing things for him. His world was my world. Add to that he spent those two and a half years in the office with Meo and Omi. He had three adults who loved and adored him to help him out. We weren't trying to spoil him or anything, we just never had the proper impetus to urge him to do things on his own. Basically it just never occurred to me to teach him to do some things like put on his own shoes. I didn't mind doing it. If I wasn't available Meo or Omi could do it. Now that it is just me with three kids to get ready, it would really help if Ben could do more on his own.
Steps To Encourage Independence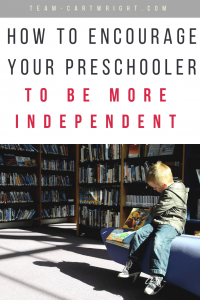 Alright, so I have established that the reason Ben wants me to do things for him is in part personality – he likes consistency – and in part past behaviors – I didn't think to not do things for him. Because of these reasons, I don't like to approach things like a refusal to try independent skills as a disobedience issue. I really don't think he is trying to deliberately disobey me, and I don't want to punish him for it. We have had to work on some solid strategies of encouragement for him.
1. Go Slow.
We go slow on changes. Tortoise slow sometimes. I am someone who likes to jump in feet first on new things, so this approach is tough for me. It is often what Ben needs though. We need to take our time and make tiny changes, step by step. Basically, patience is the key.
2. Help Out.
We help a lot. This sounds counterproductive to getting him to do things on his own, but this reason is twofold. Practically with three kids I just don't have the time (or desire) to fight with Ben to get some things done, so I help him out. For example, it took a long time to get him to just dress himself in the morning. Sometimes we just need to get going, so I would assist. Secondly, he can shut down a bit when forced to do something different. I want to keep moving towards our goals of independence. This means I am focusing on tiny steps forward without creating leaps backward. A lot of our changes are like when you teach a child to ride a bike. All of a sudden you let go and they don't even realize you have. That's how we have to do most things. I have to understand the mental block that Ben faces and help him get past it.
3. Force the Change.
Sometimes you have no choice but to force the issue. This can happen if you have a preschool deadline, or if a new baby is on the way for example. When this happens I try to keep things clinical. A task must be accomplished regardless of whether or not your child wants to do it. I try to turn off my emotions. Oh, I am still supportive, but I try to keep everything as factual as possible. We don't punish for refusal to do the task, but we do not move on until he has accomplished it. Basically I offer encouragement but leave him to it. He can tantrum, he can refuse, but I stay steady and calm, a broken record if you will. This approach works best when you have a large chunk of time and a safe space to let any outbursts play out. It can be tough, it is similar to cry it out in a way. But it can work. The best reward to this method is the wonderful look of pride on my son's face once he has finally accomplished the goal.
4. Celebrate!
We celebrate teeny tiny victories. For some kids pulling off a pair of socks in no big deal. I mean, skill wise babies can do it. But for a child that is accustomed to mom doing it and does not like change this can be a major undertaking. So we cheer for Ben when he does something he thinks he cannot do. We might sound silly, but all parents know what it is like to cheer on something you never thought would excite you. (Hello, potty training.) But that is what Ben needs to gain confidence in skills he thinks he can't do.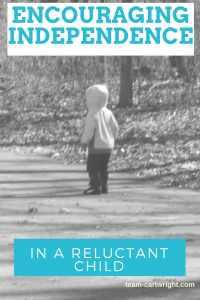 It's a slow march to independence with some kids. It is just their way. Punishing for refusing to do something just makes everyone miserable and doesn't solve the problem. The key, at least for us, is patience, understanding, and encouragement. I have found that going slow and steady creates a snowball effect. One small victory builds enough confidence to try for another, and then another.
You might read all this and think, Well, that isn't my child at all. My little one was Mr. or Miss Do-It-Myself until all of a sudden he or she flat out refused to do anything. These methods might work, but you might want to take a different approach. Don't worry, Katrina has you covered. Head on over to her site and read up on how she handles the sudden refusal to do things independently. And remember, every child is unique. They'll master skills. Our job is to help them and support them along their way.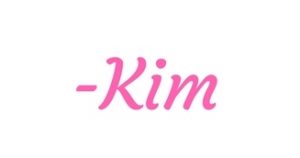 Here are some more posts to help you out!
How To Help Your Frustrated Preschooler
Helping Your Child to Conquer Their Nightmares
6 Simple Words: Our good behavior mantra for all situations
Ask and Tell: Giving our kids the power to make good decisions
Let us improve this post!
Tell us how we can improve this post?