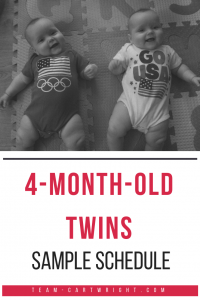 I know I've only done this baby thing twice, but each time four months has been a bit of a challenge. The frenzy of the newborn time has passed. The baby starts to spend more time awake and no longer just sleeps anywhere and everywhere. Wake times get longer and suddenly we have more time to fill. This is where I think the schedule gets serious. And just when I am really wanting to get our routine even more solid, we are hit with sleep regressions, growth spurts, mental leaps, teething… You get the gist. It's a busy time! I remember this being the time with Ben when I was frantically googling sample schedules to figure out what to do with all of this. I am so happy I have more experience this go around as the girls were already on a decent routine. It isn't completely perfect. Babies change and grow so fast at this age it can be hard to keep up! But it is working for us. So I thought I would toss my current four month old schedule out there into the interwebs and I hope it helps at least one other mom out!
Sammy and Ali- 4 months old!
(I want to note this is just for the girls. Ben's schedule weaves around in there too, but that isn't my focus today.)
7:30 am: The girls wake up. Either I let them finally get up, or I wake them up. They have their first nursing of the day. After they eat I get them dressed. Sometimes we head out shortly after they get up, for playgroup, to go to the park, or some other errand. Otherwise they get to play with their mobile.
8:50-9am: They head up to their first nap of the day. It varies in exact time based on what I am doing and how tired the girls seem. They nap for about two hours.
11am: I wake the girls up. If they are already awake they can get up as early as 10:45, but I try to keep them in bed til 11. The girls nurse, and we get ready to head out for our activity of the day.
11:30-1:30pm: This middle of the daytime is where we have the biggest variance. It is the one time of day we consistently get out and about. So while the girls could do another set nap during this time, we don't. If we are home, they get a catnap in their cribs or bouncers. (And by catnap I mean about half an hour or so.) If we are out they doze in the car and on the go. This middle of the day nap is one of the early ones to not be needed anymore, so I have chosen not to stress on it. It happens if and where it will. I do try to pay attention to their sleepy cues and give them the chance to rest as they need it. Beyond that this is when we play, practice sitting up, have tummy time, that sort of thing.
1:30-2pm: More playtime. If we are out I aim to get home between these times. This is usually when the girls chill in their bouncers while I get Ben into nap time.
2pm: Another nursing session. The time between feedings gets shorter and shorter as the day goes on. This is in part because babies tend to just do that. It also happens so that it works into the rest of the family's activities better. I have found it easier to feed the girls a little earlier than try to stretch it out and have them fussy from hunger.
2:30-4:30pm: Afternoon nap. This is my time. All three kids are in naps. We don't have a proper eat, play, sleep cycle before this nap, but my goal is to have a time in which all three kiddos are napping. The timing just didn't work out any other way for this to happen than to feed the girls both before and after this nap.
4:30pm: The girls get up. They eat again. It is only two and a half hours after they ate, but it works better to feed them early, rather than have them hungry during dinner time.
5-6:45pm: More playing. The rest of us have dinner. In the nicer weather we try to get outside a little if we have time. Otherwise it just family time. The girls may practice sitting up more and have more tummy time. This is also a more laid back time where we get to just cuddle them more.
6:45-7pm: Get ready for bed. The whole family heads upstairs and I nurse the girls while Pat gets Ben through his bedtime routine. Then we all do prayers together on the big bed and say goodnight. The exact bedtime varies depending on how long the girls eat. Usually they are in bed by 7:30, but if they are still eating I'm not going to stop them at a certain time.
9:30pm: Dream feed and back to bed. We dropped this feed at 19 weeks.
After the girls go to bed they are pretty good at sleeping through til morning. We are still dealing with the early wake a little bit, between 5 and 6. They babble to themselves and each other. They eventually fall back asleep until the desired wake time, but for a while, it was getting to be too much. Dropping the dream feed seems to have really helped them sleep better during this early morning period. They still wake up once or twice, but they are much better now. They are quieter and fall back asleep faster. I think they just need a little time to get all the way past that early wake.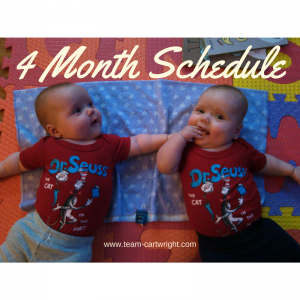 There you go, an average day in the life of a four-month-old. Pretty exciting, huh? 😉 Of course, not every day goes perfectly. Some days we have things like playgroup or appointments that mean we are out during designated nap times. I love being a second-time mom because those things don't throw me as much. I still try to protect nap times as much as possible. (Protecting feedings is easy- the girls don't let me miss their meals. :P) I really think consistent eating and sleeping times are so important. And even at this young age, I can see a difference in behavior when the girls are well rested compared to when they haven't had good naps. They are such happy girls when they have had a chance to sleep!! It is worth the sacrifices to put their sleep first. Being a second-time mom I also have the benefit of seeing Ben thrive with a consistent routine. All the work to get naps sorted out it worth it!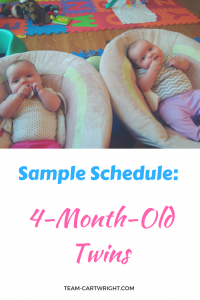 I hope this helps some other mom out there, frantically googling like I was a couple of years ago. 🙂
–Kim
Let us improve this post!
Tell us how we can improve this post?