How to help your child with a move emotionally.
We are closing in on the one year anniversary of our big move. Wow. A year ago at this time we were in a state of upheaval. Pat had gotten a great new job opportunity, but it was 1700 miles away. The job was perfect for him, so we decided to go for it. He had to take off early, and I stayed behind to pack up with a toddler and twin babies. It was a busy time to say the least.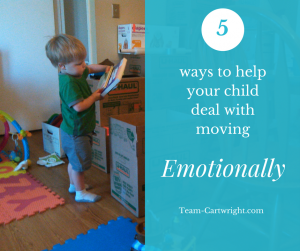 While packing everything in our home was overwhelming in its own right, I was more concerned with how to help Ben make this transition. He was two years old, just a few months shy of three. He knew something big was going on and I know he could feel my stress about the whole situation. How could he not? We were completely uprooting his whole world. He had only lived in that one town, that one house for his entire life. I wanted to make sure he was alright emotionally with all the changes.
How To Help Your Child with a Move Emotionally
I am thrilled with how well Ben did with this major move. He hasn't really had any issues with the change. This sort of transition can be tough on kids, but as parents, we can do our best to help our children work through them. Here are my five tips for helping your child with a move emotionally.
1) Talk.
Talk about what is going on. Talk about how you are feeling. Just talk about everything.
I know I sometimes don't inform my kids of what is happening because I either think they won't notice, or I think they are too little to understand. Sometimes I am just trying to protect them from worry. The thing is they know something is up, and they feel our tensions. So we talked about what was happening.
I described every step of the process as we went through it. First, we were packing all our stuff, then we would drive for three days, then we would move into a new home, etc. As I was packing I told him what I was doing and reminded him all our boxes were coming with us. I told him why we were moving and when everything was taking place.
Even if you have a child who is not very verbal yet, keep talking. They are listening.
2) Let your child feel sad.
Or mad, or confused, or just unhappy. Whatever they are feeling, let them express that.
I know I have a hard time seeing my children go through negative emotions. But all these feelings are completely normal and to be expected with such a major life change. I was worried if I ignored these feelings Ben would think he was wrong to feel that way, or think he had to pretend he didn't feel them.
It is safe to say he had a jumble of emotions going on and this was the time to work through all of them. I told him how I was a bit sad to be leaving our old home, but I was excited for what was to come. Any time he seemed sad, or just put out by everything I took a moment to sit down with him and talk about it.
Being allowed to feel however he wanted did not translate to being able to act any way he wanted, rules still applied. But I did do my best to work through each feeling as he had it.
3) Let them help pack.
Ben expressed some worries that his stuff wouldn't make it to the new house. So I let him help me pack. He loved tossing his toys into the boxes!
Now yes, I did have to go back and repack some things while he napped. Toddlers aren't really good at efficient packing. But he felt so reassured that his special things were safe and going on the trip with us that it was worth the extra time.
I used colored tape to mark which box went to which room, and I let Ben pick the color he wanted for his boxes. This way he could see his boxes, lined up and ready to go with us even if he couldn't see all the stuff in them.
I recommend letting your child pick some stickers, colored tape, or just colored marker to put on their boxes as a clear visual reminder that their things are going with them. I also let Ben pack his own little suitcase with special toys to go in the car with us. He felt better knowing he had his most special things with him the whole time.
We had never actually been to where our new home was going to be. But I did use Google to find pictures of our new town. Google maps can show the streets of where you will soon live.
I showed Ben pictures of the zoo and parks in the area, along with some of the stores he was familiar with from our old home. This let him start building a more concrete picture in his mind of where we were going. It was a real place and had fun things to do!
Park district sites are a great place to find pictures of playgrounds and parks. If you have a child going to school pull up their website and Facebook page to see pictures. Take it a step further and plan something fun to do when you arrive. Maybe make a date to visit one of the parks you see or try an ice cream shop that looks interesting.
Whatever it may be that your family enjoys, having a plan to look forward to makes the whole endeavor of moving even more exciting.
5) Take the time to say goodbye and thank you to your old home and town.
This one sounds a bit touchy-feely, but I think it really does help. It acknowledges the experiences and memories your old haunts have for you and recognizes their importance. Every time we had a 'last time' somewhere, we took a moment to think of all the fun we had there. We thanked that place for letting us enjoy it, and we said goodbye.
We said goodbye to parks, the libraries, our church. Before we left our home we sat in Ben's room and talked about what a good room it had been. We remembered all the times we spent playing in it, the times we snuggled in it, and how happy we were there.
Ben thought this was great and we actually said goodbye to every room in our house. At the end, we thanked the house for the shelter it provided us and all the good times we had.
Does this sound a bit silly? It might be. The important thing is that it provided some much-needed closure for Ben (and me too honestly). We acknowledged that these places were important, and recognized that they would always be in our hearts.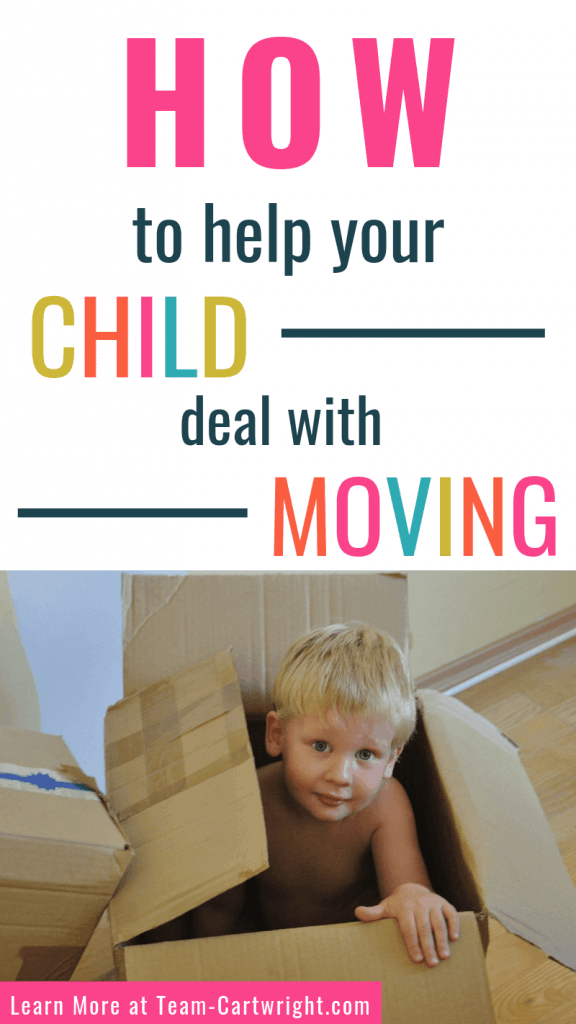 I am thrilled with the transition Ben made. He was a champ through the whole ordeal and is still so happy to be in our new home. I think these five things were key in preparing him and helping him through the whole process.
Have you done a move with your toddler? What are your tips to help them out with the big change?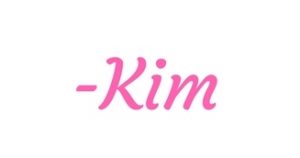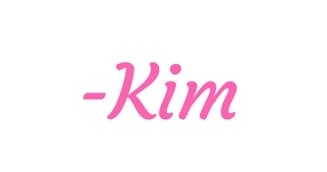 Check out these posts you might enjoy!
How To Help Your Frustrated Preschooler
Encouraging Independence in a Reluctant Child
Transitions: Turning the Morning Nap Into Independent Playtime
Transitions: Moving from a crib to a toddler bed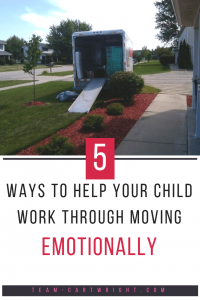 Let us improve this post!
Tell us how we can improve this post?