How anchor naps will help your twins get on a schedule while reducing your stress.
Getting your twins on a schedule. It can be done. This is the final part of getting your newborn twins schedule put together.
Twin naps. I remember thinking that I needed to get my twins to nap at the same time (and at the same time as Ben!) in order to have any chance of meeting the needs to my whole family. It can be done.
Once you've set your daily wake time, worked on waking your twins to feed them, and set a good bedtime routine, it is time to work on naps. Here is how to get your twins napping on a schedule.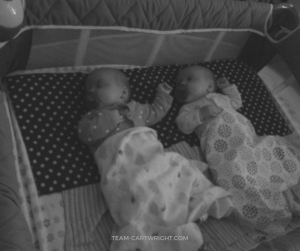 Amazon links are affiliate links. Please see my disclosure for more info.
Getting Twins on a Schedule
With twins, you have a unique challenge in that you have to get two different sleep styles on the same schedule. This is easier to do if you start early.
Newborns are very sleepy and take a lot of naps during the day. This makes it easier to meld potentially different sleep patterns into the same routine.
Having a consistent daily wake time will help days fall into a natural pattern. And waking your babies to feed them throughout the day will also help encourage a natural schedule.
To get to that final consistency though, you need to put a little more work into naps.
Newborns Take A Lot of Naps
In the first few months, your twins are going to sleep a lot. Like a whole lot. This can be wonderful, it gives you a chance to breathe (or maybe nap yourself!), but it also makes it hard to do much else during the day.
With twins, you are already spending so much time feeding your babies, add in time spent working on naps and the day is gone. And if you have other children, as I do, it can be challenging to get out of the house.
As such, I decided to prioritize certain naps of the day. These are the naps I poured my efforts into. I called them our Anchor Naps.
Anchor Naps for Twins
Anchor naps are the naps that stick around the longest. They are the points that anchor your day.
I did start with the general cycle of eating and sleeping when putting together my twin schedule. But using anchor naps instead of just the eat, play, sleep cycle worked better for us for our longterm nap goals.
What Are the Anchor Naps?
There are two anchor naps, a main one and a secondary one.
Main Anchor Nap
The number one anchor nap is the main afternoon nap. This is the nap that sticks around for years. Seriously, Ben is 5 and still has his quiet time during this afternoon nap. Ali and Sammy are 2.5, so I am looking at maintaining this nap time for potentially 7 years.
When you consider how quickly other naps disappear, most in the first few months, it makes sense to focus on something that will be a part of your life for years. (And don't let that length of time scare you, you will love it.)
Secondary Anchor Nap
The second most important nap is the morning nap, and this is considered the first nap of the day. This nap will be around for about 18 months (on average). As your child grows out of this nap it is the perfect time to transition to independent playtime. (Learn how we make this transition—> How To Transition from Morning Nap to Independent Playtime)
Why Focus On These Naps?
As I said, babies take a lot of naps during the day. I understand the importance of starting how you mean to go, and I wanted my babies to nap in their beds. But I felt like I was spending all day putting babies to sleep!
I had Ben home with me, and I didn't want him stuck home all day just because his sisters had to nap a ton. I think this is a common concern anytime you have older children, not just with twins.
And as I have said, I had two different sleepers. So Ali might have a hard time falling asleep in the morning, but Sammy had a hard time with afternoon naps. This can make it feel like you are failing at every nap.
Every new mom knows that feeling of failure and of wondering 'Why won't my baby sleep?' I needed to give myself grace, so I only really worried about my anchor naps. This freed up our days and freed me from the negativity of poor naps.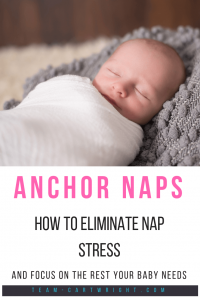 How To Make Your Anchor Naps Work
So how do you get these anchor naps into place? It is a two-part process.
What Is Your Goal Time?
First, you want to take a look at your goals. What time do you want your naps to be? With Ben, I could wait and see where his naps settled out. That works great for one child. But when Ali and Sammy came around I had a clear goal: Nap when Ben naps.
What are your goal nap times? This can change as your children grow of course. But it is easier to start with a goal time in mind, say 1 pm, and scootch it around by about 30 minutes than to just plop down nap time when your child is already a year old.
So consider when you need to be out of the house. When are older children home from school? When do your children need to wake up in order to be tired enough at bedtime? The best time is the time that works for your family.
What Is Realistic with Your Feeding Times?
While I wish I could just announce 1 pm is nap time and make it happen, we have to be realistic to the fact we are working with babies. The most important thing is to get those feeding times in.
Due to the number of feedings newborns need in a day, nap times might be shorter overall. If your twins are eating every 2.5 hours, there is no way they can take a 2.5-hour nap like a toddler can. So keep this in mind. (Get more baby sleep tips here–> Sleep Tips for Babies)
For example, Ben napped at 2 pm. I knew I wanted Ali and Sammy to nap at 2 pm as well. However, that didn't work with their feeding schedule. So I put Ben to nap, fed Ali and Sammy, and they went to nap at 2:30. Feedings need to come first.
Naps By The Clock
A big idea behind Babywise is that you control the schedule, the schedule doesn't control you. That means that you don't just do something because the clock is at a certain time. I believe that, but with twins, it is helpful to use the clock a bit.
Using the clock isn't about setting a nap time limit and being so rigid nothing can change. It is about understanding how much sleep babies need in a day. In order to help focus on the anchor naps, I would use the clock as a guide more. (Learn more about optimal wake times—> Optimal Wake Times for Babies)
This means that I had a goal of how long nap time would last and I would do everything in my power to make it work. With one baby you can end a nap early if they just refuse to sleep. It might make the rest of the day fall out of routine, but no big deal.
With two babies? One baby being out of routine and the other being in was a mess. I didn't want that to happen.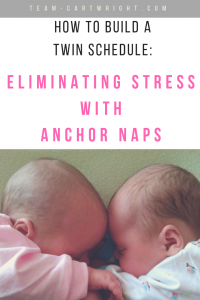 Rules for the Anchor Naps
As I said, these were the naps I put all my efforts into. We did these naps right.
Sleep Location
My twins slept in their beds for this nap. No bouncer naps. No cuddle naps. Just sleep in their twin cribs. (Learn safe and practical sleeping options: Sleeping Arrangements for Twins)
Sleep Tools
I utilized all our chosen sleep tools. For us that included swaddles, pacifiers, and white noise. Choose which tools you like and use them. (Get the best sleep tool recommendations from 8 Babywise Mamas—> Sleep Tools so the Whole Family Can Rest)
Sleep Training
Sleep training is about teaching. And it does not mean cry it out. But I do employ sleep training ideas to nap times as well. (Learn more about this—> Sleep Training Twins in the Same Room)
I would use pacifiers to soothe, the shush pat, and reassure my girls that they were safe and secure. But I did my best not to pick them up, and I tried to limit interactions that would wake them up during sleepy times.
I want to make it very clear that working hard to help my twins sleep during the anchor naps does not mean I ignored them or their needs. I comforted them every time they needed it. I just didn't give up on the naps.
Give Grace
This can be a hard period. The end result is worth it, but I'm not going to pretend it was easy when one of my twins didn't nap well. Like I said I would always comfort, but I would stick to the nap.
If naps got hard I would sometimes take turns with my husband. He would tend to the girls and comfort them and I would get a break.
Other times I would plan to frankly get nothing done during nap times except help my babies sleep. I would read a book outside their door, ready to be there when they needed comfort.
The important thing is to think big picture here. The goal is solid anchor naps. Taking the time to help your twins sleep is worth every effort you put into it.
All Other Naps
So what about all the other naps during the day? The little cat naps and dozes? We would try to make those happen, but I wouldn't stress about them.
Nap in Other Locations
My girls needed a cat nap between the morning and afternoon anchor naps. However, that was our prime time to get out of the house. So often those naps happened in the car and on the go.
Even if we were home sometimes, naps would not be in the bed. During the evening busy time, when the girls needed a catnap and I needed to make dinner? Bouncer naps. We made it work however we had to.
Short Naps
If we were home and I was able, I, of course, tried to have Ali and Sammy nap in their bed for non-anchor naps. But if they were fussing too much or just not settling well, I wouldn't stress it. We would either use the bouncer or just call it done.
This Will Not Hurt Your Overall Naps
It sounds counterproductive to allow naps to be so loosey-goosey. But it really did not seem to hurt Ali and Sammy's overall napping. In fact, I think it helped.
It took the pressure off of me to be perfect during the day. I was able to focus on sleep needs instead of timing during those naps. And honestly, these early naps fall aside after a few months. It isn't worth stressing yourself out trying to get every nap perfect.
Sneaky Snuggles
I like to add in one of my favorite twin tricks any time I talk about naps. The sneaky snuggle.
Sometimes one girl would nap well while the other wouldn't. Every so often I would get the fussy girl up and we would snuggle for the nap.
I didn't make a big habit of it, my goals for sleep were important. But getting one on one time with my newborn twins was important too.
These sneaky cuddle sessions did not hurt overall naps, and they were so good for me and my twins. So don't be afraid to grab those sweet baby cuddles from time to time.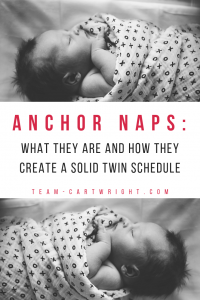 Your Twin Schedule Will Come Together
Using these steps Ali and Sammy got onto a schedule that worked for us. It aligned with Ben's schedule, and it met the needs of the entire family.
By focusing on the naps that would last the longest I was able to stress less while still working on good nap habits. And I still found moments to really hold and love on my babies.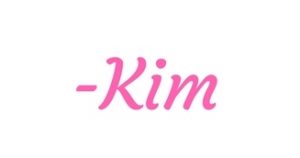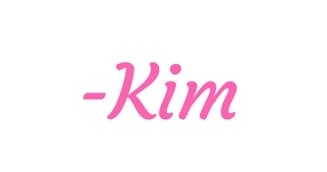 If you want to read up on putting the first parts of our twin schedule together, here are parts 1 and 2:
Setting a Twin Schedule Part One: Daily Wake Times
Setting a Twin Schedule Part Two: Twin Wake Times and Bedtime Routines
Here is some more information to help out:
Breastfeeding Twins: The Ultimate Resource Guide
Everything You Need To Know About Twin Sleep
Twin Schedules: Birth to 2 Years
Let us improve this post!
Tell us how we can improve this post?