These posts contain all the schedules I have used for my twins so far.
If you are looking for help on how to get your twins onto this schedule, try this—> How To Get Your Twins on a Schedule
These are the real schedules we used for our twins. They will help guide you towards building your own twin schedules. (And get more help here: How To Get Twins on a Schedule)
0 to 3 Months Twins Schedule
The first 3 months of twin life is busy. The best thing to do is focus on full feedings and getting used to life with twins. Feeding your twins at the same time and waking them up at the same time every day will help your schedule fall into place.
Sample schedules for when you are just starting out. Newborn twin goals for eating and sleeping
4 to 6 Months Twin Schedules
4 to 6 month old twins still need plenty of sleep, but aren't eating as frequently. A solid schedule will help you get you and your twins out of the house more.
4-month-old twin schedule following an eat, play, sleep cycle.
5-month-old twin schedule for twins.
6-month-old twins schedule. Get into a solid schedule while introducing solids.
7 to 9 Twins Months Schedules
Fitting in solid food while you settle into a two nap schedule.
Schedule for 7 month old twins. Consistent naps and meals.
The schedule we used with our 8 month old twins.
Nine month old twins schedule for solid naps and consistent meals.
10 to 12 Months Twin Schedules
Schedules for older babies that give plenty of rest and time to get out of the house.
How to schedule your 10 month old twins.
Keep your busy baby twins on a schedule at 11 months.
You survived the first year! Here is how to keep your one year old twins on a schedule (with an older child too!)
1 Year Old Twins Schedules
Toddler twins are busy, loud, and fun. A solid schedule keeps the chaos away and helps the whole family function.
Busy toddlers still need plenty of rest. Here is how we made sure our twins got plenty of sleep and weaned from breastfeeding.
18 month old twins have dropped the morning nap. This is the perfect time to solidify independent playtime!
Keep your busy toddler twins well rested and have good meal times!
2 Year Old Twins Schedules
The terrible twos with twins? It isn't so terrible with a good schedule
Two year old twins still need naps. Here is how to make that happen.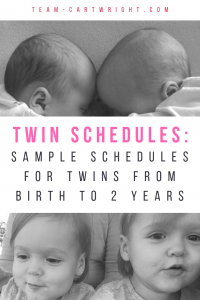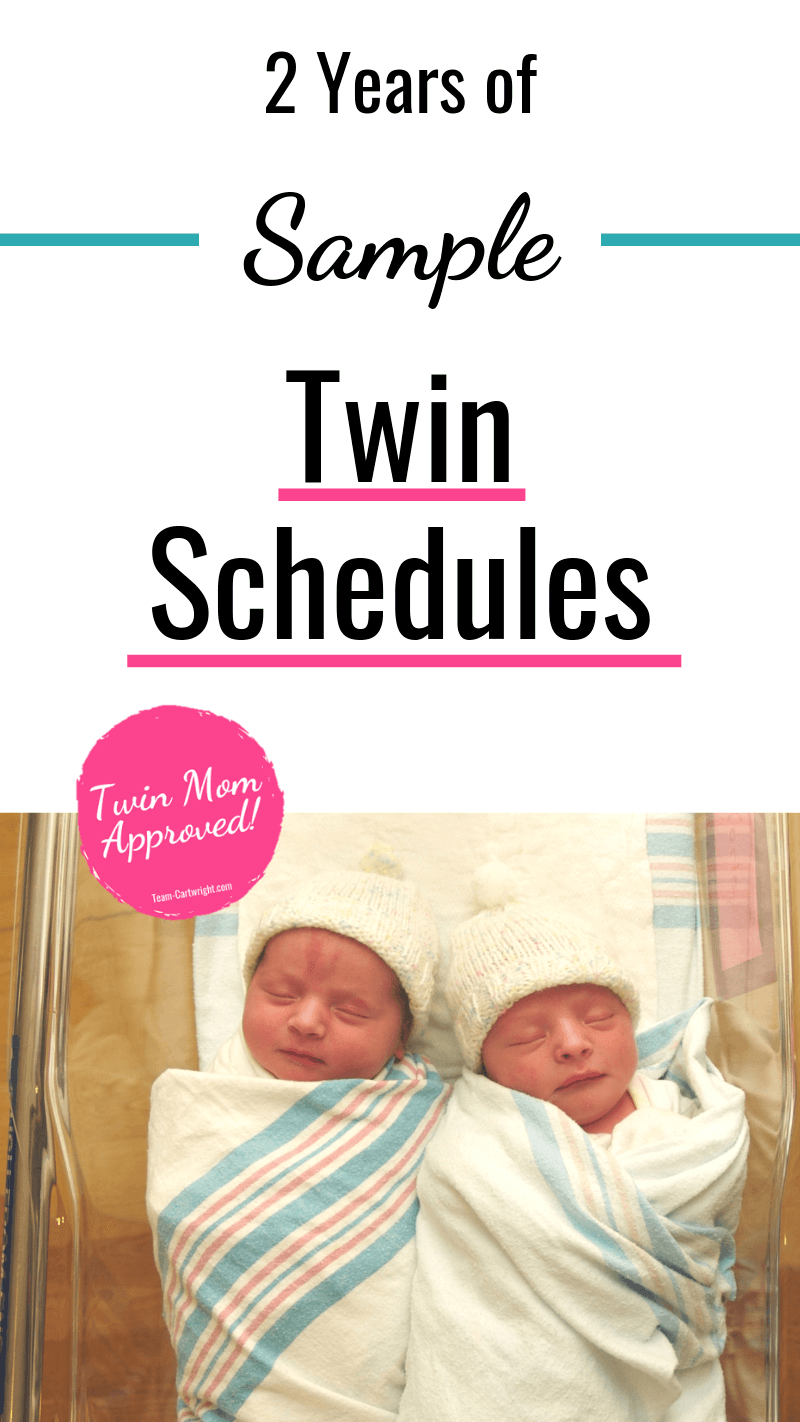 Let us improve this post!
Tell us how we can improve this post?