Newborn twin schedules
When I was expecting twins I started to think hard about my twin schedules. I didn't want to have one twin sleeping and the other awake. I knew I had to be intentional in my planning.
Now that I am raising twins I am so glad I took this time to think through the schedule! I don't have one baby eating while the other is sleeping. Our days run well.
I really like reading other parent's feeding schedule and sleeping schedule, especially for that first year. I like to see if I can be more efficient in anything, if they have any good ideas I should try to implement in our lives, or if there is anything else I can learn about baby sleep.
It can be comforting during times of mommy-doubt to see that other people are doing things similar to what we are. (If other parents' days look like ours, I can't be the worst mom ever, right?) It also helps when things are just not working to see what works for others and get some new ideas.
When the kids are little, the schedule is soooo important. A good routine can be the difference between everyone being fussy and crying all day, and having a great day. I also know that in the early days of a new baby everything can be so chaotic. Having some form of routine to follow gives me a sense of control (even though it is usually all in my head), which makes me feel better about our days.
If you want to learn how to put your twins on a schedule this will help—> How To Get Twins on a Schedule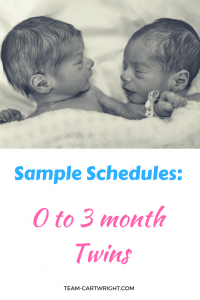 In the hopes of helping out another twin parent googling away as I have (and probably will do in the future), here are the schedules I used for the girls in their first few months. These are the bare bones, eating and goal nap times.
Newborn Twin Schedules
1 month old
Honestly, it was still a lot of on-demand nursing and sleeping for these new twin babies. We had a lot of people coming to visit, so I didn't try to implement anything.
We did have a daily wake time of 8am for the first nursing of the day, and loosely followed a 2.5-3 hour schedule after that. I didn't let the girls go longer than 3 hours between feedings. (Yes, I broke the 'never wake a sleeping baby' rule. Wake those babies up to eat!)

This isn't too soon to start a bedtime routine for twins. This will help in the future as you help your twins sleep.
2 months old
8am: Official wake up and nurse
9am: Nap
10:45am: Up and nurse
12pm: Nap
1:15pm: Up and nurse
2:15pm: Nap
4pm: Up and nurse
6:15pm: Nurse
7:15-9pm: Nap and cluster feed as needed
9pm: Upstairs to nurse and into bed
Middle of the night: nurse as needed, usually 2-3 times
At two months it was much easier to feed my twins at the same time, and you can see this is a breastfeeding twins schedule. It works for formula feeding twins as well.
3 months old
7:45am: Official wake up and nurse
8:45am: Nap
10:30am: Up and nurse
11:30am: Nap
12:45pm: Up
1:30pm: Nurse
2pm: Nap
4:30pm: Up and nurse
5:30-6pm: Nap off and on in bouncer
6:30pm: Nurse then to bed
Middle of the night: nurse once, usually between 4am and 5am.
(Around 15 weeks was when we switched from cluster feeds as needed to the dream feed.)
Babywise moms will probably notice I took some liberties with the eat, play, sleep cycle around the middle of the day. I knew I wanted the girls to nap at the same time as Ben as soon as possible.
In order for that to happen, I set that afternoon nap time (our anchor nap) and worked nursing around it. I made the middle of the day nap a shorter one and did nurse the girls right before the longer afternoon nap.
That middle of the day time is also when we usually get out of the house, meaning the girls got catnaps in the car. Not always ideal, but it got us closer to the goal of everyone having the same afternoon nap time.
Don't be afraid to work on these sleep times with your twins sharing a room—> Sleep Training Twins in the Same Room)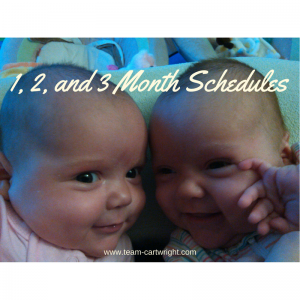 So there it is! Three months of how we tried to go about our days. Of course, every day wasn't perfect. If the girls were hungry earlier I fed them earlier. If they were tired the slept more.
Having a routine helped make those first few months of having twins so much easier. I knew when they would be hungry, which made being able to get out of the house possible. The girls also started getting into the rhythm of naps and started taking longer naps.
It takes effort to try to use a schedule, but those efforts are so worth it (especially when those babies become toddlers!). We are already seeing it pay off with good naps and happy babies!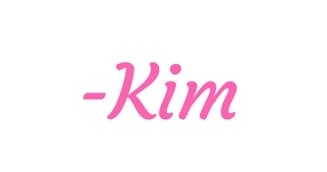 More Resources
We know there is so much more to taking care of newborn twins than just attempting a schedule. Here are some more resources to help you out with your newborn twins.
Breastfeeding Twins: The Ultimate Resource Guide
Taking Care of Twins Alone: What To Do When They Both Cry
How To Get Out Alone With Twins
Twin Sleep: Answers To All Your Questions
Twin Gear: Essentials on a Budget
These resources will help you get your twins on the same schedule.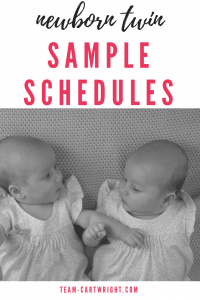 And if you are a new twin mom (or still in the pregnancy stage) and have questions on setting up your twin schedule, feel free to email me! I would love to help: [email protected].
Let us improve this post!
Tell us how we can improve this post?