I feel like our family makes transitions with the kids on the late side of things. Ben didn't switch to a toddler bed until he was three, and Ali and Sammy are two with no plan to transition them in sight. I am so happy we potty trained at three. My kids even drop naps late. Overall, we just tend to not rush things. It works for us. But that doesn't mean making big changes late is the only way to do it. Christine from ChristineKeys.net and RaisingKidsMakingMoney.com does her major transitions early, and it totally works for her family. Here are reasons to make big transitions early.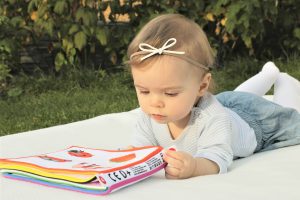 Today I am over at Mama's Organized Chaos with How To Foster Kindness in Little Kids. Be sure to visit and check it out!
3 Awesome Reasons To Make Big Transitions Early
We make big transitions pretty early around here. Well, early by today's standards. To be honest, I'm doing things at the same pace that my mother did them with us. We potty trained Jack around age 2 and transitioned both of our children into big kid beds at 13 months. Some people think we're crazy, but it has worked well for us so I thought I'd share 3 reasons why making big transitions early is pretty awesome.
Less Pushback
This first point is pretty much the biggest factor for us. As my children get older, their willpower increases. So does their vocabulary and their physical strength. Because we made the switch to a big kid bed (read how HERE) at just 13 months, my children didn't fight it. They were pretty much just babies at the time and were happy to be put where ever so long as they had their loveys. Potty training was the same. Jack was eager to please and not yet at the stage where he wanted to be ornery just to test it out.
Less Baby Gear
This is another reason we like making transitions early. We head out of town most weeks and it is nice not to have to worry about bringing a big load of diapers with us, or worrying about where our kids will nap. With ours being just 18.5 months apart in age, there was a time when just a simple trip meant half the car was filled with baby gear. It's nice to be able to not have to pack so much.
Money Saving
And then there's the financial advantage. I'm mainly referring to the potty training aspect here. Even when Jack was still in diapers, we did our best to keep costs down by using cloth diapers (see my review HERE), but now that he's only using a pull-up for sleep times, the cost has gone down even further. And let's be honest, there is nothing fun about changing toddler poop.
Transitions & Babywise
So, how do transitions fit into Babywise? Honestly, they fit where you put them. One of the things I love about the Babywise method is that you make it work for your family. For some, it works better to make certain transitions later in the game, and that's fine. Babywise gives you the tools to create security for your child through a consistent routine so that when big transitions do happen, they still have something that remains constant and helps them feel safe.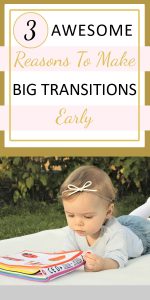 Here are some more posts on transitions for you!
Transitions: Moving From a Crib to a Toddler Bed
Transitions: Turning the Morning Nap Into Independent Playtime
6 Positives to Late Potty Training
Transitions: Helping My Child Move Across the Country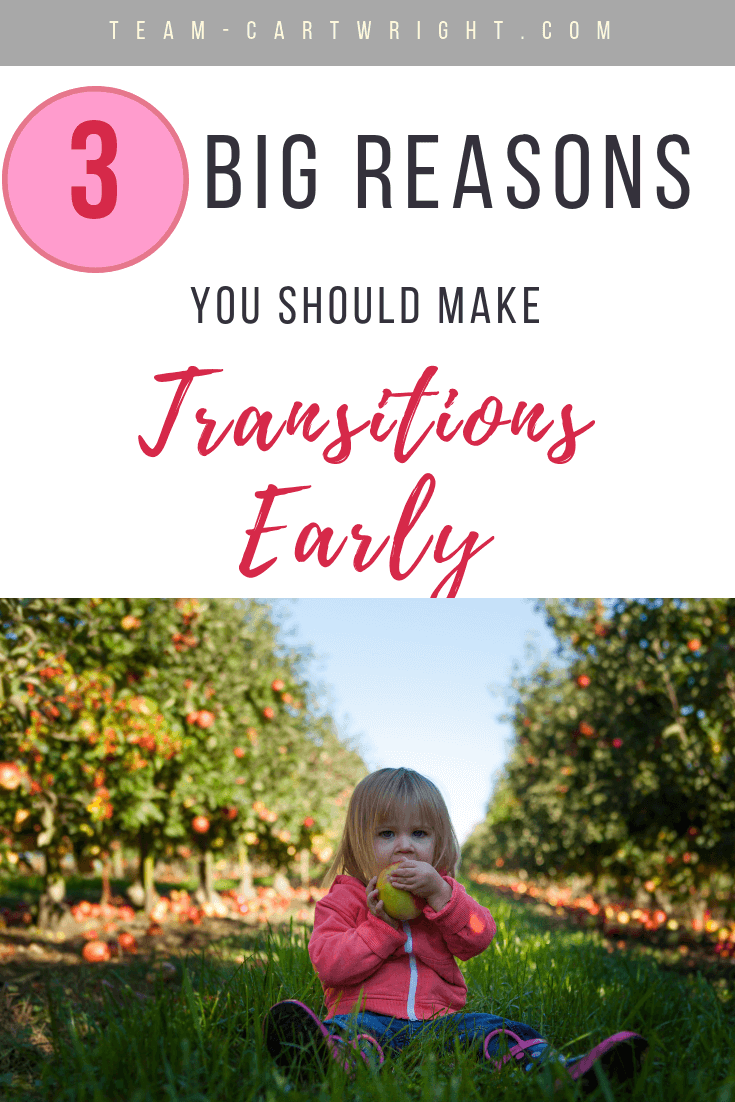 Let us improve this post!
Tell us how we can improve this post?