Dinner. It rears its head every night. Overall I enjoy cooking. I find it fun and relaxing. But that does not mean that every night I am jumping at the chance to make something. There are days that are crazy and I am just looking to get something on the table fast. On those nights I am happy I keep some basic staples on hand that I can throw together in a couple different combos to suit my family's tastes for that night.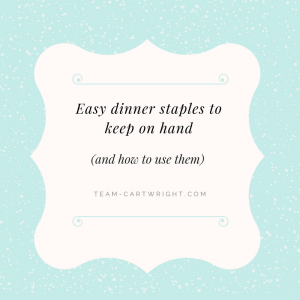 The main idea is pretty simple. Grab a protein you have on hand. Pick a grain to go with it. Then get any vegetable you happen to have available. Top it off with the seasoning of your choice. It sounds simple. And it is! But I think sometimes we get wrapped up in feeling like we need to put together something exciting, new, and fancy. The truth is, we don't. You need something that fits the food groups, fills you up, and tastes good. I can whip up a dinner in about twenty minutes as long as I keep some of these main basics on hand.
Here are my staples and some ideas to go with them.
Proteins:
Ground meat- turkey, beef, chicken, Italian sausage. These options defrost pretty quickly and cook up super fast. I buy them on sale and just keep them in my freezer. Ground turkey is healthier, and seriously once it is mixed in with other stuff you don't notice that it isn't always as flavorful as beef. If you want instant seasoning for no work the Italian sausage is where it's at. You can buy it as the sausages and slice the casing off to get it as loose meat. This is a good thing to remember if they are on sale.
Turkey kielbasa- or regular kielbasa. I like the turkey because it is a little healthier. This is a good one because it can defrost in about thirty minutes. They are generally already fully cooked, so you just have to worry about heating them. Tons of flavor, and easy to cut into small pieces for little hands.
Thin cut pork chops- Sometimes you don't want to have a casserole or mixed up dinner, you want to feel like you have a more traditional meal. They take about 10 minutes in the oven. Nice and fast while you whip up a side dish.
Eggs- When in doubt, throw an egg on it. Scrambles, omelets, egg casseroles. Tasty protein a lot of kids enjoy. And who doesn't love breakfast for dinner? Filling and cheap.
Vegetables:
Diced tomatoes- You can get these with seasons or just tomatoes. It adds moisture and flavor to all sorts of mixes.
Canned green beans- We love canned green beans. You can find them for less than fifty cents a can most places. Open up the can, drain and rinse, microwave for one minute and you have a vegetable. Fastest one I can make.
Frozen bell peppers- I like to buy these frozen because of how long they last! They cook up quickly and add some color to any dinner.
Frozen cauliflower and broccoli- Easy to cook on the stove and in the microwave. You can buy broccoli cuts and chopped broccoli to add to skillet meals and casseroles without chopping. The florets are great with a little (or a lot in our house) cheese sprinkled on top.
Frozen peas- Again, easy for little fingers to grab and eat. They also mix in nicely with skillet meals. Or microwave for a side on their own.
Grains:
Brown rice- I like the minute version. Ready to eat in less than ten minutes and perfect to mix into one bowl meals.
Noodles- regular and egg- Noodles don't have to just be for traditional spaghetti dishes! They go great with any protein and vegetable. (And yes, that includes eggs! Try a fried egg over noodles with a little cheese. Not sure how healthy it is, but it sure tastes good!) Egg noodles cook up quickly and go well with casserole type dishes too.
Tortillas- There are always tacos and quesadillas. But take any meat and vegetable, put it in a tortilla, and you have a filling fun meal! Add rice to bulk it up a bit more. Breakfast burritos are yummy. You can use tortillas and salsa instead of noodles and tomato sauce to make a Mexican-like lasagna.
Other:
Shredded cheese- Any kind you like works. This is something that is often on sale, so I stock up a bit. Cheese always makes things taste yummy.
Sour cream- Honestly this isn't always something I have on hand. But if I know dinners will be rushed during the week and I plan on doing some sort of wrap I like to grab a small container. It is also good to stir a little bit into skillet meals to add creaminess.
Worcestershire sauce- I have the hardest time pronouncing this one but it adds fast flavor to a variety of dishes. You can get low sodium versions. A few splashes really adds depth to dishes.
Onion powder- yes, real onion is better, If I remember I get frozen diced onions. Even faster is to grab the onion powder. Even when you don't want an oniony taste this adds a little something more to make dinner tasty. Plus if you have little ones the actual pieces of onion can be offensive. Get the flavor without the pieces.
Great, we have the ingredients and some ideas. But examples always help.
Try cooking up some ground meat. Toss in a frozen vegetable of your choice, along with some onion and garlic powder. Cook some minute rice. When the rice is done add it to the skillet with the meat and vegetables. Serve as is or use a tortilla to make wraps. You can add a dollop of sour cream or a sprinkle of cheese to add a little extra tastiness.
You can also cook up some noodles. While those are going cut of some kielbasa and add to a pan. Put some frozen bell peppers in and heat up together. Add the cooked noodles and some Parmesan cheese to have a tasty pasta dish.
Season some thin cut pork chops with a little salt and pepper and cook up in a 350 oven for about 10 minutes. While that is going cook up some minute rice. Last minute open a can of green beans and microwave them for a minute.
Scramble up some eggs, add some frozen chopped broccoli, and use a tortilla for a burrito. If you have leftover potato from a previous meal you can make a great skillet. Omelettes or just 'scrambled eggs with stuff' as I call messed up omelets always taste great, no matter the time of day.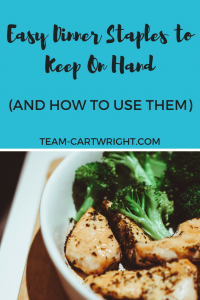 These are just a few ideas. The great part about these meals is you can customize them to your family's tastes. There are no real rules, and they are actually pretty hard to mess up. Add a fruit to the table and you have a pretty well-rounded meal. That's the most important thing. Healthy food fast with minimal time spent.
–Kim

Be sure to check out all the ladies of the BFBN today as we tackle dinner challenges!

Chronicles of a Babywise Mom-Favorite Fall Recipes
Mama's Organized Chaos- Quick Dinner Ideas: Gluten, Dairy, Egg, and Soy Free
The Journey of Parenthood-Why I Love My Slow Cooker
Twinning Babywise- How to Make Any Dinner a Quick One
Wiley Adventures- Our Favorite Quick Dinners
Let us improve this post!
Tell us how we can improve this post?