I love a solid STEM toy that is fun, grows with kids, and gives open-ended opportunities to play. Legos check off each of those requirements. They are seriously an investment toy that kids can play with for years. We are big fans of Legos and Ben is just starting to get into them. He still needs help learning how to play with them and how to create what he sees in his mind. This is why I am so happy I have the opportunity to review a great Lego building book with Ben: Play-To-Learn…With Bricks!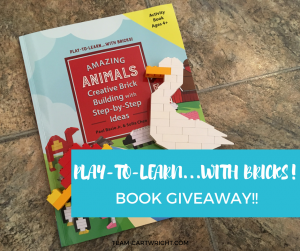 The book was received for free in exchange for my review. All opinions are my own and receipt of product does not guarantee a positive review. Please see my disclosure statement for more information.
Play-To-Learn…With Bricks! Background
A little bit of background on these books. They were created to help children learn while they play, which is perfect. They are simple. You are given the shape and color of each piece you will need to build an animal along with how many are required. Then you are given step by step picture instructions on how to create them. Easy! I had fun playing with this book on my own. (Yep, I like legos too.) And Ben and I both had fun putting these animals together. I could see Ben processing the information and learning! (Check out the website to see what these books are about for yourself!)
What Is Learned Through These Books
For a simple book, it sure packs a lot of learning opportunities in. Here are some of the things I noticed were touched on.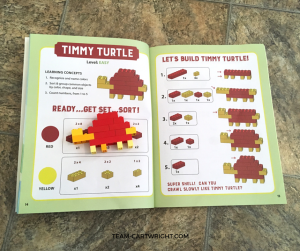 Counting
This book requires you to count out the pieces that you need. This obviously helps with numbers, but it helps with direct number recognition. Instead of just counting straight through 1-10, kids have to stop at different numbers. This helps them really learn what the numbers mean on their own, not just in a run of several numbers.
Colors
You need different colors for these projects. Picking out colors is a great way to review all the different parts of the rainbow.
Sorting
Sorting is an important skill. It requires children to focus in on specific characteristics, which encourages attention to detail. This book is so helpful because you have to focus on multiple characteristics at the same time. Bricks need to be sorted by color, size, and shape. These are a lot of factors to keep straight, and it is great practice for kids.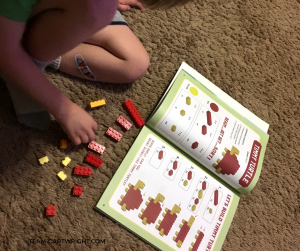 Fine Motor Skills
Putting the bricks together requires fine motor skills. It isn't easy to line up the pieces just right, so this gives great practice.
Spatial Relation
Kids need to be able to fit the bricks together to match what they see in the picture. To do this they need to figure out how the real bricks fit together, practicing spatial relation skills.
Following Directions
We all need to be able to follow directions in life. These are easy to follow printed instructions that need to be followed step by step. This book lets kids practice this. They see what happens when they don't follow the directions (they don't get the desired shape) and what happens when they do.
Organization
You can create the shapes in this book by searching for each brick as you need it. Or you can plan ahead and gather all your materials, sort them, and then build. Which way is easier? This book encourages children to be systematic in their approach by gathering supplies first, then sorting them, and then building. They learn which way is easier and creates a better environment for reaching their goals.
Perseverance
Building these animals isn't always easy, at least for 4-year-olds. It is hard to get the blocks lined up just right and it takes time to search through the legos to find the right piece. Completing these animals teaches perseverance. It isn't always easy, but if you stick with it you will achieve your goal.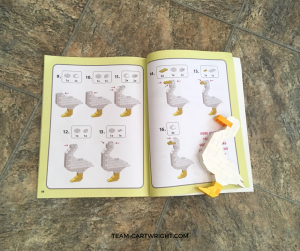 Practice Makes Progress
The more you create these animals and practice following directions the easier it gets. This book gives increasing levels of challenges to encourage kids to keep practicing. They can start with the easy designs and work their way up to the hard ones. It is important to keep trying when we want to be good at something, and this book really encourages kids to keep trying.
Problem Solving
Yes, a book full of exact instructions provides room for problem-solving. It can be hard to find each and every piece you need to make each animal. The average Lego collection either doesn't have them all or you can't find them. So sometimes substitutions need to be made. This gives your children a chance to think and work out how to make the shape still work. A different color? A different shape? What can we do to make it work?
Creative Thinking
This book inspires creative thinking. As we worked through it Ben asked me 'What else can we make?' This is a jumping off point to explore more ideas. What else can you create?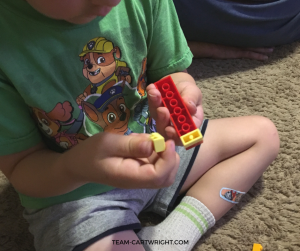 What I liked about the book
Easy To Follow Instructions
This book can provide a challenge for kids as they learn to follow directions. But as an adult, they were very nice to follow. I'm not a natural Lego builder, but this book encouraged me to keep at it and make even more.
Different Levels of Difficulty
You can do this book at any level. It has easier options that are great when you are just starting out or are short on time. Then it gets harder and more challenging as you and your child get better. This also makes it great for multiple age levels. You can find an animal that meets the needs of each child.
It Doesn't Have TV or Movie Characters
I have nothing against tv and movie stuff for kids. Kids love it, so what's the harm? But I do like that these animals are more generic. First of all, that is wonderful in terms of gifts. You don't need to know what show a child is into for this book to work for them. Secondly, it promotes imagination. You don't have a previous storyline to base your play off of. These are animals that kids know and can use to populate their own creative landscape. The lack of specific characters also makes it gender neutral. Girls can get left out of the Lego game sometimes, and that isn't right. It is such a valuable toy for development. This book doesn't cater to boys or girls, just kids.
What I Didn't Like
It Can Be Hard to Find Pieces
It can be hard to get all the right pieces. This isn't the book's fault, but I really feel like most Legos on the shelf are specific sets. The general kits don't always have the exact pieces you need to make everything. This does promote creative problem solving, but can be annoying if you have perfectionist tendencies.
It Is a Bit Tough for 4-Year-Olds
The book gives suggested ages of 4 and up. I have a 4-year-old. Even the easy animals were a bit challenging for him. This is a good thing overall, of course, it encourages learning when things are hard. But I had to give a lot of positive reinforcement and encouragement as we worked through it. So if you have a perfectionist child or one who has a low tolerance for frustration be ready. Yes, overall this book helps with those problems, but you will have to really give hands-on help as you work.
A Good and Bad Thing
The biggest good and bad thing about these books are that they don't come with bricks. That isn't a flaw in the book, they aren't claiming to include the bricks. But if you don't already have Legos you will need to get some. That's the con, the extra money spent. And it seems that one set might not be enough to make every animal in the book. The pro is that this is a great way to start your Lego collection! This gives you a jumping off point, encourages creative problem solving if you don't have the right bricks, and can give motivation to your children to earn future Lego kits. Legos are an amazing STEM toy, and just a perfect toy to really invest in. They grow with your children. As your kids get older they can play with Legos in new complex ways. You can use guides like this book to play with them, or just encourage open-ended exploration. You can't go wrong with Legos.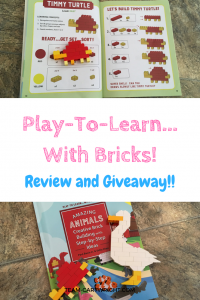 Giveaway
Overall we are just loving this book. Which is why I am so excited that I get to give 3 away!! Enter to win this awesome book sent straight to you. And be sure to check out their other books as well. (Word is they are working on a Mega Blok line! Totally bragging, I asked if that was an option.) I hope you enjoy it as much as we do!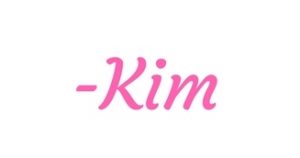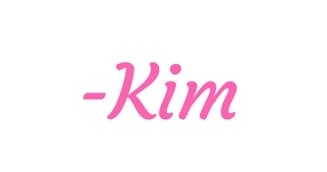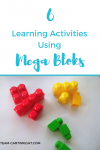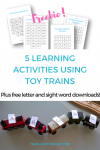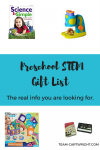 Let us improve this post!
Tell us how we can improve this post?