(Product was received in exchange for this review. All opinions are my own. Receipt of product does not guarantee good review.)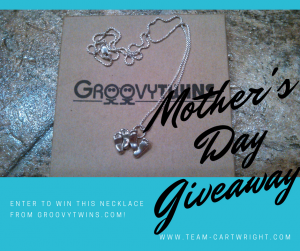 Mother's Day is just around the corner. Two more weeks! (I'd better get going on something for my mom!) Every mom deserves to be celebrated for all she does for her family. I love the idea of a special piece of jewelry that represents my children. Something to wear close to my heart, that I can hold onto as my children grow. There are a lot of great mother-child options out there, but it can be hard to find a good twin option. That is why I was so excited when I heard about Groovy Twins.
The founders of Groovy Twins, John and Kim, are the proud parents of three kids, a daughter and identical twin boys they were not expecting. Oh how I know what getting that surprise is like! Like a lot of twin moms Kim wanted a piece of special jewelry to represent her twins and had a hard time finding anything. So she and John decided to make their own! I love to support fellow twin parents (and fellow Kims!), and I can honestly say they have some really nice looking designs. Sweet, subtle, fun- you can find your style in their collection. Even better than finding a place that sells nice twin jewelry, they want to celebrate other twin moms and have sent me one of their Twins Feet necklaces to give away to a lucky Team Cartwright reader!
I was so excited to get this in the mail. Who doesn't love getting something that isn't a bill or junk? The box is cute and feels like something special. I know the packaging doesn't matter if it doesn't hold a quality product, but it let's you know this is a company that cares. They want to send you their very best. Plus a cute box like this doesn't need additional wrapping if you are sending it as gift. Score for one less thing to worry about! It feels special, letting the twin mom in your life know that she is important. (I took some pictures so whoever wins this lovely gift can see how great it originally comes. I'm going to do my best to put it back together right!)
The pendent itself is two sets of sweet little feet in sterling silver. It isn't too big, and yet it still feels solid. This isn't something flimsy that will break easily. I love how versatile it is. I can picture wearing it with a skirt at church, but still being able to wear it with jeans. Basically it is perfect for the mom on the go, wearing multiple hats in her day.
Well enough of me going on about it, let's get to the good part! I get to give this beautiful necklace away! There are four ways to enter to win. You can like Team Cartwright on Facebook, follow us on Pinterest, comment and share your favorite mother's day gift, and finally join the Team using the subscribe boxes on the sidebar. The more you do the more chances you have to win!
The winner will be notified after the contest and I will send the necklace your way! After you've entered, check out Groovy Twins for all their designs!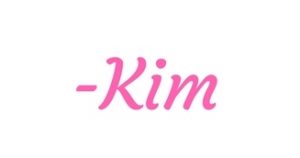 Let us improve this post!
Tell us how we can improve this post?