Safe Swimming with Twins
Summer makes me want to jump in the pool! (Yes, pool, I'm not a beach girl.)
I want to swim, and my kids do too. Swimming with twins? That brings up safety concerns, especially if I am on my own with my twins.
But I'm not one to let twins stop me. And summers around here are too hot to not get some water play in. We swim.
There are many ways to make sure your twins stay safe in the water. These are 10 big tips that I use for safe swimming with twins.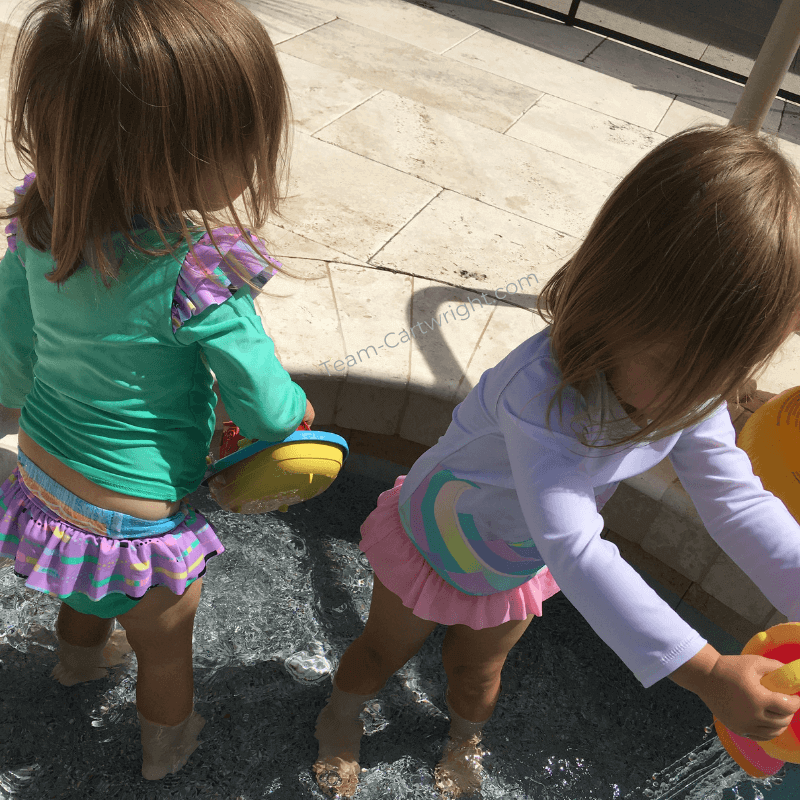 Safe Swimming with Twins
This post contains affiliate links. Please see my disclosure for more info.
1. Don't Be Afraid To Say No
Look, I normally encourage twin moms to go for it with their kids. Get out of the house, do activities, don't let twins be the reason you say no.
Swimming is a different game. Safety must come first.
If you feel like you can't keep your twins safe in the pool, then don't go swimming.
This is a time when no other opinion counts, just yours. You are the one responsible for those babies, you get to make this decision.
So assess the situation fully. Decide if you can keep your children safe in the water. If not, there are plenty of other fun ways to have summer fun. Don't let other people's views sway you.
2. Review the Pool Rules Repeatedly
Go over the rules. Then go over them again. Then again.
Yes, I am that serious. I remind my kids of the rules constantly. Why? Safety first!
I don't want to be an alarmist, and I'm not trying to be paranoid. But I do want my children to take swim safety seriously. That means we review the rules a lot.
A helpful way to do this is by using the Ask and Tell method. Ask your multiples what the rules are and have them tell you.
This is a very effective way of getting your children to be actively involved in the conversation. They can't just nod, or say yes. They need to repeat back to you the rules. This way they think them, they say them, and they hear them.
---
More Posts To Help Your Summer Fun
---
3. Have Everything You Need Nearby
We all know we should never leave a baby or small child alone near a water source like a pool. And no, the built in buddy system twins have doesn't count. So make sure you plan ahead and have everything you need nearby.
I make sure we have our towels, the toys, the sunscreen, my phone (for checking the time and emergencies, not playing on), drinking water, and anything else I can think of handy.
I don't ever want to be too far away from my kids playing in the water.
This is easy to do if you are going out to a pool, you pack ahead of time. But if you are swimming at home, evenin a kiddie pool, it can be easy to forget things.
So pack like you are leaving and be prepared.
We have a walled in yard, so I even bring one of the kid's travel potties
outside with us. No shame, safety first.
4. Have an All For One, One For All Policy
We have an all for one, one for all policy when we are swimming and I am the only adult present. That means if one person needs to go inside for any reason, we all go.
(That's also why the travel potty is a good idea. It cuts down on the need to go inside.)
It is annoying that both twins need to stop swimming because one has to, but that's just the way it goes. By planning ahead I eliminate the need for that, but I let my kids know that we are all outside playing, or we are all done.
I do like to have other outside activities when we swim at home. We can do chalk, kick a ball back and forth, or blow bubbles all within feet of the pool. So not everyone has to stop swimming at the same time.
But no one gets to stay out just a few more minutes. We swim as a group.
5. Use Your Voice and Your Eyes
In our small backyard it is easy to keep an eye on both twins while they play in our tiny pool. But that isn't always the case.
Yes, keep your eyes on your kids while they swim. But some level of realism has to come into play. You might need to look away.
I am for an all for one policy, but what about just reapplying sunscreen to one twin? The other doesn't necessarily have to get out of the pool for that, I am still right there. But my eyes have to go to the task at hand.
That's when I use our voices. Yep, just keep talking with your child. If they are talking to you, they are most likely safe.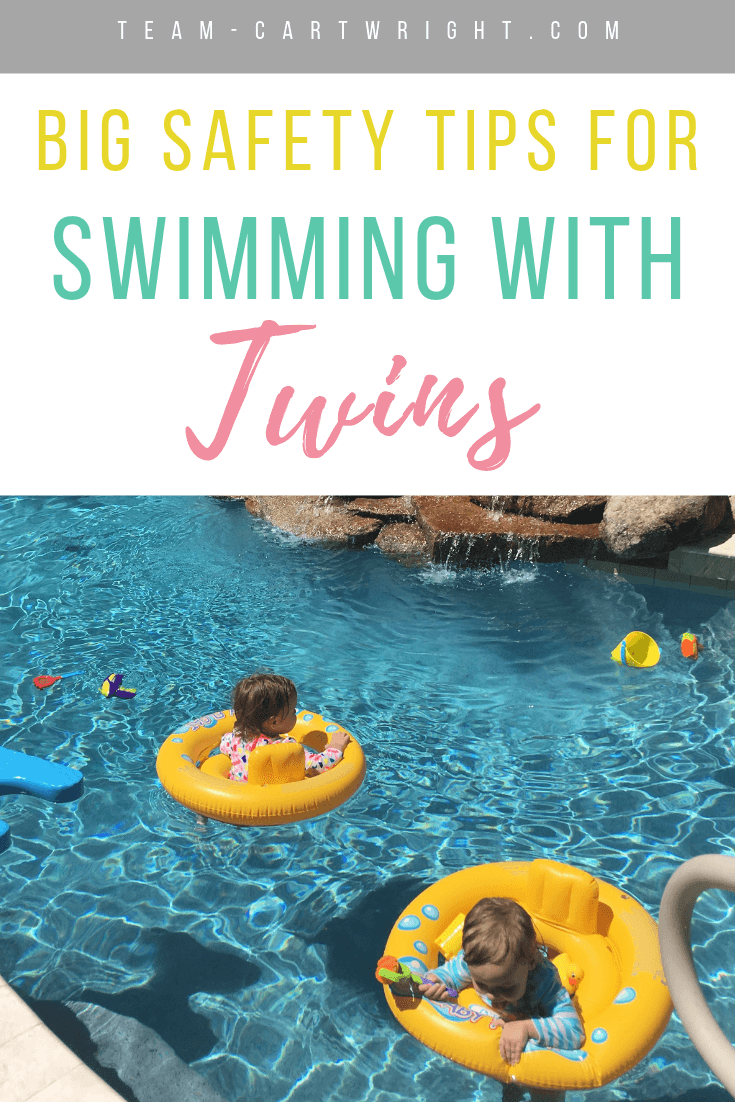 6. Don't Dress Your Twins the Same
I know, I dress my twins alike a lot. I love it. It can make life so much easier.
But it isn't always the safest in the pool.
I know twin moms know their twins, but it is easy to lose track of who is who when they are playing in the water. Having the same suit can make it easier to double count one twin.
If it is just you and your twins, this really isn't an issue. But if you are swimming with a group it is safer to have your twins wear different suits. This also helps other people keep track of your twins, including life guards.
I get it, there aren't always a ton of different options, especially if you are on a budget. But I find it is very helpful to get an accurate head count at a glance when my twins don't match.
7. Consider Flotation Devices
There are so many fun and affordable flotation devices available for kids and babies. If you are swimming alone with kids it can be a good idea to consider using something.
For babies, there are all kinds that you put your babies into and they can float. I loved this when my twins were babies. I didn't have to hold them, so I could be in the water with them both at the same time by myself.
This doesn't mean I wasn't in the water and right with them. I had a hand on each baby at all times. But we could all be in the water and enjoy it.
We like and use two of the Intex My Baby Float
.
There are twin specific float options, but I do have some safety and practicality concerns with those. Can you use them with just one baby? What if one twin is much bigger than the other?
As your twins get older look into other floatation devices like life jackets and water wings. I'm not an expert on what type is best. So I recommend you check out these sources to start your research:
8. Have Your Twins Take Swim Lessons
The best way to protect your swimmers? Have them take swimming lessons.
This doesn't mean they don't need supervision while playing in the pool, but it certainly helps with safety. And lessons can start when they are less than a year old.
I know lessons cost money, but this is something to seriously try to work into the budget. Being a twin parent can be tougher if the class is a mommy and me style one, but do your best.
I don't expect my kids to be world class swimmers, but being able to swim is a life skill. They can be comfortable in the water and safer than if they couldn't swim.
If your twins will be around pools a lot, it could be a good idea to enroll them in survival swim lessons. These teach kids, even infants, what to do if they end up in the water. And I think most test the kids by having them jump in fully clothed.
Swim lessons don't take the place of supervision, but they can make everyone safer.
9. Get Help When Swimming
I am a twin mom that likes to do it on her own. These are my kids, I need to be able to handle them.
But swimming is the perfect time to ask another adult to help you out.
Ideally, I would like to have one to one coverage. That means as many adults as children in the pool. But at least one more is helpful, even when I have all three kids with me.
And it's more fun for me to have another adult there. So don't be afraid to ask for help or wait until the weekend when your partner is home.
---
More Posts To Read
---
10. Get In the Water Too
Total honesty, my body is not what it was before I had twins. I don't hate it (how can I? It made two beautiful children at once), but it is not what I would hope.
But you know how you get a bathing suit body? You put a bathing suit on your body.
Your kids want you in the water playing with them. And you are more engaged and therefore paying more attention to them if you are.
It's so easy to get distracted while your children play peacefully. Being in the water keeps you in the moment.
Put on the bathing suit, and get in there with your twins. They want you there, and you will be happy you did.
Safe Swimming!
Water play can be so educational for kids. (Seriously, check out these learning activities by the pool.) But safety must come first.
These are the tips I use to keep my twins safe. What can you add to the list?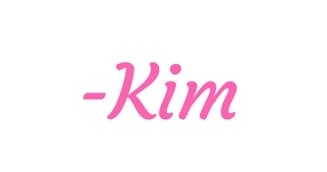 Need more twin tips? Check out these!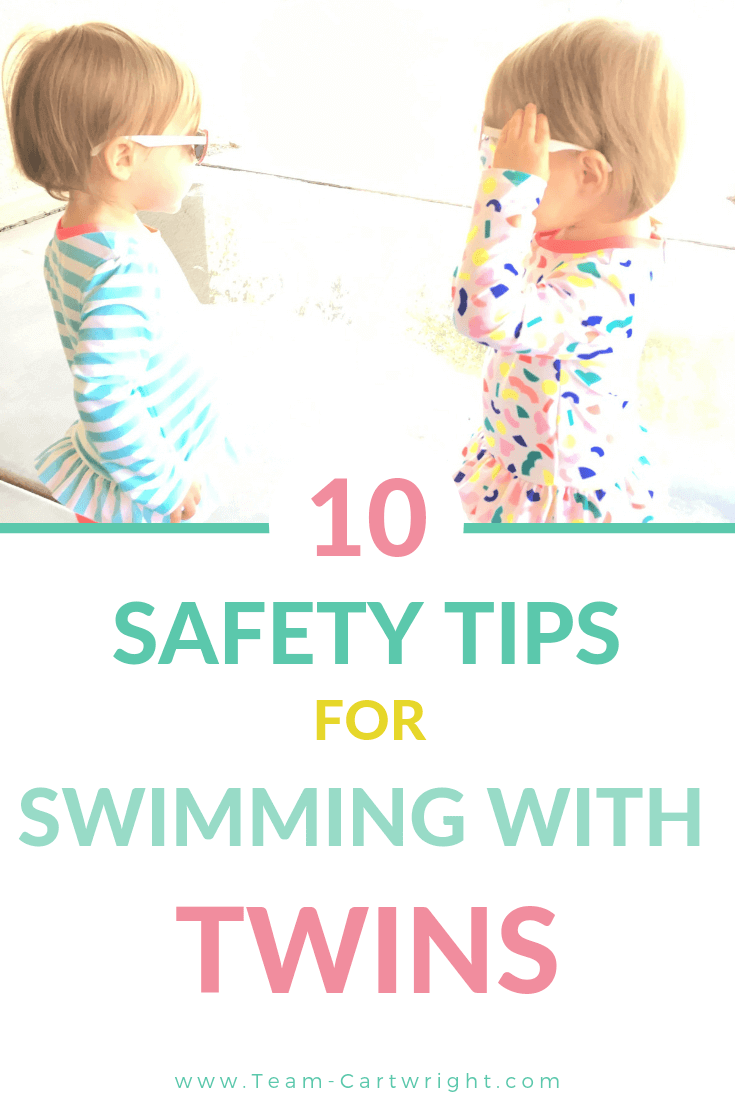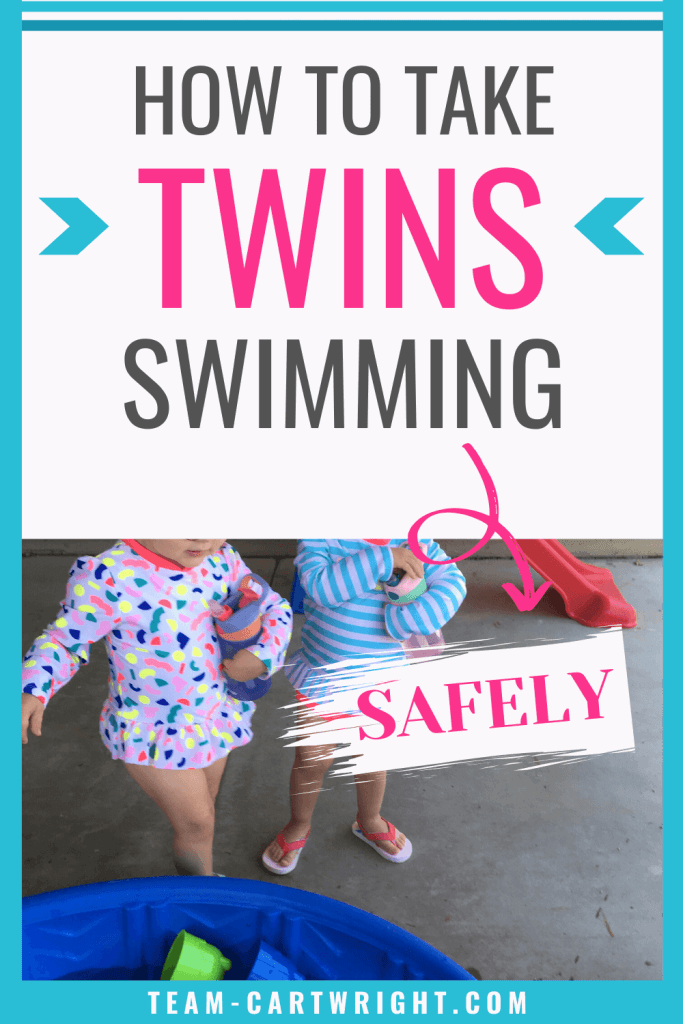 Let us improve this post!
Tell us how we can improve this post?