Ben is charging full steam ahead into the wonderful world of being a toddler. Along with this comes a lot of frustrations, both on my part and his. I understand Ben is trying hard to learn about the world and his place in it. He doesn't know how most things work, and he has no idea what dangers can lurk, well, everywhere. I am responsible for pointing out these dangers to him or at least keeping him away from them. It is my job to keep him safe and start him out on the road to healthy living.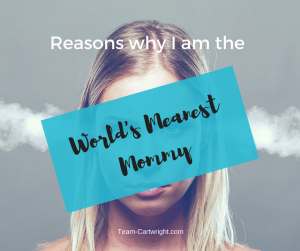 Well, Ben doesn't always like this. I am quite sure he often thinks I am the world's meanest mom who won't let him have any fun. I thought I was pretty reasonable with my expectations for Ben, but his reactions to some situations suggest otherwise.
Here are a few ways I was currently the world's meanest mom today:
1) I put socks on Ben.
2) I wouldn't let Ben pull hair out of the kitty.
3) I wouldn't let Ben lay on the kitty. (The kitty is about 9 pounds, Ben is about 24 pounds.)
4) I wouldn't let Ben eat kibble.
5) I didn't get dinner ready fast enough.
6) Once dinner was ready I made Ben sit down to eat it.
7) I wouldn't let him survive on only strawberries and bread.
8) We ran out of strawberries. (A nicer mom would have planned ahead better.)
9) I wouldn't let him play with the outlet covers.
10) I wouldn't let him chew on or play with electric cords.
As you can see, I am obviously being unreasonable. Sadly for Ben, I just don't think I can change my ways. Lucky for me, Ben is a sweetie and I have so much fun with him. Well, when I'm not being the world's meanest mom that is. 🙂
–Kim
Let us improve this post!
Tell us how we can improve this post?