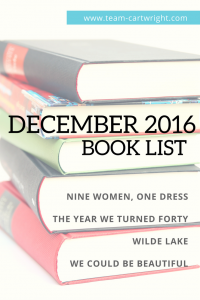 Last book list for this year. One thriller, one book that says it is a thriller but I'm not so sure, and two fun reads. I am trying to put together a book list for the new year. Please leave any suggestions in the comments. I love to hear what other people think about books! (This post contains affiliate links. All opinions are my own.)
Nine Women, One Dress
by Jane L Rosen


This book was such a fun read! It reminded me of movies likes Love Actually or Valentine's Day in that there are several individual stories that all connect with a common thread. In this book that thread is a dress. It shows all different women in different stages and places in life, all sharing major life events with a dress. I like how it showed all different parts of life with different perspectives, but each part spoke to something I have felt as a woman. Excitement for a big event, meeting a new guy, trying to live our best lives, all things every woman has experienced. The stories are interesting and the characters fun. I recommend this one.
The Year We Turned Forty
by Liz Fenton and Lisa Steinke



Okay, this one struck a little close to home. I still have plenty of time before I turn forty, but it is closer than I would sometimes like to admit. This one starts with three women turning fifty. They are given the chance to go back in time and relieve the year they all turned forty. Two of the women's stories have to do with babies, one just had one and one is deciding whether or not to have one. Being in my baby years of course I found that interesting. The third woman also has a child, but she is given the chance to go back and build their relationship differently. All three also have to figure out how their decisions impact their relationships with the men in their lives and their friends. The book really spoke to figuring out what is most important to you in your life, and fighting for that.
Wilde Lake
by Laura Lippman
This book centers around Lu, a lawyer who was recently elected state's attorney. Her father held the same position years ago and was beloved in it. She takes on a murder case, and it turns out some of the players have ties to her family. We go back and forth between present day, where Lu is figuring out her life and the murder case, and the past, where Lu sees family situations through a child's eyes. These events impact her case in the present, and she has to see old events with new, adult clarity. It speaks to family relationships and how do we use new information about happenings that we thought were laid to rest.
We Could Be Beautiful
by Swan Huntley
This book claims to be a psychological thriller on the back, but I didn't really think it was. I have to say I read the whole thing and it did keep my interest. That doesn't mean I would say I liked it per se though. The main character is a 43 year old woman who lives off of an $80,000 a month trust fund in New York. She is rich and spoiled and basically out of touch with life. She owns a shop, but really has no head for business or really any interest in it. She is looking for love, and finds it in an old family friend who returns to town. I don't want to spoil what happens, but I found the love interest off putting. It was pretty clear from the start something wasn't right with him, and honestly it was pretty easy to figure out the twist. I have some unanswered questions related to that, but the characters don't seem to mind. Overall it was frustrating to read about a woman who seems more like a child in her emotional dealings with the world and practical knowledge. But again, I kept reading and liked the style and cadence. I suppose it is possible to like a book and dislike the story at the same time.
Let us improve this post!
Tell us how we can improve this post?