Easter Egg Pattern Activities
Got some plastic Easter eggs lying around? I know we do.
And while they seem to appear at random times of the year, they are especially prevalent in the spring. That's a good thing though. There are a ton of fun learning activities you can with them!
Today we are working on patterns. Here are 3 fun ways to build pattern skills with plastic eggs. There is a version that works for you and your child. Oh, and scroll down to the bottom to learn how to grab the printables that make this even easier.
Time for some Easter egg pattern activities.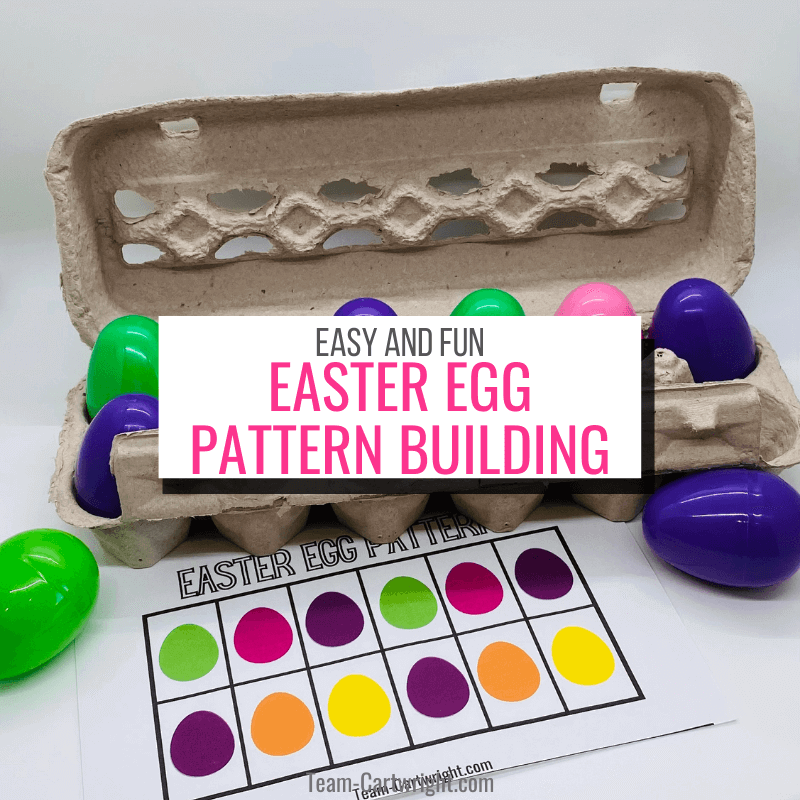 Easter Egg Pattern Activities
As I said, plastic Easter eggs lend themselves to so many learning activities. (Learn about some fun ones here: Easter Egg Stacking and Easter Egg Number Sense.) And the bright colors are perfect for patterns!
There are several ways that you can put together this sort of activity. You can DIY it with paper and crayons, or you can use the printables at the end of this post.
Supplies For Your Easter Egg Pattern
You only need a few items for this activity, and they are pretty flexible.
Plastic Easter Eggs (this one is a must-have)
Egg Carton(s)
Paper
Crayons/Markers/Dry Erase Markers
Pattern Cards
How To Do Your Easter Egg Pattern Activities
However you decide to put this activity together, the main idea is the same. Here are the basics.
DIY Paper Version
Step 1: Take several sheets of paper and divide them into sections to match an egg carton. (So 12 spots on top and 12 on the bottom.)
Step 2: Color circles in each section. These should be in varying colors that match the color of plastic eggs you have. Use different patterns on the different pages so your child has several patterns to practice.
Step 3: Give the pattern pages to your child, along with an empty egg carton and a bunch of plastic eggs. Your child can recreate the patterns with the eggs and the egg carton!
Tip: If you want to keep this activity in rotation for more than a few days, try laminating your patterns pages. You can also put them into plastic protective sheets. This will help them last longer.
Pros and Cons of this Version
Like all activities with different versions, this one has pros and cons.
Cons: You have to make the patterns yourself. That can be annoying if you are busy. Realistically it doesn't have to be too hard, but I understand if you just don't want to.
Pros: This is a low to no cost activity, as you are making it yourself. Making your own patterns means you can create challenge levels that work for your child.
This activity can also be a good independent play game since your child just needs the patterns, eggs, and cartons to play it.
Printable Pattern Cards Version
Don't worry, this activity can be even easier. You can just grab printable pattern cards.
Step 1: Print out the printable pattern cards or print out the blank pattern cards to color in yourself.
Step 2: Give the cards to your child with an empty egg carton and some plastic eggs.
That's it!
Tips: Again, if you want to reuse these cards it is helpful to laminate them or use protective sheets. You can also let your child color their own patterns on the blank cards!
Pros and Cons of This Version
Cons: I don't think there are a lot of cons to this option. It's quick and easy. You do have to print and if you don't have a printer or ink, then this isn't the option to pick.
Pros: Your child will have cute cards to use for a fun independent play activity. You also have the freedom to make your own patterns with the blank cards.
---
Get more fun plastic Easter egg activities!
---
Double Egg Carton Version
Oh yes, there is a third way to play this game. This version is a bit more interactive, which can be a lot of fun.
Step 1: Have 2 empty egg cartons available and a lot of plastic eggs.
Step 2: Place the plastic eggs into a pattern in your egg carton.
Step 3: Show your carton to your child and have them replicate the pattern in their carton!
Pros and Cons of This Version
Let's dive into what is fun and not so fun about this version of Easter egg pattern matching.
Cons: You will have to think of patterns on the fly. It isn't that hard to do, but if we all have moments when having to come up with one more thing is just too much.
This is also an activity where you sit and do it with your child. I'm not saying it is a bad thing to play with your child. But if you are looking for an independent play activity this version isn't necessarily to one to go for.
Pros: This version requires no prep. Grab your supplies and you are ready to play!
This is an interactive activity. It is an easy and fun way to sit with your child and play.
You can also set this game up to be done with siblings. An older sibling can create patterns for the younger sibling to copy. Or take turns making patterns for each other!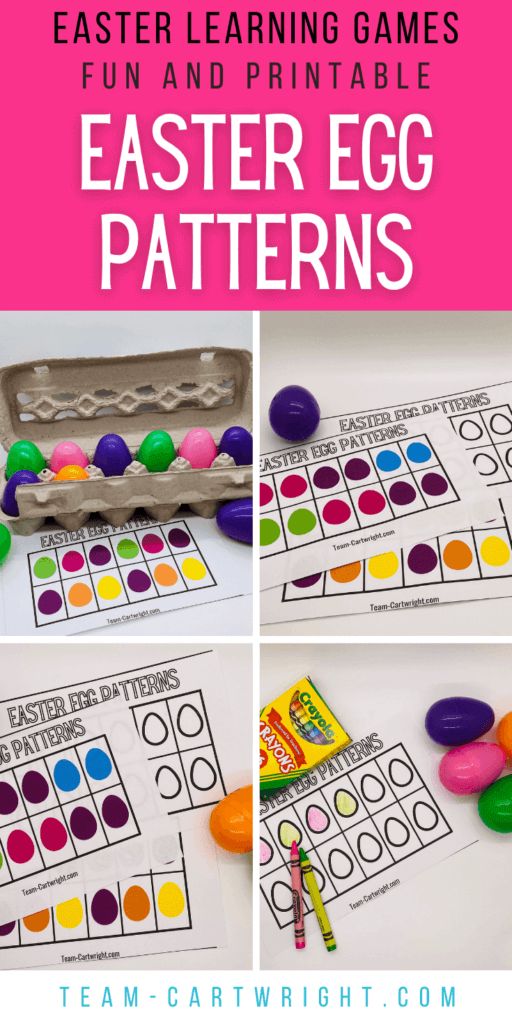 What Learning is Going On?
Clearly, this is a fun, easy, and festive game to play with your child. You can make it interactive or set up a great independent play experience.
But why is it educational?
The Importance of Pattern Recognition
Pattern recognition is super important in a child's cognitive development.
When they practice patterns, kids are learning to predict what comes next. This helps children build their logical reasoning skills and learn to make connections.
Pattern recognition is important for all types of future learning. In math, we use patterns to understand how numbers work and interact. In science, we use patterns to predict what will happen in an experiment or help understand how the world around us works. Patterns are used in reading, writing, and language as well.
Observation Skills and Critical Thinking
Looking at a pattern and then recreating it builds your child's observation skills. They need to look at the details and recreate them.
They will also need to use their critical thinking as they determine what fits where and what comes next in the pattern.
Grab the Printables!
There are two printables you can get to make this activity work for you.
You can get the design your own pattern printable by clicking here.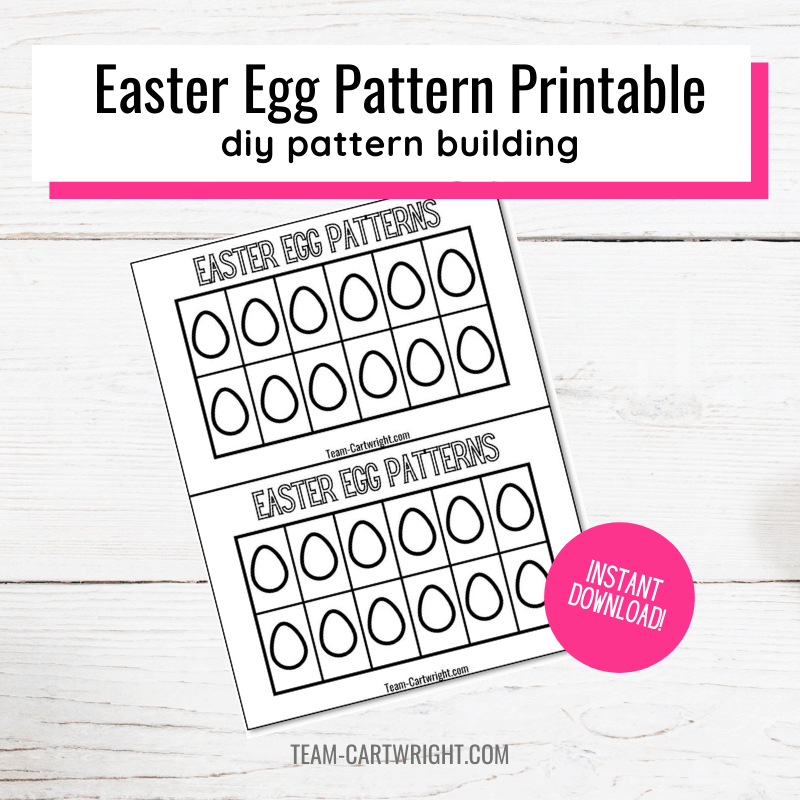 Or you can get 20 patterns for your child to do at home by clicking here.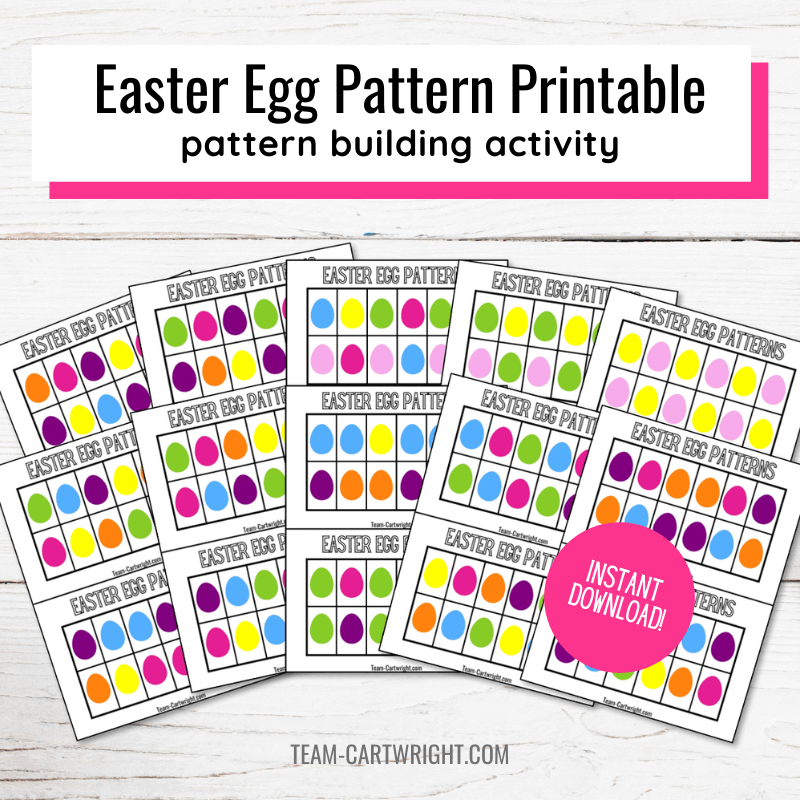 Pattern Building Fun!
Enjoy this fun pattern building game at home!
And don't forget to check out all the fun Easter learning activities. You can see them all here: Easter STEM and Learning for Kids!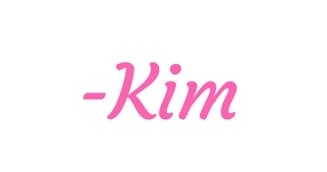 More Must-Do Easter Activities
Looking for even more Easter learning activities and science experiments? CLICK HERE!
You'll find jelly bean slime, jelly bean coding, peeps bunny launchers, Easter egg bath bombs, Easter egg rockets, diy egg geodes, egg submarines, and more! You have got to try these.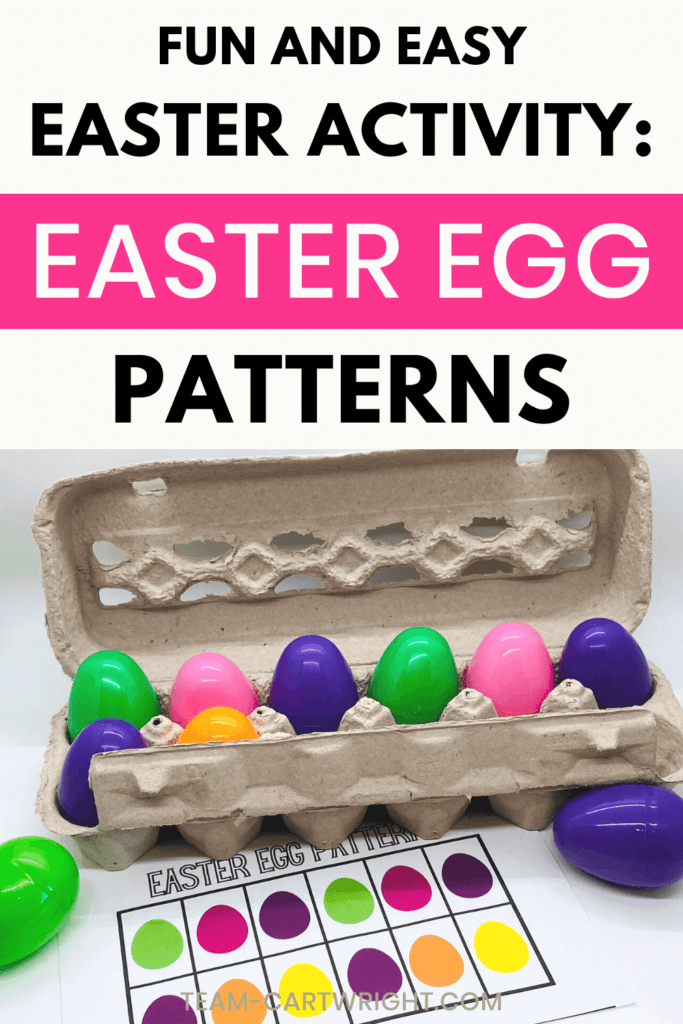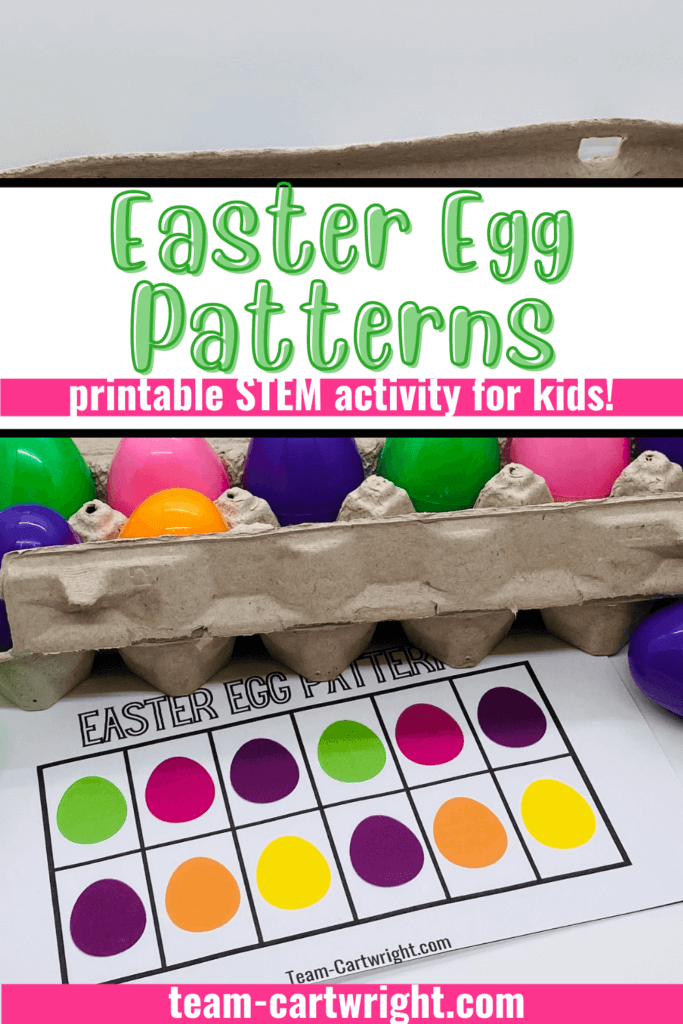 Let us improve this post!
Tell us how we can improve this post?