Easter Egg Stacking Challenge
Easter eggs and engineering totally go together. And yes, I'm kind of just saying that because I like the assonance going on there. But besides that, you can have a lot of fun with some Easter eggs.
These Easter STEM activities don't take much, but they can be a lot of fun. My favorite part is how much I enjoyed them as an adult. That means they are perfect for family gatherings.
Do you think your kids could beat you at these 3 engineering activities? I challenge you to try these Easter egg stacking challenges.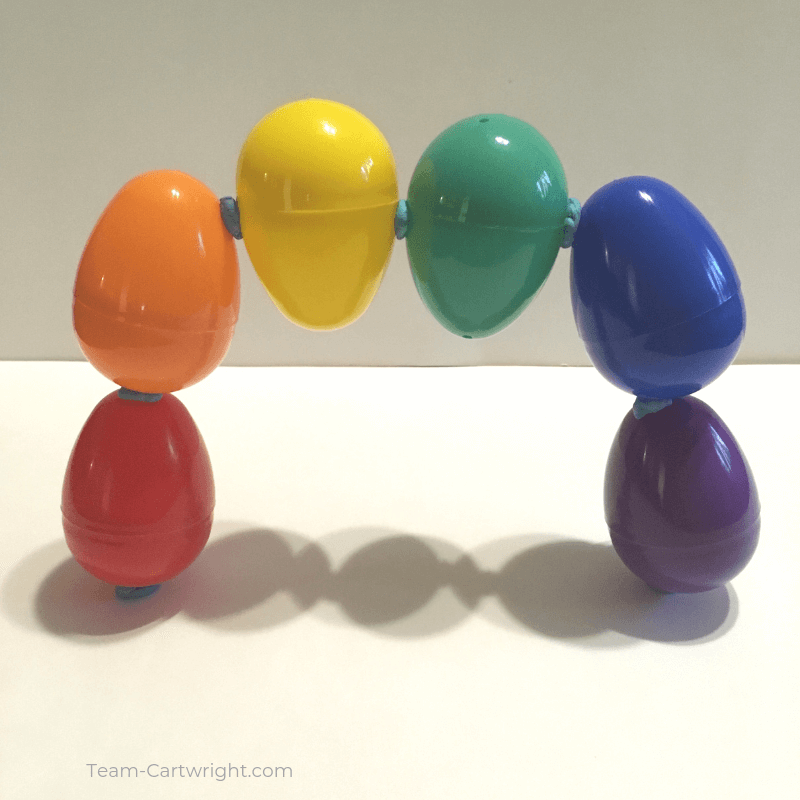 Easter Egg Stacking Stacking Challenges
These challenges can be deceptive. They look like they should be so easy! You're just playing with Easter eggs after all.
But when you get into them you really do have to think carefully. That makes these challenges a great activity for adults to join in the fun with the kids. I know for experience it can be hard to resist them.
Challenge 1: Build the Tallest Easter Egg Tower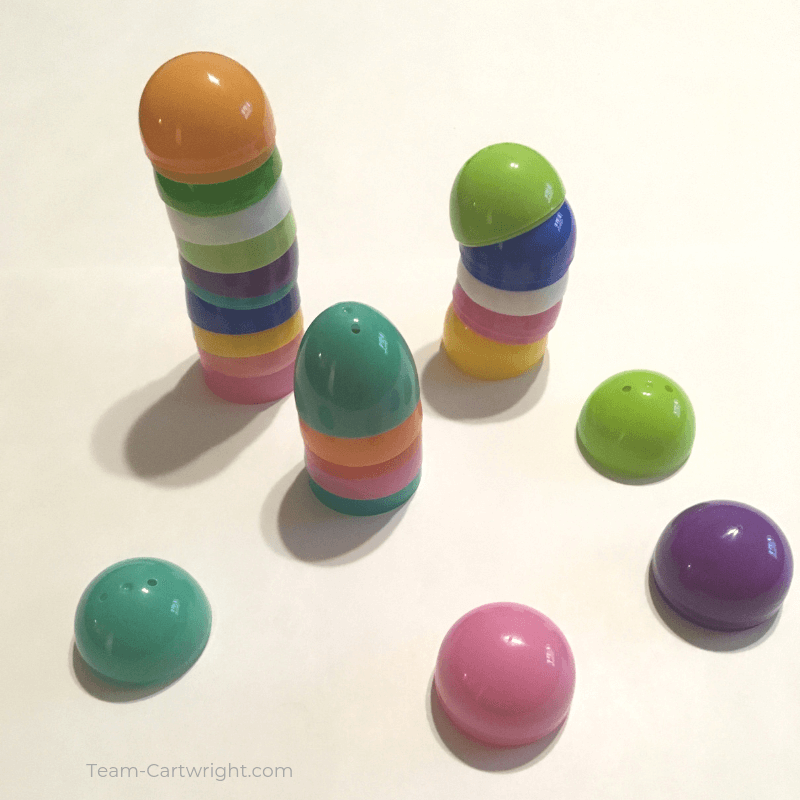 All you need for this are plastic Easter eggs. Separate all of them into their two halves.
Start stacking your eggs. Build the tallest tower you can.
Yep, that's the whole challenge.
Seems simple when you first start, but the higher your tower get the trickier it can be.
You can ask your children several questions. Is it easier to build your tower on the table or the couch? Can you use any support to help build your tower even taller?
If you want to add to the fun you can encourage your children to build a pattern as they go. Pattern building is important for future reading and math skills.
Ask if it matter which half of the egg they are stacking. (Usually with plastic eggs one side is shorter and rounder.) Is one side steadier? What if you mix the sides?
My personal favorite is to try speed stacking. How quickly can you build your tower? It usually just ends in a giggle fest, but it can be a lot of fun.
Challenge #2: Easter Egg Balancing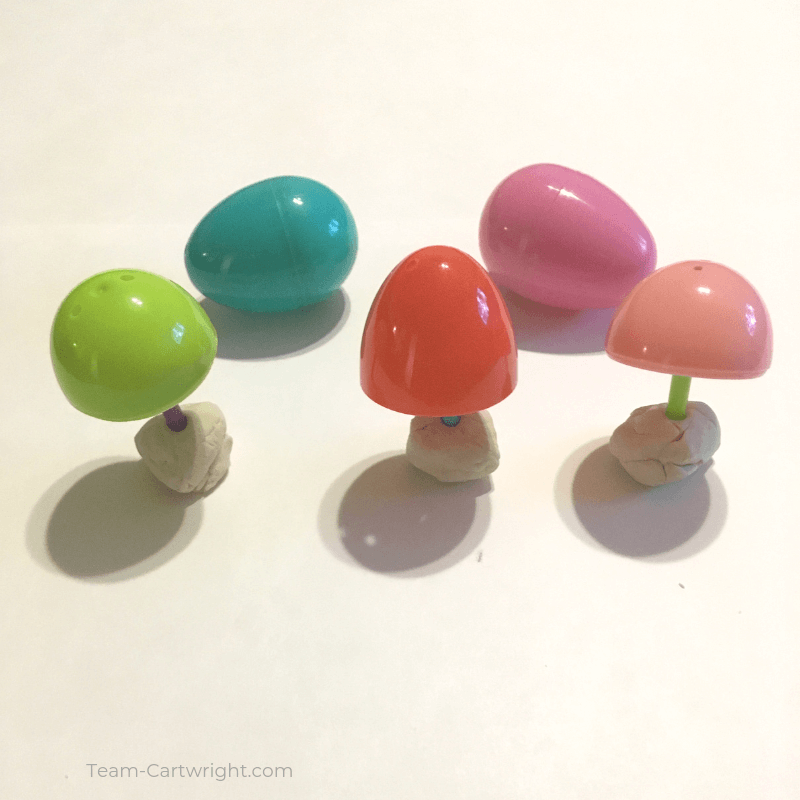 For this challenge you need your Easter eggs again. You will also need some Play-Doh or clay and plastic straws.
Stick the straw in the Play-Doh so it is sticking upright and is steady.
Now make egg towers like in the first challenge, only on top of the straws. This adds a level of instability and makes it a lot of fun!
I will say that this one can cause some frustrations, especially if you are trying it with a preschooler and a toddler. My toddlers liked knocking the eggs down while my preschooler was building the towers.
One more tip for this engineering challenge. Make sure you either have sturdy straws or keep them relatively short. It's easy to bend them, especially when your kids get into it. Shorter straws don't bend as easily.
Challenge #3: Build an Easter Egg Bridge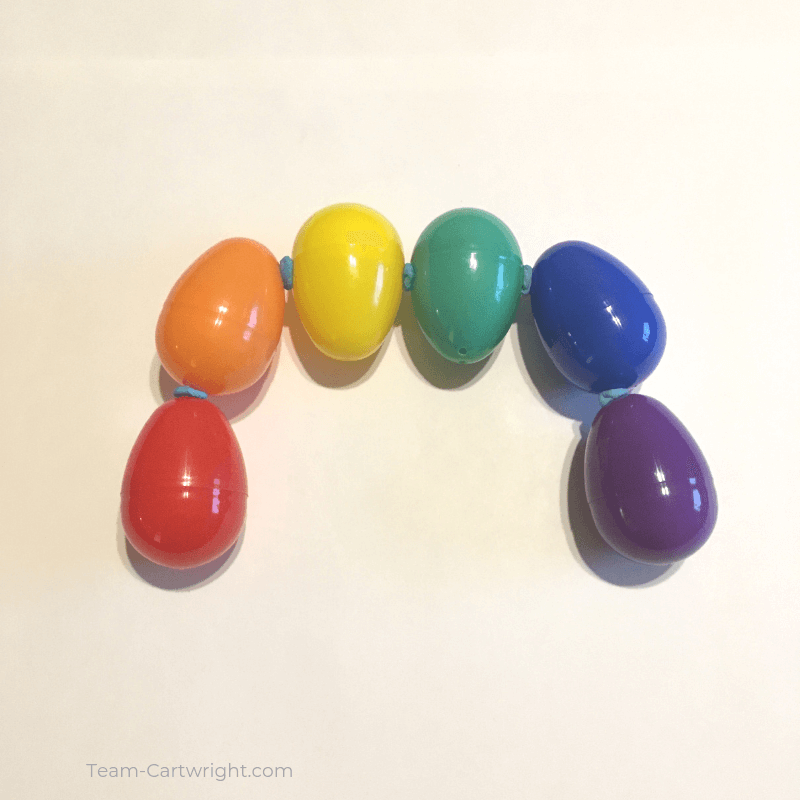 You need to use sticky tack (the blue stuff you can hang up posters with) and Easter eggs for this challenge. I started with our eggs together. (There is no reason you can't open them up and use the halves, but I liked the change of starting with them whole.)
Challenge your child to build a bridge with the eggs and sticky tack. Simple.
I like to start with an idea for my kids for what to build. It gives some structure to our play. But feel free to let them just build whatever they want and create an Easter egg sculpture!
Bonus here. I have found that this activity works even better if you use teamwork. That works communication skills and patience.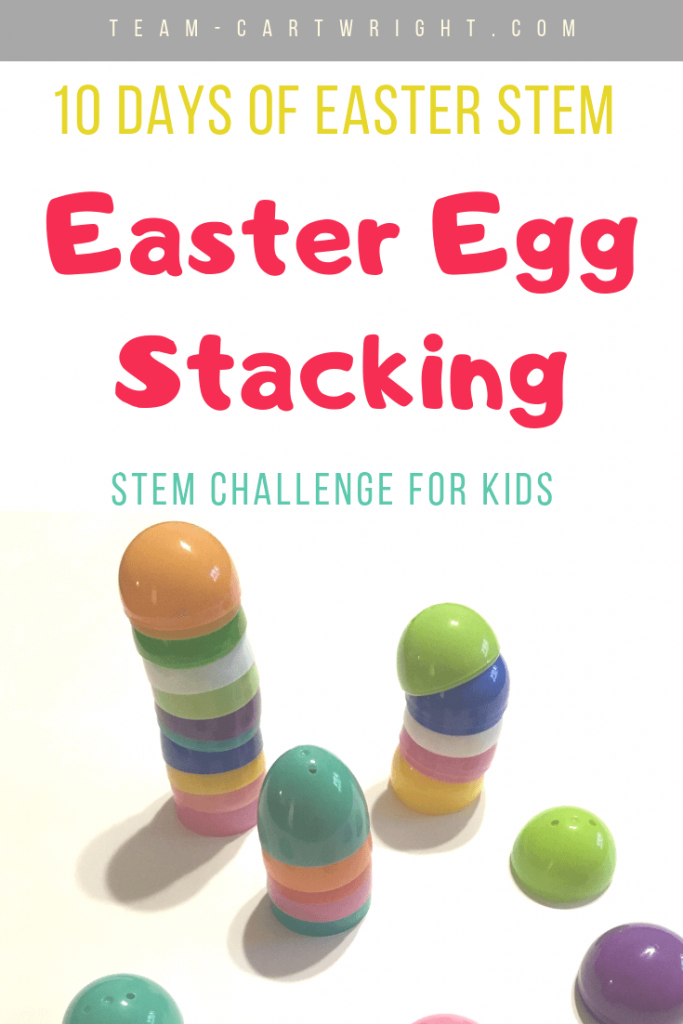 The STEM
So how exactly is all this educational? Trust me, this is more than just Easter play. And you can introduce kids to engineering at a age.
Fine Motor Skills
All the stacking and balancing helps kids to work on their fine motor skills. Learning how to manipulate small toys translates to being able to manipulate small items in later life.
Number Sense
Any time you practice counting and visually see the number of objects you are counting you are building number sense. Number sense is the understanding that numbers have unique values and these values can interact with each other.
Your children can see the eggs a they count them out, this is a perfect visual representation of number value.
Spatial Relations
These STEM challenges force kids to think about the size and shape of their eggs and how they fit together. This builds spatial relation skills
Critical Thinking and Problem Solving
These challenges start out seeming very simple. But as you progress through them you will find that they get tougher. How will you make them work?
There isn't one right answer to these challenges, so your child has to figure out what works best for them and their eggs.
Creative Thinking
I think it can be easy to forget that there is a lot of creativity in STEM. In science, sometimes you have to look at a problem differently. You have to work with what you have and find an answer no one else has thought of.
Challenges like these building activities encourages just that sort of creative thinking. Your children have limited supplies and a simple goal. They have to be creative to reach that goal.
---
More Activities To Try
---
Easter Engineering Fun
These are simple challenges, and a bit silly. But when we encourage kids to use their imaginations, to be creative, and to try to solve problems, they learn important engineering skills.
And most importantly, they learn they can. They can try and fail and try again. They can think through the problem. And they can be engineers.
Don't forget to come back for all the fun activities we are doing! You can check out the list here. Links will go live as the activities go up.
10 Days of Easy Easter STEM!
STEM
Remember that STEM stands for:
Science: Where toddlers and preschoolers learn to observe and start to understand how the world around them works. This is where kids learn to ask questions.
Technology: Where children learn to use the tools that help them explore this world. Yes, computers and screens are a part of this, but they are not the whole story. Simple tools like scissors and magnifying glasses are a part of it too.
Engineering: Where children start to explore how things work. It's building things like towers, and it is taking things apart to see how they fit together.
Math: Where children learn counting and number recognition. This is where we lay the groundwork of number sense. Number sense is the basic understanding that numbers have individual values and these values interact.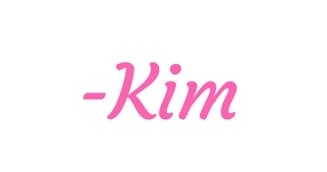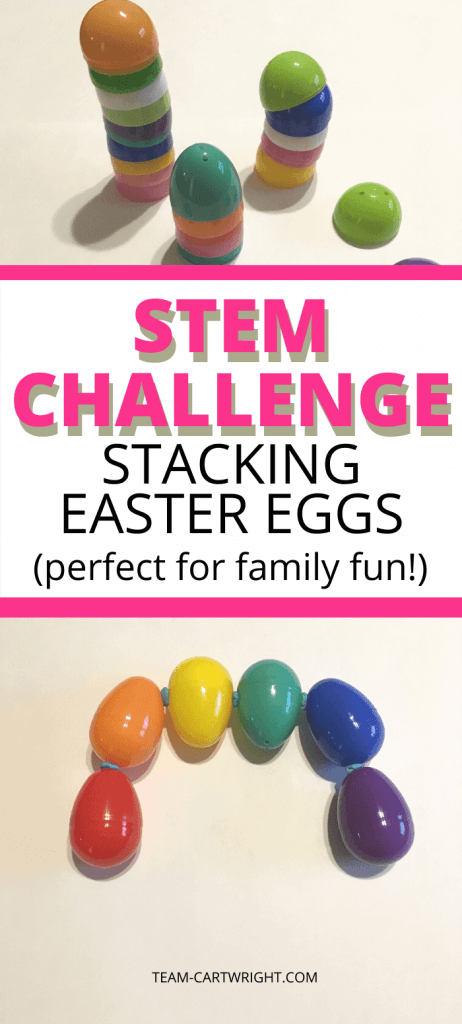 More Easter Activities To Try
Send peeps flying with a simple lever system.
Want to turn raw Easter eggs into bouncy balls?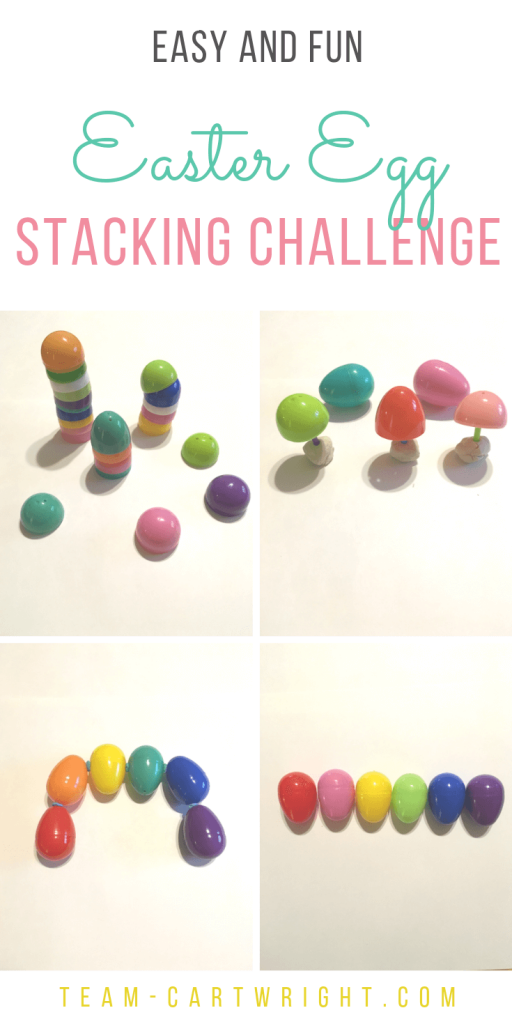 Let us improve this post!
Tell us how we can improve this post?