Easy Musical Instruments to Make with Your Children
Do your little ones love to dance and make music? Or just make a lot of noise? My three adore it. Making music is a great way to add some fun and learning to your toddler or preschooler's day. (And it works well for babies and their older siblings!)
I like to make it even more fun by having us make our own instruments. Don't worry, they all take less than 3 minutes to construct. Your children can help you construct them, decorate them, and play them. Here are 5 easy musical instruments to teach your toddler and preschooler STEM.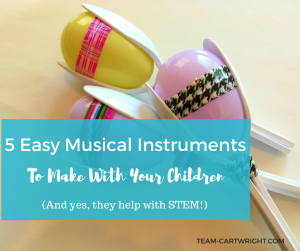 Wait, what? Did I just say it is important to learn music for STEM purposes? Doesn't STEM stand for Science, Technology, Engineering, and Mathematics?
Yes, it does. But music fits into all of those categories. Music and math are particularly interrelated.
Learning rhythms and music helps with number literacy and fractions. They also help children recognize patterns and remember complex ideas.
It is important to remember the STEM isn't some tool we pull out for a single task then put back on the shelf. It is enmeshed in everyday life. So yes, make some instruments and do some STEM with them.
5 Easy Musical Instruments for Toddlers and Preschoolers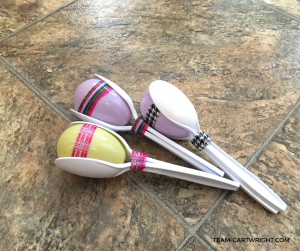 Plastic Egg Maracas
You need:
One plastic egg
Two plastic spoons
Tape
Dried Beans or Rice
To make:
Put a few beans or some rice into the plastic egg and seal. Take the two spoons and face them towards each other, concave side in.
Tape them together at the base of the spoon basin. Place the egg between the two concave sections of the spoon, narrow end down. Tape the egg into place.
Decorate as you please and shake to play!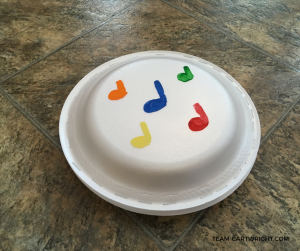 Paper Plate Tambourines
You need:
Two paper plates
Dried beans or pasta
Staples
To make:
Place one plate down on the table and put some beans or dried pasta on the plate. Place your second plate upside down on top of the first. Staple around the edges to hold in the beans.
Decorate as you please and shake to play!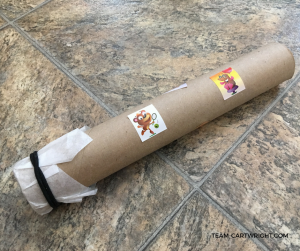 Paper Towel Tube Kazoos
You need:
Paper Towel Tube
Wax paper
Rubber band
To make:
Cut a square out of the wax paper large enough to completely cover the end of the paper towel tube. Wrap the wax paper around the end of the tube and secure tightly with a rubber band.
Decorate as you please and play by humming or singing into the tube!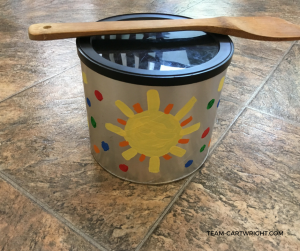 Coffee Can Drum
You need:
Empty, clean coffee can
Wooden spoon
To make:
This is the easiest one to make. Just rinse out the coffee can, put the plastic lid back on, and hand it to your child with a wooden spoon or two. Instant drum.
You can take it up a notch by duct taping two coffee cans together to make a bongo of sorts. Decorate as you please and rock out.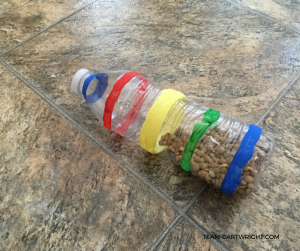 Water Bottle Shaker
You need:
One empty and dry water bottle
Dried beans, rice, or lentils
To make:
Add some beans, pasta, or rice to your water bottle. Seal. (I tape it closed just to be safe.) Decorate and shake to play.
This is a fun one to try with different materials inside and filled to different volumes. How does the sound of a fuller bottle compare to that of an emptier one?
---
More Must Try Activities for Kids!
---
Learning Activities with Musical Instruments
There are several fun things you can do with these children's musical instruments to help with learning.
Counting
Basic counting is a great start. Have your child count along as you hit or shake your instrument. This provides a concrete thing you are counting, the sound. It helps build number sense, which is the idea that numbers have unique values.
Rhythm Practice
Repeating rhythms is a part of pattern recognition. This is a skill that will come in handy in both science and math. It also boosts focus and observational skills as kids have to pay attention to what you are doing.
Soft and Loud
Kids love to be loud, use that to your advantage. Practice opposites by playing quietly then loudly. Move on to more subtle comparisons of soft, loud, loudest, etc.
Again these are observational skills at work, plus it helps kids practice relating two different events.
---
Find your next fun activity!
---
Vibrations
How are sounds made? They all start with vibrations. Try to feel the vibrations of the drum and kazoo. Have your child hold the eggs while shaking the maracas. Do they feel the beans hitting the side?
This is a great way to talk about how sounds a produced. These vibrations create sound waves.
Music Appreciation
You might not be creating a great symphony, but encouraging children to appreciate music has actually been shown to boost all areas of learning. Encourage your child to create their own songs. Music helps math and science skills.
Have Fun!
The main goal of making these instruments is of course to have fun. But you can direct the fun a little bit. Practicing counting, comparing sounds, and repeating rhythm all help boost math and science skills.
Your child is practicing learning and number sense, all while having a good time. Explore any way you can think of!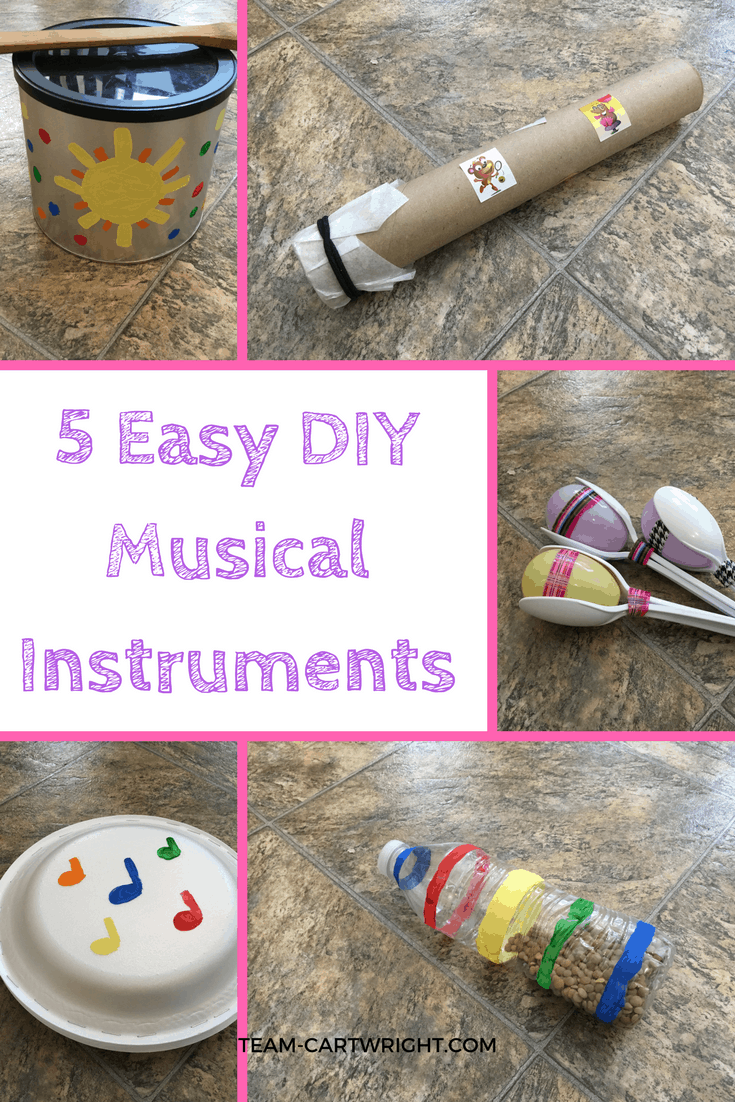 My kids never get tired of pulling out the instruments. They feel a real sense of pride and ownership when they get to decorate them as they want. And the great thing with all of these is that if they wear out or break you can just make new ones.
You don't need expensive toys or 'real' instruments to make music with your children. And you are teaching important STEM skills with this form of play. So grab some supplies and rock out!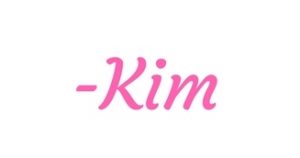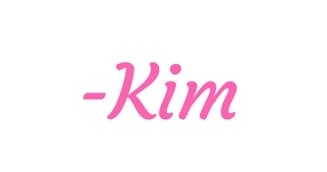 ---
Even More Activities Your Kids Will Love
---
Want Access to Free Printable Learning Activities? Sign up!
Join the Team Cartwright mailing list and get the password to my library of free printables. Plus get bonuses sent only to team members. You can, of course, unsubscribe at any time.
Additional Resources:
The Benefits of Music Education
How Does Music Build STEM Skills?
Easy Ways to Boost Number Sense (and Why That Matters)
Easy and Fun Activities to Learn about Sound Waves
---
Try these too!
---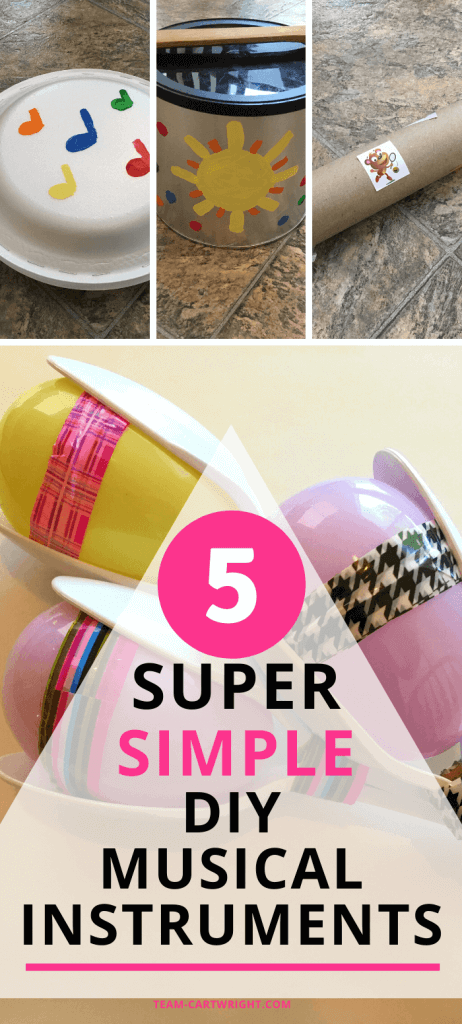 Let us improve this post!
Tell us how we can improve this post?