You know what kids love? Explosions.
Let's be real, adults like them too.
Controlled, not too big, nothing actually getting blown up explosions that is. It's easy to make a volcano for children. A little baking soda, a little vinegar and you are in business.
But how about a reaction that lasts a little bit longer? Maybe something that leaves a fun foam to play with?
Enter elephant toothpaste. You need a few basic ingredients, which most households already have. And you need to be ready to wow your little one with a sensory STEM activity they won't forget.
Here is how to make elephant toothpaste.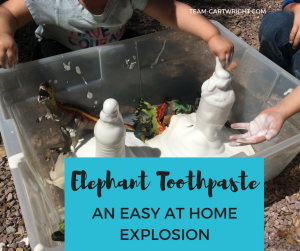 This post contains affiliate links. Please read my disclosure statement for more info.
If you have any doubts as to whether or not to try this with your children, let me reassure you that it is worth it. It is so important to expose our children to the STEM world. That can be done in all sorts of tiny, wonderful, and easy ways. But sometimes it helps to go bigger.
This is a big impact science experiment (without too much effort) and gets kids excited about STEM. Trust me, I did this for my son's preschool class and they could not get enough of it. Kids and adults love this reaction. (It would be fun for a science fair too!)
How To Make Elephant Toothpaste
Elephant Toothpaste Supplies:
3% Hydrogen Peroxide
Water
Liquid Dish Soap
Food Coloring (optional)
Yeast
Empty Water Bottle or Plastic Soda Bottle
Large pan or bin to contain the foam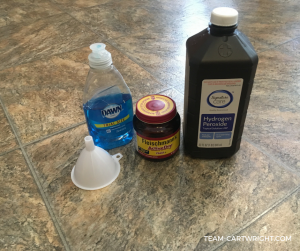 How To Set Up Your Reaction:
Mix 2 tablespoons of dry yeast with 3 tablespoons of warm water in a small cup. This will be a bit thick, but mix it was best you can so it is mainly liquid. Then let it sit for a few minutes.
While the yeast sits, add 1 cup of hydrogen peroxide to bottle. Add a healthy squirt of dish soap and any food coloring you would like to use. Gently mix to create a uniform mixture.
When you are ready to make your toothpaste, add the yeast mixture to the bottle mixture. And enjoy! The reaction happens quickly, so be ready.
Check out our results in this video: https://youtu.be/TXVhAqAkRxc
What Will Happen
As soon as you pour the yeast into the water bottle the reaction will start. Foam will form and overflow the bottle. The foam produced will be warm, as this is an exothermic reaction. The foam itself is just soap bubbles, so it is perfectly safe to play with!
The Science of Elephant Toothpaste
How does elephant toothpaste work? A bit about the chemistry here.
In this reaction, hydrogen peroxide is breaking down into water and oxygen. The yeast acts as a catalyst to speed up the reaction. The soap is used to trap the oxygen as it is formed, creating the foam.
This is an exothermic reaction, meaning heat is generated as a result of the reaction. For the basic reaction, this heat is mild and dissipates quickly.
Here is the elephant toothpaste chemical equation: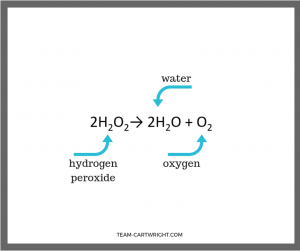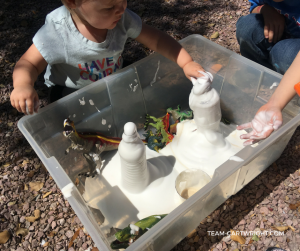 Safety Tips
This is a relatively safe experiment. I let my child play with the foam and felt comfortable letting the children in his preschool class play with it is well. If you choose to amp up the reaction with more concentrated hydrogen peroxide or just by using more of the ingredients it is a good idea to have your child stand back a bit until you know how big the reaction will get.
Also, check the foam for heat levels. Don't let your child eat the foam (yes, kids will ask to taste it) or get it in their eyes. ( Safety goggles aren't a bad idea.) Again, they are just soap bubbles, but it never hurts to be safe.
Tips from Real Experience
The basic premise of elephant toothpaste sounds easy enough, but once you start doing it you will find there are variations that can take place. Here are my tips from actually doing these science experiments several times.
A Funnel is Your Friend
Pouring the yeast mix into the bottle can be a bit tricky, what with the small opening and all. It really makes things easier to use a funnel for this step. If you don't have one just use some foil and create one. Using a funnel also makes it way easier for little ones to add the yeast and cause the reaction themselves!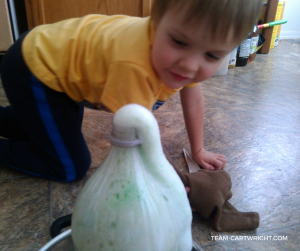 Hydrogen Peroxide
Can you do elephant toothpaste with 3% hydrogen peroxide? The typical hydrogen peroxide in most households is the 3% variety. This is the concentration you can buy at the grocery store.
You will get a bigger reaction if you use 6% or even 12%, but you will need to order those. Amazon has the 6% solution. (Use 1/2 cup of hydrogen peroxide if you use the 6%.) You can also find 6% at most beauty supply stores.
I have used both 6% and 3%. Honestly, you don't need to special order the more concentrated hydrogen peroxide. It does create a larger reaction, but using the 3% is still impressive and fun. My children did not complain when I used the 3%. So you can save yourself that extra step and just use what you have.
---
More Must Do Activities
---
Yeast
Adding more yeast will create a firmer foam. You can up the yeast solution amounts to 4 tablespoons of yeast and 6 to 7 tablespoons of warm water. This will create a thicker solution, and a fork works best to mix it.
It is also helpful to let the yeast solution sit for a few minutes before pouring it into the peroxide.
Make a Bigger Impact
An easy way to make a big impact with this reaction is to do it in a small bottle. I've done it in empty 2 liters, large bowls, and a typical plastic water bottle. The plastic water bottle provided the best result.
Why? Well, the reaction overflows the bottle quickly and looks more impressive. You can, of course, scale up your ingredients to make a bigger reaction, but you don't need to do so. In my opinion that is just kind of a waste of money.
If you are doing this with just a couple of children one regular water bottle is plenty. If you are doing it with a larger group it works really well to do several bottles at the same time. It's still impressive.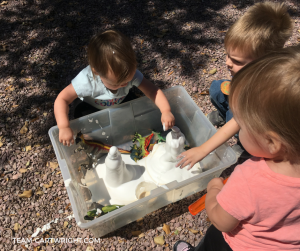 You Can Scale It Up
While elephant toothpaste is impressive without getting too big, it can be fun to scale it up. In this case, you can simply double or triple all the ingredients.
Containment
Be sure to do this reaction with your bottle in a pan or bin of some sorts. The point is for the foam to overflow, so you will want it contained so your child can play with it. If you don't have a suitable pan you can always stopper your sink and do it right there.
Clean Up
This foam can just be washed down the drain. Your children can simply rinse their hands as they have just been playing with soap.
Food Coloring
I feel the food coloring for this is completely optional. Yes, it makes the foam prettier, but it is still fun without the added color. Of course, if you want it to be super fancy you can add some glitter to the bottle and have glitter foam!
Customize It
This is an easy activity to customize to your child's interests. It works great alongside learning about volcanoes. We most recently used it as a dinosaur wash station. You can use cars or any sort of hard plastic toy your child is into.
Grab some spoons and additional funnels and let your child practice pouring the foam. Make it a nautical theme with some boats. Your child's interests are the limit.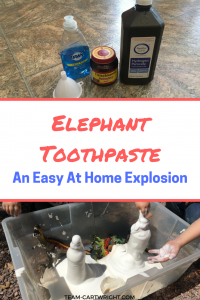 Conclusion
This is by far one of my favorite reactions to do with kids. It has the wow factor, it is easy to do, and it is a fun sensory activity. It really grabs your attention and makes you want to do more STEM activities with your children. So go for it! Make some elephant toothpaste!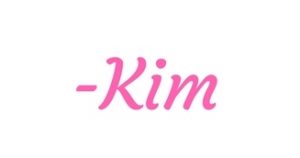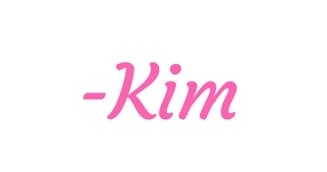 How To Make Elephant Toothpaste
Additional Time:
30 minutes
Make Elephant Toothpaste, an easy sensory STEM experiment your kids will love. Learn about chemical reactions and enjoy this fun science activity.
Materials
3% Hydrogen peroxide (or 6% Hydrogen Peroxide)
Water
Yeast
Liquid Dish Soap
Food Coloring (Optional)
Empty Water Bottle
Large Container to Hold Reaction
Instructions
Mix 2 tablespoons of yeast with 3 tablespoons of warm water. Mix well and let sit a few minutes.
Put 1 cup hydrogen peroxide into your water bottle. Add a healthy squirt of dish soap.
If you are using food coloring, add that to the bottle and gently mix.
Place your bottle into your larger container.
Using a funnel, add the yeast mixture to your water bottle solution.
Enjoy the reaction and play with the foam.
Notes
Elephant toothpaste is an exothermic reaction, so the foam will be warm to the touch. The foam is safe to touch and play with as a sensory activity, but don't let your children eat it or get it in their eyes.
This is safe to wash down the drain for clean up.
Here are more STEM and learning activities your kids will love.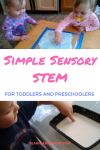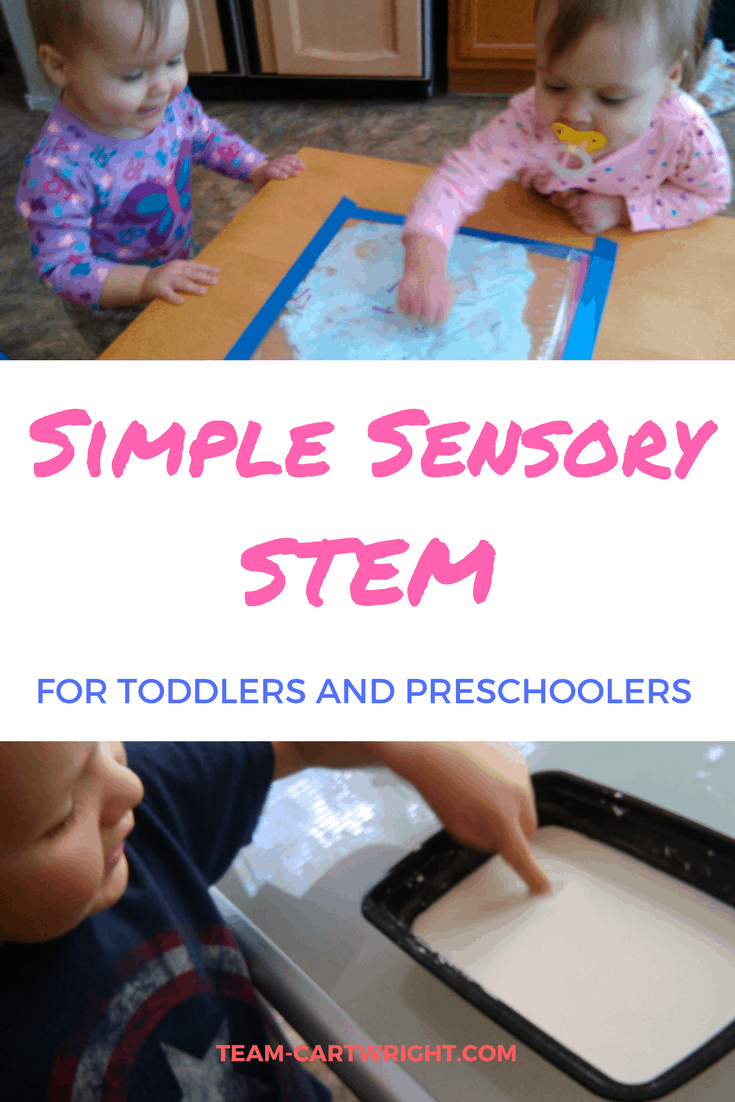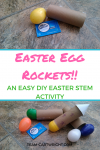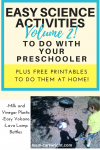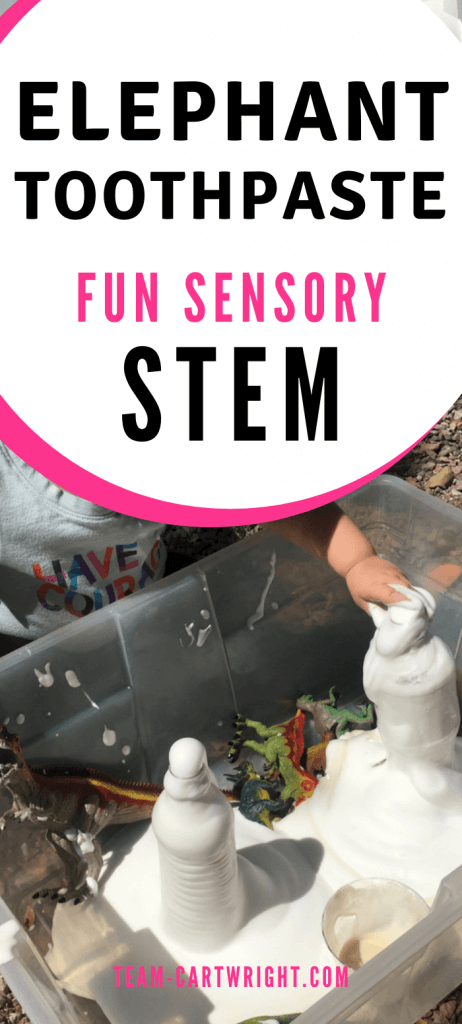 Let us improve this post!
Tell us how we can improve this post?