Easy Heart Pump Model: Cardiovascular STEM for Kids
A great way to get kids excited about science projects is to make it all about them. The human body is a great place to start learning about STEM!
We have a toy doctor's kit, and the biggest toy the kids fight over in it is the stethoscope. A lot of kids know what the heart is, at least a little bit.
The heart is an easy internal organ to start with when learning about the body. We can hear and feel the human heartbeat. This makes it easy for little ones, even toddlers, to relate to.
I thought about doing a coloring page or reading a book about the human heart, but I really wanted to capitalize on the interest in the heartbeat. Instead of learning about the four chambers of the heart or trying to work on a physical model of the heart, we looked at one concrete thing kids can easily experience. How the human heart pumps blood.
Here is how to make an easy human heart model that pumps blood with your children.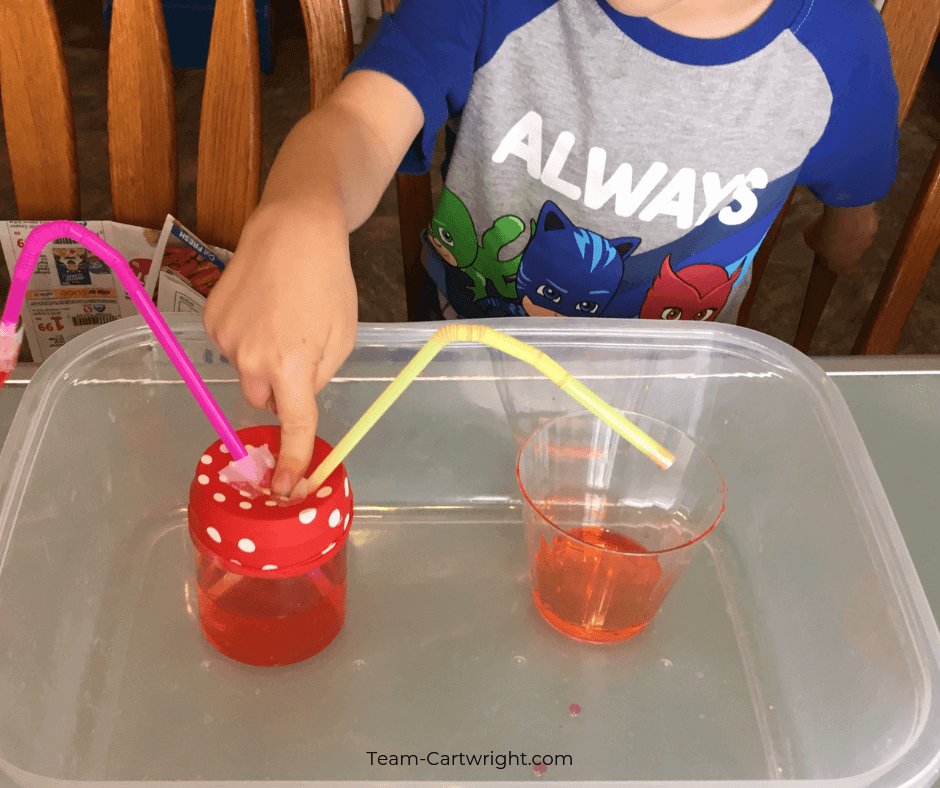 This post contains affiliate links. Please see my disclosure for more information.
Heart Pump Model for Kids
It is easier than you think to create a hands-on activity to show how our hearts pump blood. I was able to put together this working human heart pump model in less than 20 minutes all with items I had at home. (No kits needed!)
Now, I do blog about activities with kids, so I know it is more likely I would have these materials. But even if you don't they are easy to get.
(If you want to keep the learning going, you can make a working stethoscope with your kids and a working lung model!)
You Need:
Small Jar
2 Bendy Straws
Balloon
Tape/Glue
Water
Red Food Coloring
The Set Up:
Fill your jar or glass halfway with water and add some red food coloring. Okay, the food coloring is optional, but it makes it much more blood like.
Take your balloon and cut the neck of it off. Take that top part, stretch it out a bit, and put it over the top of the jar so it is taut. Save the neck part as well.
Pro tip: Have extra balloons. I managed to rip my first one.
Take a sharp toothpick and poke a hole in the top of the balloon once towards one side of the jar. Make a second hole about an inch away from the first.
Parents, you will want to do this one or at least heavily supervise your child while it is happening. Scissors or a knife might be needed, but try to make the hole as small as you can.
Take your straws and push one through each hole with the bendy part sticking out the top. You might have to push hard, but they should pop through.
Take the neck of the balloon that you set aside and use it to cover the opening of one straw sticking out of the cup.
Your pumping heart model is ready to get that blood flowing!
To Use:
You will want to do this in some sort of secondary containment or somewhere that you don't mind splashing taking place. No, it isn't messy on its own. But my kids got a bit vigorous in their pumping, and that can cause the blood to splash out a bit. Not a huge deal, but I like to contain my messes.
I also placed a cup under the open straw to catch the blood as it comes out.
Have your child push up and down on the balloon, between the two straws. Pumping quickly and firmly works best.
You will be able to see the blood go up the open-ended straw and come out into the cup!!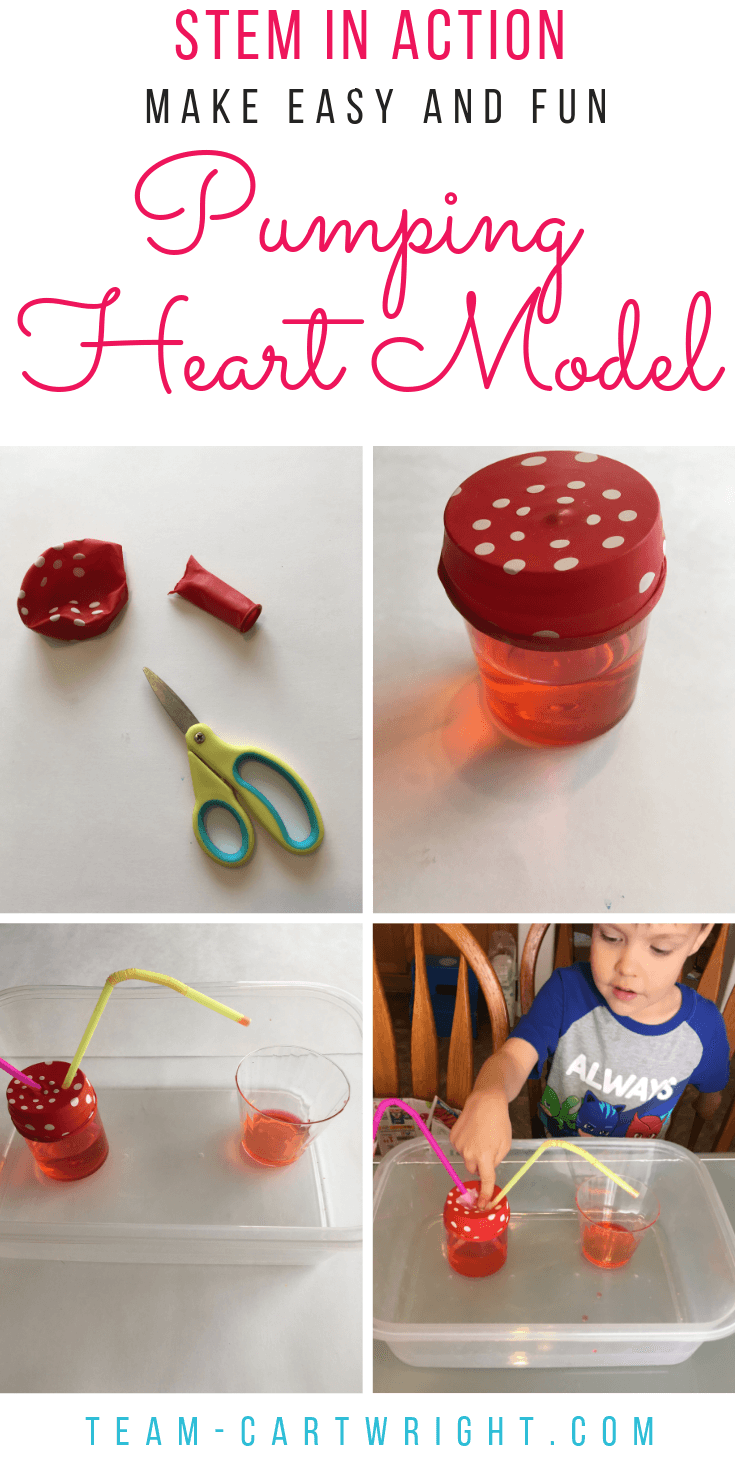 The Heart Science
The pumping you do on the balloon mimics how the heart pumps in our bodies. The balloon on the straw works like the valves on the heart. It opens when you push down on the pump and closes as you release.
This is what lets the blood flow up through the open straw, but like in the body, it prevents backflow of blood.
Now, of course, this is a simplified model. The human heart has a lot more going on than just a single valve and two blood paths. But this is a great way to get a basic understanding of how our hearts pump blood throughout our bodies. (And it wouldn't be bad for a simple science fair project.)
Here is more information on how hearts work: Cardiovascular Info for Kids!
---
More Must Try Projects for Your Kids!
---
Tip For Your Heart Pumping Model
A few tips to help make this work well. You might want to tape or glue around where the straws go into the balloon. As the balloon stretches you can get tiny gaps that allow air to escape. This makes your pump less efficient. Taping or gluing the straws into place help eliminate that air loss.
Be sure to check out all the anatomy activities for kids!
Happy Cardiovascular Fun!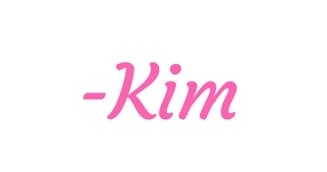 ---
More Activities You Have Got To Try
---
Here are more fun posts for you!
The Best Science Books for Preschoolers
Can You Clean a Penny with Ketchup?
Funicular Trains: Exploring Pulley Systems at Home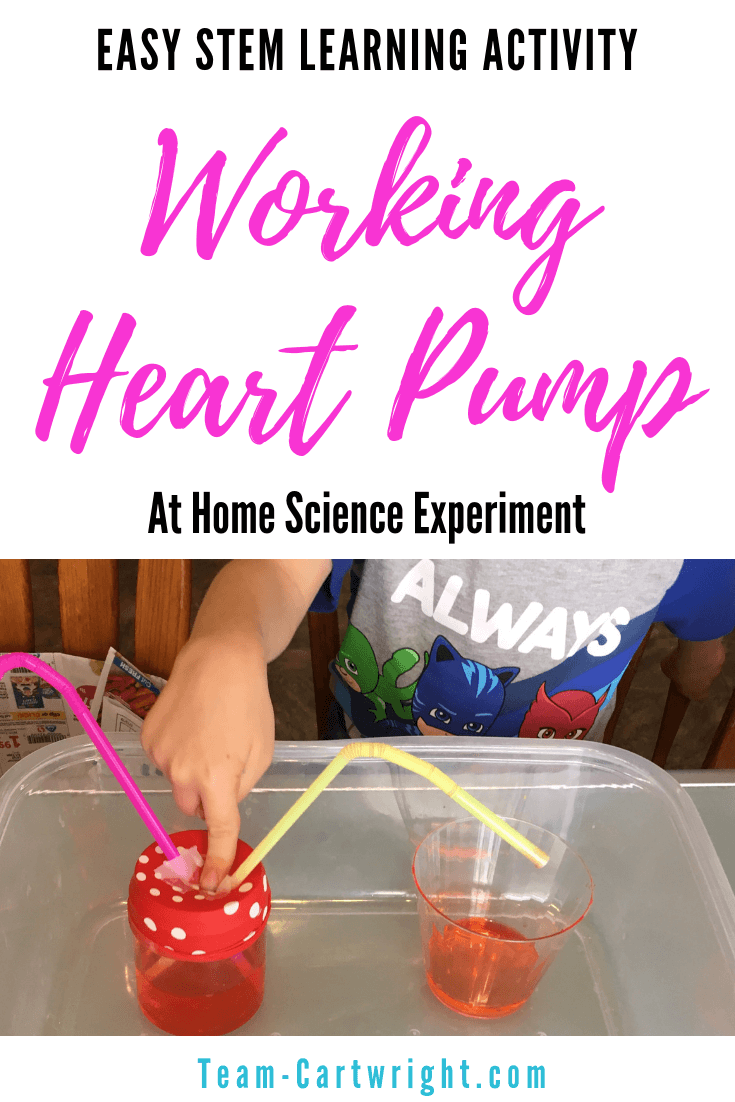 Let us improve this post!
Tell us how we can improve this post?