The human body is amazing! So many parts that work just right to me us, well, us!
Our bodies are a perfect way to encourage STEM learning in little kids too. What is more interesting than ourselves?
One thing we can feel working in our bodies that we need to survive? Our hearts. Feeling the heart beat is a concrete way for children to understand that they have parts inside of them that work to keep them alive.
And now you can let them hear a heart beat. Here is how to make a DIY stethoscope for kids.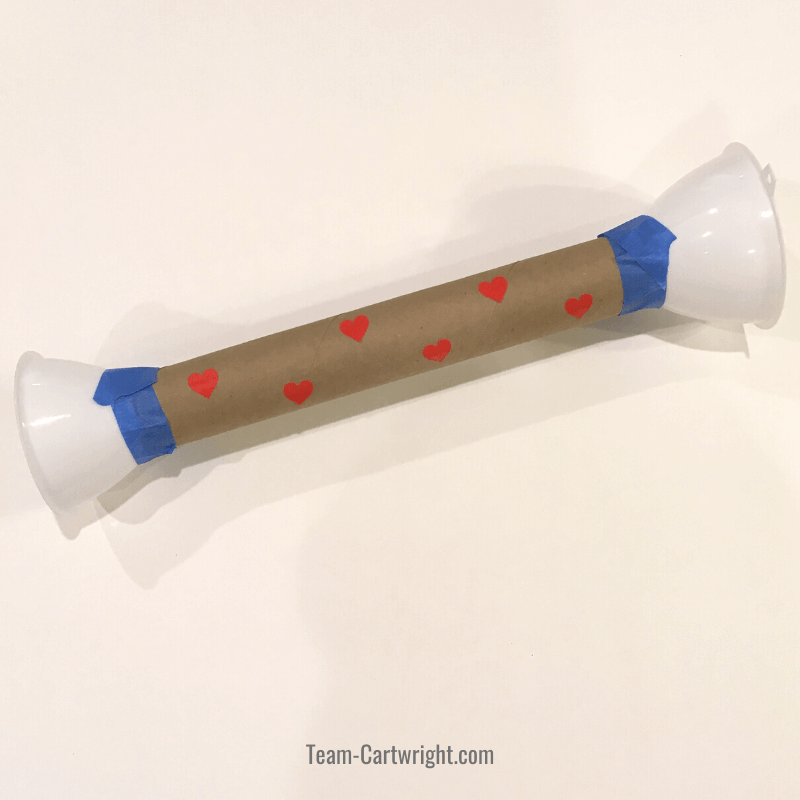 DIY Stethoscope for Kids
There are several ways to make stethoscopes at home, depending on what materials yo have handy. Here is how we have made ours, and I will add ideas for other ways to make them.
(And if you are looking for more anatomy activities try these: Pumping Heart Models for Kids, Lung Models for Kids, Anatomy Activities for Kids!)
Stethoscope Supplies
Paper Towel Tube
Funnels
Tape
Markers, Stickers, Paint (optional)
How To Make Your Stethoscope At Home
Putting together these stethoscopes is actually pretty easy, but it might take adult help if you are doing this with preschoolers. (Nothing unsafe, it can just be hard for them to hold everything in place and tape it at the same time.)
Step 1: Take one funnel and place the narrow end into the paper towel tube until it is flush with the end of the tube. Tape it into place all around where the funnel and tube touch.
Step 2: Take the other funnel and place it in the other end of your paper towel tube and tape it in place, just like with the first.
Step 3: Decorate! Use stickers, paint, markers, or whatever you have to personalize your stethoscope. (This step isn't technically necessary for the functionality of the stethoscope, but it is certainly fun.)
How To Use Your DIY Stethoscope
In order to use this stethoscope, you need a buddy. Have one person place an end on their chest over their heart. The second person puts their ear to the other end to hear the heartbeat! Simple!
Activities To Try with your Stethoscope
This stethoscope is just fun for kids to play with on their own, but it is great for more directed activities too. Here are a few suggestions!
Measure Your Families' Heartbeat
This is a partner activity. You need one person to listen to the heartbeat and one person to provide the heartbeat. So it only makes sense that your children should listen to the heartbeats of their family!
Try counting the heartbeats of the members in your family. Younger children should count for 10 seconds. Older children can count for 30 seconds or a whole minute!
As you measure the heartbeats keep notes of each member's heart rate. Then you can compare family members! Who's heartbeat is the fastest? Who's is slowest? Why do you think that is?
(Note: The key is to make sure you are using consistent lengths of time for measurement. Either use how many beats your child counts or do the math to get beats per minute for each member. Younger children do well with just the counts. Older children can do the math to get beats per minute.)
How To Calculate Heart Rates
We generally talk about heart rates as beats per minute. So this is how many times your heart beats in one minute of time. There are a few ways you can calculate this.
Measure for 1 Minute
A simple way to measure a heart rate is to just count the number of beats you hear for one minute. This is easy in that there is no math, but it can be hard for little ones because it means staying still and focused for one whole minute. That doesn't sound that long, but it can feel like a long time.
Measure for 30 Seconds
You can count beats for just 30 seconds and then double that. It's still a little long, but it gives a nice chance to do a little addition.
Measure for 10 Seconds
10 seconds is a decent amount of time little ones can hold still for. So have them count beats for 10 seconds then multiply that number by 6 for the heart rate.
Measure for 6 Seconds
This might sound like a random length of time, but it makes for the easiest math. All you need to do is count beats for 6 seconds and then multiply by 10. (Or just add a zero to the end. Same answer, less thinking.)
---
More Must-Do Activities
---
Compare Resting and Active Heart Rates
It is interesting to see how our heart rate changes based on what our bodies are doing. And it can be simple to see a quick change.
Measure the heart rate of a person standing or sitting still. Then have that person jump up and down for 30 seconds. (Or run in place, or do jumping jacks. Anything that gets you moving quickly!) Then measure the heart rate again.
What happened?
After the activity was stopped measure the heart rate every 30 seconds to a minute and see how long it takes to come back to a normal resting rate.
Measure a Pet's Heartbeat
Our furry friends have heartbeats too! It is interesting to see how their heart rates compare to ours as people.
If your pet is open to it, use the stethoscope to measure their heart rate. If you can get them to run around a little you can see how their heart rate changes too!
(Note: We have a cat. She is 16 and was not open to running around on command, even in the name of science. I imagine a dog would be more amenable to this sort of research. Let me know if you have been able to successfully try it with a dog. We were able to hear some very nice purrs.)
Create Heartbeat Rhythms
Once you have measured all the heart beats you can in your home, you can try to make new rhythms!
Take a couch cushion off the couch and place it on its side. Have one person hold the stethoscope up to it on one side, while another sits on the opposite side and gently taps out a rhythm. Try to tap the rhythm back!
Tips For Your DIY Stethoscope
You want to make sure the funnels are as securely in place as possible. That means a lot of tape. A secure connection with no gaps is key.
Your children will need to be quiet and listen while they use the stethoscope. If you are having a hard time hearing move to a place with minimal ambient noise. (This can be a real plus because it encourages your kids to be quiet.)
You can also make this stethoscope using flexible tubing and elbow PVC pipe joints. We did not have any of those items available, so we didn't use them.
---
More STEM Activities To Try!
---
A Little Background History on Stethoscopes
Stethoscopes have been around for a long time. They were invented in 1816 in France by a man named René Laennec. Apparently he didn't want to press his ear to a woman's chest to hear the heart.
There are several types of stethoscopes: Acoustic, electronic, recording, fetal, and doppler. And there are probably more than I missed. But that's a lot! They all have the same general goal, to observe how the heart is behaving. You can learn a bit more about these types by clicking here.
How Your Stethoscope Works
The DIY stethoscope you have made here is an acoustic stethoscope. The funnel that you place against your helper's chest amplifies the sounds. As we learned in our sound science experiments, sound travels as a wave through the air. The cardboard tube directs that sound wave to your ears as the listener, making it easier to hear!
---
At Home Activities Kids Love
---
DIY Stethoscope for Kids
Now you just need to let your future doctor have fun!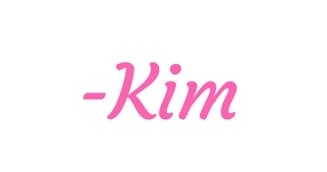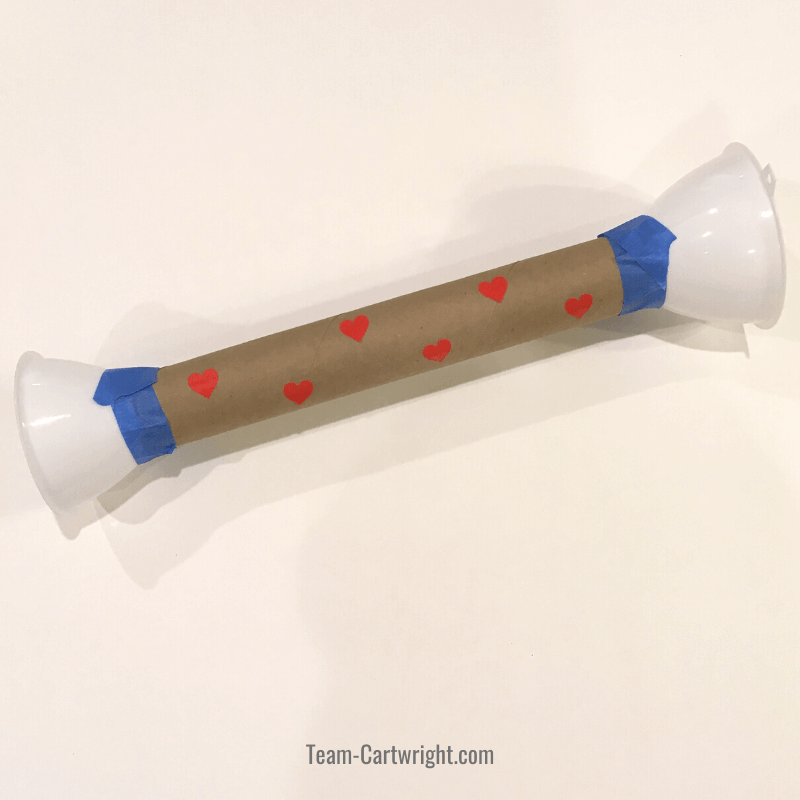 How To Make a DIY Stethoscope
Additional Time:
10 minutes
Make a super simple DIY stethoscope using at-home materials. Learn about how the heart beats with this fun STEM project for kids!
Materials
Paper Towel Tube
Funnels
Tape
Stickers or Other Art Supplies (optional)
Instructions
How To Make a DIY Stethoscope
Take one funnel and tape it to the end of the paper towel tube. Use plenty of tape so there are no gaps.
Take the other funnel and tape it to the opposite end.
Have your child decorate their tube as they see fit.
How To Use a DIY Stethoscope
Place the large funnel against one person's chest, over their heart.
Have the other person put their ear to the opposite end and listen. Count the heart beats!
Notes
Your child will need to be quiet during this activity. It can be hard to hear the heartbeats if there is too much other noise in the room.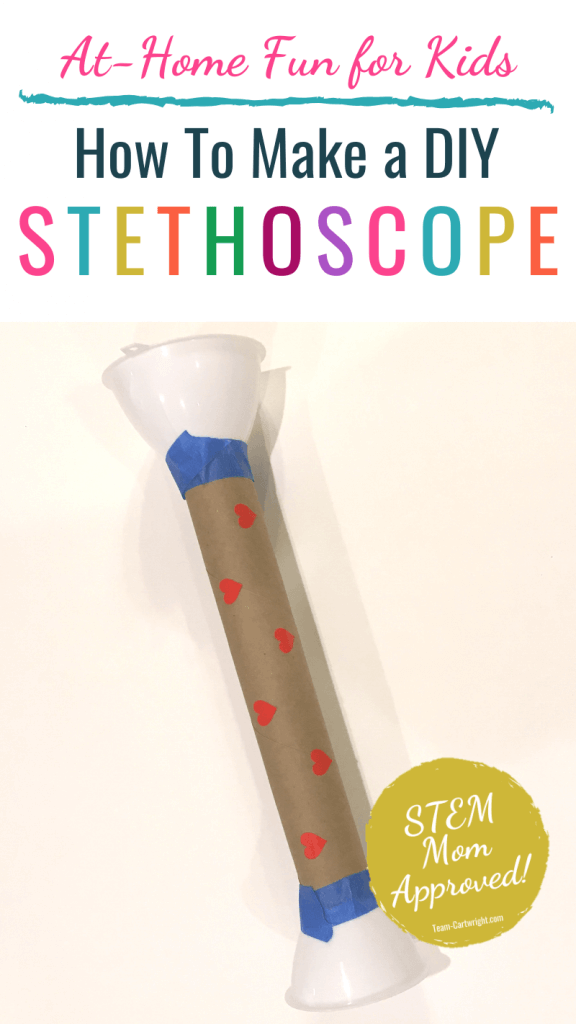 Let us improve this post!
Tell us how we can improve this post?