Jelly Bean Coding Activity
You really can't talk about STEM education without considering coding. Computers and technology aren't going anywhere, and it helps kids to at least be exposed to a lot of these concepts.
But don't worry. This STEM activity isn't about plopping the kids down in front of the screen. You don't need a computer to work on coding concepts.
We're using jelly beans.
There is some serious Easter fun to be had here. (And don't worry, I've included free printables.) For this 10 Days of Easy Easter STEM project, let's do a jelly bean coding activity.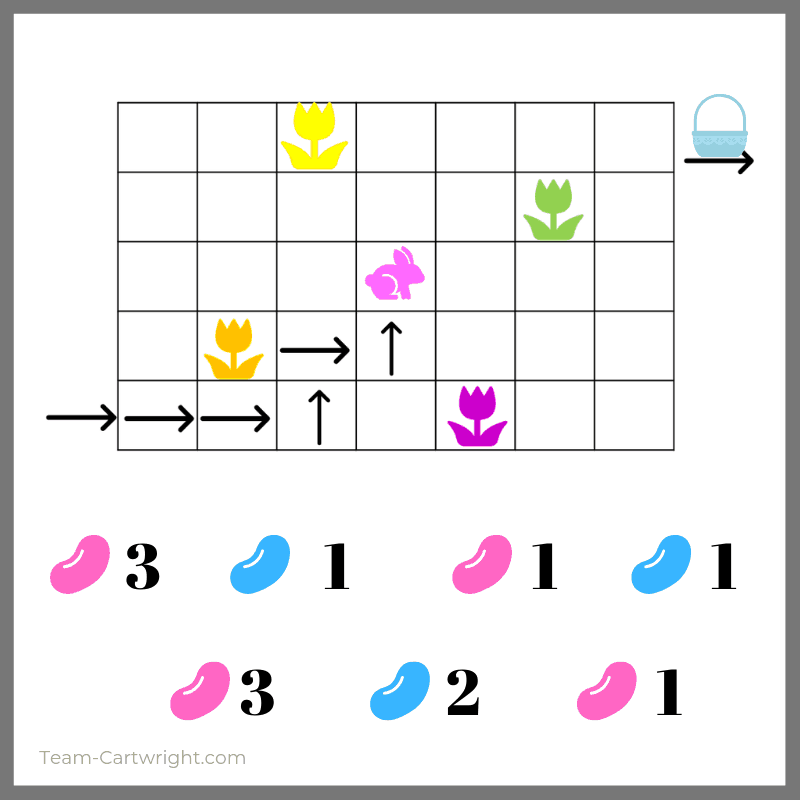 Jelly Bean Coding Activity for Kids
This science project starts with a very simple concept, but it is one that can grow as big as your child's imagination. It works on the idea that coding is simply telling something else what to do. But instead of just using words you use simples or numbers, also known as a code.
In this Easter coding activity, we are going to help the Easter bunny find his Easter basket. Your child will have to direct the bunny around obstacles through the maze to get to the end.
How will they give those directions? Through the jelly beans.
(If you are just starting coding with your children I recommend you check out this post: Lego Coding for Kids. It builds coding skills step by step.)
Materials for Coding
Jelly Beans.
Yep, this was pretty much all we used. Oh, and the free printables at the end of this post.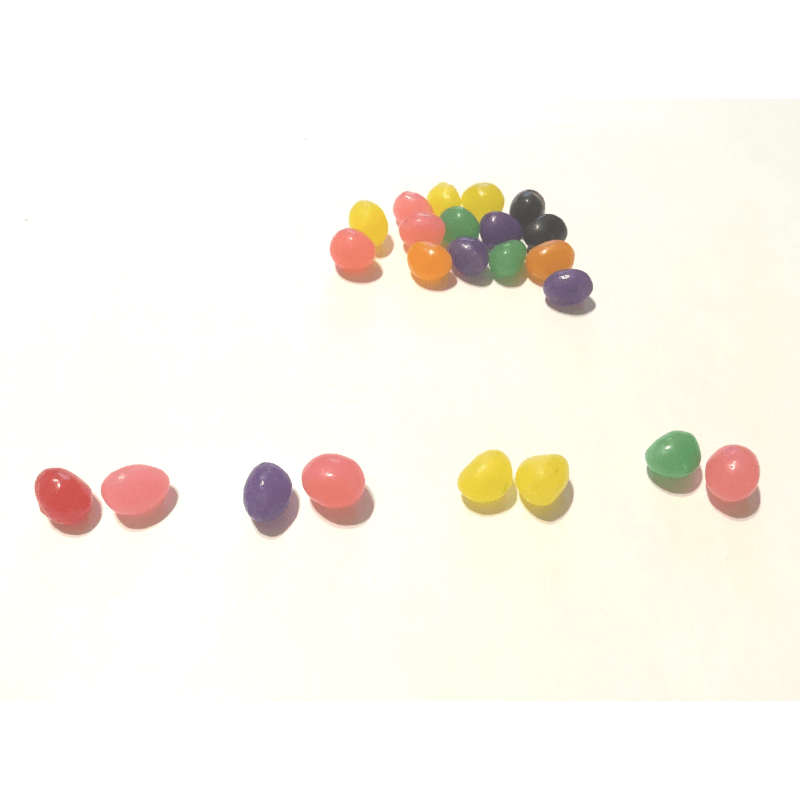 Step 1: Sorting Your Jelly Beans
The first step to coding activities like this is to sort your materials.
In our case, this means sorting your jelly beans by color. Different colors will be assigned different meanings.
Sorting is an important skill for toddlers and preschoolers. It helps them with attention to detail, focus, and color recognition.
Step 2: Assign Your Code Values
Since this is a preschool steam activity, we are keeping the code simple to start. You will assign a color of jelly bean to the four directions up, down, left, and right.
This is your code key, and these colors will tell our bunny which way he is to move!
It really doesn't matter what colors you use, but I recommend using the 4 you have the most of. And there is a code coloring page for your child to use in the printables at the end of this post.
---
More Activities To Try
---
Step 3: Study Your Coding Challenge
As I said, we are trying to reunite the Easter bunny with his Easter basket. There is a maze he needs to go through. And there are flowers blocking some paths.
So your child needs to look at the challenge (and I've included 3 levels) and figure out where the bunny needs to go. (It can help to lightly trace out a path the bunny needs to follow.)
Note which direction you need to go in the maze and how many squares you need to move in that direction.
Step 4: Create Your Code!
The idea is to create a jelly bean and number code that directs the Easter bunny through the maze.
For example, if we make this code key: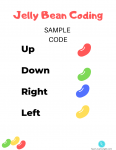 So our code could look like: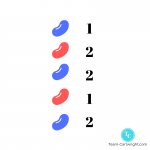 To read this we would direct our Easter bunny to go right 1 square, up 2, right 2, up 1, and right 2 to get to the basket!
Step 5: Follow the Code!
Now all that is left is to follow the code!
Yes, I know. You wrote the code. Surely you know how this will end. But the thing with coding is that it needs to be tested. Over and over again. So have your child actually go through the code and confirm it works.
Then make a new code! How many ways can you come up with to get your Easter bunny to the basket?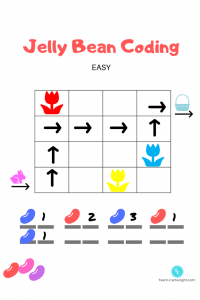 This is a great activity for more than one child to do together. They can each create codes for each other to follow! I find that Ben likes to make codes for me to solve too.
You can add in challenges like who can write the shortest code? Who can write the longest? Can you get the bunny to touch the flowers on the way to the basket?
Free Printables
You can get these free printable worksheets to do this activity at home! There are two ways to get these fun printables.
One is to click here (or on the image) to get right to my shop with the printables. There you can enter the coupon code freebie to get these for free!
The other option is to sign up below. This will get you an email with the password for my library of free printables. Signing up also means you will get the latest updates from Team Cartwright! (Don't worry, you can, of course, unsubscribe at any time.) Enter the password from the email and you will find all the freebies available!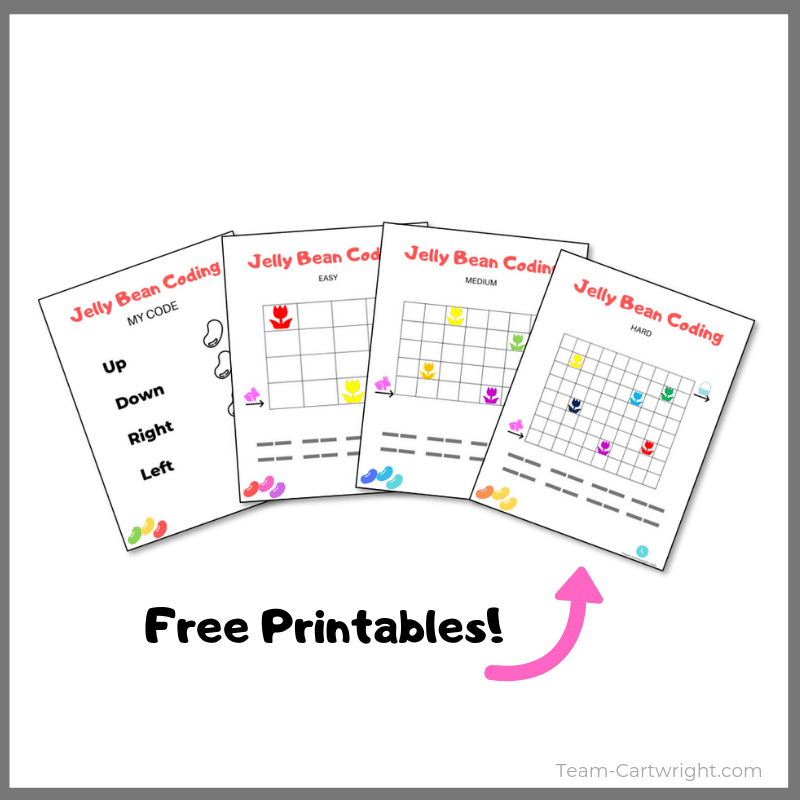 The STEM Behind Coding
What exactly are we learning here? I mean, we get a bunny to a basket. That's great and all, but it isn't really computer coding.
Kids learn so much from coding, even if the code is just on paper.
Logical Reasoning
You have to go step by step when coding. And each step builds off the last. You have to follow a logical progression to make the code work.
Problem Solving
It seems like a simple concept, moving a bunny around a maze. But we aren't giving the kids many instructions. It is up to them to figure out how to do this. Can they solve their problem without help?
Creativity
There is more than one right answer to this code. In fact, there are a ton of right answers. STEM needs creativity to work. You can't just do what you always do and expect the same result. This coding encourages creative thinking.
Persistence
Codes don't always work the first time. You make mistakes, things go wrong. It takes persistence to complete coding challenges. Your kids are going to need to keep at it to get the bunny to the basket.
Math Skills
There is a lot of counting in this activity. Coding means children need to understand that the numbers have individual values. A 1 isn't the same as a 2. This builds number sense.
Reading Skills
Coding skills translate to reading skills. What is the written language but a giant code we've all agreed to follow? Kids learn how to follow the code in order and understand that the code has meaning. This is just like reading.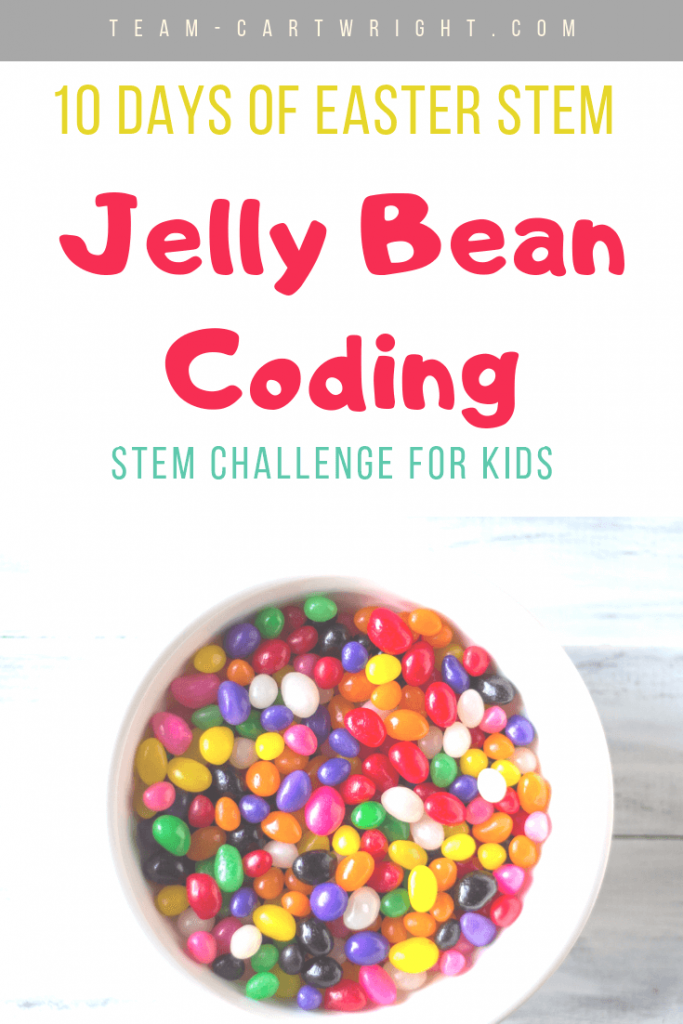 Only You Can Help the Easter Bunny
The only thing left to do is get coding. Can you get the Easter bunny to the Easter basket?
Here is what we are talking about when we say STEM.
10 Days of Easy Easter STEM!
STEM
Science: Where toddlers and preschoolers learn to observe and start to understand how the world around them works. This is where kids learn to ask questions.
Technology: Where children learn to use the tools that help them explore this world. Yes, computers and screens are a part of this, but they are not the whole story. Simple tools like scissors and magnifying glasses are a part of it too.
Engineering: Where children start to explore how things work. It's building things like towers, and it is taking things apart to see how they fit together.
Math: Where children learn counting and number recognition. This is where we lay the groundwork of number sense. Number sense is the basic understanding that numbers have individual values and these values interact.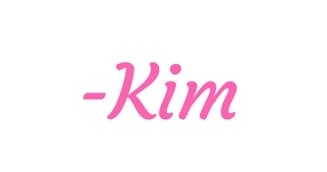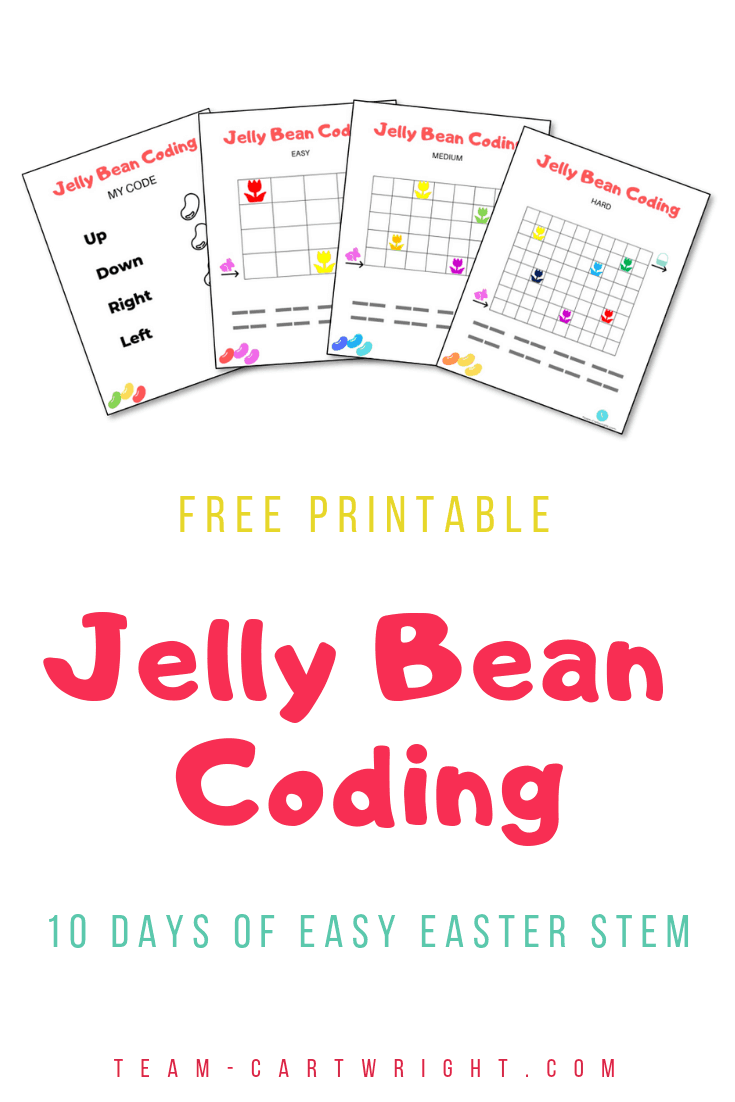 More Easter Activities To Try
Send peeps flying with a simple lever system.
Want to turn raw Easter eggs into bouncy balls?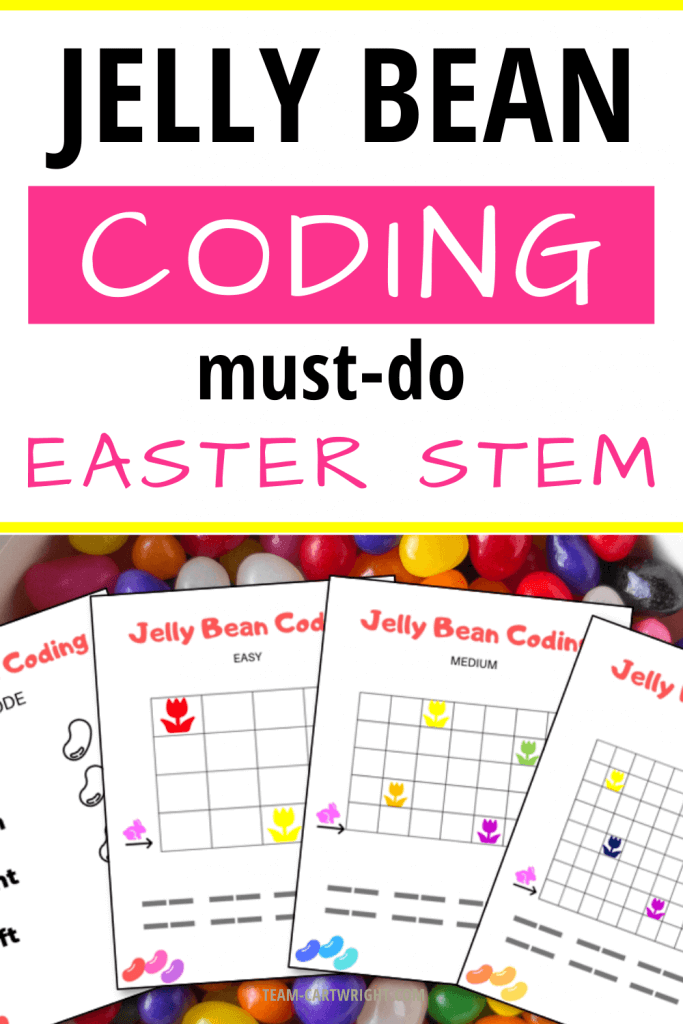 Let us improve this post!
Tell us how we can improve this post?