Easter egg submarines: A sensory STEM activity.
We all know kids love water play. I do too. It's cheap, it's easy, and it is super educational.
But as this is the 10 Days of Easy Easter STEM, we can't just give the kids a bucket of water to play with. (Though that is perfectly acceptable at other times.)
Nope, we are doing a STEM challenge with our water play. We are going to make submarines out of Easter eggs.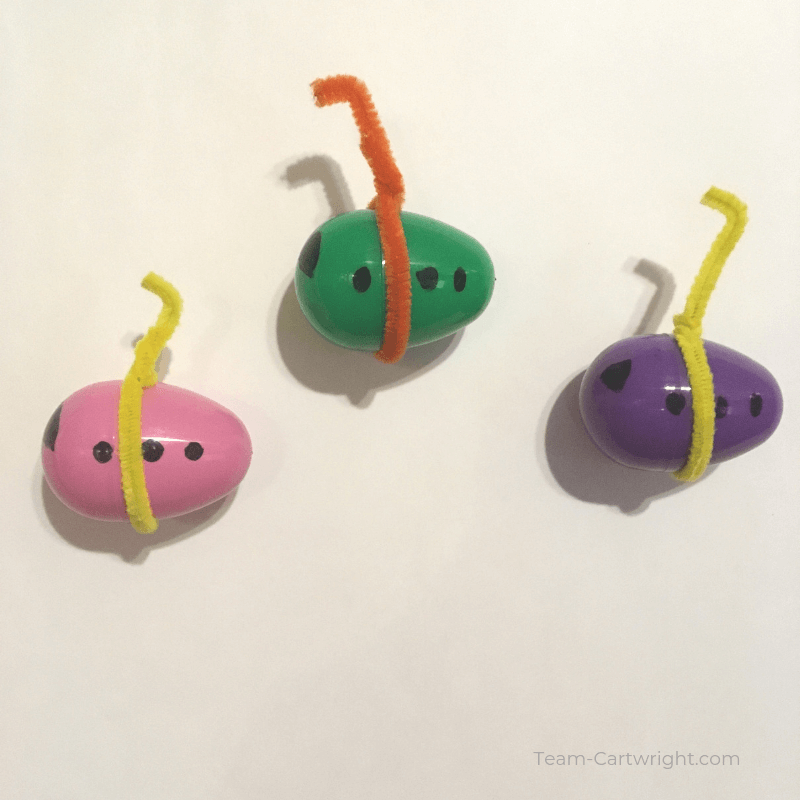 The Importance of Water Sensory Play
One of the best, and simplest, sensory activities you can do with your kids is to just give them water to play with.
Yes, just water. And it doesn't need to be fancy. Sure, there are a lot of cool water tables you can buy. But a plastic bin, a bowl, a pot? They all work as well.
Playing with water teaches children about the properties of liquids. They observe volume and displacement. There is also practice with scooping and pouring, important for fine motor development.
It is play, but it is the best play, the important work of childhood.
Easter Egg Submarines
These submarines are ridiculously easy. For this activity, the challenge isn't making the submarine, it's about the sink or float aspect of the submarine. (Though designing a full submarine would make for a great STEM challenge.)
Materials for Your Easter Egg Submarines
Plastic Easter Eggs
Marker
Tape
Egg Fillers (more details on this later)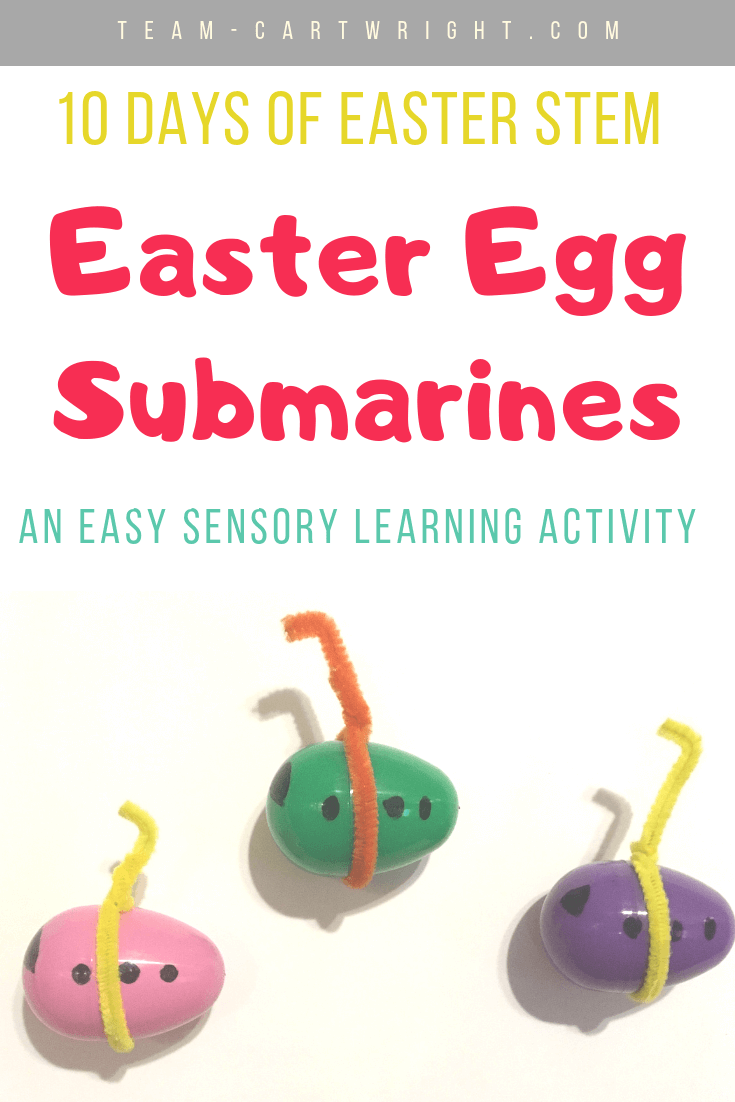 How To Set Up Your Submarine Station
Take your Easter eggs and tape any holes that might be on them. (Simple scotch tape works perfectly.)
I then decorated them to look like submarines. Do they look perfect? No. But did my kids love them? Yes. So don't worry about perfection.
You can use straws or pipe cleaners to add more details like a periscope or propeller. They make the subs look pretty cool. We started with pipe cleaner periscopes.
But honestly, we were opening and closing our eggs so much that the extras quickly got removed. This is still fun, even without the extras.
Gather up various egg fillers. A few things that worked well for us were:
coins
marbles
legos
raisins
mini marshmallows
cereal
tiny erasers
buttons
cotton balls
jelly beans
As you can see from this list, this activity involves small objects. Whatever you decide to use has to be small enough to fit in the plastic eggs you use, so this makes sense. But be sure to use safety with little ones handling these small objects.
Anything you use will get wet, so make sure you don't mind if that happens.
This activity can also be thought of as a tinker tray with water. Tinker trays are a great way to encourage STEM and creative thinking. Get more ideas here: Mystery Tinker Bags.
---
More Activities To Try
---
How To Learn with Easter Egg Submarines
Set out a bowl or tub of water, your egg filler, and your Easter egg submarines.
Pick your first filler and ask your child if they think it will make the submarine sink or float. Then fill the egg, put it in the water, and find out!
Sink or Float STEM
This activity works several STEM skills.
You start with making a hypothesis. Do you think the submarine will sink or float?
Then you experiment and observe. Actually try it.
What conclusions can you make from this? Are their any further experiments you can try?
It's a casual scientific method approach, but it encourages the process. (And the scientific method is full of life lessons.)
As you talk through the game with your child you introduce new vocabulary as well. Density, buoyancy, Archimedes Principal, and surface tension are just a few you can bring up!
(Get more water science here: Science By the Pool! Simple Poolside STEM Experiments)
Additonal STEM Challenges
There are some bonus challenges you can give your child.
Does changing the amount of the filler in the Easter egg submarine change whether it sinks or floats? Can you make a sinking submarine float or vice versa?
What happens if you use two different fillers at the same time?
What happens if you take the tape off the holes in the egg?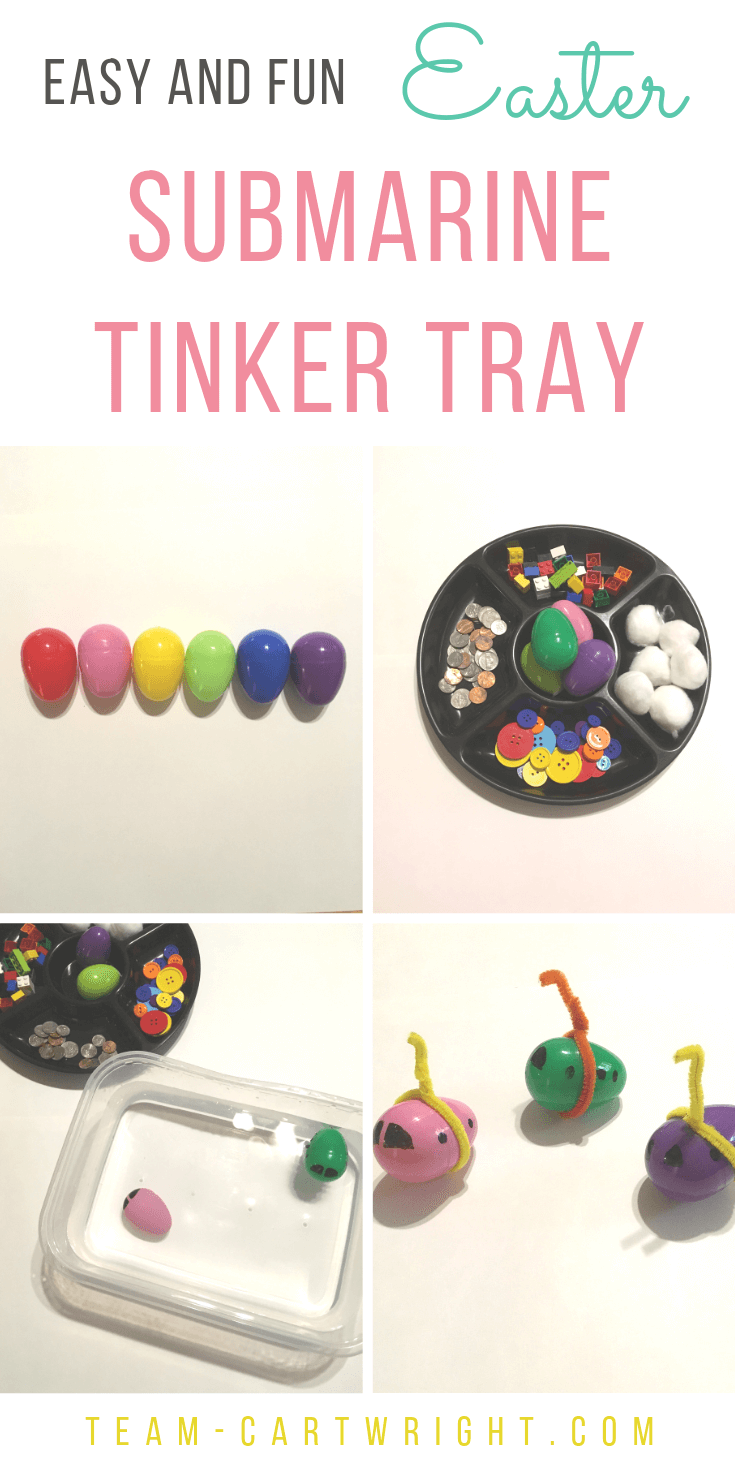 Water Free Play
After you do the parent led portion of this activity, step back and let your kids just play.
Having the freedom to explore and try their own ideas is really important. Set this up outside or over towels so you don't have to worry about a mess. And watch as your children learn through play!
Don't forget to come back for all the fun activities we are doing! You can check out the list here. Links will go live as the activities go up.
10 Days of Easy Easter STEM!
STEM
Remember that STEM stands for:
Science: Where toddlers and preschoolers learn to observe and start to understand how the world around them works. This is where kids learn to ask questions.
Technology: Where children learn to use the tools that help them explore this world. Yes, computers and screens are a part of this, but they are not the whole story. Simple tools like scissors and magnifying glasses are a part of it too.
Engineering: Where children start to explore how things work. It's building things like towers, and it is taking things apart to see how they fit together.
Math: Where children learn counting and number recognition. This is where we lay the groundwork of number sense. Number sense is the basic understanding that numbers have individual values and these values interact.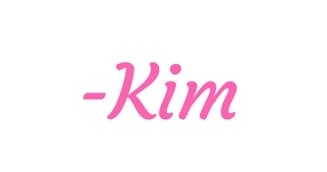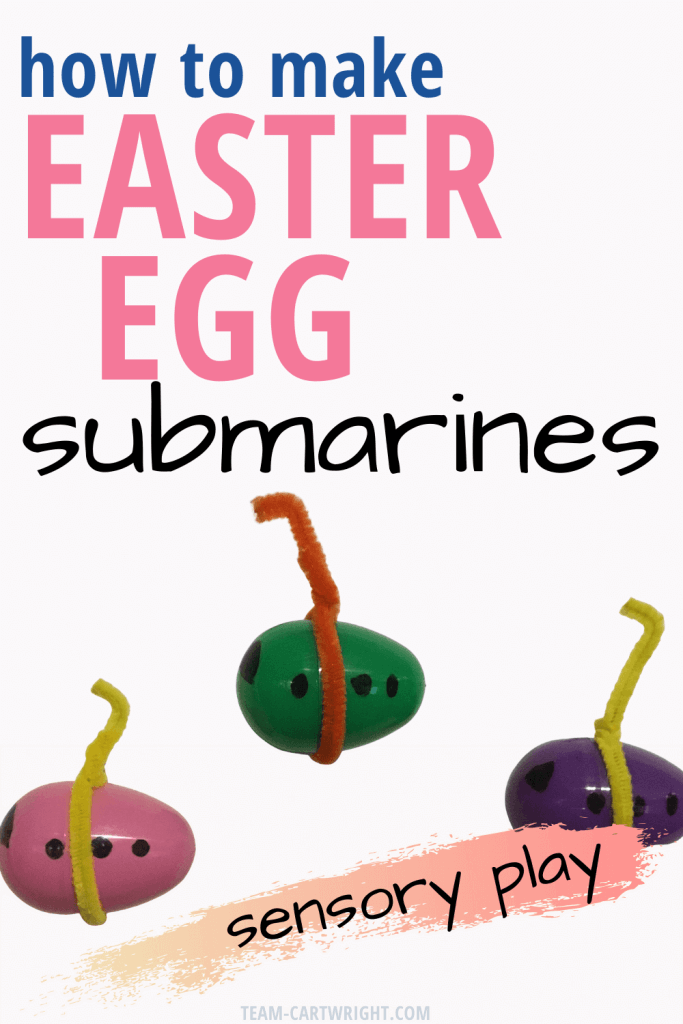 Let us improve this post!
Tell us how we can improve this post?