Twins. Two for the price of one, right? As the holidays approach this question comes up. Do you need to buy two gifts for twins? Or can you get away with one?
I am all about being on a budget, and I for sure don't want to buy unnecessary gifts. But I am a twin mom and I have put some serious thought into this.
So what do you get for twins? Two gifts? Two of the same gift? Here are some questions to help guide you through this process of buying gifts for twins.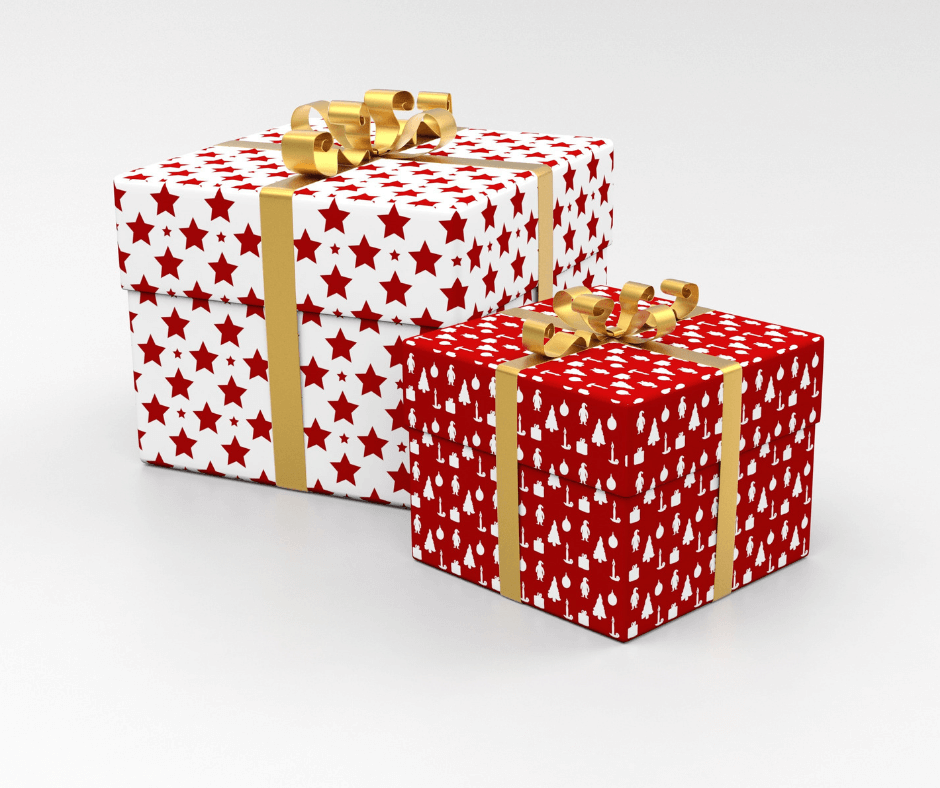 Gifts for Twins: Questions To Ask Yourself
When you find yourself trying to decide if you can get away with buying just one gift instead of two for a set of twins, ask yourself these questions.
1. Are You Just Being Cheap?
Oh yes, I am going there. This is total honesty time. Ask yourself, are you just being cheap?
Being on a budget is not the same as being cheap. Budget means you stick to your means and buy what you can afford. Cheap means you just aren't trying or are being selfish.
You can buy smaller gifts to stay on budget. If I have 15 people to buy for the budget per person will be smaller than if I have 5 people to buy for. So yes, buying for twins might mean a smaller price per person in your budget.
Twin does not mean you pick out one item and just call it good and think you are saving because you cut out a present you had to buy. That's being cheap.
So ask yourself, am I being cheap? If the answer is yes, put back the one gift and find two that fit into your budget.
2. Are You Just Being Lazy?
These aren't easy questions, I know. But we are being real about this. Are you just being lazy? Seriously, effort counts here.
Are you buying one gift because it is easier to just pick out one gift? Sure, it is one less thing to think about. We moms especially need to find ways to lighten our mental load. But is this the best place to cut corners?
I am assuming you care about the twins you are buying gifts for, so think about what each individual likes. Twins are two unique individuals and have different interests. So buying them a soccer ball for example, (because they can both play with it of course) when one hates sports is just lazy.
We buy gifts because we care. (At least in theory.) So care. Think of both twins.
---
More Helpful Posts
---
3. Could It Be a Joint Gift for Non-Twin Siblings?
Sometimes sibling gifts do make sense. It is a great idea to give something a family can enjoy together. Twins are siblings, so they are no different in this regard.
For example, a board game is a great gift for siblings to play with together. So go for it with twins. One shirt for twins to share (even identical twins)? No. That's silly.
Twins are siblings that happen to share a birthday. Treat them the way you would any other pair of siblings. If you would buy it for a couple of brothers two years apart in age, you can buy it for a couple of brothers who happen to be the same age.
4. Does One Gift Make Sense?
There are times when one gift just makes sense. A doll house or train table for example. Those are things that most non-twin families would only have one of as well. You don't need to buy two for twins.
Sometimes cost does come into play here. If it is a pricier gift (that still makes sense for singletons to share), one is probably good.
Take a video game system for example. Sure, I suppose each child could have their own. But that is a pricey gift, so one per family makes sense. One controller thinking they can share? No. That doesn't work. Get two.
This also means you should consider the age and interests of the twins you are buying for. Buying a little people set for toddlers to share works. They can both play with it at the same time and toddlers share a lot of interests. They don't really know that they are sharing a gift, so no feelings are hurt.
But if the twins you are buying for are tweens and you give them one book to share (sure, they can take turns reading it) when you give every other child in your family their own book? No. They know they got a joint gift when everyone else was recognized as an individual. That's just mean.
Buying a set of twins a science set when one really loves science and one hates it? Not okay. (I want to say it is because every child should get a science kit, but that doesn't take into account the giftees individual interests.) Twins are individuals, treat them as such.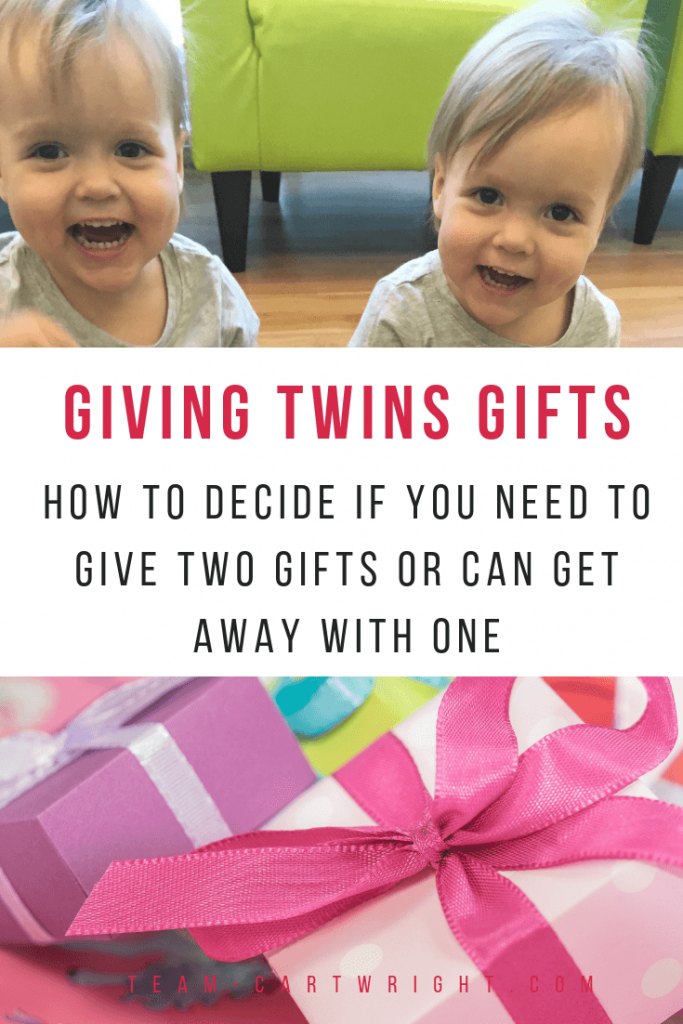 Can You Give Two of the Same Gift?
So do you buy two of the same thing? Again, does it make sense in terms of interest and age? Babies won't notice that their twin has the same exact thing. Older twins might not like it.
The best thing to do in this case if you aren't sure? Ask the mother of the twins you are buying for. Sometimes having two of the exact same thing eliminates fights.
This can be tough, so do your best. Taking the time to think about it is what really counts to me as a twin mom.
What About Giving Gifts From Twins?
What about the gifts you give from the twins? The same general rules apply.
Are you staying on budget or are you being cheap? You know when you are just being cheap and buying one gift 'from the twins.'
Are you just being lazy? Be honest, are you just signing both twin's names to the card of one gift because it is easier than thinking of two gifts to give?
Does it make sense to give one gift from two people? Again, would you go in on one gift with two non-twin siblings or no? It makes sense to give a family gift sometimes. Other times each child would give one. Do the same with twins.
Did each twin receive an invitation? This comes into play at birthday parties. If each twin is a friend of the birthday boy or girl and gets an invitation, each twin gives a present.
It isn't fair for twin parents to expect others to treat their twins as individuals when they receive gifts and act like they are a unit for giving gifts.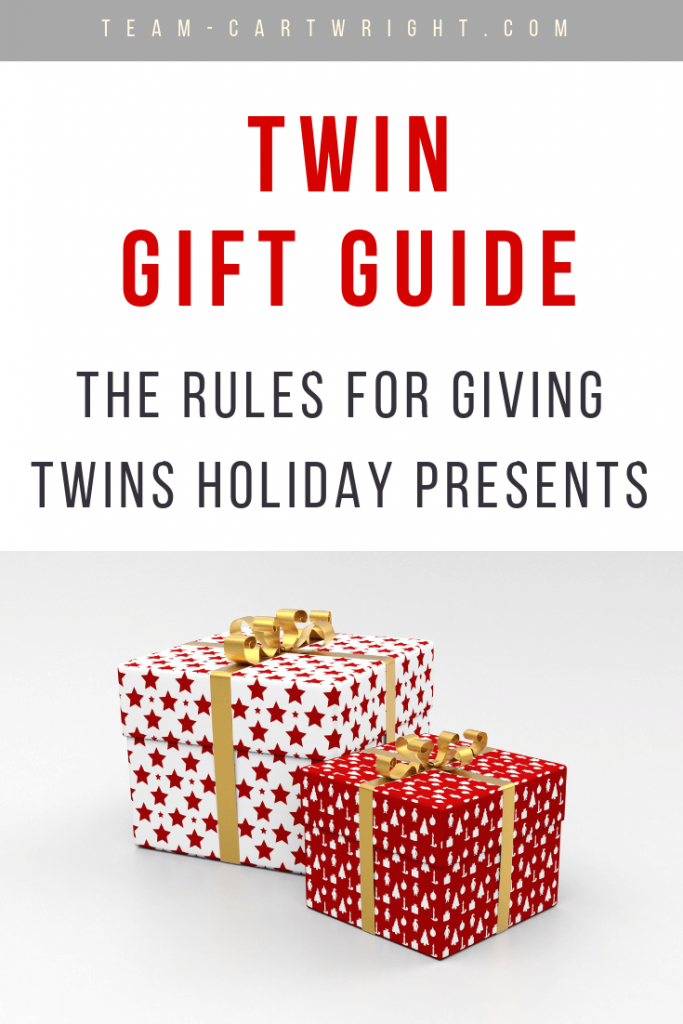 Just Think It Through
I know twins can mean you have to think a little harder about the gifts you are giving. The cliche is true, it's the thought that counts. You have two individuals, treat them as such. This means when you are getting and when you are giving.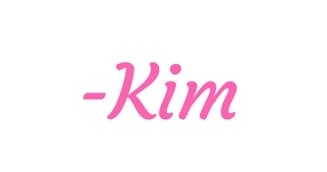 Here is more to help you out:
Breastfeeding Twins: Your Ultimate Resource Guide
How I Handle Stupid Twin Questions
How To Get Your Twins on a Schedule
I am that twin mom: Why I dress my twins the same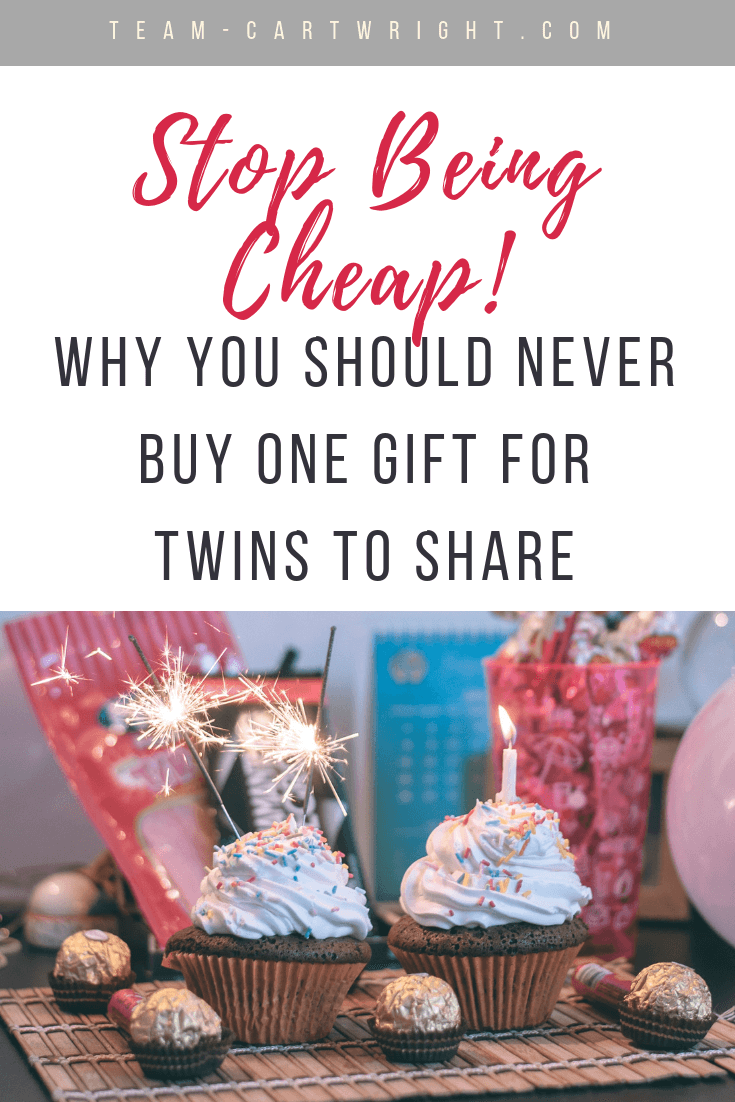 How useful was this post?
Click on a star to rate it!
Let us improve this post!
Tell us how we can improve this post?