Halloween Number Sense Activities for Preschoolers, Kindergarteners, and Toddlers.
A big part of STEM is math. I know, after science people fear math the most, but it doesn't have to be scary.
And with little kids, it doesn't even have to be hard. Simple activities can give your kids a big boost in the field of mathematics.
One of the most important things you can work on with your kids when it comes to math is number sense. And here we have a few super fun, super simple worksheets that will make learning number sense a game.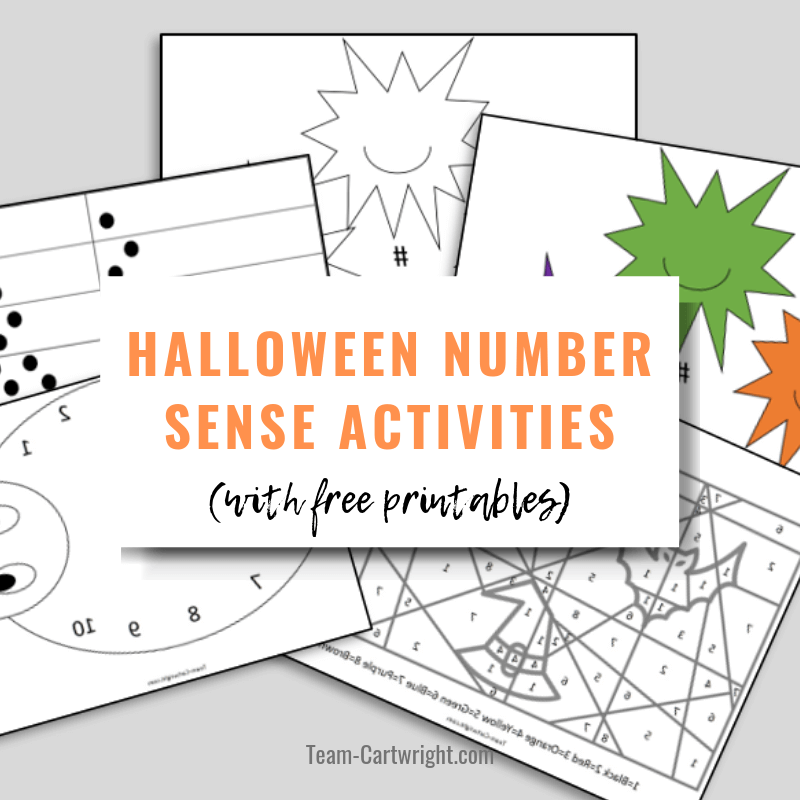 (If you just want the printables, scroll down to the bottom. But the explanations really help.)
Halloween Number Sense
This post has 3 super fun Halloween learning activities for your kids to try. But before we get into that, it is helpful to know why number sense is so important.
What Is Number Sense?
What is number sense? Number sense is the basic understanding of what numbers mean. It's great if you can recite 1 through 10, but if you don't know what those numbers represent there is no point.
You can learn more about number sense by clicking here, but basically it is the idea that numbers have unique values and those values can interact with each other.
Halloween Number Sense Worksheets
Monster Counting
First up, we are working on one more, one less. This is a great way of understanding the individual values numbers have as compared to their number line neighbors.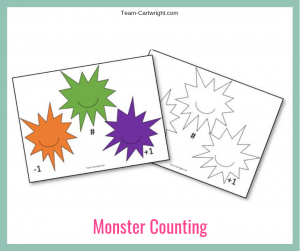 Monster Counting Supplies
Monster Worksheet
Googly Eyes
Dice
I love googly eyes and have them on hand, but if you don't you can use any other small item to represent eyes. Puff balls, small erasers, paper clips. Whatever you have available. (These items are all small, so be aware of safety if you have young toddlers or babies around while you play this game.)
How To Play Monster Counting
Print out your Monster worksheet. I put mine in a plastic page protector to keep it nicer, but that step is optional.
Have your child roll one or both dice. Place that many eyes in the center monster.
Then put one number higher in the monster on the right, and one number lower in the monster on the left.
Have your child count out your eyes and tell you what they are doing. This helps them really work on understanding number sense.
Once they are done, clear your monsters off and roll again!
---
More Must-Do Activities!
---
Halloween Color By Number
Color by number is another simple but fun way to practice number sense. Why? Your children have to recognize each number individually, not just in a run of 1-10. They need to find each number one at a time and know what that number is.
Color by number is fun for fine motor skills and working on naming the colors too!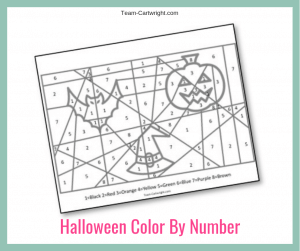 Halloween Color By Number Supplies
Free Halloween Printable
Crayons
How To Use the Halloween Color By Number
Start off by downloading this free printable. Then hand it to your child to color!
Okay, you might need to be involved a little bit. If your little one can't read yet you can help them know which color to use for each number.
If you have older students doing this, try giving them simple addition or subtraction equations where the answer tells them what color to use.
Feel free to change up the colors associated with each number to really make it your own!
Spider Number Matching
Spiders are a staple of Halloween decor! Why not take advantage of that spooky fun to add in some number matching? (And bonus: fine motor skill work too!)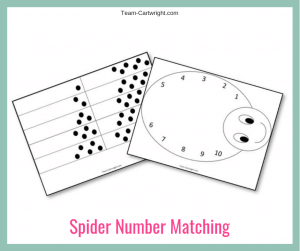 Spider Number Matching Supplies
Spider Printable
Scissors
Glue
How To Use Your Spider Number Matching
Print out your spider number printable.
If you are working scissor skills, have your child cut out the spider and the spider legs. (Yes, there are 10 legs. Yes, I know spiders have 8 legs. But I really wanted to get all the counting numbers 1-10 in this activity, so I went with 10. Creative license if you will.)
Your child can then match up the number of dots on the legs to the number on the spider and glue the legs on, creating a cute spider!
As always, your child can color or decorate their spider however they see fit.
---
STEM and Learning Activities For Kids
---
Halloween Number Sense Free Printables
My kids had a lot of fun doing all these activities, and I know yours will too. And getting them is super simple right now, just click here: Halloween Number Sense Printable Pack. Add the code FREEBIE to get it for free!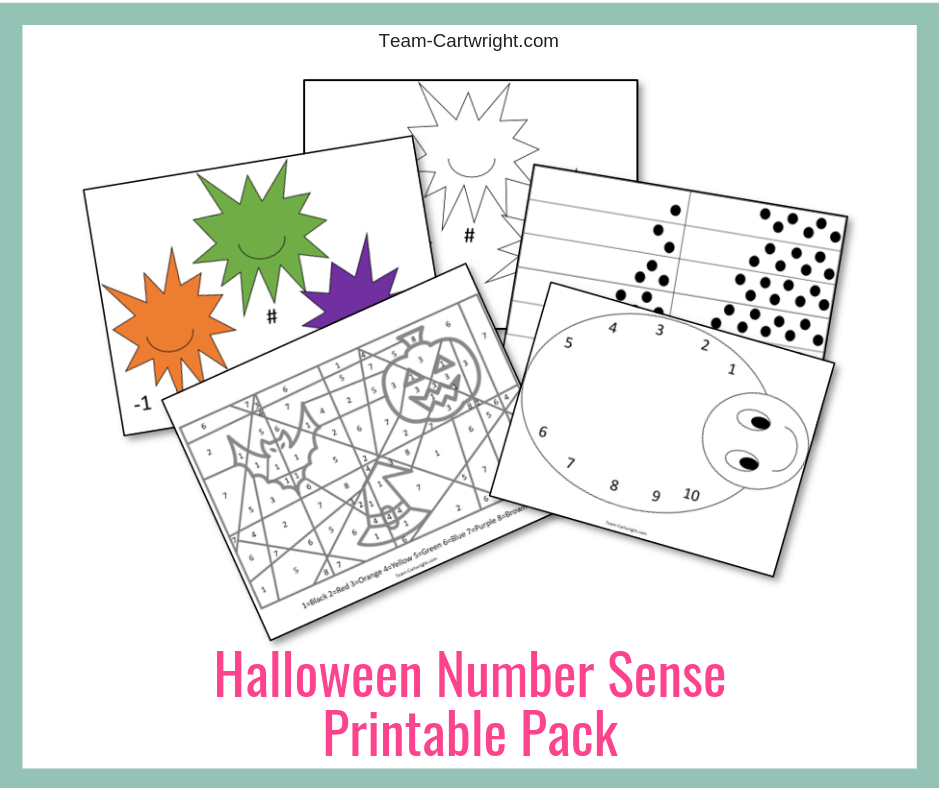 There are more fun learning activities available for free on the Free Printables page. These are special just for subscribers. I'd love for you to check them out!
Number Sense Fun
The main point of all these activities is to have fun, but the learning matters too. Halloween activities can be more than just carving pumpkins, they can be tools to encourage your child to work on STEM skills!
These simple activities encourage your child to really learn the values of numbers and understand what they mean. And it doesn't hurt that they also work fine motor skills and colors too.
Happy Halloween!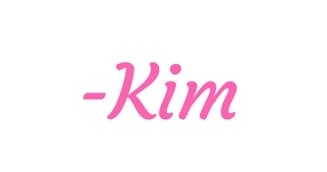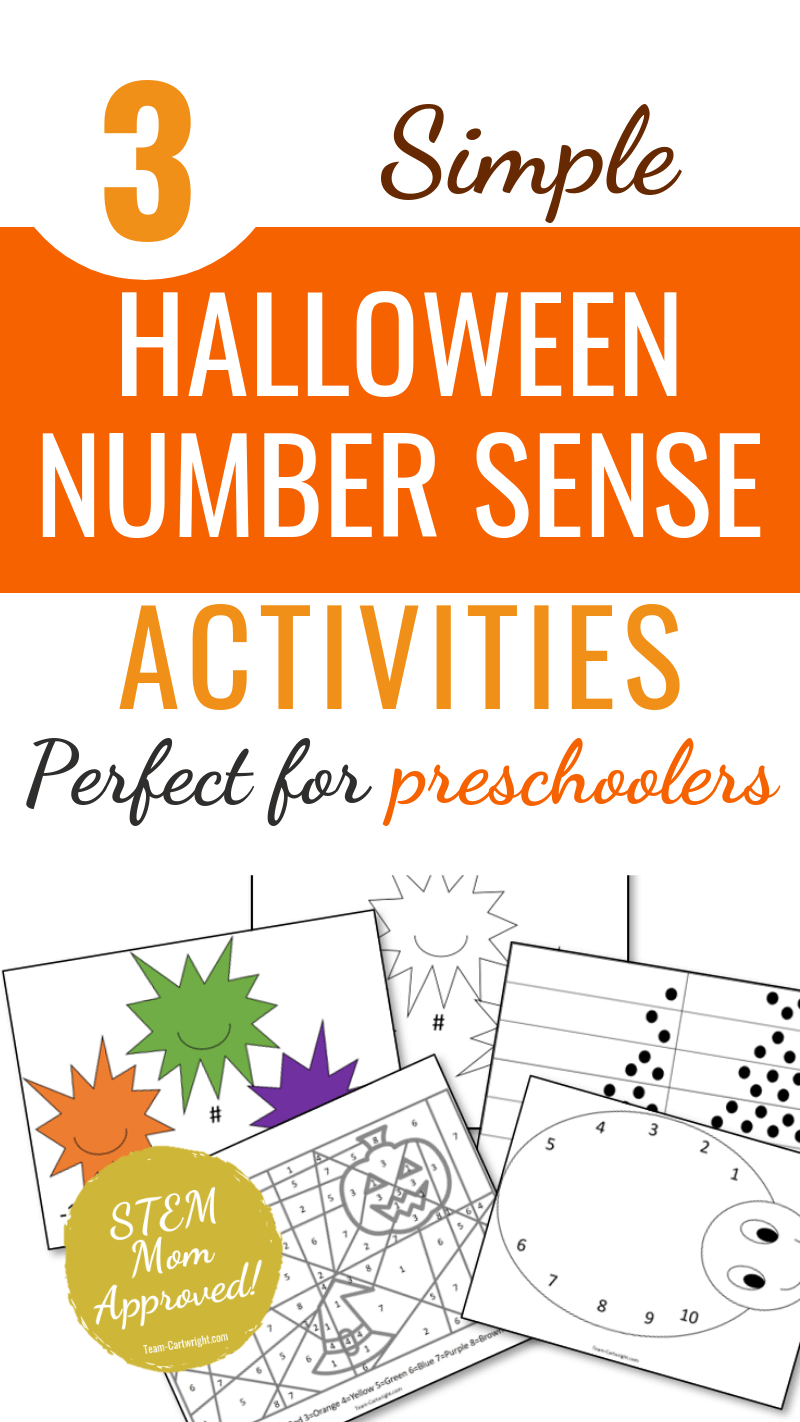 Halloween STEM and Learning Activities
Easy and fun STEM and learning activities perfect for Halloween!
Let us improve this post!
Tell us how we can improve this post?