Hot chocolate sensory bin ideas: Hot chocolate oobleck and more.
You can really never go wrong with a good sensory bin. They encourage learning in so many ways and kids just love them. I love them for the learning, of course, but also because of how long they can entertain my kids too.
Sometimes we just go with a regular bin like rainbow rice or water. But sometimes I like to go for more specific themes. And that is what we are doing here.
I'm talking about Hot Chocolate Sensory Bins.
Here is how to make Hot Chocolate Oobleck, plus ideas for even more hot chocolate sensory bins.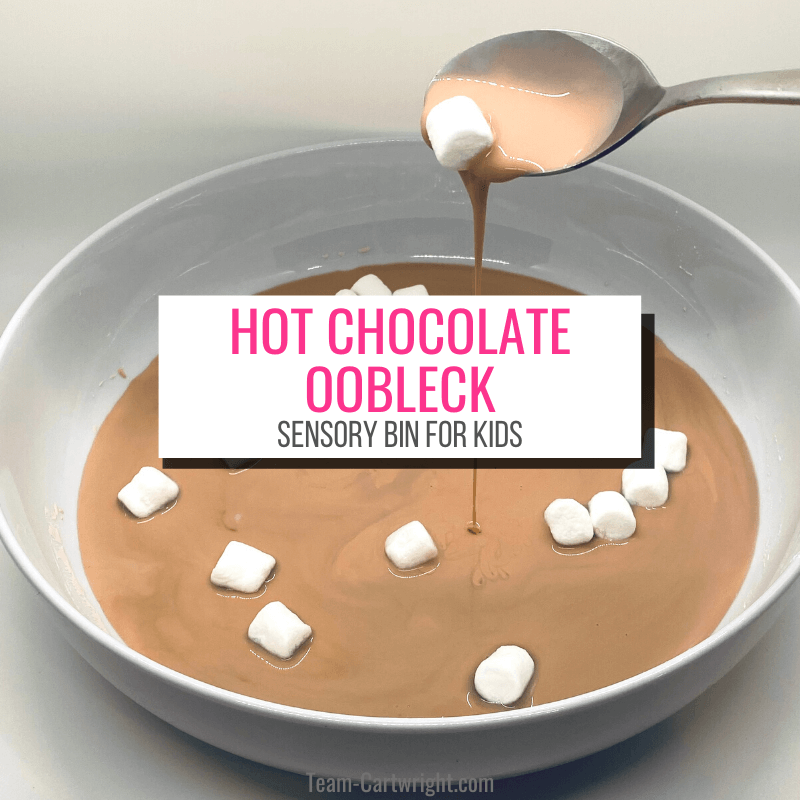 Hot Chocolate Sensory Bins
Hot chocolate sensory bins are one of my new favorite things. They are perfect for a cozy winter day. Though to be honest they could bring a bit of wintery fun to warmer times as well.
Regardless of when you do them, they are a great way to explore sensory learning and they can be super easy to put together.
My personal favorite is Hot Chocolate Oobleck, but you'll find instructions for other kinds as well. I know you will find a bin that works for you.
Let's make some hot chocolate sensory bins.
Supplies for Hot Chocolate Oobleck
Making oobleck can sound like a complicated thing, but it is really quite simple. Here is what we used to made ours.
Cornstarch
Water
Cocoa Powder or Hot Chocolate Mix
Food Coloring (optional)
Marshmallows
Measuring Cups, Spoons, Mugs (any item you use to play with your sensory bins)
How To Make Your Hot Chocolate Sensory Bin with Oobleck
This activity is pretty quick to put together, but it will result in a lot of fun.
Step 1: Put 2 cups of water into a container. You can add brown food coloring here to help make the oobleck look more like hot chocolate, but this step is optional.
Step 2: Add 4 cups of cornstarch. You will want to add it in parts and mix as you go.
Step 3: Add in your cornstarch until you have reached the oobleck stage. This is when you can run your hands through your mixture and it is liquidy, but if you push down on the surface your mixture feels hard. You can pick it up and make a ball, but stop handling it and your mix liquifies.
Step 4: Add in a few tablespoons of cocoa powder or a packet of hot chocolate mix. This is what will give your sensory bin that real chocolatey smell and color.
Step 5: Set up your sensory bin and enjoy! I like sprinkling in a few marshmallows to make this even more hot chocolate like. We also use mugs, spoons, measuring cups, anything that is good for scooping and pouring.
You can scale this recipe up or down as needed. The key is to utilize a 2:1 ratio of cornstarch to water.
---
Even more fun activities to try!
---
Safety Tips
This activity is pretty safe for kids of all ages. You want to make sure your children don't inhale the cornstarch.
This is taste safe, meaning that the ingredients are all edible food based items. That doesn't mean it always tastes very good, so be aware of that.
Mess Containment and Clean Up
Total honesty here, this activity can get a bit messy. But don't let that stop you. You can learn all about handling messy play without a disaster here: Mess- Free Sensory Play Tips.
Here are a few tips to get you started.
Use secondary containment. Place a smaller bin with the hot chocolate sensory oobleck in a larger bin. Any spills are contained!
Do the activity outside if you are able.
Place a towel or old blanket under the bin to collect any spills.
Clean up for this is pretty easy, but you do need to be a little careful. Do Not just dump your bin down the drain. The oobleck can clog your pipes.
Instead, throw as much away into the garbage as you can. When rinsing out your container be sure to run lots of hot water down the drain after it.
Tips for Your Hot Chocolate Sensory Bin
Here are a few extra tips to make your hot chocolate sensory activity even more fun.
Put some marshmallows in to make it more hot chocolate like.
Use measuring spoons and cups to practice scooping and pouring.
Use mugs to engage in imaginative play that your child has a hot chocolate stand.
Grab some small plastic toys and pretend they are in their own candy land. (Make sure the toys don't have holes to keep the oobleck out of them.
If you have a Peppa Pig fan, pretend your Peppa Pig is jumping in muddy puddles!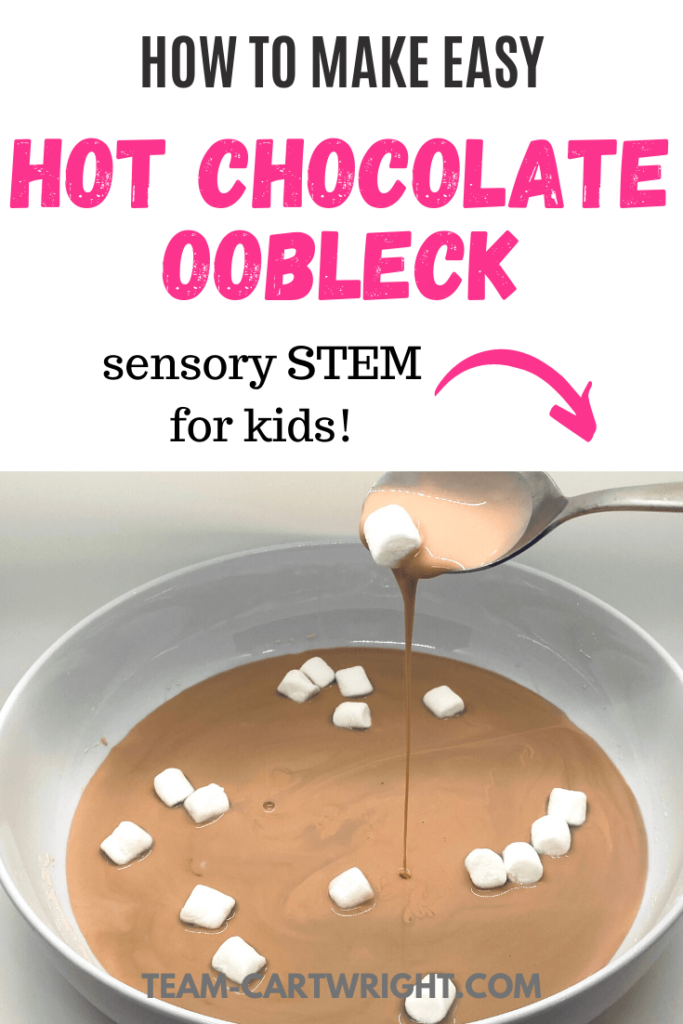 Even More Hot Chocolate Sensory Bins
As I said, the oobleck hot chocolate sensory play is one of my favorites. But I know it can be a little messy, and sometimes I am not feeling that.
Don't worry, there are plenty of other fun ways you can create this warm yummy experience.
Cocoa Puffs/Cocoa Krispies Hot Cocoa Sensory Bin
This bin can be a bit dangerous. Don't worry though, the big danger is that your child will just eat the yummy cereal.
Fill your sensory bin with cocoa puffs or cocoa krispies (or both!). Add some marshmallows for an extra treat.
You can use mugs and spoons or measuring cups to make some hot chocolate. This is a fun one to practice counting as you feel the cups with puffs too!
This is also a great sensory bin to use as a special snack time treat, especially if you know your kids are going to munch on this a lot. You'll be a cool mom and they will still be getting a lot of sensory learning in.
Dyed Rice Hot Chocolate Bin
I know that we don't always want to load our kids up with sugar, but a taste safe option is still nice to have. Don't worry, you can make a lovely bin with dyed rice!
You can learn how to dye your sensory rice here: Easy Dyed Rice for Sensory Fun. To make it hot chocolate simple use brown food coloring!
You do have to prep the rice the night before, but it is so easy to make. And it is worth the effort as you can store your rice to use over and over again!
Just like with the other bins, use mugs, spoons, and cups to create a fun imaginative play zone. You can totally still throw in marshmallows for a treat. And if you know your child won't eat them, you can use white puff balls or ping pong balls to be the marshmallows.
Cloud Dough Sensory Hot Chocolate Bin
Have you tried cloud dough? It's another big hit in sensory bins. Like the oobleck, it is taste safe. However your child won't want to eat it because it really doesn't taste that good. It's just safe if your child does take a nibble.
Here is a quick version of how to make cloud dough. Mix 2 cups of flour with 1 cup of oil. Add in some cocoa powder or brown food coloring to make it look more like hot chocolate.
This is a good one to use if you don't want your child using their sensory bin as an excuse to eat a snack. If you use vegetable oil it won't taste good. If you use baby oil make sure your child doesn't eat it.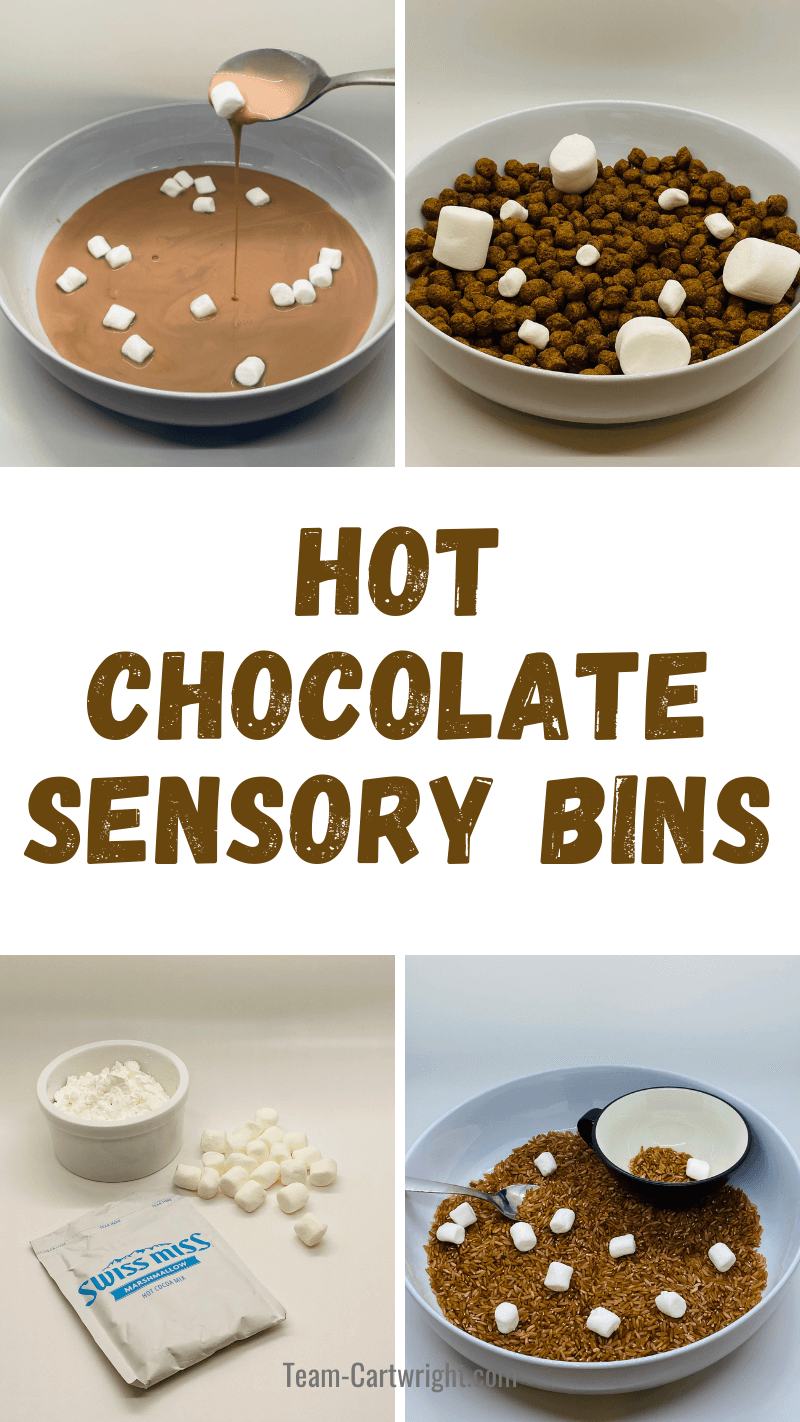 Reverse Hot Chocolate Sensory Bin
Hear me out, you can get a little crazy with your bins. Have you tried a reverse hot chocolate sensory bin? This works if it turns out you have plenty of marshmallows but are low on the chocolate part.
Use the marshmallows as your main bin filler. Then toss in a few cocoa puffs, brown puff balls, or even hershey kisses. It's the opposite of the normal hot chocolate bin with the marshmallows being the bulk!
Yes, this is a big old sugar fest, so it might be best as a small sensory bin. (Small bins are still fun!) You can also use cotton balls as the main filler and add some brown puff balls or even crumple up some brown paper to make little balls as the chocolate. Still fun, less sugar fest.
Frozen Hot Chocolate Sensory Bin
Yes, frozen hot chocolate is a thing, a delicious thing. This sensory bin won't be quite so tasty (it is not edible), but it will be just chilly enough for some fun.
For this activity you are going to make snow from conditioner and baking soda. To make it hot chocolate-like you just need a little brown food coloring.
You can find the full instructions to make color snow here: Leprechaun Snow and Rainbow Snow. (Yes, we started playing with this sensory bin type on St. Patrick's Day, but trust me it is good year round.)
The best part of this sensory bin filler is that it is actually cold to the touch! Take an endothermic reaction and add some marshmallows and you are ready for some fun.
---
More must reads
---
Sensory Learning
Sensory bins are fun. That is just the truth and it is a wonderful reason to do them with your children. Play is the business of childhood. Play matters.
But there is real learning going on too.
You can see all the ways sensory activities are necessary for kids here: The Big Benefits of Sensory Play. Here is the short version of all the ways it helps kids. Sensory play:
Boosts brain development.
Helps language development.
Promotes observational skills.
Aids memory enhancement.
And more.
Tasty Sensory Fun!
These sensory activities are all so much fun. I know I will find one your kids will adore. The only question is which one are you going to try first?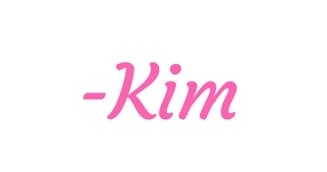 ---
Where to next?
---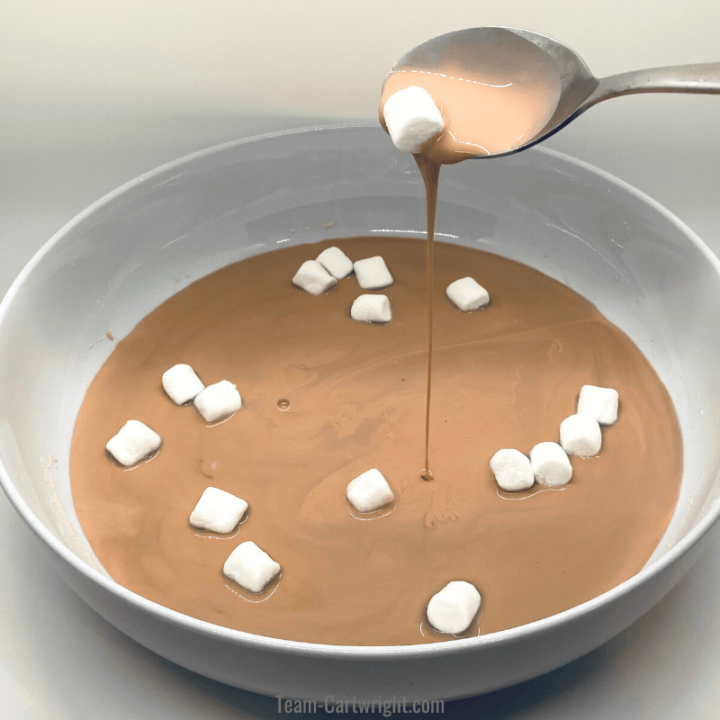 How To Make a Hot Chocolate Oobleck Sensory Bin
Total Time:
7 minutes
30 seconds
Make an amazing hot chocolate sensory bin with oobleck! This is a taste safe, sweet smelling learning activity kids will love.
Materials
Cornstarch
Water
Cocoa Powder/Hot Chocolate Mix
Brown Food Coloring (Optional)
Marshmallows
Tools
Bin
Optional Items To Use In Your Bin:
Spoons
Mugs
Measuring Cups and Spoons
Bowls
Instructions
Hot Chocolate Sensory Bin, Oobleck Style

This sensory bin is very flexible. Once you have your oobleck made you can use whatever you like to scoop, hold, and play with your oobleck. Spoons, measuring cups, mugs, it's all good. Use what you have. (Just make sure it is washable!)
Put 2 cups of water into your bin.
Add 4 cups of cornstarch. Add it in parts and mix as you go.
Keep mixing and adding cornstarch until you reach the oobleck stage. That is when you can run your fingers through the mixture like it is a liquid, but if you push down on it the mixture is hard.
Add a couple of tablespoons of cocoa powder or a packet of hot chocolate mix. This is what turns your sensory bin into a hot chocolate sensory bin. (If you don't have either of those or don't want to use them, you can use brown food coloring.)
Toss in a few marshmallows and your sensory bin toys and enjoy!
Notes
Safety

This is a pretty safe activity. It uses all food products so it is taste safe. Be sure that your children don't inhale any of the cornstarch while you are making the bin.
Clean Up
This activity is safe, as I said, but you do want to be careful to clean up. Do not pour your bin down the drain when you are done. This can clog your pipes. Throw as much away into the garbage as possible and use plenty of hot water when rinsing out your bin.
Let us improve this post!
Tell us how we can improve this post?