Sensory treasure hunt activity for toddlers and preschool.
Sensory bins? Kids love them. Number sense activities? So important for building math skills. Fine motor skill practice? A necessary part of toddler and preschool life. Keeping kids busy for a long time? Every mom's goal.
And we can do all of these things in one simple activity.
I'm not kidding. This was such a hit with my kids, and we can customize it to make it new and fresh over and over (without more work from me).
Let's build a number sense treasure hunt.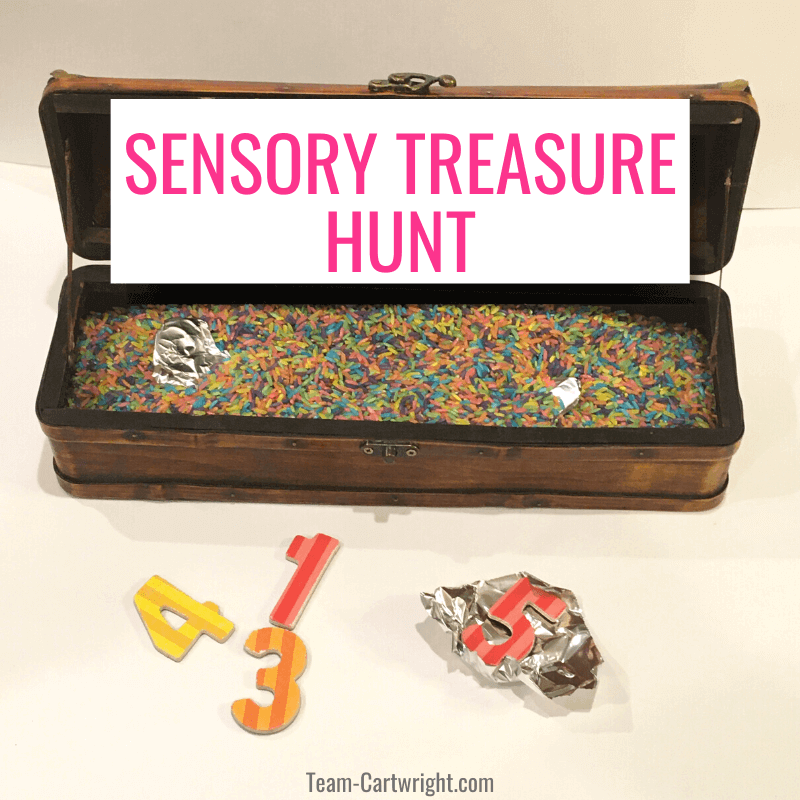 Number Sense Treasure Hunt
This activity is really flexible in terms of supplies. I'm sharing what we used and I'll add in suggestions for other ways to put your treasure hunt together. But once you see the main idea you can use whatever your imagination comes up with.
Supplies for Sensory Number Hunt
Here is what we used for our hunt:
Individual Number Toys (puzzle pieces, magnets, blocks, whatever you have)
Foil
How To Set Up Your Treasure Hunt
This is an easy set up and can be reused.
Step 1: Take your number pieces (the magnets, puzzle pieces, blocks, whatever you are using) and wrap them in foil.
Step 2: Put your rainbow rice into your sensory bin.
Step 3: Add your foil treasures and bury them as best you can.
Step 4: Let your child hunt for the treasure and put the numbers in order! If you are using puzzle pieces they can put the pieces back in place. You could create a number board they can line the numbers up on. Or just have your child place the numbers in order on a nearby surface.
(Bonus tip: Have your puzzle or number board in a different room than your sensory dig. This means your child will have to get up and run back and forth between the areas, adding a little physical activity to help get the wiggles out.)
---
Must Try Activities for Kids!
---
All the Learning Going On
There is a lot of learning going on in this one activity. Let's break down everything that is going on.
Sensory Play
Sensory play is so important for kids. You can learn all about why it is important here: The Big Benefits of Sensory Play. But here are some of the reasons.
Boost learning skills and retention
Aid brain development
Boost language skills
Help develop calming skills
Help with memory skills
Aid with sensory sensitivities
It sounds kind of crazy, but yes sensory play does so much for kids. So this treasure hunt invites sensory play and all the development that comes with it. (And remember, after the treasure hunt is done the fun doesn't have to stop. Keep the sensory fun going!)
Fine Motor Skills
Having to pull out the treasures and unwrap them helps kids work on fine motor skills. It takes careful manipulation to peel the foil open and get the number out.
For younger toddlers, you can wrap the pieces loosely to make it easier for your child to open. The goal of this is not to frustrate your kids, but to encourage them to build their skills and have fun. So itis okay if you have to make it a little easier.
Older toddlers and preschoolers can have a tighter wrap to open up. A bonus use of the foil is to have your child take all the foil pieces and press them together into a ball. This is also good for little fingers and is just fun to play with.
Number Sense
Number sense is the understanding that numbers have their own unique values and that these values can interact with each other. (I have a whole explanation here: What is Number Sense and Why Does It Matter?)
Basically number sense in understanding numbers on their own, not just being able to recite 1 through 10 for example. Pulling out numbers one at a time and not in counting order helps kids to really learn what the numbers are on their own.
This sounds like a little thing, but it is the basis for all their future math learning. If you can't understand the value of a number on its own it is very hard to manipulate it further down the road.
Alternatives Materials To Try
We used rainbow rice and numbers because that is what I had available and I wanted to focus on numbers. But once you have tried this activity once you will see that there are so many ways to change it up to keep it fresh and use what you have.
Sensory Materials
This activity works with most sensory bin materials. Rice, noodles, sand, it all works. You can add treasure to a bin of puffballs, use beads, or even cereal.
We had rainbow rice available, so that's what we used. It's surprisingly easy to make and you can store it for a long time. Here's the info: How To Make Rainbow Rice.
(If you have toddlers who still like to put things in their mouth check out this list of taste-safe sensory activities.)
---
The Best Activities for Kids!
---
More Treasure Ideas
We focused on numbers in our treasure hunt, but you can use whatever you like with yours! Here are some ideas.
Alphabet Treasure Hunt
Use letters from a puzzle, magnet letters, or just write letters inside the foil and wrap them up to hunt.
Color Treasure Hunt
Use Lego, play food, or really anything that are different colors. This can be a good one to throw together fast because you can use the first thing you find of each color. (And don't forget, you can always just used some colored paper too.)
Shape Treasure Hunt
Do you have a shape sorter? Wrap up the shapes for your child to hunt for! Even without a shape sorter, this one isn't too hard. You can use blocks for cubes and rectangular prisms. Balls are great for spheres, and magnet tiles can work for triangles.
Coin Treasure Hunt
Grab some quarters, dimes, nickles, and pennies and wrap them up to hunt! It's okay if your child doesn't know how much the coins are worth. They can still recognize that they are different and sorting them is a fun learning activity.
Bonus to this one: If you have older siblings they can add up the values of the coins.
Food Treasure Hunt
Use play food as your treasure. You can work on sorting vegetables, fruits, proteins, etc. This is a great way to talk about nutrition with kids because there is no pressure to actually eat anything. It's just sharing information.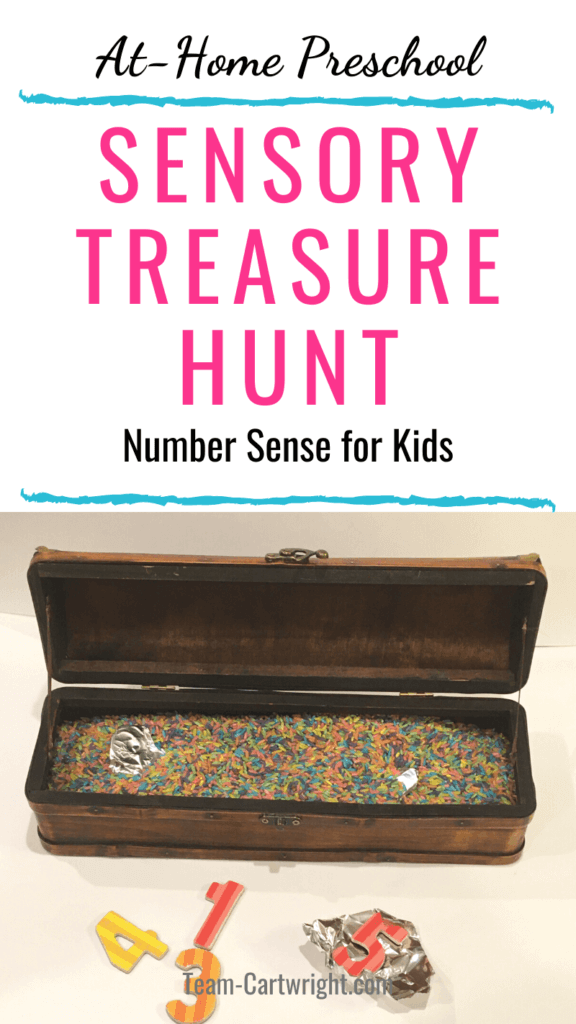 Treasure All Around!
This activity is a great way to keep sensory play fresh and new. You can even give it a holiday twist by hiding fun themed toys or trinkets. Every kid loves a treasure hunt, and this one keeps them learning through play.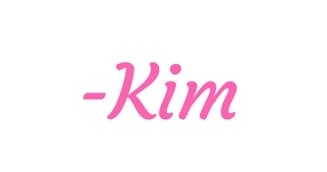 Let us improve this post!
Tell us how we can improve this post?