St. Patrick's Day STEM for Toddlers and Preschoolers
St. Patrick's Day is such a fun holiday! No pressure to do anything big, which after Thanksgiving through Valentine's Day is very nice. It's a relaxed holiday. Throw on some green and you're good.
But… There's no reason we couldn't add in a little more fun, right? Maybe toss in a few STEM activities?
Who am I kidding? It's always a good idea to do STEM activities!
We don't have to go nuts, there are a lot of easy learning activities you can do with your kids that aren't super messy and require very little prep.
Here are some of my favorite St. Patrick's Day STEM activities that kids love.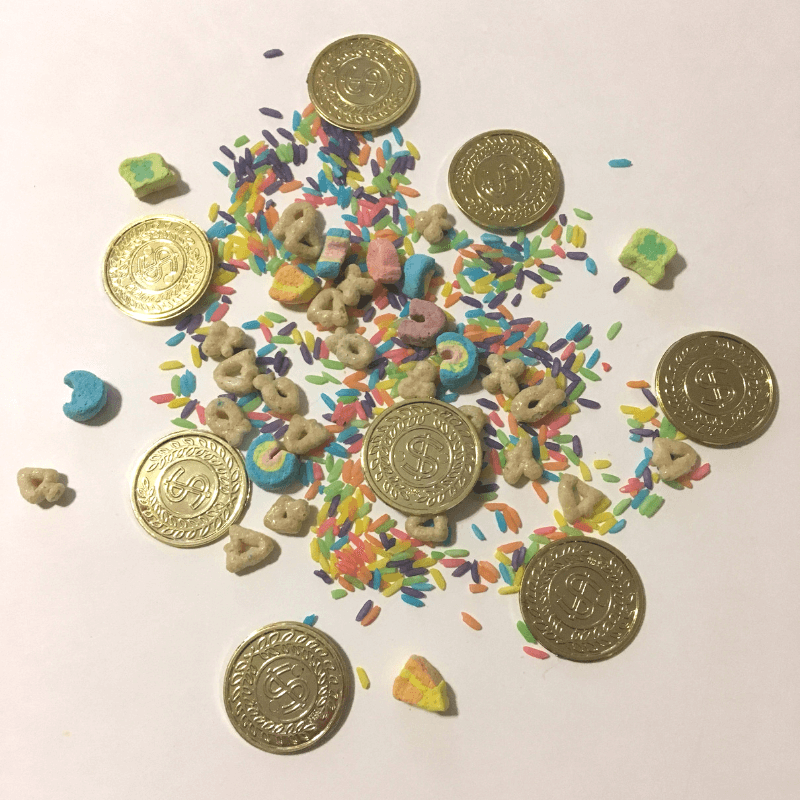 St. Patrick's Day STEM for Toddlers and Preschoolers
So much great STEM to do here. Which one will you try?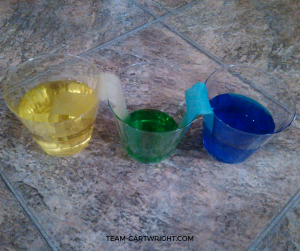 Walking Rainbows
This walking rainbow trick is really fun to watch happen. The water climbs it's way up the paper and meets in an empty cup. It's like magic!
The St. Patrick's Day challenge here has us just focused on the making of the color green.
(Learn more about color mixing: How Do Colors Work? STEM Activities to Explore How We See Color)
You need:
Cups
Water
Food Coloring
Paper Towel
How to do it:
Fill two cups halfway with water. Add blue food coloring to one cup and yellow to the other.
Cut two thin strips of paper towel. Place one end into one colored cup with the other end in an empty cup. Do the same with the other color. Now you wait!
The water will climb up the paper towel and go into the empty cup. The water will walk into the new cup from both full cups and the colors will mix! This is a good one to set up in the morning or at lunchtime and forget about until dinner.
For an added challenge you can try adding different amounts of food coloring the cups. Does more blue make a better green? What about more yellow? See what shades you can create!

Penny Boats
Making a boat is super exciting for a child. and it can be really easy. A great STEM challenge is to see who can make a boat that holds the most pennies! (You could also use gold coins. I just happen to have more pennies lying around than gold.)
The challenge part of this activity makes it more appealing to adults. That makes this activity perfect for the whole family (and maybe even extended family!). Winner gets to keep the pennies?
You need:
Foil
Pennies (or other coins)
A large container of water
How to do it:
Have your child shape the foil into a boat. This seems like a pretty obvious instruction to us as adults, but children might need a little more guidance. Try looking at pictures of boats and talking about how they look.
If they need extra help try having them shape the foil around a small bowl. It's a similar shape to a boat and will help with the concept.
Then place the boat in the water and see how many pennies you can pile onto it before the boat sinks.
Take it to the next level by evaluating your boats and see how you can hold even more pennies!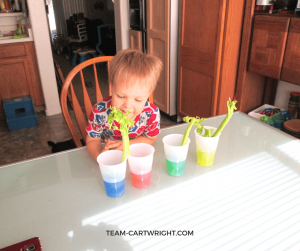 Green-Rainbow Climb
My kids seem to love the idea of celery, but never eat it. (Picky eating problems.) At least they will use it for science.
We can make some color climb right up that celery instead. (Celery is green, the colors mix rainbow style, just in case you were wondering how this can be a St. Patrick's day project.)
You need:
Celery stalks (with the leaves still attached)
Cups
Water
Food coloring
How to do it:
Take a celery stalk and cut it in half lengthwise only going halfway up the stalk. Fill two cups with water and put different color food coloring into each cup. (Again, think colors that mix well. Blue/Red make the clearest results.)
Put one half of the celery into one cup and the other into the second color. Then wait!
The celery will pull up the water and you will be able to see the colors as they climb the stalks. Once they reach the leaves they will mix. Blue/Red is the easiest to see, but Yellow/Blue brings a brighter green to the edges of the leaves.
Honestly, I have done this what feels like a million times. And I still love it. I think it really shows kids that there is more going on inside plants than we can see from the outside.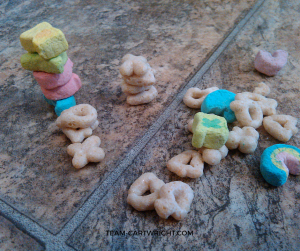 Lucky Charm Stacks
Confession: You can do this with any cereal. But we never buy this type of sugary fun cereal so I liked the excuse to do so. Oh yes, sugary cereal is amazing for learning activities, and I highly recommend it if you have food motivated children.
You need:
Lucky Charms
A flat surface
How to do it:
Have your child try to stack the cereal as high as they can. Yep, that's it! This is a great one for kids to try while you are finishing up dinner prep or if you have just a short amount of time to kill. Clean up is easy and tasty.
You can get a lot out of this though. Try asking questions like do the marshmallows stack better than the regular pieces? What if you stack them both together?
This is a good practice in balance, spatial relation, and an introduction to engineering. You can toss in a little math and practice basic addition and subtraction too!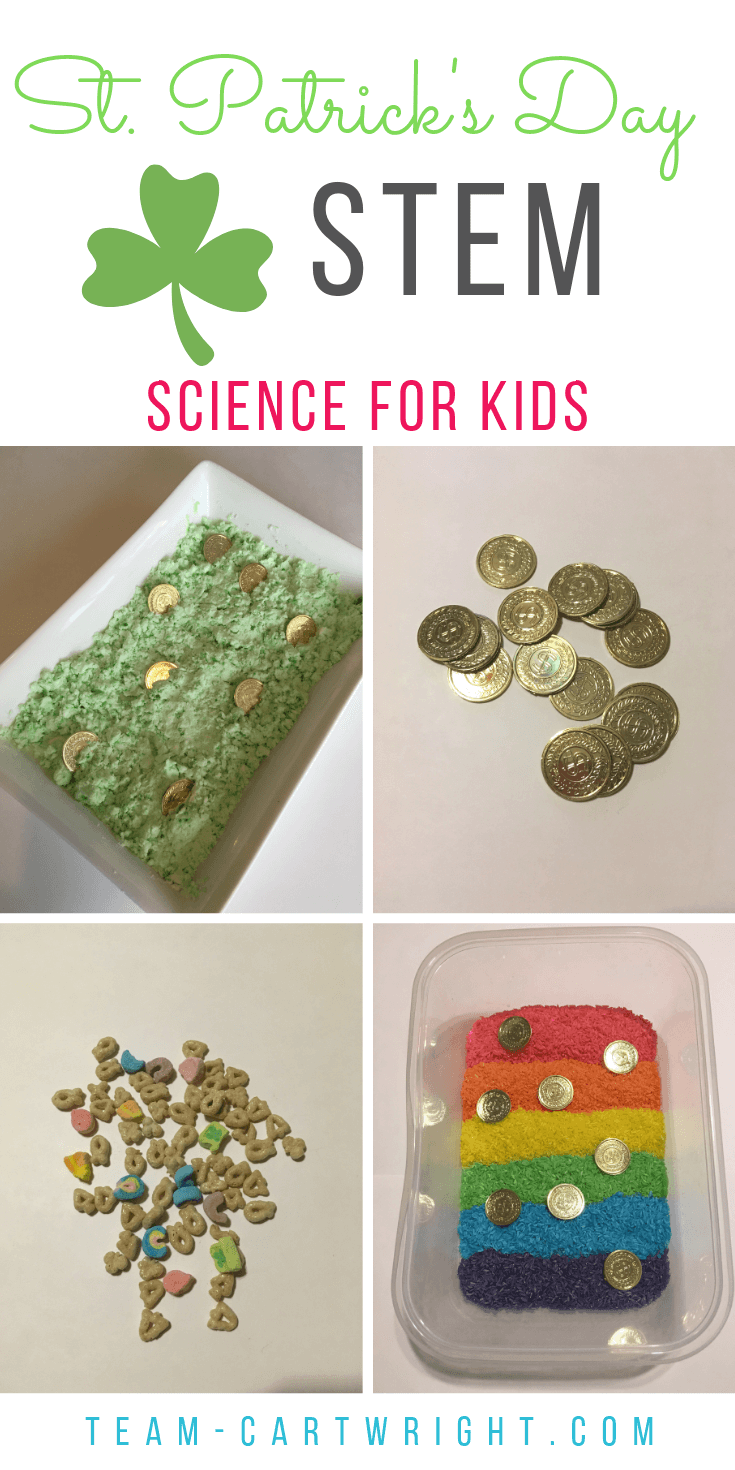 A Few Extra St. Patrick's Day Learning Activities To Try
I have a few more fun activities we have been doing in preparation for St. Patrick's Day, and I think you'll like them.
Rainbow Sensory Bins
There are a lot of great ways to create rainbow sensory bins for your kids. You can talk about colors while they get all the big benefits of sensory play!
Rainbow rice is our current favorite, and I was shocked at how easy it was to make. Seriously, so easy. Yeah, it can get messy to play with. But if you prep a little bit you can easily contain it.
Learn how to make Rainbow Rice at home.
Leprechaun Snow
If you want to take your sensory game up a notch AND toss in some chemical reaction learning then you have got to try leprechaun snow. And guess what? You only need two ingredients for this science activity!! (Yep, they are probably in your house right now.)
We made this green snow and I hid some gold coins in it for the kids to find. We even had a magic potion to clean the snow off the coins while it creates fun bubbles.
Ben just adored this one, and I think you will too.
Leprechaun Traps
If you an enterprising little builder at home then you should challenge her to trap a leprechaun.
What I love about this are all the problem-solving opportunities. It is super fun to push technology aside and see what you can create from objects at home. Oh, and a lot of the traps help teach physics properties.
There are just too many of these to go into in this post. You can go big or small, elaborate or plain. Here are plenty to check out—> Make Leprechaun Snow!.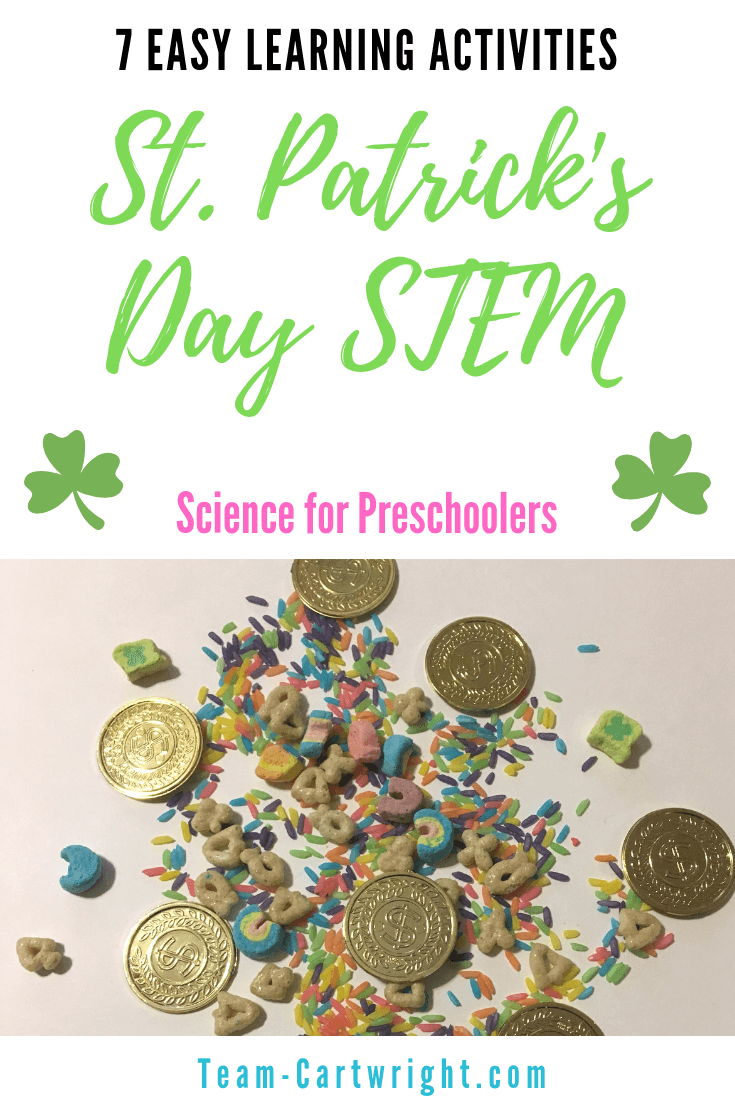 These are fast, easy, and fun learning activities you need very little preparation to do. They can be done quickly, but you can really dive into all of them if your kids are interested.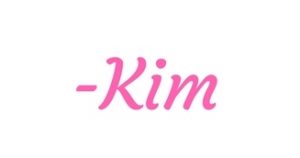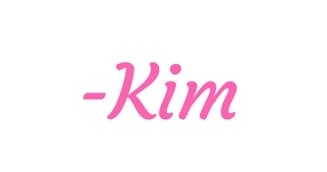 Looking for more learning fun with kids? Here are some great options!
Growing Crystals for Kids: Create Your Own Jewels!
Can You Clean Pennies with Ketchup?
Funicular Trains: Make an Elevator For Your Toys
Make a Real Pumping Heart Model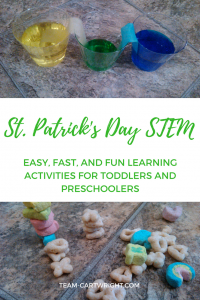 Let us improve this post!
Tell us how we can improve this post?