What to do when your toddler twins fight.
I know twins always have a friend to play with, but every once in a while it feels like my toddler twins fight all the time. And while one year old twins fighting can be amusing, it isn't really behavior I want to encourage.
What do twins have to fight about at that age? Usually toys. But sometimes I'm not even sure. What I do know for sure is that I don't want one twin bullying the other, and I do not want my kids to fight.
Don't get me wrong, it isn't all fights all the time around here. Recently we have had a ton of cuteness in our house. Ali and Sammy are super into giving hugs and kisses. The kisses are those great big wet open mouth ones that young toddlers do, which means they are kind of gross.
But the girls are so happy to be sharing love you can't help but love it yourself. (Then discretely wipe the drool off.) Sammy and Ali will give each other big hugs and kisses too. I love it. But for every precious moment, there can be screams and tears.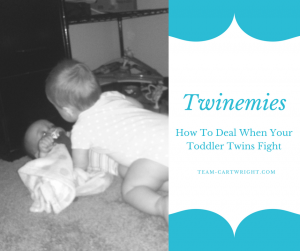 This post contains affiliate links. Please see my disclosure statement for more info.
These girls can be so sweet to each other. They bring each other lovies and pacifiers when they are sad. There are hugs during diaper changes. We often find the two of them sitting in their cribs, facing each other and just babbling away. Then there are other times. The times when, well, they are kind of just jerks to each other. I don't want to say bad things about my babies, and I do feel bad writing that out. That is just the best way to describe how they act towards each other. They rip toys out of each other's hands, yank pacifiers out of their sister's mouth. I've even seen them grab each other's lovie and run away with it. They antagonize each other and often do not think about how their actions impact their sister.
The important thing to keep in mind is that this is totally developmentally normal. Ali and Sammy are just 18 months old. They are in a very 'me' focused time. They see something, they want it, they take it. It is also very normal to react to strong emotions, well, strongly. Yelling and crying out are some of the only ways they have to express the big feelings they have. So while it is annoying to have to deal with this behavior, it is perfectly normal.
Knowing that they are still learning and acting the way they should for their age helps, but it is nice if we can do something more to stave off these sister battles. I know they need to learn to work these things out on their own, but sometimes I just can't take it. I have 3 main ways to deal when my sweet girls become twinemies.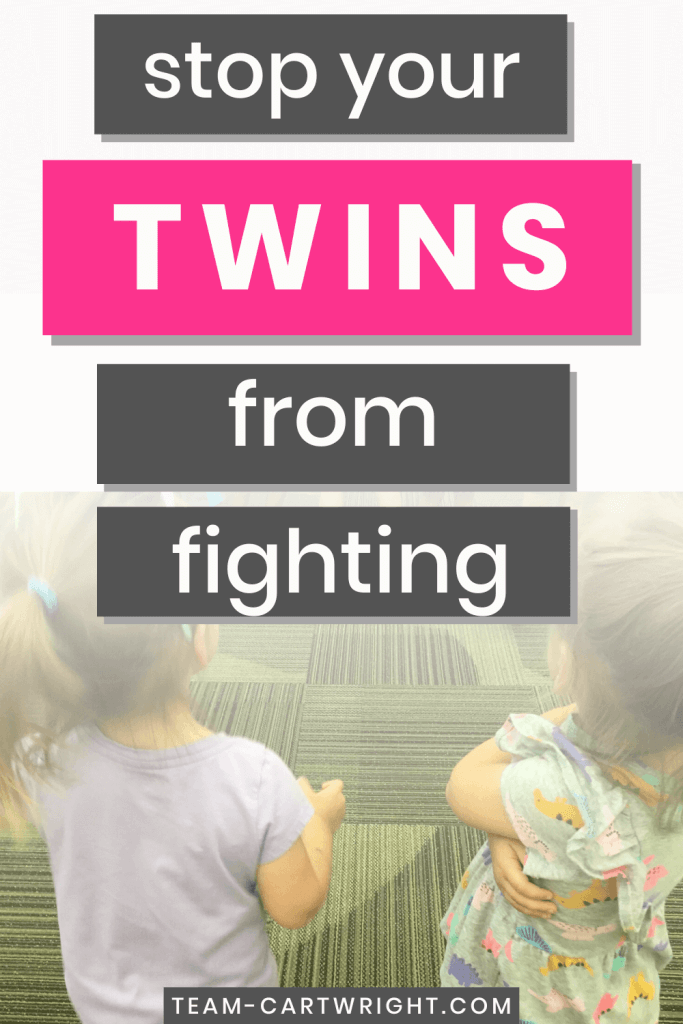 What To Do When Your Toddler Twins Fight
Have Two
Not two babies, you already did that. I mean have two of whatever they are fighting over. You don't need to have two of the exact same thing necessarily. We all know that our kids think whatever their sibling has is better than what they have. Even if it is the same exact thing. But having two of whatever they are fighting over can help. Two toys, two books, two balls. Just two things. Usually, one girl has her heart set on a specific toy and her sister is taking it because, well, because the other girl has it. Providing an alternative can distract the thief and bring some peace to the home. Occasionally we do have two of the exact same thing, but that is only if we were gifted two or if something is a favorite toy for both. (Two Sophie teething toys got us through some tough teething periods.) Generally, the distraction of something new will get the perpetrator to move on.
Rotate
Take turns giving the favorite toy out. Sometimes I think we need a possession arrow (like basketball uses) to know who's turn it is to win. I don't think that will go with our decor though. Instead, I just try to keep an eye on who had which toy last and switch off who gets it. I also try to note if one girl has a favorite. Yes, even at 18 months my girls will take their sister's current favorite just to take it. How do I know? Let's say Ali takes a book from Sammy that Sammy has been reading for days. Sammy is quite upset, so I give it back to her. Ali moves on to something else with a little smile on her face. Yes, she was just provoking her sister. (It goes both ways, neither girl is innocent.) If someone has a clear favorite I will defend their time with that toy. Otherwise, I try to switch things off so each girl gets to play with everything.
Separate
I think all twin parents know it is important to treat our twins as individuals and to give them one on one attention. (Learn how to get that individual time here: How To Encourage Individuality in Toddler Twins) However, when they are babies it can be hard to carve out that time. They keep you so busy and their needs are basically the same- food, sleep, play. At such a young age I think my girls at least don't even realize that they could spend time apart. So it doesn't bother them to be together almost all the time. The fighting reminds me that it is important to focus on just one girl at a time though.
When things are getting rough in the sisterhood, Pat and I each take a girl and focus on just her. I usually take one sister at a time to play in the bedroom, while Pat hangs out with the other sister in the living room. Even just five minutes apart works wonders for these two. They calm down, have some quality bonding, and are so happy to see each other again. (Joyful reunions are the best.)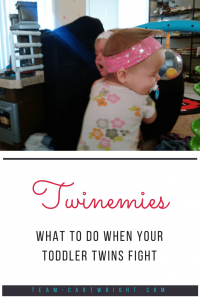 Most of the time the girls are great friends, and it is so special to see them together. When they start picking on each other I give them a chance to work it out on their own. As sisters, they need to learn how to get along. But I don't let things get out of control, and I recognize how young they are. These three moves get us through the fights, and I think they will continue to work for some time.
What is your go to plan for when your twins fight?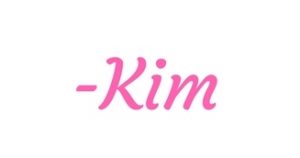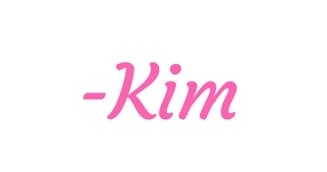 Looking for more twin tips? Check out these options:
2-Year-Old Twin Life Is Crazy: A Schedule to Tame the Chaos
How To Stay Mindful While Getting Twin Attention
How To Get Out Alone With Twins
To Dress Alike Or Not: A Twin Question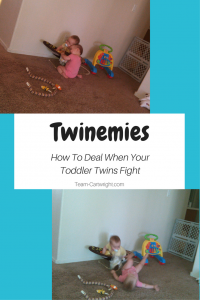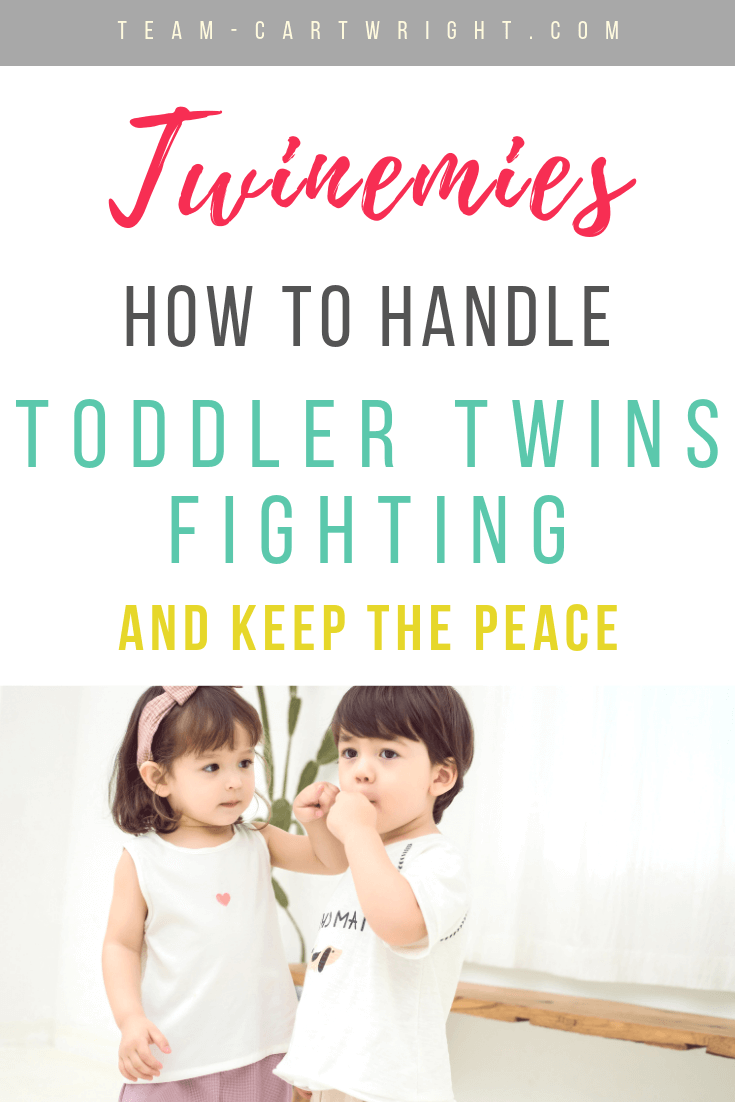 Let us improve this post!
Tell us how we can improve this post?