How to encourage individuality in toddler twins.
Twin parents know we need to treat our twins like individuals, not like a unit.
That's a no-brainer. They are two different people.
So yes, encourage them to have their own interests. Spend time one on one with them. Great, got it.
But what about when your twins are still toddlers? How varied can their interests be?
What if you are the primary caretaker alone with twins (or more) during the day? How do you take your twins out one at a time? It isn't as simple as it sounds.
So just how do you encourage individuality in toddler twins?
It's easy to get into the habit of treating twins as a unit as babies. Newborns mainly have the same needs. You need to feed them, keep them clean, help them sleep, and cuddle them. Those are the biggies.
Both twins need the same thing and it is much easier to do these things for them together. Even as toddlers a lot of the basic needs are the same. A lot of toddlers have very similar interests.
Add to that I am the only adult around my twins most of the time. It's way easier, more practical, and sometimes safer to keep my twins as a unit.
So it is up to me to make sure I am recognizing them as two separate people and reinforce their individuality.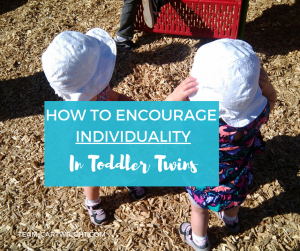 Hit the Eye Contact
This sounds silly. Why wouldn't you look your kids in the eye?
Well, honestly when I am alone with my kids I am usually sweeping the room taking in where all of them are.
Is anyone getting into anything? Am I somehow playing favorites? When I am talking with one twin the other is still on my mind.
So I remind myself to really look at who I am talking to. Even just a few seconds on connection counts.
Doing this throughout the day adds up and let yourself really see your children.
Use Their Names
Yes, this should be a given. Use your twins' names.
We are good, we never refer to our daughters as 'the twins.' Nope, we call them 'the ladies.' I know, no real difference.
There are times when this is just more effective. If we are in the car or if I am calling out from a different room for example. If I don't know who exactly is making the fuss, a general term works. (And when my son is around it just becomes 'kids,' so I don't feel bad about using it at times.)
It is really easy to fall into using a duo name for your duo though. So I make an effort to say my girls' names as much as possible.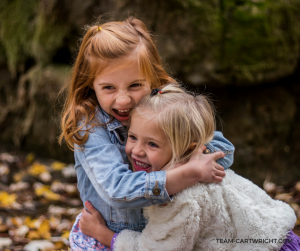 Switch Up the Name Order
This might be just me, but I think others do the same thing. While I do my best to refer to my twins by their names, I found myself almost always saying 'Ali and Sammy.' Never the other way around.
In fact, it felt funny to say 'Sammy and Ali.' If you don't know what I mean try saying 'odds and ends.' Now say 'ends and odds.' It means the same thing, but it sounds so wrong!
To me, this meant that while I was using names, I was kind of just substituting their names for 'the ladies.' I didn't want to do that. I also didn't want to get into the habit of always making Ali first.
Both girls are equal, so I try to switch up how I use their names. Change the order, use nicknames and full names. Whatever it takes to not hear a unit being announced and instead hear two different people.
---
More Helpful Posts For You
---
Drop Some Assigned Identifying Habits
When my girls were born I was terrified of mixing them up. In order to prevent that I assigned certain colors to each, I tended to put them in the same order all the time, and I kind of assigned toys to them.
This was super helpful and we didn't mix them up. Now that they are toddlers and we know who is who it is time to drop some of these habits.
As a baby, Ali didn't care that she got yellow and Sammy got pink. Now they have opinions, so I let them choose and don't rely just on what we have always done. Time to let them show their individuality.
Offer Up Different Activities
As I said, most toddlers have similar interests. And I do not like having to set up multiple activities at the same time. Come on, that is just more work and not practical.
But you can find ways to encourage individual interests without much extra work. One way we do it is to do craft time together, but let each girl choose what she wants to do.
Ali loves to play with play-doh while Sammy loves to color. Both are done with them in their high chairs so I can easily accommodate and interact with both girls.
Outside time is another great way to do this. Sammy likes to play with chalk while Ali likes to chase bubbles. We are all doing the same general activity, but each twin can choose the specific thing she likes. It's easier than you think to find ways to make this work
.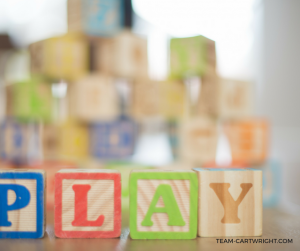 Squeeze In One on One Time
Even with one adult and two toddlers you can find time to fit in one on one time.
Independent playtime is the perfect time to grab some. Both girls are used to playing on their own during this time. So I take the chance to get some mommy and me time with one girl at a time.
I alternate days and it is only for about 15 minutes at a time. But it gives me the chance to really focus in on one twin at a time without worrying that the other is unhappy or unsafe. My girls love it and I love really getting to know them on their own.
Embrace the Sneaky Snuggles
This was one of my favorite things when the girls were babies. It is hard to get good cuddle time when you have twins. Both need your loving!
So when one of my daughters would have a hard time napping, either she couldn't fall asleep or woke up early, I would sometimes take that girl out of nap time and we would just snuggle.
Yes, sleep is important and I want to be sure to encourage good sleep habits. But sometimes you need that cuddle session.
It doesn't happen as often anymore. The girls are on a solid sleep schedule. Yet every once in a while one daughter will be awake and the other won't. So I get her and we have some sneaky snuggle time.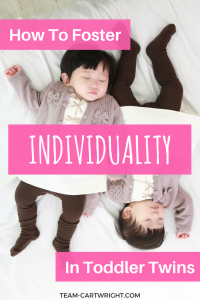 Twin parents know they have two children and need to treat them as such. But it is easy to fall into habits of treating them as a unit, especially when they are still so young.
So it is up to us to train ourselves not to fall into bad habits and start good ones while our twins don't really know the difference. These little tricks are helping me feel so much closer to each of my girls as individuals.
It is helping me learn their unique traits and interests and I hope letting them feel really seen.
This is what I want for my twins, to be seen as the wonderful individuals they are and feel loved for being just them.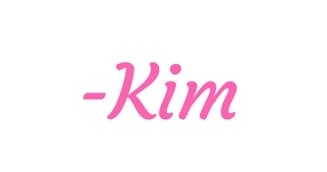 Let us improve this post!
Tell us how we can improve this post?