The hardest part of having newborn twins.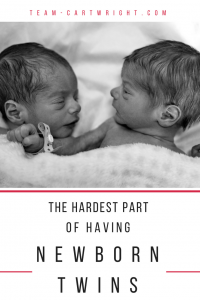 One comment I hear a lot that I didn't mention in my previous question post is I always wanted twins! I usually just smile and nod at this. I don't want to open up a whole can of worms on someone that it isn't always that great. I don't want to scare people off if they are expecting twins.
And overall I don't like to focus on the hard parts of life. I want to be positive. I mean, what is the point of focusing on the tough stuff? I love having my girls. It is a wonderful experience to be right here in the front row to watch two tiny babies who look so alike grow into their own distinct people.
But there are parts that are hard. Sometimes when I hear I always wanted twins, I really want to tell them No, you don't.
There are a lot of hard parts to just physically having twins. Higher pregnancy complications and risks. Increased chance of preterm birth. Increased chance of NICU time. Increased costs (two for the price of one is a big ole lie) of more children than you planned for.
There are increased worries when you have twins. Am I treating them as too much of a unit instead of individuals? What if I can't tell them apart? Is my singleton going to get jealous because he isn't a twin?
There is the increase in just actual care you have to do with two babies. Changing two diapers, nursing two babies, helping two babies learn to sleep through the night, getting out of the house with two little ones.
---
More Posts Just For Twin Mamas
---
These things are all hard, but you get used to it. You get past the pregnancy and birth. You plan and budget for two of everything. You find people with whom to talk about your worries. You learn the personalities of your little ones and grow more confident you can tell them apart.
You realize your kids, singleton and twins, will never know life as being different and they will be fine.
The hardest thing is that I can't hold both my babies at the same time.
Oh, you can physically hold them at the same time. When they are little you can scoop them both up to move them around. Now that they are bigger they can crawl into my lap together. When I nurse them they are both on the pillow with me.
But you can't hold them the way babies need to be held at the same time.
When you have one baby, you can hold that baby in your arms and focus your entire self on that little creature. You can feel their heartbeat against yours and know that even if they are crying, you are doing just the right thing for them. You are holding them and giving them your all.
When you have two babies your attention is always split. When I am holding both of them I am constantly making sure they are physically supported enough. I am thinking through what to do if one of them suddenly wiggles or flings herself. When they were newborns I was making sure I could put them down safely.
Now that they are bigger I am making sure they aren't trying to grab each other's faces or stealing each other's toy. I'm rarely just in the moment enjoying being together, there are too many other factors to be thinking about.
One of the biggest things babies need in the early months and through the first year of life is to be held. Studies have shown that babies thrive with hugs. They are calmed by being held by their mothers. When they are teething, or tired, or just overwhelmed by all the new around them, their mother's arms keep them feeling safe, reassured, and happy. I try to give each girl that much needed time.
But when I hold one baby I am still thinking about her sister. I feel torn, holding and loving one girl but at the same time trying to look at and smile at her sister so she knows I see her too. When I am trying to soothe one girl through teething pains, there is another who needs her mother too. When one girl is giggly and wants her mother to love on her and look at her, her sister is there wanting the same thing.
Your attention is constantly divided. Yes, their father is around to take care of them. Sometimes we have people staying with us who can help hold one of the girls. It isn't the same as a mother holding her baby.
I know as the girls get bigger this will get easier. Babies grow into toddlers who just want to run and play.
Then they grow into preschoolers who are working to gain independence. They still need their mother's hugs, but not as frequently and not as often at the same moment. As they get older it will be more like every other family with three kids.
But when they are little babies they need your physical body. There is a magical moment when you pick up your baby and they sigh and just relax into you. All is right with the world, they are with Mommy. With twins, that moment is shadowed by the reminder that there is another little girl who needs you just as much, and she has to wait.
At an age when it should be all about them, when their needs should come first, twins have to learn to wait for their mother's arms.
I wouldn't change having my girls for anything. Any twin mom can tell you it is the double blessing most people think it is. But it isn't easy, and it isn't something I would tell people they should totally try to do.
I may have twice the cuteness, twice the belly laughs, and twice the smiles. But my girls only have half the full-on undivided attention, half the special one on one time getting loved on by mommy.
They won't ever know the difference. It's just their life.
But I know the difference. That is the hardest part of having twins.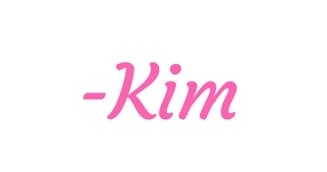 Here are some more twin posts you might enjoy!
How to breastfeed twins: The logistics of double nursing
Twinemies: How to deal when your toddler twins fight
Must Have Supplies for Breastfeeding Twins
Everything You Need to Know about Breastfeeding Twins
Are you having a hard time keeping track of who ate when or how naps are going? I put together some Twin Tracking Worksheets to help me out, and I'd love to share them! By joining my mailing list you get access to my library of free printables, which includes my twin worksheets and all my science projects. Just check your email for the password. Joining also means you will be a part of my mailing list to get all the latest from Team Cartwright (which of course you can unsubscribe from at any time.) I'd love to hear from you!

Let us improve this post!
Tell us how we can improve this post?