Chickpea Foam Sensory Activity
Looking for a unique and shockingly easy taste safe sensory play recipe?
Oh yes, it can be so easy and cheap to create a sensory bin that will wow your kids, encourage learning, and just keep them busy so you can chill out for a bit.
This activity is so versatile, easy, cheap to make, and most importantly, full of fun play ideas. You'll also learn the science of how this foam works, making it even more interesting for kids. Plus there are free printable directions.
Grab some canned chickpeas, we're making sensory foam.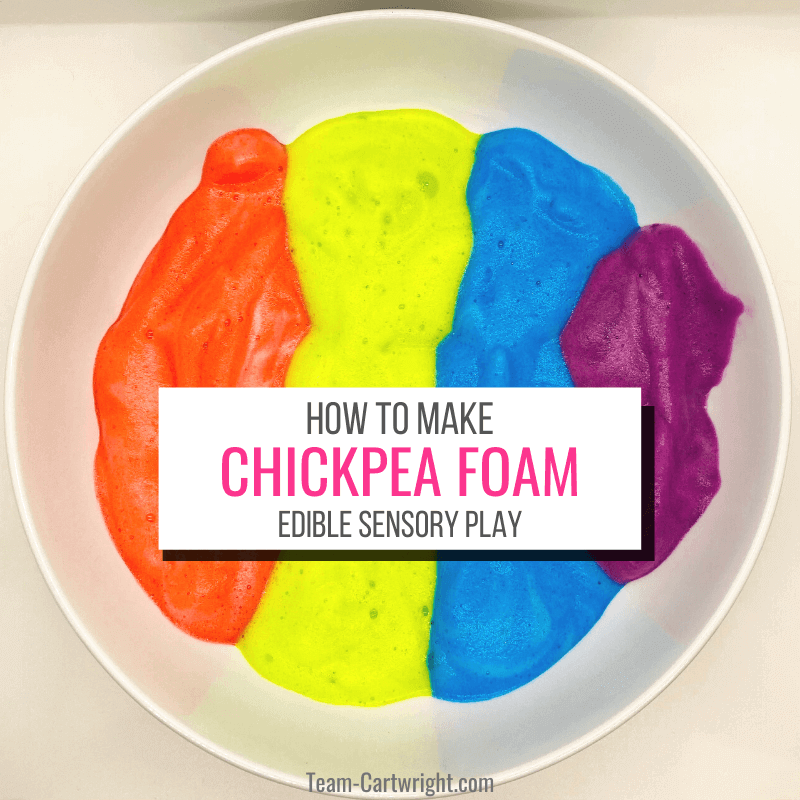 Chickpea Foam Sensory Activity
This sensory tray can be set up in about 10 minutes, fun colors and all. I love that. It is one of the fastest sensory bins I have made that can still have colors like this. And it is completely safe to taste, making it perfect for littles.
(If you are looking for more taste-safe options you have got to read this–> Taste-Safe Sensory Play Ideas.)
Supplies for Aquafaba Sensory Foam
This foam is super easy, you only need two things. (Or 3, if you are using food coloring.)
2 Cans of Chickpeas
Cream of Tartar
Food Coloring (Optional)
That's it!
How To Make Chickpea Sensory Foam
This sensory bin comes together pretty quickly. Here's how to make it.
Step 1: Strain the liquid from two cans of chickpeas into a large bowl. You only need this liquid. (You can use your chickpeas any way you like.)
Step 2: Add 1/4 teaspoon of cream of tartar to the bowl.
Step 3: Use a hand mixer or stand mixer to whip the liquid into foam. It took about 5 minutes to get a nice foam going. Once the peaks form, you can add that directly to your sensory bin or you can move on to the next steps.
Step 4: Split your foam into separate bowls, as many bowls as colors you plan to make. Add a few drops of food coloring to each bowl and gently stir.
Step 5: Add your colorful foam to your sensory bin and let your child play!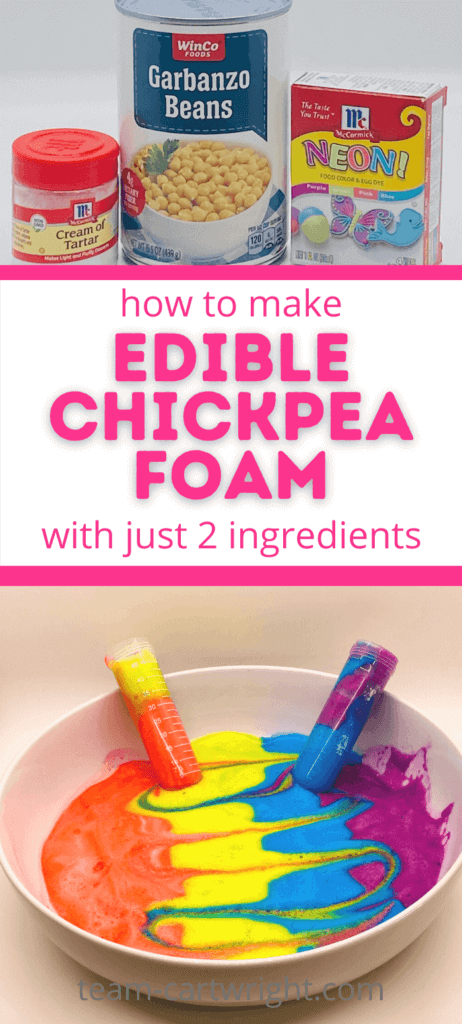 Tips
A few tips for this activity.
Make sure you do this activity in an area that is easy to clean and use toys that are easy to clean. Sometimes the food coloring can be strong, and I prefer to be safe than sorry I have stained items.
If you want to make the bubbles last longer, you can try adding a little bit of sugar to the mix. This is what we do to make our unpoppable magic bubbles. It adds a bit more stability to the bubbles which helps them last longer.
So far we haven't done this, as I didn't want to make the foam too tasty. But we will and I'll report back.
Safety and Clean Up
This is a pretty safe activity. Of course don't do it if your child has any sort of chickpea allergy.
This foam is safe to taste, as it is made from all food products. The general sensory bin safety procedures should be followed. Don't use any toys that can be swallowed, watch your child while they play, etc.
Clean up is very easy for this too. This foam can be rinsed down the drain and washed with soap and water.
(For tips on how to keep sensory play from getting too messy go here: Mess-Free Sensory Play.)
---
Here are more must try activities your kids will love!
---
What Learning is Going On?
This is a really cute and fun activity, but what makes it educational? Believe it or not, sensory play is full of learning for kids.
Benefits of Sensory Play
The act of digging their hands into something and fully experiencing it is a huge educational opportunity for kids! Remember, play is the job of children, and they are working hard here.
You can get all the details on how sensory play helps kids learn here: The Big Benefits of Sensory Play. I love knowing how activities benefit my kids, so if you are like me you will like that post.
Here is a short version of what kids learn from sensory play:
Language Development
Vocabulary
Fine Motor Skills
Observation Skills
Memory Enhancement
Calming Skills
The Science of The Foam
So how does this foam work? It's not like you can take any liquid from a can and make it. What makes the chickpea liquid work?
Aquafaba Foam
This chickpea liquid is often referred to as aquafaba. It contains both proteins and starches. When you use the hand mixer to whip this liquid up you add air to the mixture you separate the clumps of proteins, which is called denaturing.
Denaturing the proteins exposes amino acids that are hydrophobic. Hydrophobic literally means fear of water. These amino acids do not want to be in contact with the water that is a part of the chickpea liquid, so they move to the air bubbles.
Proteins coat the air bubbles, and they start to form a collection that prevents the bubbles from popping. Chickpea liquid also contains saponins, which are thought to help with the foaming as well. (Saponins are surfactants found in some plants.)
Why Add Cream of Tartar?
So whipping chickpea liquid denatures the proteins to release hydrophobic amino acids that help trap air bubbles. Cool. Why do we add cream of tartar?
Cream of tartar is an acid. It's actually known as potassium bitartrate and is a byproduct of making wine. Acids like this also denature proteins.
We add cream of tartar when whipping egg whites to help stabilize the mixture. It helps hold in the air bubbles and water to maximize volume.
In other words, the cream of tartar helps you get the best bubbles and helps the foam last longer. (It also helps make the foam whiter.)
This is why it is added to baked goods and whipped cream. It helps create stiff peaks in the whipped cream and fluffy desserts.
---
Try these fun learning activities for kids!
---
Do Other Bean Liquids Make Aquafaba?
From what I can research, this foam can be made from other white beans. However, chick peas have been found to be the best for it.
I am curious to try black beans and see if that works as well. I'll report back when I give it a go. (Think of the amazing Halloween activities if it does work!)
Why Is This Called Aquafaba?
This liquid from the chickpeas is also called aquafaba. This translates from aqua (water) and faba (bean) in Latin. So yeah, it literally means bean water.
While that sounds kind of funny, this bean water has some real benefits. As it whips up like egg whites it can be a great egg substitute to be used in vegan recipes.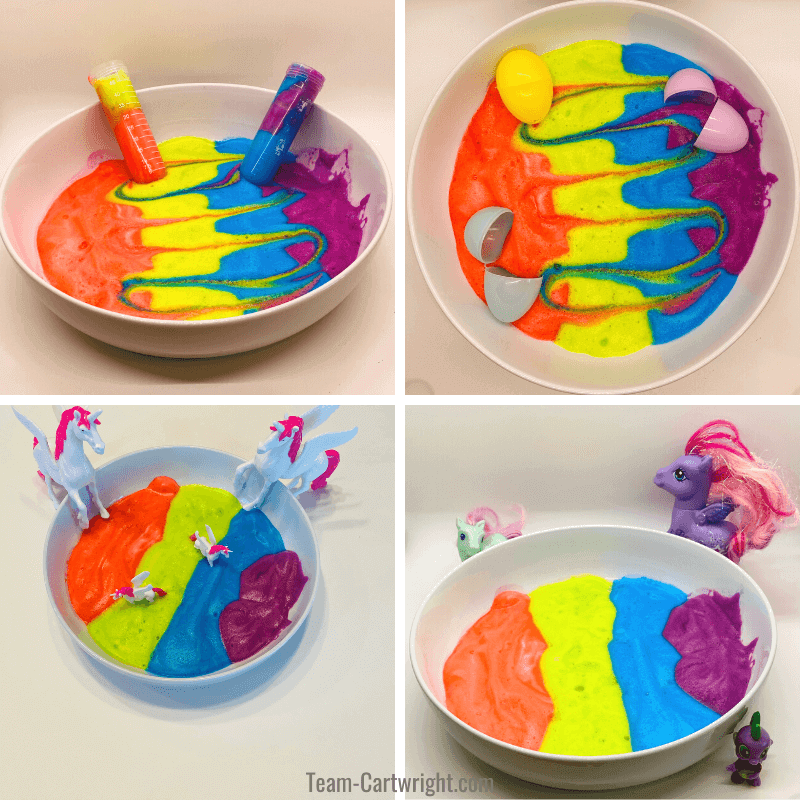 Fun Foam Sensory Bin Theme Ideas
Your kids are going to ask to play with this foam over and over. And honestly? Once I find an easy activity I am all for that.
It is fun to change things up sometimes though, and that is easy to do. A few little switches or upgrades and suddenly an old classic is brand new. Here are some ideas to get you started.
Rainbow Sensory Foam
Take your foam and split it into 4-6 bowls. Add different colors to each bowl so you have red, orange, yellow, green, blue, and purple foams. (Or as many colors as you have, there is no wrong way to do this.)
I like to add my foam in the ROY G. BIV order, but that is optional. I do recommend placing the colors into separate sections so your child can enjoy mixing them.
Grab any fun rainbow toys you have that can handle being submerged in water. We're talking about your hard plastics that don't have any holes in them. (If water gets into toys it can turn to mold, especially a food-based liquid like this.) Washable cloth toys can be a fun addition too.
You can encourage your child to name the colors and talk about other toys or items they can see that are the same color.
Talk about color mixing. How do you make green? Or purple?
Colors can be a great way to talk about feelings too. What color do you think of when you are mad? Happy? Sad? This sort of conversation is great for building vocabulary around emotions, making communication easier.
Unicorn Sensory Foam
My girls are big unicorn fans, and bright colors and unicorns just seem to go together. Rainbow foam works for this imaginary play, or you can focus more on your pinks, purples, and teals.
Grab your unicorn toys and let your child play in a colorful world made just for their unicorns. If you feel like living dangerously you can sprinkle a little glitter on your foam too. Of course, this makes it no longer taste safe, but it can be pretty.
Imaginary play is so important for your child. So let them set the pace and explore.
My Little Pony Sensory Foam
My girls have recently gotten into My Little Pony. And yes, my inner child is thrilled. Same as with the unicorns, this fun foam is a great world for ponies to run and play.
Imaginary play is a great way for kids to work out feelings, practice taking another's perspective, build their own rules, explore cause and effect, and more.
(This would also be good for Rainbow Brite playtime, but I might be dating myself too much with that one.)
Colorful Chemistry Foam
This one is obviously a favorite of mine.
Make as many colors as you can with your foam. Then give your child plenty of spoons, scoops, funnels, and small containers as possible. If you have see-through cups or bowls to use go for that.
Have your child create various 'potions' with the different colors! This combines scientific exploration with imaginary play.
While no, these potions might not actually do anything but look cool, you can for sure practice the scientific method. What does your child observe? What do they think will happen when they mix different colors? Let them experiment and report back on their findings!
Use some safety glasses, droppers, and a magnifying glass if you can to get the feel of a lab.
DIY Edible Chickpea Foam
We had so much fun with this sensory bin. Kids love the bubbles in the foam, and this project lends itself to so many fun and creative play ideas. You will love it.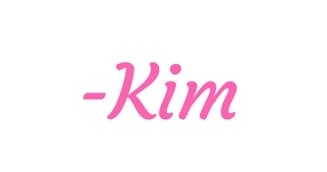 ---
Let's find your next fun activity!
---
Free Printable Chickpea Foam Directions
How To Make Chickpea Foam
Total Time:
1 hour
5 minutes
Learn how to make a super simple sensory foam that is totally edible! This taste-safe sensory bin comes from chickpea water. Your kids will love it!
Materials
2 Cans of Chickpeas
Cream of Tartar
Food Coloring (Optional)
Tools
Hand Mixer or Stand Mixer
Instructions
This activity does work best if an adult makes the foam since you will need a hand mixer or stand mixer. But don't be afraid to let your child watch. The transformation is amazing!
Strain two cans of chickpeas over a bowl so you only have the liquid. (Save the chickpeas for your favorite recipe.)
Add 1/4 tsp cream of tartar.
Using your mixer, whip the liquid for about 5 minutes until it forms a nice foam.
Divide your foam into as many smaller bowls as colors you want to make. Add a few drops of food coloring to each bowl. Fold gently to mix.
Put the colorful edible foam into your sensory bin and let your child play!
Notes
Safety
This is a pretty safe activity, but it is best to have supervision while your child plays. Do not make this foam if your child is allergic to chickpeas.
Clean Up
Chickpea foam (also called aquafaba foam) is easy to clean up. It can be rinsed down the drain once play is complete. Be sure your child washes their hands after.
Let us improve this post!
Tell us how we can improve this post?