Dinosaur Preschool Sensory STEM Activities
What kid doesn't love dinosaur activities? I have yet to meet one.
Learning about dinosaurs is a great way to get preschoolers and toddlers interested in directed learning activities and STEM in general. True, we can't study live dinosaurs. But we can learn about fossils and archaeology while practicing counting, sorting, and fine motor skills. Dinosaur preschool themes also lend themselves quite well to sensory activities.
There is no need to explain much else. Dinosaurs and preschool activities go together perfectly. So here are some super fun dinosaur themed preschool activities for fun learning at home.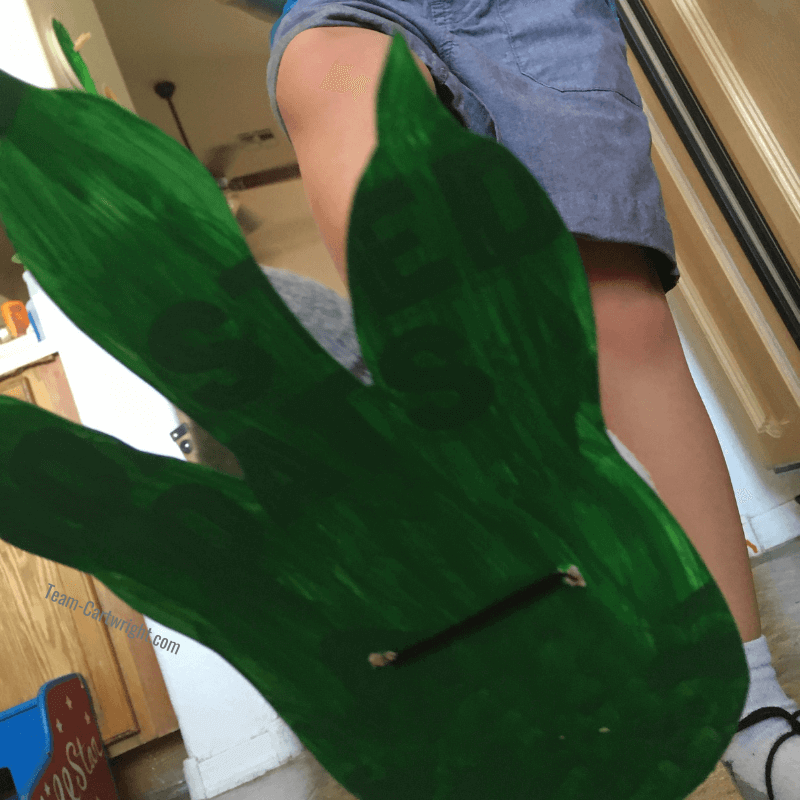 Dinosaur Preschool Activities
Like I said, little kids just love dinos. I know my children dive right in to any time we do a dinosaur activity. And you don't need to go big with it either!
These are some of our favorite ways of adding dinosaurs to our sensory play. There are a couple of bigger dinosaur activities for preschoolers, but most are small ideas that can still have a big impact.
Dinosaur Stomp
Let your child stomp around with homemade dinosaur feet!
This game combines dramatic play with proprioception. (Proprioception is understanding where your body is in space. It involves balance and spatial awareness.)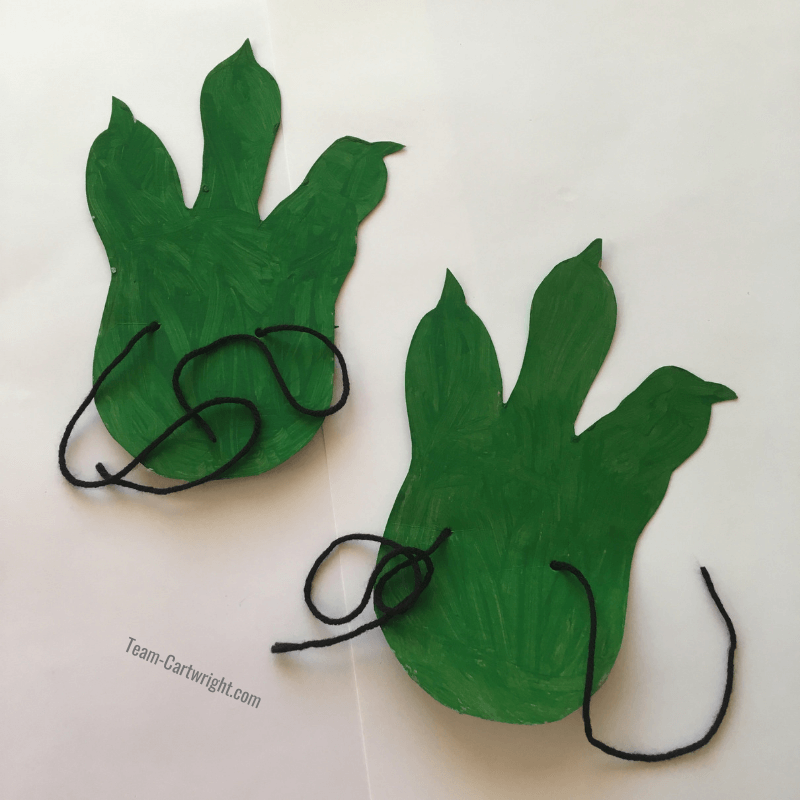 Supplies for Your Dino Stomp
Cardboard (big enough for your children to walk on)
Green Paint
Yarn
Scissors
How To Make Your Dinosuar Stomp
Take a piece of cardboard and draw a dinosaur footprint on it. I used a cereal box. Diaper boxes, Amazon delivery boxes, etc. Ant of it will work.
Make sure your dinosaur footprint is way bigger than your child's foot. (The cereal box was a good size for my 5 and 3 year olds.) Cut it out 2 footprints and paint them green.
Poke holes a couple of inches in from the edge of the dino footprint. Take two pieces of yarn and tie one through each hole.
Have your child stand on the dino footprint and tie it on.
Now let your child stomp around the house!
A few hints. The cereal box prints are not super sturdy, so those are best for use in the house. If you want to stomp around your yard use thicker cardboard.
You can also use super glue to glue a flip flop to the print for your child to wear. (Dollar stores often have cheap pairs.)
What They Are Learning
These dinosaur feet are great for dramatic play. You can set up a block city and destroy it. (Although that is more Godzilla than dinosaur…)
Stomping around like this encourages kids to be aware of their feet and how they are walking. It uses different muscles and works on proprioception. Playing the part of the dinosaur encourages creative thinking and problem-solving.
Dinosaur Ice Escape
Help uncover dinosaurs from a glacier! Your kids can save their toy dinosaurs from an ice age with this fun sensory activity.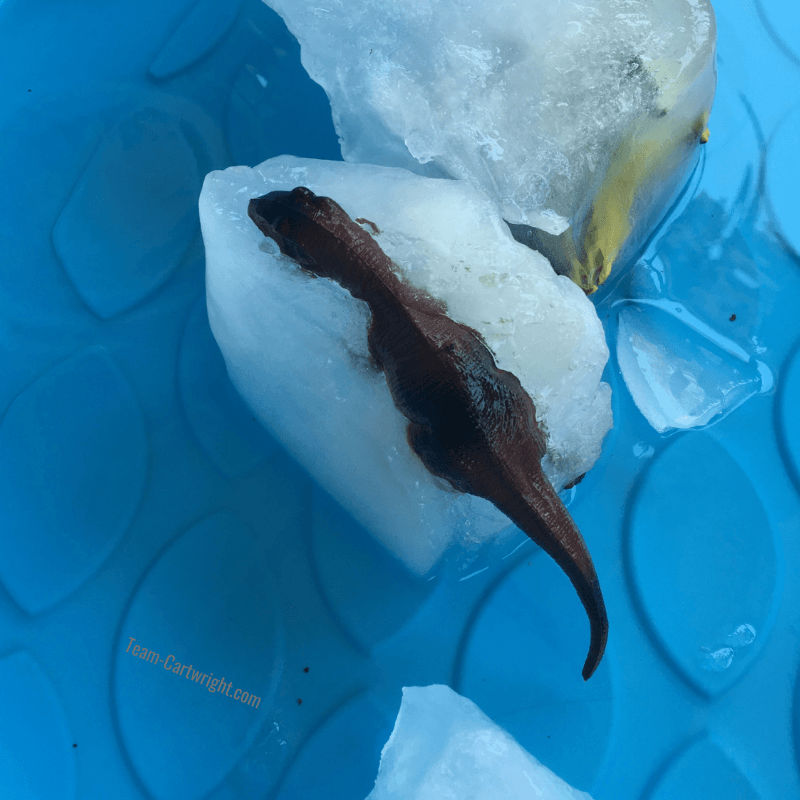 Supplies for Dinosaur Ice Escape
Plastic Toy Dinosaurs
Water
Tupperware
Hammers
How To Play Dinosaur Ice Escape
The set up for this is best done the day before you want to do this activity. Fill a tupperware container about halfway with water. Deeper ones work better for this activity.
Place your toy dinosaurs into the container and pop it in the freezer for an hour or two. Once that first layer has set, add more water to cover the dinosaurs and let the whole thing freeze overnight.
(Our dinosaurs float in water, which is why I had to do it in two layers. If your dinos sink you can just do one layer.)
Get the containers of ice out about 20 minutes before you want to do this activity with your kids. Pop the ice blocks out and put them in a secondary container. (We used the kids' little pool to do this activity outside. But any larger bin will do. If you don't have one you can use the sink or the bathtub.)
Let your kids free the dinosaurs! We used hammers to break up the ice. (Safety here! This needs to be heavily supervised.) I also had the kids use droppers to add water to help the ice melt!
Bonus: Have your children compare regular water at different temperatures and salt water to see what melts the ice best!
What They Are Learning
This is a great sensory activity, which in itself is a learning activity. Your children can compare and contrast water as a liquid and as a solid. Talk about temperature and how ice melts.
Smashing the ice demonstrates what happens when force is applied to an object. (Yay physics!) And of course you can talk about ice ages, climate change, and how dinosaurs went extinct.
This is a perfect summer activity your kids will ask to do over and over.
Dinosaur Play Dough Fossils
Grab some play dough and get ready to make fossils at home!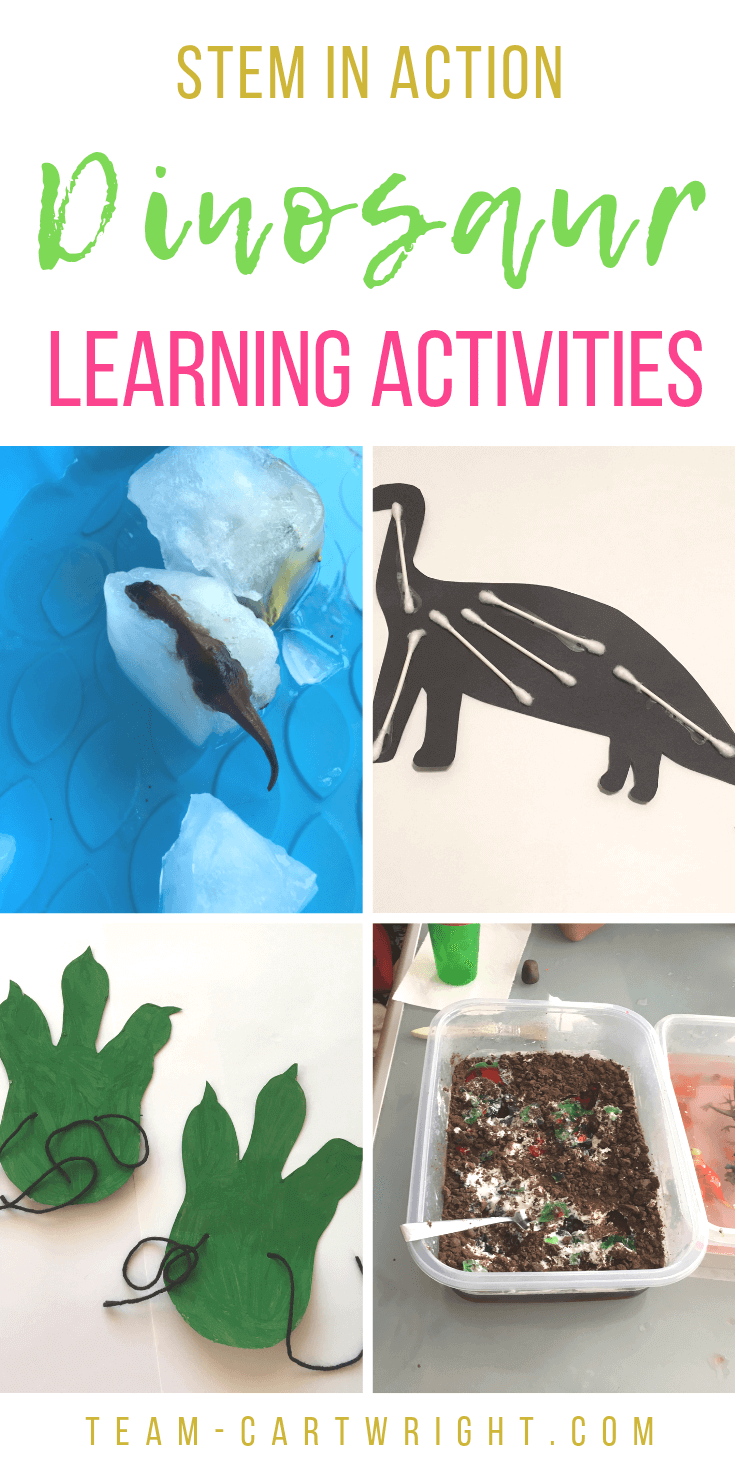 Supplies To Make Dinosaur Fossils
Toy Dinosaurs
Play Dough
How To Make Play Dough Dinosaur Fossils
Have your child soften some play dough and roll it out flat. Use toy dinosaurs to make footprints in the play dough! (Yes, it really is that easy.)
You can compare footprints. Try making patterns for your child to replicate and predict. And see what sort of textures you can make in the play dough from the dinosaurs.
What They Are Learning
This sort of sensory activity is perfect for gross motor skills and fine motor skills. All that manipulating of the play dough builds hand muscles too. (You can learn more about why play dough play is so important here.)
Comparing and contrasting the prints from different dinosaurs works observation and communication skills. This activity also boosts creativity. You can work math skills by counting and start the foundation for future coding skills with pattern practice.
Dinosaur Q-Tip Fossil Art
Process art activities help preschoolers learn while they create. The act of doing the project is more important than the result, but it is still a lot of fun.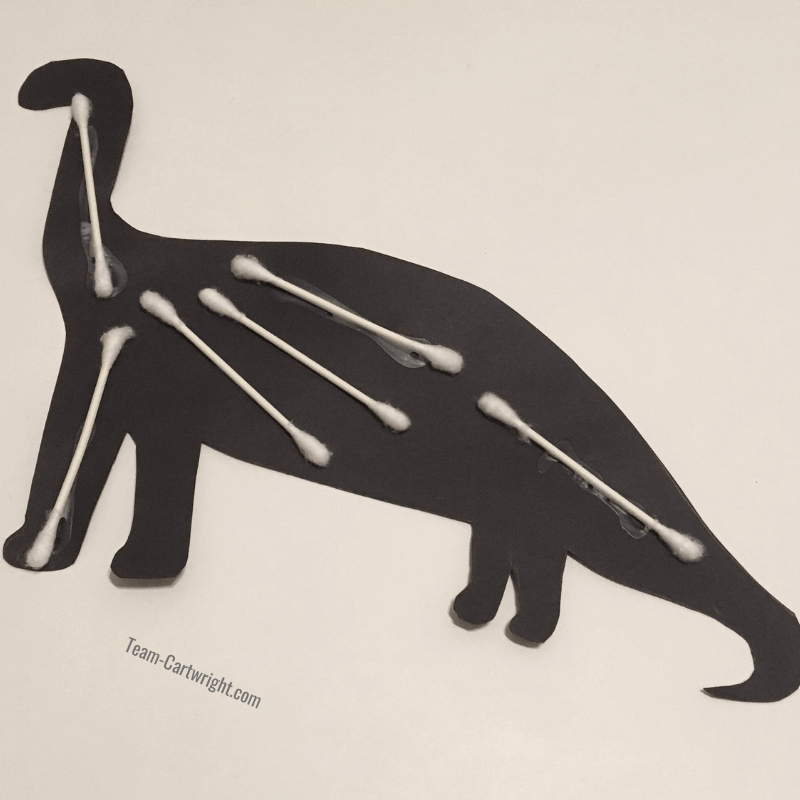 Dino Fossil Art Supplies
Construction Paper
Q-Tips
Glue
Scissors
How To Make Dinosaur Fossil Process Art
Draw the outline of a dinosaur on a piece of construction paper. I tried to do a tyrannosaurus rex, but honestly a brontosaurus is easier to draw.
If you are open to it, let your preschooler cut out the dinosaur. If you aren't ready for that, cut it out yourself.
Have your child glue the Q-tips onto the dinosaur outline where they think the bones are. They are making their own fossil!
---
Have even more dinosaur fun with this mini coloring and activity book full of fun facts all about dinosaurs you can print out today!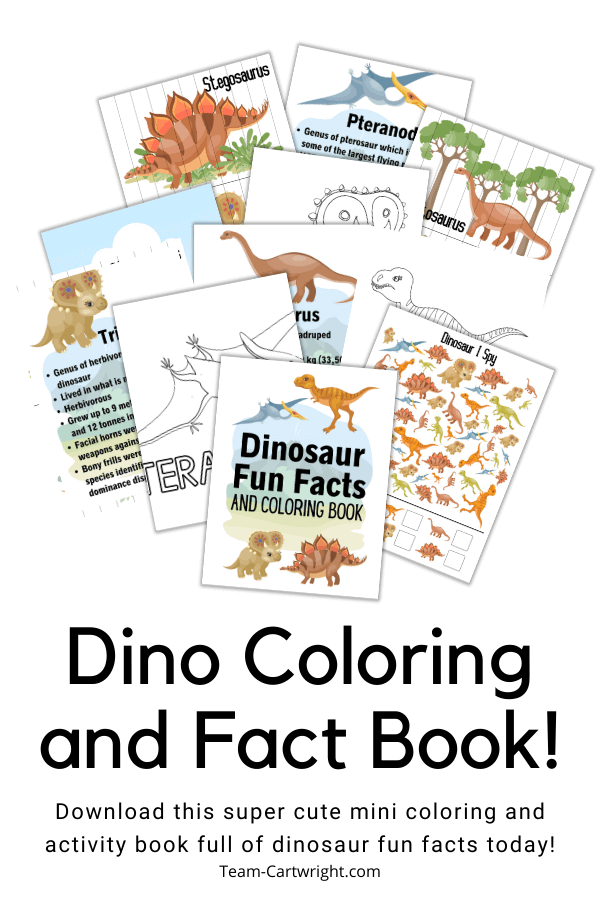 ---
What They Are Learning
The first step works scissor skills. Cutting help with fine motor skills and more. This will help you learn more about preschool cutting skills.
Gluing works fine motor skills as well. It takes control and concentration to squeeze out the glue in the right amounts.
This activity also encourages logical thinking. Where would the bones go? How do they fit into the body? Creative thinking is a skill that grows with use.
This is also a sensory activity. Q-tips have soft ends and smooth middles. Encourage your child to explore the art materials and talk about what they are feeling.
This activity is takes a bit more prep, but it is worth it for the fun and learning to be had. My kids absolutely adored this activity and have been asking to do it again ever since. It would also be the perfect activity for a dinosaur themed birthday party.
You can get all the details on how to put this activity together here: How To Make a Tasty Dinosaur Dig.
The main idea is to suspend dinosaurs in Jell-O. You layer cookies and pudding on top to represent dirt and invite your child to dig out the dinosaurs.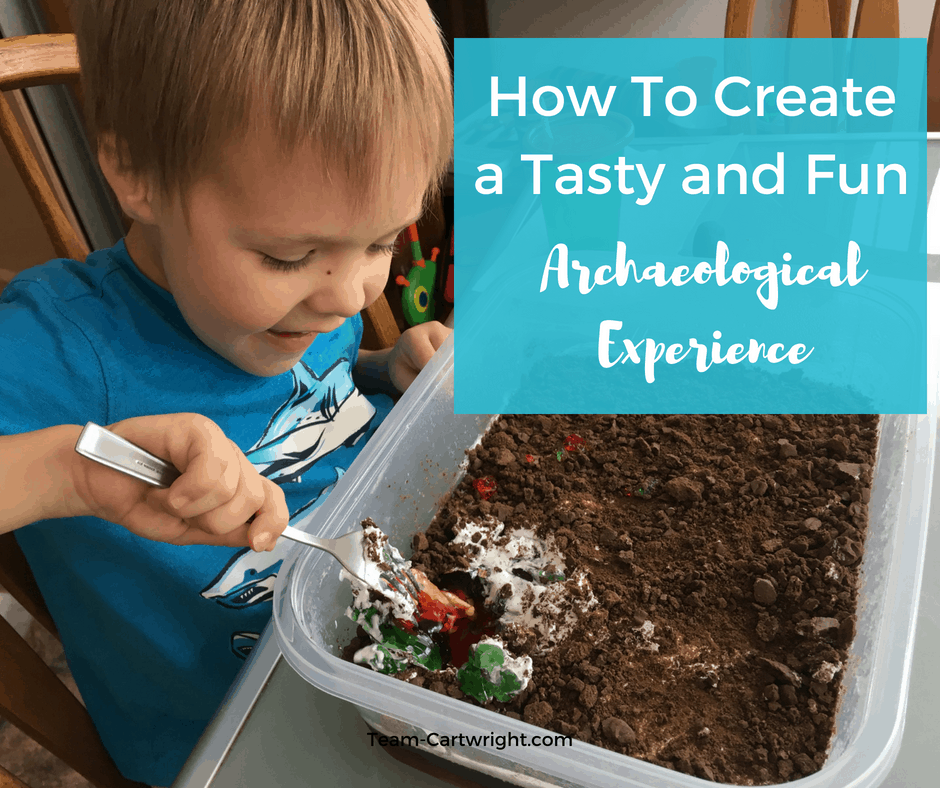 What They Are Learning
This is an awesome sensory activity. Jell-O is a very unique and jiggly substance that encourages descriptive vocabulary.
Your preschoolers can also learn how to systematically take on a challenge. What is the best way to get to the dinosaurs? Can you get them out without destroying the site? How do archaeologists do their job?
Preschool Dinosaur Activities
Utilizing your preschooler's interests are the best way to get them into learning and STEM! These simple activities are perfect for just that. So dive in there and have some dino-sized fun!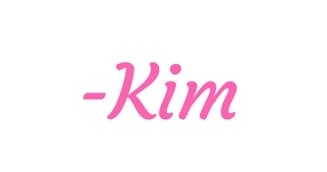 ---
More STEM Activities To Try
---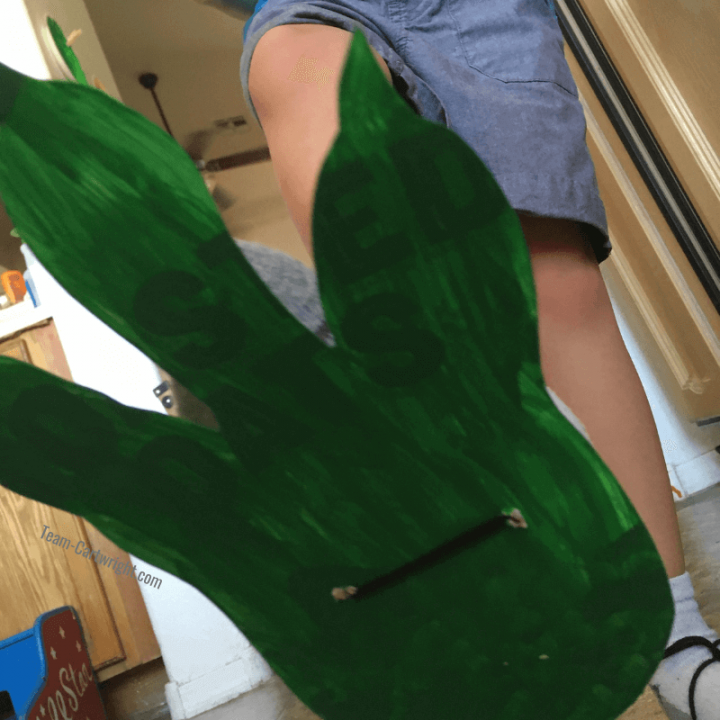 Dinosaur Preschool Activities
Simple and fun dinosaur preschool learning activities! These activities are prefect for the dino lover in your house.
Materials
Dinosaur Stomp
Cardboard
Green Paint
Scissors
Yarn
Dinosaur Ice Escape
Toy Dinosaurs
Tupperware
Water
Hammers
Dinosaur Play Doh Fossils
Dinosaur Q-Tip Fossil Art
Construction Paper
Scissors
Glue
Q-Tips
Instructions
Dinosaur Stomp
Trace a dinosaur print on a piece of cardboard larger than your child's foot.
Cut out the print and paint it green.
Once dry, poke holes halfway down the print, about 1.5 inches from the edge.
Thread the yarn through the holes and use it to tie the dino prints onto your child's feet.
Let your child stomp around!
Dinosaur Ice Escape
Put plastic toy dinosaurs into a Tupperware and fill halfway with water.
Freeze for an hour or so.
Add more water to cover dinosaurs and freeze solid.
Let sit at room temperature for 10 minutes and pop the ice block out of the Tupperware.
Put the ice block into a secondary container and let your child pound out the dinosaurs with hammers and warm water!
Dinosaur Play Doh Fossils
Have your child roll out some play doh.
Use toy dinosaurs to make fossil prints!
Dinosaur Q-Tip Fossil Art
Cut dinosaurs out of construction paper.
Glue Q-Tips on to represent the dinosaur bones.
Dinosaurs for Preschoolers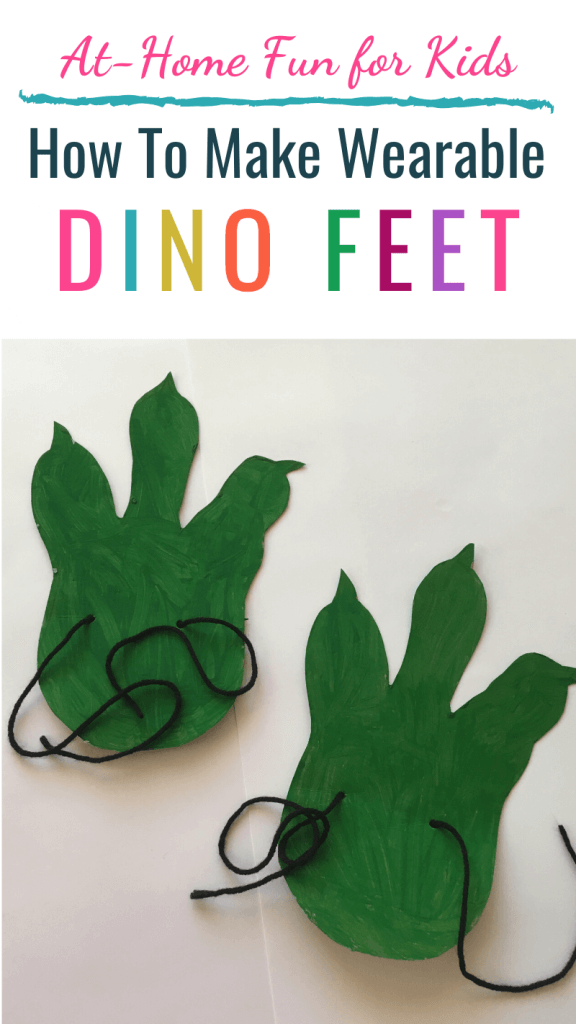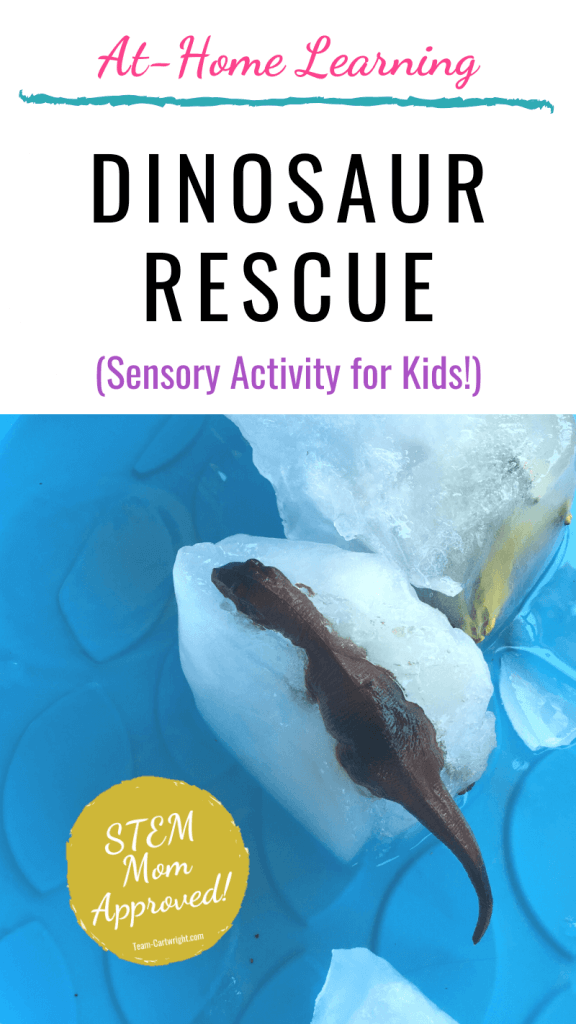 Let us improve this post!
Tell us how we can improve this post?