Toddler Twins: What It's Really Like To Have 2-Year-Old Twins
The only thing scarier than twin newborns? Twin toddlers.
Okay, maybe toddler twins aren't scary. They are actually really cute and fun. But while that first year with multiples was busy, having twins going through the toddler years is even busier.
I know any twin parent can tell you just how amazing it is to watch two little people grow up together. Raising twins is amazing. Here are some truths about raising toddler twins that I have learned as a twin mom this past year.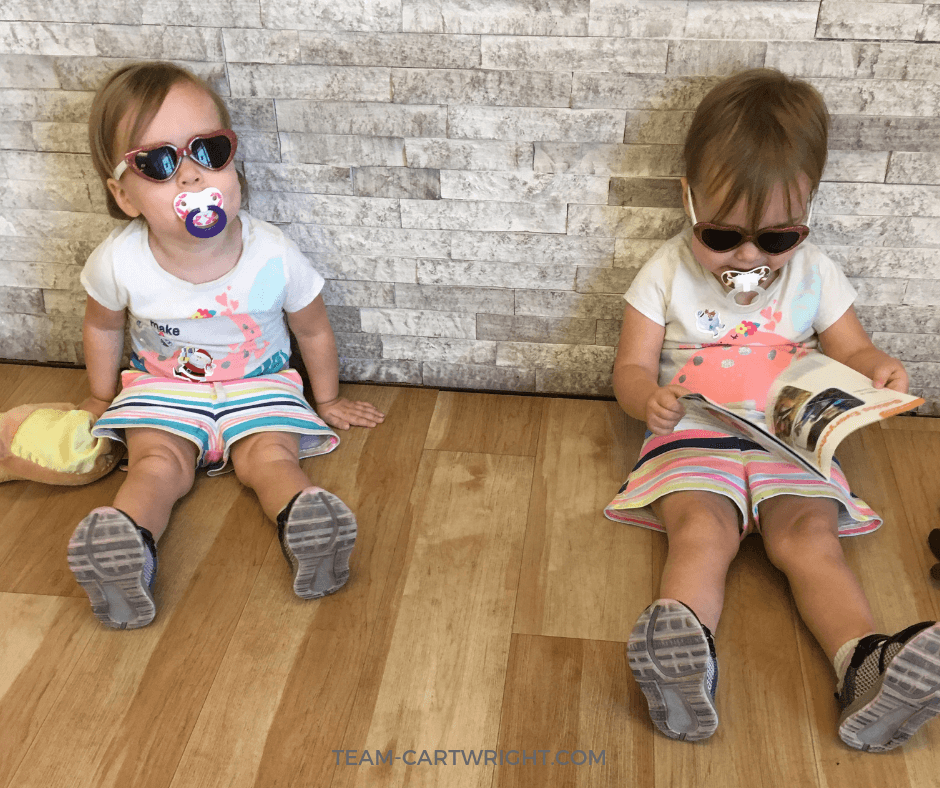 Toddler Twins
I have written about what life with one-year-old twins is like, so this post is focused on the two-year-olds. Yep, twin parents get to stare down the terrible twos times two. Don't worry, it isn't actually that terrible. Sure, there were trying moments. Overall it was pretty wonderful though.
The Volume Is Impressive
One toddler is loud. Heck, kids are loud. Toddler twins? The loudest thing I have ever heard.
Seriously, our house is so loud. It isn't all crying like with babies, so don't worry. In fact, it often isn't crying at all. It is shouts of joy and giant belly laughs. And it is loud.
Don't think because you don't have twin boys you won't have to deal with this. I have yet to meet a set of twins louder than my sweet little ladies.
Fortunately, those loud sounds are often infectious giggles that you can't help but feel joy from.
(Think boys are louder than girls? Guess again—> Boys Are Louder Than Girls and Other Lies)
The Tantrums Can Be Epic
I don't say this to be a downer, so don't freak out. Every toddler is different. My son didn't go through a big tantrum stage. Nope, I got to experience it with my twins.
There are some benefits to twin tantrums. First of all, usually only one twin at a time completely freaks out. It's a lot easier to handle one child at a time when they are having a hard time.
Dealing with twin toddler tantrums has given me some of my best parenting tips to handle these sort of breakdowns. The biggest? There is a lot that can be solved with a hug and kind words. For these little people the reassurance that they are safe and loved is what they need most.
Twins taught me patience and to remind myself that these days won't last forever. This can get you through the biggest tantrums. Because it won't last forever. And with two 2-year-olds you will be laughing again before you know it.
(Learn how to talk through tantrums—> Big Feelings: Handling Toddler Tantrums)
Safety Is Still a Number One Priority
I know, I know. Safety is a priority for any baby. But as children get older you can relax some elements of safety. Your hypervigilance can chill every now and then. You can go out and try new things with your kiddos.
This is not the case with twins. I still have to closely evaluate every outing in terms of safety. Why? The math just doesn't add up. Two busy toddlers and one mommy. Safety just has to come first.
This means that sometimes we don't go somewhere or join in an activity. It's a bummer of course, but if I can't guarantee my children's safety we are out.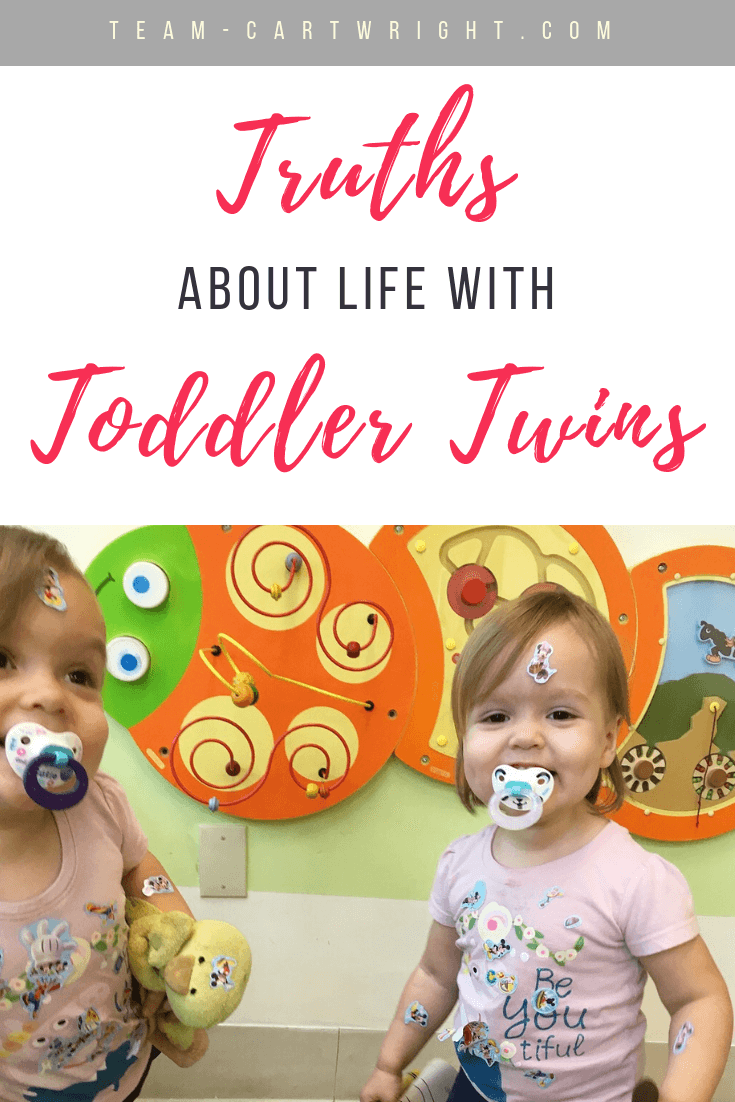 One on One Time Matters!
Yes, all moms of more than one child know that you need to find one on one time with each of them. Twin parents get that drilled into them. But when your twins are babies? Well, that is hard.
Babies have the same needs and you are working so hard to keep them on the same schedule. When can you fit in one on one time? Now that your twins are two years old you can fit it in.
This time doesn't need to be hours long. That was something that stressed me out at first. Five to ten minutes a day is really all you need.
I knew this was important, but when I implemented it I saw a huge change in behavior. My girls might have similar interests and be on the same schedule, but they loved being seen for the individuals they are!
(Learn more about getting one on one time with twins—> Individuality in Toddler Twins)
Twin Sleep
There can be toddler twins sleeping issues. They are still regular toddlers, there are just two of them. I have found that their sleep has improved as they have gotten older.
A solid schedule for sure helps with that. My twins know what is expected of them, so they don't fight sleep too much. (Learn how to get your twins on a schedule—> How To Get Twins on the Same Schedule)
But if your twins share a room, as mine do, be prepared for some good-natured bedtime issues. My girls don't fight sleep exactly, but they do stay up giggling and entertaining each other.
We battle this by keeping an early bedtime. This gives them time to goof around and they still fall asleep on time. But it can be challenging to hold onto my patience during these times.
The flip side of this is that I don't feel bad if they wake up before their daily wake time in the morning. I don't worry that they will be bored or sad. They wake up to their best friend every day. That's pretty nice.
Potty Training
Potty training toddler twins is… Just kidding. We didn't even try yet.
I know sometimes deciding when to potty train is out of your hands. But I think with two little ones going through this transition waiting until they are ready is best. That can vary of course, but my girls were not ready yet.
And I was not ready yet. Potty training is stressful for parents. It's okay to wait until your twins are three.
(Learn why waiting can be good—> The Benefits of Late Potty Training)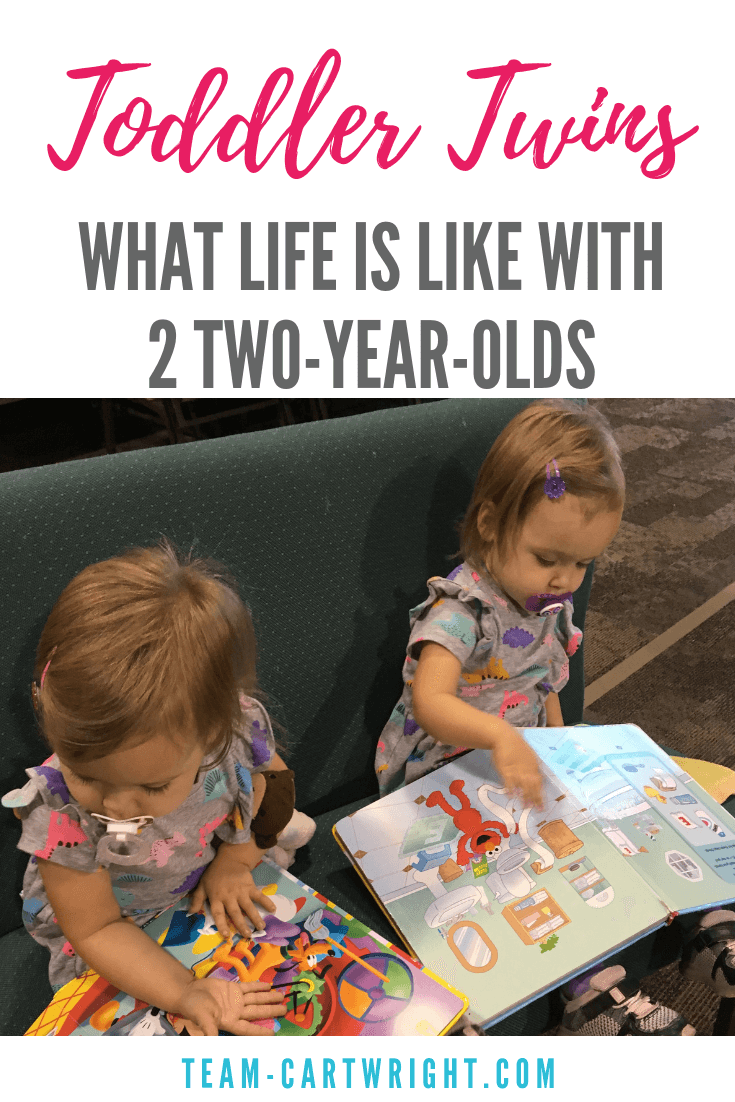 Twin Joy Just Grows and Grows
Sure, sometimes my toddler twins behavior drives me a little crazy. Have you had to deal with twin toddlers fighting? There is no logic whatsoever and it is challenging. (Learn what to do when your twins become twinemies—> Toddler Twin Fights)
But watching twin toddler development is fascinating. These two little people are learning how to interact with the world side by side. They aren't afraid to make mistakes or look silly in front of each other. They are purely themselves, there are just two of them.
More than anything, the joy of having twin babies just grows as they turn into twin toddlers. One toddler can be full of silliness and pure happy energy. Two of them? It is more than doubled.
I have never laughed so hard or loved so fiercely as I have this past year with twin two-year-olds. I can't wait to see what having two 3-year-olds is like. (Wait, 2 threenagers? Maybe I can 😉 )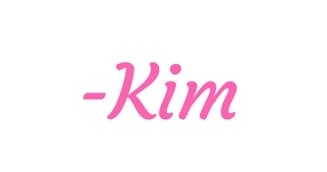 Looking for more on twins? Try these!
Truths About Life with One-Year-Old Twins
How To Keep Calm When People Ask Stupid Twin Questions
Don't Be Cheap! Why You Should Never Buy One Gift for Twins to Share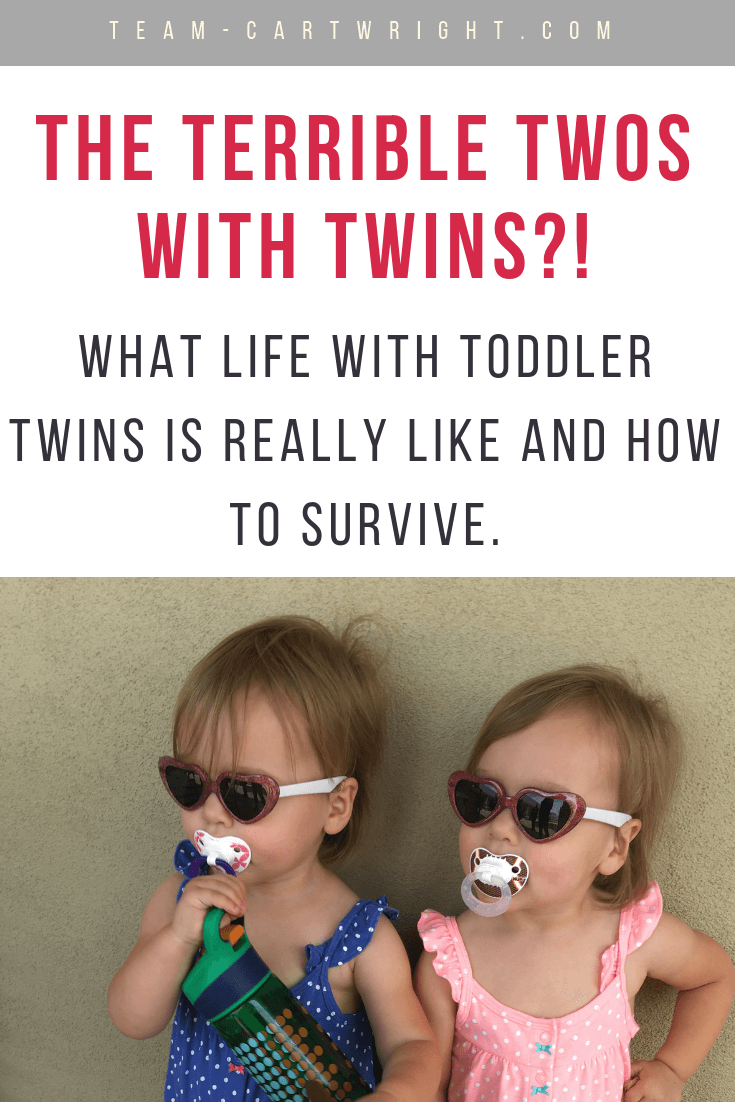 Let us improve this post!
Tell us how we can improve this post?